SkyDrive updated with new features for 2013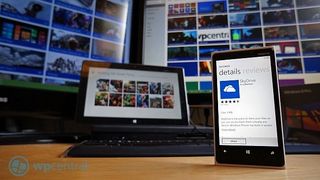 Microsoft's cloud based storage solution; SkyDrive has picked up its first set of updates as we go into 2013. The service has quickly evolved to become the hub for nearly every product in Microsoft's line up. Windows Phone has always been deeply connected and the past year has seen Windows and Office hook into the mesh.
The public face of SkyDrive is through a web interface and it's here that many will create folders and share them. The team has improved sharing, speed and touch responsiveness to the latest update.
Since Microsoft focused all its platforms around SkyDrive to provide the glue to make all their services work nicely together plenty of changes have been arriving. Recently we saw a facelift to the service to make it better suited to touch and the team released an app for the Xbox360 console for photo and video viewing duties. Here is what they have to say on the latest set of tweaks.
Sharing improvements..
Integrated view of sharing permissions
SkyDrive offers a number of different ways to share your files—email, Facebook, Twitter, LinkedIn, or simply generating a link to send to whomever you want. As more and more SkyDrive files are being shared, people are often using more than one of these at a time. To make this easier, we've unified all sharing-related info and tasks into a single screen. So now when you select a document and click Share in the command bar, you'll see all the different ways to share the item as well as who has access.
Improved selection for touch-based devices
If you're using touch to interact with SkyDrive.com, you can now select an item or multiple items by swiping on the item to the left or right—similar to interactions on a new Windows 8 PC.
Drag and drop updated..
Improved drag-and-drop support
In addition to being able to drag and drop files into your SkyDrive, you can now move files to anywhere in the hierarchy of your SkyDrive by using the bread crumb bar as the target. As you can see below, I'm moving a PDF in my Scans folder one level up to the Documents folder.
Finally, we're also releasing a number of improvements under the hood which won't be visible to you, but are designed to make SkyDrive.com even faster and more reliable. All of these features are releasing today and should be available in your SkyDrive soon.
We're really glad to see the SkyDrive team stepping up so soon after the holidays with this update. The service has come on in leaps and bounds over the last 12 months; we'd still love to see a SkyDrive client that can sync with Windows RT. We certainly hope that the performance of uploads and downloads improves with this latest set of changes too.
Let us know what you think of the service and what you would like to see from it going forward, we know that the team are keen Windows Phone Central readers so sound off in the comments below.
Get the Windows Central Newsletter
All the latest news, reviews, and guides for Windows and Xbox diehards.