SkyDrive updated with new features for 2013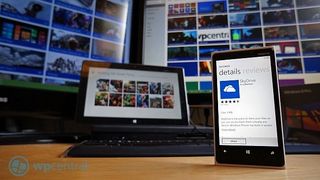 Microsoft's cloud based storage solution; SkyDrive has picked up its first set of updates as we go into 2013. The service has quickly evolved to become the hub for nearly every product in Microsoft's line up. Windows Phone has always been deeply connected and the past year has seen Windows and Office hook into the mesh.
The public face of SkyDrive is through a web interface and it's here that many will create folders and share them. The team has improved sharing, speed and touch responsiveness to the latest update.
Since Microsoft focused all its platforms around SkyDrive to provide the glue to make all their services work nicely together plenty of changes have been arriving. Recently we saw a facelift to the service to make it better suited to touch and the team released an app for the Xbox360 console for photo and video viewing duties. Here is what they have to say on the latest set of tweaks.
Sharing improvements..
Integrated view of sharing permissions
SkyDrive offers a number of different ways to share your files—email, Facebook, Twitter, LinkedIn, or simply generating a link to send to whomever you want. As more and more SkyDrive files are being shared, people are often using more than one of these at a time. To make this easier, we've unified all sharing-related info and tasks into a single screen. So now when you select a document and click Share in the command bar, you'll see all the different ways to share the item as well as who has access.
Improved selection for touch-based devices
If you're using touch to interact with SkyDrive.com, you can now select an item or multiple items by swiping on the item to the left or right—similar to interactions on a new Windows 8 PC.
Drag and drop updated..
Improved drag-and-drop support
In addition to being able to drag and drop files into your SkyDrive, you can now move files to anywhere in the hierarchy of your SkyDrive by using the bread crumb bar as the target. As you can see below, I'm moving a PDF in my Scans folder one level up to the Documents folder.
Finally, we're also releasing a number of improvements under the hood which won't be visible to you, but are designed to make SkyDrive.com even faster and more reliable. All of these features are releasing today and should be available in your SkyDrive soon.
We're really glad to see the SkyDrive team stepping up so soon after the holidays with this update. The service has come on in leaps and bounds over the last 12 months; we'd still love to see a SkyDrive client that can sync with Windows RT. We certainly hope that the performance of uploads and downloads improves with this latest set of changes too.
Let us know what you think of the service and what you would like to see from it going forward, we know that the team are keen Windows Phone Central readers so sound off in the comments below.
I just hate the fact that you can't access your Xbox Music Cloud library and be able to manage what's stored there.

Yet. It's coming this year, along with apps for iOS and Android, as well as other features announced. My guess is it will come before the next major update, so before E3 this year. Hopefuly much sooner.

Yeah and not forgetting our Xbox game saves

What would you do with them outside of your Xbox though? I have no problem not being able to access my Xbox saves on anything but my Xbox. All that would do is open the world of hacked-save files and Achievement scammers.

Wow..didn't think of it that way, I think you are perfectly right then so it can just be the way it is..no sweat at all. ;-)

Damn this update is the shit!!!!
Thank you!! #wow

The best cloud storage ever

Agreed. Drag and drop was the only thing I was waiting for. And the swipe to multi select works like a champ.
I'm in love :)

Family Room is the best! My whole first kid photo library is on it...

Wish we can share documents through family room and not just notes, calendar, and photos.

Family Room is indeed an awesome feature. But for now I'm still the only one in my family with a WP8 :(. That is one of the many features that should have come out for WP7 as well.

So still no ability to sync shared folders then? It basically means that you can't use SkyDrive for group working, which just kills it for me.

It exists. It's called SharePoint

Yes, very handy and simple for normal consumers.

DAFUQ? They didn't bother to compile the SkyDrive sync client to ARM yet?
And I was almost ready to replace my clunky W501 with a Surface this week. Thank the gods I was sick and postponed visting a store.

If you are talking about sharing code projects, try out Team Foundation Service, https://tfs.visualstudio.com/. Its free for smaller groups and provides source control and such. If you are just talking about documents though, isn't there an easy share feature that lets multiple people edit the same document?

how about a way or option to hide your name, instead of showing your full name in skydrive. eg. John Doe's skydrive.

it's nice to see skydrive is getting updates all the time, but what about calendar? I never liked the old "live" look and it is the last service not yet updated. Does anyone know why?

I have the same question. The one area that looks "outdated" now is when I switch to my online calander. If they can give it the same facelift as email that would be a total platform win.

I don't understand that either. I mean heck, the basically just moved their metro mail RT app to the web and called it Outlook.com, why can't they at least do that with their metro calander app?

It's fantastic to see the SkyDrive team continually updating the service with new features, and they're doing it right... bringing new features incrementally each month rather than forcing us to wait for rare, big updates. The rest of the teams at Microsoft need to take lessons from them.

Oh, and yes... WinRT "syncing" would be an epic win for the platform.

I wish SkyDrive had an acceptable code of conduct. As it is now I can't bring myself to use the service. It's a shame to see that 25GB wasted.

What's wrong with the code of conduct?

I'm not evvvveeeennn going to attack you and ask what in the world you are trying to store up there, lol. In that case, make a private cloud using one of the many SOHO solutions. Personally, I have had to transfer some files across the states and 7Zipped them to do it as they were my personal files and did not want them snooped.

Should have been 8 gb free instead of 7... Just to keep up with wp8 and w8... ;)

The WP Skydrive client still needs a way to sync photo albums located on the SD card.


Can we get an update on the WP8 SkyDrive that actually fixes the problem of photos not being able to be displayed. Everything else works, every other file works. Just photos. Thumbnails don't show and when I tap on a file there's an error message saying "this file can't be displayed, connect to cellular or wi-fi". I'm pretty sure I have 4G and a strong WiFi signal.
It's a ridiculous bug that shouldn't even exist.

I want unlimited picture syncing. Have a data limit for everything else, but provide unlimited pics. That would put this on par with flikr, photobucket, etc.

Unfortunately, Skydrive still keeps our data unencrypted on their servers. So, if they misconfigure something: oopsie -- it could all become public. If someone accesses their servers: oopsie. If MIBs show up with a warrant: oopsie. And, for icing, since none of Microsoft's programs for WP8 handle password protection, we can't even keep things secure that way.

Oh please. Have you seen Microsofts data centres? You know, the barbed wire, the CCTV surveilance.
Microsoft are independently security checked, they run business on this for Office 365 which would not be sold if it were not secure you chump.
Who is going to misconfigure your sharing permissions? Really your just being an idiot.
WP8 has PIN protection. Use it if you want protection.


So, this is what passes for reasoned discourse here: "you chump," "your [sic] just being an idiot?"
WP8 having PIN protection (via a form of BitLocker) isn't the issue. The issue is that between our home computers and our phones (both of which are in our control) our data is sitting on someone else's servers (outside of our control) in plain text. That should change.

i do wish i could have a folder in my skydrive account that i can have a password on. something for my private stuff. i don't like that all of my pictures populate into my photos app on my htc 8x. i'd like somewhere private within skydrive to keep some specific things so that if a friend picks up my phone he/she can't see ALL of my photos...

I know its not native, but you could store those inside an encrypted section in OneNote. But I like your idea of a secured area.

you can store pics in Onenote? hmm, didn't know that. i will try this later...

Log in on Skydrive (web), create a folder in the root, right click the folder and select properties, then change the type of folder to "Documents". Everything you save there will not be displayed on the pictures hub.

They need to fix the upload network overloading. Try to upload to skydrive from PC and it bogs down your entire network, sucking up every last drop of bandwidth and still doesn't upload very fast

Still waiting on a Calendar facelift, and ALOT of bug fixes in the webapps, as well as an option for real time updating (like google docs).

we still cant share our folder to friends who dont have a hotmail/sky drive account. They can download individual files/pics from the folder, but if the folder is 1 GB, it is useless. They have to sign in. The main reason among many, which is stopping me from subscribing to sky drive. I am better off creating and managing my own cloud storage. costs $250 for 2 TB, but totally worth it.

I'd like to see a discussion about Microsofts code of conduct.

Last year, there was a short outcry after MS locked several accounts (http://wmpoweruser.com/watch-what-you-store-on-skydriveyou-may-lose-your-microsoft-life/ http://www.cnet.com/8301-33642_1-57496666/skydrive-content-restrictions-among-the-toughest-in-the-cloud/), but unfortunately, nothing happend since then.

Despite the fact MS shouldn't care about the data I'm storing on their systems until I'm doing something illegal, the impact of a locked account is far too high: you are losing your mails, calenders, contacts, purchased apps, etc.

In fact, when using SkyDrive with services like "Rooms" under WP8, you have no full control over the data that is stored within your SkyDrive account.

I also want to keep in mind: you are currently not allowed to save any minor in your addressbook or uploading pictures of minors in SkyDrive! Therefore, Windows Phone is unusable for any parent and many others! (Does Jessica Alba know that?)

Prohibited Uses

You will not upload, post, transmit, transfer, distribute or facilitate distribution of any content (including text, images, sound, video, data, information or software) or otherwise use the service in a way that:

[...]

is designed to solicit, or collect personally identifiable information of any minor (anyone under 18 years old), including, but not limited to: name, email address, home address, phone number, or the name of their school.

For German readers: I've seen a discussion starting last weekend on Windows Phone's Facebook page. Unfortunately, the users don't care: the discussion ended up petering out to nothing. Maybe, you want to join? https://www.facebook.com/WindowsPhoneDE/posts/137193373105505
Windows Central Newsletter
Thank you for signing up to Windows Central. You will receive a verification email shortly.
There was a problem. Please refresh the page and try again.