Skype Preview for Windows 10 Mobile arrives today with SMS support this summer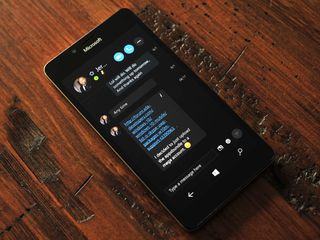 Microsoft today is making it official that the new Skype Windows Store app for Windows 10 Mobile should be available in the next few hours. Also, the current Skype Preview for PC Insider is also being updated with new features and improvements.
Announced earlier this spring the new Skype app has been re-written from the ground up with modern computing in mind. Skype Preview has been available for PC users on the Insider program and starting today those on Mobile will also be able to try out the new leaner app.
From the Skype Garage Blog (opens in new tab) about today's update:
Messaging Everywhere due this Summer
A few weeks ago, Microsoft made the sudden decision to pull their Messaging Everywhere feature from the Anniversary Update Preview (Slow and Fast Ring Insider releases). Microsoft cited the bigger goal of being able to put SMS messaging into the Skype app instead, and now we have a clearer timeline for that:
While no precise date is set, it is evidence that Windows 10 Mobile and PC users will only have a few weeks to wait and presumably not months as some have feared.
Why change the model?
We spoke to Gurdeep Pall, Corporate Vice President of Skype about the change and what it means for Windows 10 and Mobile. While the decision to push back Messaging Everywhere upset some users, in the long run, it looks to be a better, unified experience.
The previous 'Four Tiles Model' spread the Skype functionality out over different apps on Windows 10 PC and Mobile. To use Modern Skype users had to leverage the People app, Skype Video app, Messaging app, Phone app. This was a radical change from the previous single Skype app for PC and Mobile, and it was awkward.
The new unified approach has customers relying on just one app: Skype for Windows 10. The app can still hook into the People app and Messaging, but the user experience is now focused. Even on the desktop, the Four Tile Model was a bit strange and more often than not people still had to use the older Win32 client to handle more advanced features.
So while Microsoft had achieved Messaging Everywhere, their Skype experience was sub par, confusing, and they knew they could do better. With a single Skype client for PC and Mobile that can do everything and do it well, Microsoft can finally achieve an experience that users want.
What about if you don't use Skype? Perhaps the biggest question for Mobile users is what if they do not use Skype and just want to send SMS or MMS messages? Pall told me that nothing changes here. Users will still have a Messaging app on their phone to handle SMS and MMS, and that can be their primary messaging client if they do not use Skype. If users want, they can use the new Skype for Windows 10 app on their phone and integrate SMS Messaging to sync across devices, but this is up to the user. No one is forced to use Skype if they just want traditional text messaging.
Another benefit of a unified Skype client is Microsoft can extend Messaging Everywhere to other platforms, and the company is expected to have more on that bit in the coming weeks.
Skype is undergoing a lot of changes as they move to their final stage of an architectural shift. New features like 300MB file transfers, Bots, and SMS relay are all part of these advancements, and we may finally be headed into the golden age of Skype.
The new Skype Preview should be available for Windows 10 PC and Mobile later today, but is not yet currently live. Users will need to be enrolled in the Windows Insider Program, but the feature will go to everyone with the Windows 10 Anniversary Update due on August 2.
Download Skype Preview for Windows 10 + Mobile (opens in new tab)
Daniel Rubino is the Executive Editor of Windows Central, head reviewer, podcast co-host, and analyst. He has been covering Microsoft here since 2007, back when this site was called WMExperts (and later Windows Phone Central). His interests include Windows, Microsoft Surface, laptops, next-gen computing, and arguing with people on the internet.
So, I will continue waiting for the official release on August the 2nd

Ok so with this, are they also removing the Skype Video and Messaging app from Windows 10 PCs and phones? (just so that the average user doesn't get confused)

Only video, messaging will stay as an SMS client with no Skype integration so users have a choice.

Bots are awesome and nobody gives a ****. That's ridiculous for those who calls himself/herself a Microsoft fans. Apart from what Skype does usually does. m gonna stick to this unique feature that can actually replace your note taking apps, and news app and many other things.

You can find Messaging app but it does nothing so phone, but skype video and such dont exist, Messeging app still has the name Messaging+Skype(on phone) but just that :P and they just do nothing :3 while get skype app is the enw skype app if i remember

Okay, an update: when I tried to install this app via Windows Store it just redirects me to the WP8 app. I am on W10M build 14393 (fast ring)

I am on fast ring(build 14393) and the link redirects to the old Skype app, which is installed. Anyone facing so?

Same here. Never had luck downloading skype preview

Circle photos in notifications :o

Yeah, just like Viber does ;)

I'm with you. I thought I would get over the circle people by now, but it is the most annoying thing for me in W10. At first I thought it was just because it was different and I would get use to it. But no...I find now that I just hate them. As one that works in the printed arts, I believe it has to do with a little framing rule that says, "square the circle, circle the square." Seeing that faces are generally round, a round frame makes it harder to notice what is inside the frame. The square framing of W8 allowed for the round faces to stand out in contrast to the square frame.

Don't forget to triangle the hexagon!

Don't forget to polygon the heptagon

Good comment, agree completely

I hate the counters on live.tiles as well. The black circle just doesn't look good. It's sad to see all the first party apps using it, and with the anniversary update, its coming to the PC task bar as well.

Yes, agreed. The large white counters on the Windows Phone 8x and 7x tiles were MUCH better. Not only easier to notice, but they looked cleaner and fit better with the design. Windows 10 Mobile is a major UX downgrade, though, and has been since the start.

Do Check out Bots too. It's Exclusive feature and nobody talking about it.

I think Bots are in the iOS Skype app already? Not that it makes them being on W10M any less cool - This was the first thing I noticed when I got the update

I will not send a single text from skype even if that means I cannot use my PC to send text messages. I want the messaging app for PC back. Why not give the user a choice?

Messaging everywhere with the app for PCs was clunky and the UI is scarce. Enjoy refusing a great feature just because you like the old app. Microsoft is going to move ahead with or without you

Sure, let the whole world move ahead of me but still I refuse to join the rest.

Edited because I went to far. Sorry.

Statements like these do not or cannot stop me from voicing my opinion.

Instead of planting your head in the sand, I would suggest you use their new solution before you condemn it. If you, before ever using it, decide it's crap, then you might miss out on something you find works better, and that you'll like. If not, what have you lost?

Skype is just a refreshed Messaging app with Skype features. They're basically improving Messaging Everywhere, what's wrong with that?

Only thing wrong with it is it is not texting app. I will still use skype but not for texting.

Actually this basically a return of dedicated single Skype app while Messaging app itself stripped down. The idea of Messaging everywhere retained indeed, though the advantage of single messaging client to deal with rather than fiddling around to use two separate messaging client or make the Skype client to handle SMS. The previous implementation were indeed rather radical at first, but the idea weren't bad at all as it just essentially make Skype more of a service rather than an app, thus Skype is integrated across the all communication apps on Windows 10 with only one dedicated Skype Video app to handle video calls which isn't even need to be opened. It offers an app especially for such task with Skype on the background to handle traditional Skype features making it native experience as possible. It was the closest "iMessage" approach of Microsoft they ever did with Skype and Windows, even though it still not slightly as simple as the iMessage in terms of overall approach, but it was almost there. Even my very few family members who still uses W10M alienated at first but just soon after realizing the change, they even use Skype service more for messaging needs outside occasional video call. Thanks of being within the more comfortable Messaging app, they treat Skype like an SMS. No need to open another app and they just easily call back with the Phone app, all with no need to even slightly think about opening traditional Skype app but it still enable to use Skype in rather subtle way. The only problem with the implementation before as far as I observed isn't the idea of it but the half-baked implementation and some not-so-well thought out areas that could've be better. Things like group video calling, file transfer and other Skype features isn't fault of the previous idea of Skype integration, it simply just half-baked.

if you did read the article its better to have 1 app with the options inside it than have 4-5 apps. Skype preview has a nice UI and that way they have everything tied up in one app. I cant blame them i actually like it more and now every PC will have preinstalled in place of Get skype app i believe so yea smart move MS.

If I were to use only one app, I want that to be the currently available messaging app. I like Apple's approach and would say the same to Google.

Google has 3-4 apps and then with Android each manufacturer also has their own version as well.

Because it makes much more sense to do all this from one app across all platforms. Spitting your dummy out will change nothing.

I don't care whether it changes something or not. I am just voicing my opinion.

And we are telling you; your opinion is stupid.

Hopefully they add the SMS feature to the Android app too, as I assume that's possible to do with the open-ness of the OS.

By Saying this, U just entered into a alien world.

Don't worry, we're talking Microsoft here. They'll probably abandon Skype + SMS in a few months, say "Just wait until you see our NEW SMS everywhere app! It'll be amazing! When it gets here! In the future! Eventually! Just you wait!"

If you want, you can pass your device to Insider Release Preview, no problem with that ;)

Does this app have a dialer? I solely use skype for all my calls on mobile and currently use the old wp app. I remember when they had the integrated apps. I tried using them, but there wasn't integration with the dialer, so I had to keep using the old skype app. If this feature is missing then upgrading will be pointless for me.

I don't see the dialer which is sad because I cannot use the 60 mins of Skype I get with Office 365 subscription :(

I have a skype unlimited world subscription that came with the work and play bundle. All of my calls go in and out through skype. I hardly dial out, but when I need to it will be difficult to do without one. The app isn't available for me to dl at the moment, but im hoping its there or that its available by the time the app launches to the public

Dialer is definitely there

I finally have the update and have been testing it. Despite having the appropriate setting checked I don't get notified of incoming calls. I also noticed it lets you setup voicemail from within the app, but when I get a phone call the Voicemail doesn't pickup. Am I doing something wrong?

Sadly, me neither, but maybe this version that'll be released will be ahead of the ones we all have from the XDA forums.

yeah hopefully there will be more improvements in the coming weeks that I'm not seeing with this version.

Dialer is there. Check for yourself

The dialer is definitely there, and is quite nice!

I just updated through this article and i have dialler in bottom right hand corner of the app. A little small and maybe hard to notice but it's definitely there for me.

look at the keypad that is on the bottom in the leftmost frame of the picture in the article that shows a call to Zac Bowden.

If you click "dialer" you will be taken to the dialer lol not hard to find

Dialer is there. Update is now live and I was able to call from Skype using my Skype minutes.

Yup! I just managed to pull the update down and there is an easy to access dialer button in the bottom app bar. It opens a nice flyout with the dialer at top and tells you how much Skype credit you have and a few other links at the bottom. The whole UI is very clean and it's very fast

Yes it does.. in the context menu in app-bar ;)

It does have a dialer that works! Only thing I have a problem with is that currently there is no way to get Headsets on PC's connected to the APP using in-app settings as in the audio settings in current PC version of Skype. Same issue with video camera setting. But there is a dialer and it does work.

And it still sucks! I gave up skype a few weeks ago and uninstalled everything. They'll never learn.

It does? I like the speed and reliability of this version.

How do you know it does? It isn't live yet... EDIT: It is now live.

Later "this summer"? So I take it they're working their butts off trying to get it out with AU on 8/2, but can't commit at this time?

They're focusing on AU because they already set a deadline. Since they changed their whole messaging everywhere agenda last minute, it will have to go through a lot more testing before release. It's just a matter of prioritization, everything is coming eventually.

Is this an update to the current (insider) app, or separate?

Desktop Sharing? Or do we still need the Win32 app?

It has the option didnt try it tho.

Yeah it says in update notes there is screensharing for PCs.

In the PC version of the app, screen sharing option is there and it works. I discovered it a couple of days ago and it works fine. Although, you can't share windows selectively like classic app.

That feature is already here too on UWA Skype app. I have to test it again since last time it was so buggy that it sometimes left the red outline around the screen.

One message app with skype integration is wat we need

Really hope they build Skype For Business support into this. The current mobile app is awful.

I like the concept. But I don't like a lot of circles in the UI (like Skype always had). It ruins the neat look. Posted via the Windows Central App for Android

They showed bots for mobile in build but a few moths later still no bots. I'm disappointed. I was really looking forward to playing with them on mobile, I use my pc for work only so I don't use them there.

I have bots in mine. Give it time.

Do you think it's because you used the bots in PC and the conversation is there? Never mind. I downloaded the preview and they're there. Thanks Daniel.

I just installed the update and I have option to add bots on my phone.

I understand how it may be troublesome for fans who want exclusivity on windows platform but we all know Microsoft is way beyond that and platform agnosticism is the new way forward.
I'm glad about that part about hooking into messaging and people app. Remember the model we had in WP8? While we had a standalone facebook app but users could still integrate facebook messenger into default messaging app. And while that model couldn't work because of facebook's advertisement based business model (facebook couldn't inject ads into native messaging and people hub, imagine the outcry), the promise of streamline experience lingered. Glad to see this model coming back through Microsoft owned Skype app. And I can understand them using the platform agnostic messaging everywhere feature to lure new users to skype platform as well as providing better messaging everywhere experience on android and iOS (I'd imagine) than what they could have offered based on Cortana architecture (again a conjecture on my part) though it remains to be seen if android and iOS could allow third party clients like Skype to hook into messaging stack (to be able to use SMS information to be used by Skype app). I have to say after years of skype failures, Microsoft finally seems to be getting their **** together regarding skype (from what I've read from the early Skype UWP reviews and tweets). Fingers crossed for a better skype future.

Well now that i think about it (after reading article) having it on skype is not a bad idea it will make it a lot easier to use too. I love the UI of the app (on phone its levels greater than w8.1 since i tried the leaked app)

I click on the download link and it is showing the old Skype in the market. :(

"The new Skype Preview should be available for Windows 10 PC and Mobile later today, but is not yet currently live."

OK, two months on and there is a flaw (I think).
I have a lumia 950 xl running latest windows mobile and Skype Preview does not turn on after a reboot. I need to manually turn Skype on now, a pain in the butt to me. I would prefer Skype to give me the choice to automatically run at start uo like my PC does....
OR have I missed something???

Just tested myself after a reboot. I am still getting messages before I even unlock after a reboot. Maybe uninstall and reinstall?

It did the same for me, though when I got there, the button read "Update", and tapping it downloaded the preview.

Have the app side loaded from the XDA leaked builds. Works great! Is the build they released today the same build, older build or newer build as that one? The store isn't showing ask update for me.

Skype dev team was doing sometimes 2 builds a day. Those leaked versions are so outdated it's not funny.

Forgive for my stupidity but....what do I do now? Just simply uninstall the leaked build and then I should be able to uninstall the new one released officially today?

You can update through the store (it should be live now) I also had the leaked version installed, just updated it from the store with no trouble and it's almost a completely different experience

If Microsoft going to keep up the good work i would be back to Windows Mobile next year :)

So I could use a tablet as a cell phone now, as long as I have a skype number?

And internet always, and not need of any emergency call never, and keep the phone also with internet. Of course you can do it. After you try it, share your experience.

It was obvious to me this was the way to go since the beginning. Not sure why bothered with detour.

Users will still have a Messaging app on their phone to handle SMS and MMS, and that can be their primary messaging client if they do not use Skype.

Are we going to have two messaging apps on our phone ? Not sure this is a good idea...

No you can set your default.

A skype app and a messaging app. Just unpin messaging and forget about it if you choose skype integration. Vice versa if you dont.

If it suits you is a good idea. Messaging app isn't a resource hungry app.

Why doesn't the standard messaging app show the persons contact photo in the notification ribbon or action center? Clearly the skype messaging app will, so why not standard? It looks so nice.

All the more reason to use the skype app.

All good, but skype still needs to get some the basics more reliable. Too many calls that don't connect, call quality doesn't seem to improve if the connection degrades and gets better. notification syncing is a mess.

Amen brother.
But about call quality its depends on so much variables! Sometimes I have a crystal clear call, and some others I can't get a call at all

I know it's dependent on variables that are often outside of the 2 machines that are somehow connected to the internet. I just feel their bad connection logic needs some work. If you remember way back when silverlight was first used in netflix, smooth streaming was capable of dynamically adjusting perfectly to the connection. Granted that is isn't bi-directional, but I shouldn't have to hang up to try again to get a better call, which often happens.

"golden age of skype" lol you sure are optimistic today, will this be RS1 only or can we expect it to hit TH2 too?

The new Skype UWP app is Redstone only because it uses some kind of audio feature only supported on Redstone builds (saw a tweet about this question).

Later this summer? What a joke! Summer's half over.

Summer ends by the second half of September

There is no update from the 11.6.72.0 that I have on my phone now. Is this an update?

as far as i know, skype is a power hog, i hope they have sorted that out. How much data does skype needs, for those without free data from their networks, one may topup airtime for calling only to find out that some of the money had been used as data by skype, if one disables data does this affect (traditional) messaging as well?? there are a lot of questiongs on this, and again for those in areas/regions where Cortana is still a dream, voice command was been taken away from them unless you switch your region? I wonder why MS is doing this????

There was a quest for insiders to try to select non windows language for Cortana. Probably English might be available in other regions.

This is what concerns me too since we going back to traditional dedicated Skype app rather than the previous "Skype as a backend". Hopefully that this app won't get too resource hungry especially for mobile use to replace Messaging app if user chooses to.

FYI: On Redstone Cortana works as long as your display language is a 'Cortana supported' one. It is now seperate from your region settings.

Agreed. Installed on Mobile and PC.

How did you find out. It's still the screen shots from old app.

When you visit app in store it has Update button.

I just hope that they fixed the notificaion problem of the old one...

@Daniel Rubino
For how long the articles from Windows Central are searchable?

Great news! Greetings from Portugal

OMG have been waiting for this app for like forever, finally

This messaging strategy has me confused. Am I correct in that eventually windows pc will be able to receive a text message through anyone (ios, android) using the skype app, but I would only be able to reply via a pc if the other user had skype installed on their device?

I believe the PC skype app will tell your skype app on phone to send an SMS message. That's what I got out of it

It sent twice, so I am editing the second message

"you'll be able to send SMS messages from a Windows 10 PC or Windows 10 phone, giving you the ability to send and receive texts, group messages, and photos all in one app, as well as a single view of your SMS and Skype conversations."

Ok, so I am guessing that If I send a sms through the skype pc app to a friend who has iOS, will the message only show up if they have the skype app installed.

Check out this feedback about Windows 10 feedback-hub:?contextid=6&feedbackid=8afe5c26-e308-4e00-8538-fa5bfcad1427&form=2&src=1

Hey there, it sure is available. Just updated.

i had the XDA forum relese 11.6.72, and it just updated normaly from the store, this is 11.6.187.0 build, looks good, enjoy UPDATE: all my problems are still there, opening skype will block my camera (front and back and any app using it), when i try to share pictures from my librari, the app will crash and close. dont know if i am the only one with these problems or is there any OS related problem ?

Same here, opening the app blocks my camera. Just like when i used to open Skype Video App back in time. Solution? Restart the device to get a functional camera, but still blocks when opening the app. i'm on L535. Wich phone do u use?

I thought they were onto something when this was integrated into the original messaging app on Windows 10 mobile. It was easy and all in one app. Having to open this app to message and then go to another app to reply to a text and then back to this to reply to any messages in it just seems redundant. They should really consider putting it back in messaging again. It was a much better way. It was all in one spot. Now there are two and this will lose out to text unfortunately.

You'll eventually be able to set Skype as the default app to handle SMS messages, then it will functionally be the same as before - there will be no reason to use "Messaging" as the default SMS app unless the Skype UWP performs horribly

However, I'm on fast ring and I have had skype preview and have seen nothing of the sort.

I don't get it - did you miss "with SMS support this summer" in the TITLE of this article, the entire paragraph with large heading dedicated to the fact that SMS relay will be added soon, and (for good measure) the "eventually" in my comment? Or are you saying something else?

This is the best skype experience ever! And now, let me play with Murphybot a bit :D

They call this a messaging app ? I call it a big piece of crap. Tried it on my phone , the back button is counter intuitive, it usually takes me out of the app instead of going back to my previous screen. The "connecting" is forever on the upper screen...

I am having the same issues - the back button exits to Start, and "connecting" interrupts anything that you are doing, including cancelling any drop down menu that is open. I certainly don't want this handling my SMS messages if connecting to Skype is that disruptive every time that I open the app

Gee, how about going Transparent for your Live Tile, Skype team? Sheesh! MS really needs to promote their uniquness!

What's up with the inconsistencies in hamburger menu icons even across microsoft's own apps?

Still not live for me :( while others have, do I need to get the latest build, I am currently on build 14379

Me too, do you thing it has to do with the build we use??

Me too, do you thing it has to do with the build we use??

same to me, do you have 32-bit build like me?

So sending SMS comes from cellular allowance or skype expensive charges.

Just got the new UWP app. Looks fast and very good so far. Can't wait to see new features

Daniell Rubino you always come with great news

Daniel Rubino you always come with great news

Was able to download it but don't see any SMS support. Don't know how to start an SMS inside the app. I can send instant messages though (Skype contacts).

If you read the article it states that SMS integration comes later this summer

Love the new UI design for Skype but I still miss the skype and sms integration in txt messaging

Mine was stuck on connecting... Uninstall & reinstall fixed it.

Hi Guys. Can I get this new Skype UWP Preview App when I am on Release Preview Insider Ring? ie. not Redstone... Because so far for me the link doesn't work. I am in the UK...

That would be great. I look forward to seeing that and I hope you are correct.

Very impressed so far and I would love to see this completely replace my need for WhatsApp sms and Facebook messenger

Golden age of Skype? I'm sorry, but after years (and years) of the inept mess it's been, they're going to have to go a long way to have most Users thinking that will happen anytime soon (or that they won't change their minds about Skype's direction again). Trust in this team has long since disappeared, let's hope this is the first step of earning it back.

Regular sms should look this clean

I think the goal is to replace the messaging+skype app that comes as default on W10M. Of course this will be optional if you don't like skype

It doesn't matter what app its in. They need Messaging Everywhere to be working now, not coming soon.. People still think of Microsoft as this slow moving behemoth of the tech world. They had a working solution that was well received. Cancelling it before they had a replacement was a bad move no matter how you look at it.

Not really, Messaging everywhere was only available to insiders, not regular consumers. It's much better removing it now than having the regular folk getting used to it and then removing it in favor of Skype. We asked for early access, we have to deal with these changes. Keep in mind that we're in the epicenter of development with these builds, a non-confusing user-experience means appearing to night change your mind constantly to the less-forgiving common folk.

So to be clear, I can still sync messages via the normal messaging app (not skype) if I want?

That doesn't say anywhere it will be a single universal app and we will not have to switch between two. Did you not pay attention to what I wrote?

So I'm still a little confused since I haven't seen much regarding the back-end workings of this, but is this SMS routing through Skype practically identical to the iMessage route where if two people are using iMessage that the text will be sent over a data connection instead of a cellular connection? Said separately, if I'm on Windows and texting with a friend on Android through our phone numbers on Skype, that if I'm on a plane I can still text my friend through my phone number (via Skype?). Maybe the technical info hasn't come out yet, but just curious as to whether this is just displaying SMS in Skype or if there's something more technical/intelligent happening, a la iMessage?

So we have to use the Skype app for Messaging Everywhere for SMS/MMS? Is it possible to do this without having having to actually login to Skype? I was excited for the Anniversary Update because Messaging Everywhere worked via your Microsoft account. I don't like Skype and I don't want to use Skype, so I don't like the idea of having to sign in just to have my SMS/MMS messages sync between my Lumia 950 XL and SP3. I really don't wanna login to Skype because I don't want to use their service, and it also honestly sounds like extra battery drain to have my phone connect to another messaging server that I don't use.

I did, and it doesn't answer my question clearly. Read this part, "If users want, they can use the new Skype for Windows 10 app on their phone and integrate SMS Messaging to sync across devices, but this is up to the user. No one is forced to use Skype if they just want traditional text messaging." It sounds to me like you can use the new app with Skype disabled for regular SMS/MMS, but if you want Messaging Everywhere you have to login to Skype, which I don't want to do.

For Messaging Everywhere to work, they need a unique identifier of somekind and that would most likely be the MSFT login, which is what Skype also uses. Looks to me the UI and/or name of the app is the only difference, the underlying mechanism is still the same between Messaging Everywhere and Skype.

But it sounds to me like now you have to login to Skype to use it instead of just your MS Account like before. It's possible to have a Microsoft Account without a Skype account. I have Skype disabled on my Microsoft Account at the moment and I want to keep it that way.

<<< It's possible to have a Microsoft Account without a Skype account. I have Skype disabled on my Microsoft Account at the moment and I want to keep it that way. >>> My guess would be they will (eventually ) allow such MSFT accounts to login to Skype just for Messaging Everywhere.

Downloaded but keeps crashing every time I enter settings ☹

I'm excited that I can finally listen to my skype voicemails on my phone!

How do you do this AntnyGoomba?

We need a hands on video from Zac!

Interesting...it was an available update in the Store. Thought i would have to explicitly install a new app but it updated the standard version of Skype...looking good so far!

Well, first you have to have a skype phone number attached to your account. Then people can call that number from a phone and leave you messages

Im aware of that. Prior to the update I would call my skype to go number to check my voicemails. Im just wondering how you listen from within the app

In the call history screen, if someone leaves a message it will say so, then you just click on it and you will see the play button

Really? I guess it's broken in my app then. When people call me I get the email notification that I have a voicemail and I have to call and check it. Hopefully it's resolved in a future update

This new update that came out today is the first time I've seen it on mobile

Apparently android and ios always had the in app option. For the old Windows phone app you had to jump through hoops. It was like going back in time to the days before visual vm when you had to call in and check messages. It's not a big deal, but it's convenient for sure

Also, I don't have a skype to go number, I just have a skype number. Maybe that's the difference?

I have both. Every time I go into settings the option to setup voicemail is always there. I click on it and it takes me to the skype website and I can see that I still have voicemail setup. Maybe the update broke my service

The old (current) skype app is so bad for messaging that i abandoned it for whatsapp, i cant see myself going back even for this new app... sigh...

"No one is forced to use Skype if they just want traditional text messaging" well that isn't correct. If you want to use messaging everywhere you have no choice but to use skype. I want messaging everywhere but have zero interest in using skype as my default messaging client. No one I know uses skype except for when they are travelling OS, even then many people i know are starting to use services like Viber. I think they need to have the messaging everywhere service available in both the messaging and skype apps so that users can have a choice. Those that are heavy skype users can then use the skype app as their default and all others can use the messaging app and still benefit from the messaging everywhere service on phone and PC.

It is correct, because if you want to use messaging everywhere then you are NOT wanting traditional text messaging only..... Traditional text messaging is text messages WITHOUT Messaging Everywhere. So... If you want Messaging Everywhere... Use Skype. If you don't, you are not FORCED to use it.

The title and text of this article is not clear. Is this for Insider only? The title and first paragraph doesn't make that clear. I read the comments and everybody's saying it's insider only, but in the article it's not clear at all, in fact, it lends itself to the opposite interpretation.

Well technically yes you are correct, however messaging everywhere is not a skype specific feature and there is no reason to force it into the skype app apart from the fact that Microsoft want people using the skype app and therefore using the skype services and so that they can expand this feature to also include Android and possibly iOS devices. I get that and have no issues with this approach as an option. However they already had the messaging everywhere service working in the messaging app across mobile and PC, why not leave this as an option so that users can make a choice if they want to use either the messaging app and or skype app as their default without limiting the access to messaging everywhere. I can see that in 6-12 months time Microsoft will see that not as many people are actually using Skype as their default SMS app than they expected and then put the feature back into the messaging app in the RS2 update.

During the early testing of the feature, within the "Messaging + Skype app", Microsoft stated that the back end synchronisation was temporarily leveraging the power of Cortana. The use of Cortana as the sync engine was only ever a short-term solution while they built a more robust back-end for the service. Cortana is their easy-to-test platform for these things, and is also being used for universal dismiss and other features: Temporarily. With the Cortana sync, though, there were a large number of reports that said this sync was not working correctly, was delayed if it worked at all, and was generally a pretty bad experience unless you were lucky. This new back end just happens to be the same back end as Skype, and will actually work, unlike the Cortana version. Either way, with Cortana or Skype, you were running a service that is tied to a Microsoft Account, and is running in the background. You may not like Skype, but most Windows Phone/Mobile users do use it, and we do have it running in the background, and it doesn't cause any excess data or battery use. The new UWP version is apparently even lighter. Unless you receive a Skype message, it will just serve as a sync engine for your SMS/MMS if you enable that feature... and that will be no different to the "Messaging + Skype" app. Both services will still need you to sign into a "sync service" with a Microsoft account. I think you might need to get over this irrational fear/hatred of Skype, especially if you want a reliable and robust Messaging Everywhere service.

i use the link but it still downloads the old version. lumia 950 on 14393build, on fast ring

Not working for me either in Mexico, They must be pushing it to different markets still.

Will it have a floating secondary window in pc like the win32 app? And the mobile like android has?

Also why they don't use all the windows features like transparent live tile or accent theme?? Hope they will adopt in a near future updates, and don't screw up like the old versions for Windows 8 and 8.1

This! I don't understand why this hasn't happened yet. MS's own product should promote and utilize it's own differentiators.

Any news on being able to make a call from your PC that then uses your mobile number to dial out, I have 60 Skype minutes with Office and then some Skype credits, but to really make Skype the all singing all dancing app, being able to send out texts and make calls using your desktop/laptop/tablet and it being routed through the phone is the way I thought the NEW (But now redundant apps where supposed to be headed) and it would really make Skype a one stop "Go to" app.

"Extend to other platform..." Well, microsoft support to another platform really makes me hard to buy another windows phones. Here I am, still stick to Lumia 630 DS.

It could b awesome if one could send SMS to non skype users using the Skype app...Its draw back with has been constant lags and bugs which makes it crush more often than one expects. Plus disappointing performance on stead WiFi.

Makes perfect sense to use Skype for messaging everywhere feature. To keep Skype more relevant and of course cause it's easier to offer it on Android and iOS that way. Microsoft knows that most users are on these two platforms so they have to care most about them.

But when will MSA & Skype accounts be merged?! It is so frustrating managing multiple IM contacts for the same person because of this. Terrible experience.

Dan, any word on Skype adding ability for users to create account via individual mobile number similar to Viber and Whatsapp? I remember hearing that it would eventually happen this way, which would naturally allow Skype to better compete with the likes of Whatsapp and other messaging platforms.

It only just now showed up in teh store for me, the app looks very nice and seems faster than old Skype. Does the lock screen icon for Skype show for anyone? I cannot even pick it from the list of available apps in Settings

The app seems to be snappier than old Skype app on W10M. UI looks cleaner as well. Here is my wishlist:
- make a home button present throughout the app - having to go back home through hamburger is 1 extra tap
- make the smiley selector bigger - the listing of emoji is so tiny that I have hard time tapping the right one - and I'm on 640XL!!!
- transparent live tile, of course
- support for lockscreen notifications
- support for buble color customization
- support for system color palette - my system color is blue, yet this app has all switches lime green?? Otherwise, a great start to a new generation of Skype, I think.
Only time will tell how stable, speedy and reliable it truly is.
I kind of like it thus far...

Great ideas. You should submit / vote for these ideas in the Feedback hub too

Waiting for a skype which competes with telegram. Now I want end-to-end encryption. At least optional one

Unfortunately, I am still not seeing the update in Store. Is there a way to get it apart from simply trying after some time? I am on 14393, Lumia 730.

Same here. Lumia 650 on 14393

Same here. Lumia 640 on 14939, US Store region.

Wow man! You are way ahead of us! XD
PS: Just kidding. I know it's an honest typo. :P

Same here. In Australia on 14393, Microsoft 650

I am slightly disappointed with the new app. My main reason for moaning is the performance of the app and the inconsistencies in UI. For example, when the contacts are listed, there is no option to jump like there is in the app list or contacts list. Second, it would be nice to see a swipe to delete/save conversations just like the swipe option in outlook. Third, I feel the buttons (on the mobile app) are so small that the wrong button is pressed. Finally, coming to performance, the app freezes as soon as I start a video call. Attempt to end/cancel the call and the app stops responding. I then tried the same with Viber and its so fast and responsive.

Do remember, it's still very much alpha/beta, things will solidify far more once we near Final Release; Which sadly is looking like it'll be a fair bit later than the AU... Folks using it now should be aware that "there be dragons"*, & thus just provide feedback, or let the sw in the bg do that. Cheers *only accessible to Fast ringers & occasionally Slow ringers, even RP & Production will initially be way behind the curve post AU

Not seeing it on my 950 XL on slow ring. Link takes me to the existing Skype app and no update is avaialble for that. Is the update available on fast ring only?

Yes, looks like its only for the fast ring.

Just switched to fast ring and still nothing. Go figure.

I'm the same, 950 not seeing it. Did you side load the UWP app previously? I'm wondering if this is a result of side loading it a couple of weeks ago.

Nope. Never had it on my phone. I'm in Germany - maybe it's availabe in certain regions.

It just appeared for me, hours after switching to fast ring.

What's with the new apps not coming with badge notification support? And this one is an MS app. I hope they add it in the next couple of weeks by release time.

Anybody else got the update in the UK? I'm still being linked to the old 8.1 Skype. And yes, I'm on the preview ☺

was just wondering, are you signed up to fast ring via Settings and NOT the Windows Insider App?

I'm signed up through the settings because the app just says 'Go to settings' now.

Yup, same with me. App is obsolete now in new builds. I got the Skype Preview app this morning. After signing up to Fast ring via settings give it ~8 hours and you should then get it as an update.

I'm still never going to use the skype app as a messaging app. I have no reason to use skype since my friends either use FaceTime or Hangouts. Messaging Everywhere was the best idea they had and users loved it as evidenced by the onslaught of feedback and votes to bring the feature back. But just like changing circles back to squares and landscape start screen the voices go ignored. It's really baffling that MS wouldn't let the previous 4 tile paradigm live on for users like me who only use messaging sync and don't want the other things while giving real skype users the new app.

I liked the "Bots" concept.

App is so slow. My boss tried to contact me on skype, and I didn't know it was replaced with the preview, but my god, it dosnt tell when he calls, I need to call him to establish a connection. else I just get missed call. Bad start for an app

I don't understand why the "Four tile model" was a problem, beyond the unoptimised performance. Each tile had its own function and was pretty clear what each of them were for. Now we still have 4 tiles (messaging, people and phone tiles are still there on phones) and one of them that does the same as the others

In the Store it was shown as the old Windows 8 version of the Skype app though once I installed it and had it open I had the new preview. It's pretty confusing but for those who are also waiting for the preview in the Store you can either check app updates or just remove Skype and reinstall it.

ok I waited most of the day before I commented (I NEED SOME HELP). I rejoined the insider program last night, I updated to build 10.0.14393.0, did a clean install of the phone and am a fast ring member in the settings app. I have not got the new camera app, the skype preview app or any other new app that was not part of the OS before I joined the insider program. I just wanted to try the new camera and skype app and have got nothing new in the store. I Tried checking from updating apps in the store and going thru the link on my windows central app and still NOTHING new or updatable. I am the USA and the correct region is selected. Any ideas guys?? thanks
Phone Lumia 950


I'm having the same issue

Times are a bit broken here in the UK. It says I made a call yesterday at 04:46 and again at 12:03 when it was more like 17:46 and 18:03
Windows Central Newsletter
Get the best of Windows Central in in your inbox, every day!
Thank you for signing up to Windows Central. You will receive a verification email shortly.
There was a problem. Please refresh the page and try again.