Skype Preview for Windows 10 Mobile arrives today with SMS support this summer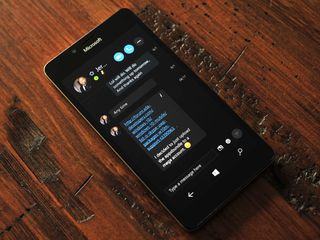 Microsoft today is making it official that the new Skype Windows Store app for Windows 10 Mobile should be available in the next few hours. Also, the current Skype Preview for PC Insider is also being updated with new features and improvements.
Announced earlier this spring the new Skype app has been re-written from the ground up with modern computing in mind. Skype Preview has been available for PC users on the Insider program and starting today those on Mobile will also be able to try out the new leaner app.
From the Skype Garage Blog (opens in new tab) about today's update:
Messaging Everywhere due this Summer
A few weeks ago, Microsoft made the sudden decision to pull their Messaging Everywhere feature from the Anniversary Update Preview (Slow and Fast Ring Insider releases). Microsoft cited the bigger goal of being able to put SMS messaging into the Skype app instead, and now we have a clearer timeline for that:
While no precise date is set, it is evidence that Windows 10 Mobile and PC users will only have a few weeks to wait and presumably not months as some have feared.
Why change the model?
We spoke to Gurdeep Pall, Corporate Vice President of Skype about the change and what it means for Windows 10 and Mobile. While the decision to push back Messaging Everywhere upset some users, in the long run, it looks to be a better, unified experience.
The previous 'Four Tiles Model' spread the Skype functionality out over different apps on Windows 10 PC and Mobile. To use Modern Skype users had to leverage the People app, Skype Video app, Messaging app, Phone app. This was a radical change from the previous single Skype app for PC and Mobile, and it was awkward.
The new unified approach has customers relying on just one app: Skype for Windows 10. The app can still hook into the People app and Messaging, but the user experience is now focused. Even on the desktop, the Four Tile Model was a bit strange and more often than not people still had to use the older Win32 client to handle more advanced features.
So while Microsoft had achieved Messaging Everywhere, their Skype experience was sub par, confusing, and they knew they could do better. With a single Skype client for PC and Mobile that can do everything and do it well, Microsoft can finally achieve an experience that users want.
What about if you don't use Skype? Perhaps the biggest question for Mobile users is what if they do not use Skype and just want to send SMS or MMS messages? Pall told me that nothing changes here. Users will still have a Messaging app on their phone to handle SMS and MMS, and that can be their primary messaging client if they do not use Skype. If users want, they can use the new Skype for Windows 10 app on their phone and integrate SMS Messaging to sync across devices, but this is up to the user. No one is forced to use Skype if they just want traditional text messaging.
Another benefit of a unified Skype client is Microsoft can extend Messaging Everywhere to other platforms, and the company is expected to have more on that bit in the coming weeks.
Skype is undergoing a lot of changes as they move to their final stage of an architectural shift. New features like 300MB file transfers, Bots, and SMS relay are all part of these advancements, and we may finally be headed into the golden age of Skype.
The new Skype Preview should be available for Windows 10 PC and Mobile later today, but is not yet currently live. Users will need to be enrolled in the Windows Insider Program, but the feature will go to everyone with the Windows 10 Anniversary Update due on August 2.
Download Skype Preview for Windows 10 + Mobile (opens in new tab)
Daniel Rubino is the Editor-in-chief of Windows Central, head reviewer, podcast co-host, and analyst. He has been here covering Microsoft since 2007 when this site was called WMExperts (and later Windows Phone Central). His interests include Windows, Microsoft Surface, laptops, next-gen computing, and for some reason, watches. Before all this tech stuff, he worked on a Ph.D. in linguistics and ran the projectors at movie theaters, which has done absolutely nothing for his career.
So, I will continue waiting for the official release on August the 2nd

Ok so with this, are they also removing the Skype Video and Messaging app from Windows 10 PCs and phones? (just so that the average user doesn't get confused)

Only video, messaging will stay as an SMS client with no Skype integration so users have a choice.

Bots are awesome and nobody gives a ****. That's ridiculous for those who calls himself/herself a Microsoft fans. Apart from what Skype does usually does. m gonna stick to this unique feature that can actually replace your note taking apps, and news app and many other things.

You can find Messaging app but it does nothing so phone, but skype video and such dont exist, Messeging app still has the name Messaging+Skype(on phone) but just that :P and they just do nothing :3 while get skype app is the enw skype app if i remember

Okay, an update: when I tried to install this app via Windows Store it just redirects me to the WP8 app. I am on W10M build 14393 (fast ring)

I am on fast ring(build 14393) and the link redirects to the old Skype app, which is installed. Anyone facing so?

Same here. Never had luck downloading skype preview

Circle photos in notifications :o

Yeah, just like Viber does ;)

I'm with you. I thought I would get over the circle people by now, but it is the most annoying thing for me in W10. At first I thought it was just because it was different and I would get use to it. But no...I find now that I just hate them. As one that works in the printed arts, I believe it has to do with a little framing rule that says, "square the circle, circle the square." Seeing that faces are generally round, a round frame makes it harder to notice what is inside the frame. The square framing of W8 allowed for the round faces to stand out in contrast to the square frame.

Don't forget to triangle the hexagon!

Don't forget to polygon the heptagon

Good comment, agree completely

I hate the counters on live.tiles as well. The black circle just doesn't look good. It's sad to see all the first party apps using it, and with the anniversary update, its coming to the PC task bar as well.

Yes, agreed. The large white counters on the Windows Phone 8x and 7x tiles were MUCH better. Not only easier to notice, but they looked cleaner and fit better with the design. Windows 10 Mobile is a major UX downgrade, though, and has been since the start.

Do Check out Bots too. It's Exclusive feature and nobody talking about it.

I think Bots are in the iOS Skype app already? Not that it makes them being on W10M any less cool - This was the first thing I noticed when I got the update

I will not send a single text from skype even if that means I cannot use my PC to send text messages. I want the messaging app for PC back. Why not give the user a choice?

Messaging everywhere with the app for PCs was clunky and the UI is scarce. Enjoy refusing a great feature just because you like the old app. Microsoft is going to move ahead with or without you

Sure, let the whole world move ahead of me but still I refuse to join the rest.

Edited because I went to far. Sorry.

Statements like these do not or cannot stop me from voicing my opinion.

Instead of planting your head in the sand, I would suggest you use their new solution before you condemn it. If you, before ever using it, decide it's crap, then you might miss out on something you find works better, and that you'll like. If not, what have you lost?

Skype is just a refreshed Messaging app with Skype features. They're basically improving Messaging Everywhere, what's wrong with that?

Only thing wrong with it is it is not texting app. I will still use skype but not for texting.

Actually this basically a return of dedicated single Skype app while Messaging app itself stripped down. The idea of Messaging everywhere retained indeed, though the advantage of single messaging client to deal with rather than fiddling around to use two separate messaging client or make the Skype client to handle SMS. The previous implementation were indeed rather radical at first, but the idea weren't bad at all as it just essentially make Skype more of a service rather than an app, thus Skype is integrated across the all communication apps on Windows 10 with only one dedicated Skype Video app to handle video calls which isn't even need to be opened. It offers an app especially for such task with Skype on the background to handle traditional Skype features making it native experience as possible. It was the closest "iMessage" approach of Microsoft they ever did with Skype and Windows, even though it still not slightly as simple as the iMessage in terms of overall approach, but it was almost there. Even my very few family members who still uses W10M alienated at first but just soon after realizing the change, they even use Skype service more for messaging needs outside occasional video call. Thanks of being within the more comfortable Messaging app, they treat Skype like an SMS. No need to open another app and they just easily call back with the Phone app, all with no need to even slightly think about opening traditional Skype app but it still enable to use Skype in rather subtle way. The only problem with the implementation before as far as I observed isn't the idea of it but the half-baked implementation and some not-so-well thought out areas that could've be better. Things like group video calling, file transfer and other Skype features isn't fault of the previous idea of Skype integration, it simply just half-baked.

if you did read the article its better to have 1 app with the options inside it than have 4-5 apps. Skype preview has a nice UI and that way they have everything tied up in one app. I cant blame them i actually like it more and now every PC will have preinstalled in place of Get skype app i believe so yea smart move MS.

If I were to use only one app, I want that to be the currently available messaging app. I like Apple's approach and would say the same to Google.

Google has 3-4 apps and then with Android each manufacturer also has their own version as well.

Because it makes much more sense to do all this from one app across all platforms. Spitting your dummy out will change nothing.

I don't care whether it changes something or not. I am just voicing my opinion.

And we are telling you; your opinion is stupid.

Hopefully they add the SMS feature to the Android app too, as I assume that's possible to do with the open-ness of the OS.

By Saying this, U just entered into a alien world.

Don't worry, we're talking Microsoft here. They'll probably abandon Skype + SMS in a few months, say "Just wait until you see our NEW SMS everywhere app! It'll be amazing! When it gets here! In the future! Eventually! Just you wait!"

If you want, you can pass your device to Insider Release Preview, no problem with that ;)

Does this app have a dialer? I solely use skype for all my calls on mobile and currently use the old wp app. I remember when they had the integrated apps. I tried using them, but there wasn't integration with the dialer, so I had to keep using the old skype app. If this feature is missing then upgrading will be pointless for me.

I don't see the dialer which is sad because I cannot use the 60 mins of Skype I get with Office 365 subscription :(

I have a skype unlimited world subscription that came with the work and play bundle. All of my calls go in and out through skype. I hardly dial out, but when I need to it will be difficult to do without one. The app isn't available for me to dl at the moment, but im hoping its there or that its available by the time the app launches to the public

Dialer is definitely there

I finally have the update and have been testing it. Despite having the appropriate setting checked I don't get notified of incoming calls. I also noticed it lets you setup voicemail from within the app, but when I get a phone call the Voicemail doesn't pickup. Am I doing something wrong?

Sadly, me neither, but maybe this version that'll be released will be ahead of the ones we all have from the XDA forums.

yeah hopefully there will be more improvements in the coming weeks that I'm not seeing with this version.

Dialer is there. Check for yourself

The dialer is definitely there, and is quite nice!

I just updated through this article and i have dialler in bottom right hand corner of the app. A little small and maybe hard to notice but it's definitely there for me.

look at the keypad that is on the bottom in the leftmost frame of the picture in the article that shows a call to Zac Bowden.

If you click "dialer" you will be taken to the dialer lol not hard to find

Dialer is there. Update is now live and I was able to call from Skype using my Skype minutes.

Yup! I just managed to pull the update down and there is an easy to access dialer button in the bottom app bar. It opens a nice flyout with the dialer at top and tells you how much Skype credit you have and a few other links at the bottom. The whole UI is very clean and it's very fast

Yes it does.. in the context menu in app-bar ;)

It does have a dialer that works! Only thing I have a problem with is that currently there is no way to get Headsets on PC's connected to the APP using in-app settings as in the audio settings in current PC version of Skype. Same issue with video camera setting. But there is a dialer and it does work.

And it still sucks! I gave up skype a few weeks ago and uninstalled everything. They'll never learn.

It does? I like the speed and reliability of this version.

How do you know it does? It isn't live yet... EDIT: It is now live.

Later "this summer"? So I take it they're working their butts off trying to get it out with AU on 8/2, but can't commit at this time?

They're focusing on AU because they already set a deadline. Since they changed their whole messaging everywhere agenda last minute, it will have to go through a lot more testing before release. It's just a matter of prioritization, everything is coming eventually.

Is this an update to the current (insider) app, or separate?

Desktop Sharing? Or do we still need the Win32 app?

It has the option didnt try it tho.

Yeah it says in update notes there is screensharing for PCs.

In the PC version of the app, screen sharing option is there and it works. I discovered it a couple of days ago and it works fine. Although, you can't share windows selectively like classic app.

That feature is already here too on UWA Skype app. I have to test it again since last time it was so buggy that it sometimes left the red outline around the screen.

One message app with skype integration is wat we need

Really hope they build Skype For Business support into this. The current mobile app is awful.

I like the concept. But I don't like a lot of circles in the UI (like Skype always had). It ruins the neat look. Posted via the Windows Central App for Android

They showed bots for mobile in build but a few moths later still no bots. I'm disappointed. I was really looking forward to playing with them on mobile, I use my pc for work only so I don't use them there.

I have bots in mine. Give it time.

Do you think it's because you used the bots in PC and the conversation is there? Never mind. I downloaded the preview and they're there. Thanks Daniel.

I just installed the update and I have option to add bots on my phone.

I understand how it may be troublesome for fans who want exclusivity on windows platform but we all know Microsoft is way beyond that and platform agnosticism is the new way forward.
I'm glad about that part about hooking into messaging and people app. Remember the model we had in WP8? While we had a standalone facebook app but users could still integrate facebook messenger into default messaging app. And while that model couldn't work because of facebook's advertisement based business model (facebook couldn't inject ads into native messaging and people hub, imagine the outcry), the promise of streamline experience lingered. Glad to see this model coming back through Microsoft owned Skype app. And I can understand them using the platform agnostic messaging everywhere feature to lure new users to skype platform as well as providing better messaging everywhere experience on android and iOS (I'd imagine) than what they could have offered based on Cortana architecture (again a conjecture on my part) though it remains to be seen if android and iOS could allow third party clients like Skype to hook into messaging stack (to be able to use SMS information to be used by Skype app). I have to say after years of skype failures, Microsoft finally seems to be getting their **** together regarding skype (from what I've read from the early Skype UWP reviews and tweets). Fingers crossed for a better skype future.

Well now that i think about it (after reading article) having it on skype is not a bad idea it will make it a lot easier to use too. I love the UI of the app (on phone its levels greater than w8.1 since i tried the leaked app)

I click on the download link and it is showing the old Skype in the market. :(

"The new Skype Preview should be available for Windows 10 PC and Mobile later today, but is not yet currently live."

OK, two months on and there is a flaw (I think).
I have a lumia 950 xl running latest windows mobile and Skype Preview does not turn on after a reboot. I need to manually turn Skype on now, a pain in the butt to me. I would prefer Skype to give me the choice to automatically run at start uo like my PC does....
OR have I missed something???

Just tested myself after a reboot. I am still getting messages before I even unlock after a reboot. Maybe uninstall and reinstall?

It did the same for me, though when I got there, the button read "Update", and tapping it downloaded the preview.

Have the app side loaded from the XDA leaked builds. Works great! Is the build they released today the same build, older build or newer build as that one? The store isn't showing ask update for me.

Skype dev team was doing sometimes 2 builds a day. Those leaked versions are so outdated it's not funny.

Forgive for my stupidity but....what do I do now? Just simply uninstall the leaked build and then I should be able to uninstall the new one released officially today?

You can update through the store (it should be live now) I also had the leaked version installed, just updated it from the store with no trouble and it's almost a completely different experience

If Microsoft going to keep up the good work i would be back to Windows Mobile next year :)

So I could use a tablet as a cell phone now, as long as I have a skype number?

And internet always, and not need of any emergency call never, and keep the phone also with internet. Of course you can do it. After you try it, share your experience.