Microsoft Edge support for using Skype without a browser plug-in is coming by the end of 2015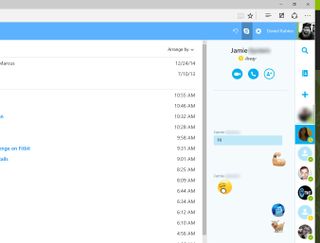 If you like using the Microsoft Edge web browser inside Windows 10, and are also a heavy user of Skype, there's some good news coming soon. Microsoft says it plans to offer a way to launch Skype video and audio calls without the need for a plug-in application, sometime before the end of 2015.
Edge users can already go to Outlook.com to make video and audio calls via Skype. However, this upcoming feature is a result of Microsoft's support of the Object Real-Time Communications (ORTC) APIs for Edge. In fact, if you are in the Windows Insider program, and have downloaded the latest 10547 preview build of Windows 10, you can try out Edge's ORTC API support right now.
Microsoft says:
Source: Skype (opens in new tab)
Why would,I want to do this. Edge only on windows 10, and Skype standalone can be installed and is better.

If you are on the go, not on your device, it's quite useful.

Public cafes or any public computers.

Going at a friend's house and needing to use Skype without delogging him.

Edge browser is missing the swipe mode for tablets. A big no, no.

No! Too many accidental swipes with no way to turn off.

Agreed. It was nice abd bad at the same time. Posted via the WPC App for Android!

How about a toggle so those who want it get it?

Agree. Specially my son using ABC Mouse Touch when dragging objects it was a mess. Not like swiping browsers.

News flash: Future edge update automatically installs Skype plugin so you won't have to install Skype plugin. :P

This is not a plugin, it is a standard. Any other website can use the standard to make there own communication website.

I still don't understand why Skype isn't a universal Windows 10 app.

Because they are going to but Skype in Messaging Universal App

lol just go check their official forums, you'll get it soon enough

"support for using Skype without a browser plug-in is coming by the end of 2015" - ...and probably before browser-plugins

LOL, sadly I bet you're right. Posted via the WPC App for Android!

You're the only one seeing the irony of the situation :)

You bitches will cry no matter what Microsoft does.

You're on to something....

And you bitch will moan no matter how much other bitches cry.

Fuck you very much for your opinion. Bitch!

Be nice guys. If you want to argue, at least make it about something reasonable.

Skype everywhere is something I like, many people use it so it's nice you can access it from anywhere, the only thing I wish it's it was easy to delete people from your list and small things like that. just delete and forget, and clean chats on individual contacts, like spam contacts that happen from time to time.

I have found the opposite. No one I know is actually using Skype. Even people that I know have windows laptops never seem to get my calls.

Well, it seems that everyone uses it for video chatting but no one uses it for instant messaging.

Oh boy! I can't wait for Edge to Cr in the middle of a call. Thanks! /s

Or you can install Firefox or chrome anytime

Also note there are no plugins support for edge so I think the statement is bit misleading . Active-x com support is stripped from edge so they couldn't have done it anyway

Still missing Skype for tablets on Windows. TOTAL FAIL FROM MICROSOFT, shame...

I tried using Skype when the windows messaging app disappeared completely out of my phone, didn't like it.

Microsoft... the "coming soon" company.

This is great! I wonder if this also works also with other web service too. Less reliant on Flash plugin, the better.

I dont know but doing this sounds like a new exploit hole for EDGE. They should have this Skype deal written in HTML5 without use of plugin.
Windows Central Newsletter
Thank you for signing up to Windows Central. You will receive a verification email shortly.
There was a problem. Please refresh the page and try again.