Get Sleeping Dogs and Lara Croft for Xbox 360 free with January's Games with Gold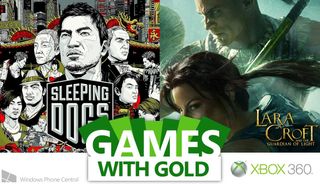 2014 is almost upon us. With the new year comes another month of free Games with Gold titles for Xbox 360 owners. Last month we got an oldie-but-goodie retail title (Gears of War) and a decently-liked XBLA game: Shoot Many Robots. So what does Microsoft have in store for the New Year?
This month, Xbox Live Gold subscribers will first get Sleeping Dogs from Square Enix. Released in August 2012, this makes the newest retail title that the program has offered so far. Starting on January 16th, XBLA hit Lara Croft and the Guardian of Light from Eidos/Square-Enix will be the next free game. Guardian of Light is the first and only Tomb Raider game with cooperative multiplayer, and a must-play if you haven't already got it.
More details and download links after the break!
Sleeping Dogs – Free from January 1-15
Ready for an open world crime game in the vein of Grand Theft Auto? Of course you are. Sleeping Dogs takes place in the city of Hong Kong. Players take on the role of Wei Shen, a police officer with experience both in the United States and Hong Kong. He returns to his homeland as an undercover cop in order to help stamp out the rising power of the criminal Triad.
Will he stay focused on the mission and clean up the streets, or become corrupted by the gang life? That's up to the player. A unique three-prong experience system determines which side Wei Shen will eventually end up on. Be heroic and you'll earn cop points; be a cruel killer to gain influence with the Triad. Or be helpful to the citizenry itself to gain Face. It's truly a unique setup.
Sleeping Dogs is an open-world game, so players have the freedom to move about a realistic version of Hong Kong at will. The game's driving system is highly playable, making it easy to get around in a hurry. It also features strong hand-to-hand combat, so beating up on punks or innocents won't stop the fun train from rolling.
Most Games with Gold choices offer paid DLC for gamers to purchase, and Sleeping Dogs is no different. There are several smaller items to buy, but these are the main ones:
Lara Croft and the Guardian of Light – Free from January 16-31
Ready for a Tomb Raider of a different color? Before 2013's Tomb Raider rebooted the series, Guardian of Light took things in a separate and unique direction.
The story begins with Lara accidentally releasing a demon from an ancient mirror in South America. The Guardian of Light, Totec also awakens and teams up with Lara to help her stop the demon. It's actually not much of a story, with iffy writing, cheap art, and limp voice acting, but it keeps things moving along.
Unlike the mainline Tomb Raider games, this one takes place from an isometric perspective. Players run with the left stick and aim and shoot with the right. The twin-stick shooter-style combat feels great, and even jumping works well. Then there are the puzzles…
Guardian of Light can be enjoyed solo or with a friend in local/online co-op. Each of the two characters has a unique ability. Lara gets a grappling hook with which to create tightropes for her partner. Totec can throw spears that stick into walls and create platforms for Lara to jump on. When playing in co-op, the puzzles require both players to work together in order to get ahead. In single-player, the puzzles work differently so that you don't need a partner to solve them.
2013's Tomb Raider is headed to the Xbox One as Tomb Raider: The Definitive Edition on January 28th. Grab Guardian of Light when it goes free and prepare with a much different (but still awesome) entry in the series.
Windows Central Newsletter
Get the best of Windows Central in in your inbox, every day!
Paul Acevedo is the Games Editor at Windows Central. A lifelong gamer, he has written about videogames for over 15 years and reviewed over 350 games for our site. Follow him on Twitter @PaulRAcevedo. Don't hate. Appreciate!
Sleeping dogs is a great game.

Yes, so glad i didn't buy it when it was on sale. Roll on Jan.

Sleeping dogs was the awesomest game on my laptop,too bad I don't own an Xbox,still on ps2 :(

I thought Sleepy Dogs was finished and then released by Square Enix, not Ubi.

Thanks; my wires got crossed.

I bought Sleeping Dogs used for $11 or so just a few weeks ago, and don't regret it. Great game, and it was worth it to have it to play over the break.

$11 is still a great price. :)

Interesting, I was just about to buy sleeping dogs for $17 looks like I don't need to.

I would really prefer to waste $17 because then you have the physical game, but if you stop paying GOLD you won't be able to play :)

That's how PS+ works, but not this program. Any games that Xbox Live Gold members get through Games with Gold are theirs to keep forever.

You don't even have to download the game. The second you select "download" you can download the game whenever and wherever your profile is at. Even if your Gold has long since expired. That is the major advantage over PSN+.

Looking forward to playing sleeping dogs. Need a new game to play.

Been playing it on PC for a few weeks. I like it. I enjoyed the other games in this series... True Crime... They were kinda rushed too.

But on the PC it looks sweet! I can't stand the lack of anti-aliasing on GTA5 on the 360...this game, although more sparse, looks amazing in comparison at times!

Complain to the developers like everyone else has. They created new DLC they make "some" fixes

Finally, a decent game that isn't five years old. need more of these.

Can't wait for deals like these to happen on Xbox one.

any idea when they plan to start this for xbox one?

Xbox One Games with Gold Revealed Fighter Within and Lococycle

This is great. Two games that I wanted and don't have yet.

Too late. Playing Xbox one now lol good deals though. Nothing wrong with still playing the Xbox 360 though. I just gave mine to my mother in law so she could use it downstairs

Is it possible to download these games, "purchase" them for your account if you don't have access to your console for all of January? Like can it be done on Xbox.com?

Yes, as long as you have some form of payment saved on your profile (credit card or PayPal), you can add games to your account through Xbox.com. Even though the games are free, the website won't let you add them if you don't have a valid payment method.


Yep... I did that for the first few months. When I finally turned console on I had over 20 downloads pending

Finally, some decent games on offer!

Wanna say halo3 WASNT DECENT YOU LITTLE FILTHY HUMAN

Calm your tits :P Halo3 is awesome (I played it every single day for a couple of years) but doesn't everyone already own it? It's practically impossible to have an xbox and not have halo :P I've been sick of being offered either crap games, or games that everyone is likely to have.

I did, can i ask for a refund??

Props to Microsoft for that. I was planning on buying both games and I certainly didn't see this coming. Thank you!

Sleeping dogs is already free as of 10:00PM CST

Lol..i just beat sleeping dogs for the PC lol. But that's the first big win for games with gold.

This game's region does not match this consol ,,, too bad

Same with me, a lot of people are having this problem, only game that I actually wanted and it doesn't work

Sleeping dogs is the first genuinely strong offering in this program. The cynic in me thinks its mainly a way to get people to purchase dlc, but its a phenomenal game, even without any dlc.

I'm gold and can't seem to find sleeping dogs frre
Windows Central Newsletter
Thank you for signing up to Windows Central. You will receive a verification email shortly.
There was a problem. Please refresh the page and try again.