Sling TV app planned for Windows 10 Mobile, along with Xbox One update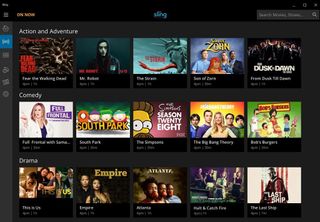 The developers behind the recently launched Windows 10 app for the Sling TV internet TV service have confirmed the app will also be released in the future for Windows 10 Mobile.
The app launched earlier this week, and allows Windows 10 PC and tablet owners to watch live and on-demand programming from a large number of cable TV networks, with packages starting at $20 a month. In response to some reviews of the app in the Windows Store (opens in new tab), Sling TV developers confirmed the Windows 10 Mobile version is in the works, and also revealed an upcoming revamp of the Xbox One version, which was launched in March 2015.
Naturally, we will post up the news when the Sling TV app makes its way to Windows 10 Mobile, along with the Xbox One app update.
Thanks to josiahbk for the tip!
Download Sling TV from the Windows Store (opens in new tab)
Isn't it just a push of a button?
Why spend months???

The user experience probably hasn't been optimized for mobile yet. UWP definitely makes this a lot easier but building a good UX across multiple form factors requires some thought. Shouldn't take months, but Windows Mobile probably isn't their #1 priority.

This was my last hold out to becoming a customer. As soon,as it drops on mobile I'll trying out sling

Same here. If it works well, I will also be cutting the cord with Comcast too.

What about the cord for internet to access their service? Ita unfortunate, but the amount I will pay for just internet at the speed I want, the cable ends up being the same price extra. Cox is just as bad as Comcast with that crap.

Just cut it with time warner cable. nothing but internet. Gotta love $25 a month. Plenty to watch for me anyhow lol..

THANK YOU FINALLYYY...the Sling xbox app is notoriously buggy and though I hardly have issues with live streaming, anything in there library catalog freezes and buffers like crazy, I usually have tow arch it through my chromecast. Which is hard for me to understand since the netflix app on xbox is like...amazingly stable, it even runs when my Internet goes out because it loads like 30 minutes ahead of whatever im watching

Great news hopefully this will bring the Xbox app to the Roku app capability

I'm guessing this isn't available in Australia.

Great to see a major player fully embrace UWP. Hopefully more stay seeing the merit as well

US only I assume, not Australia?

Hopefully it works on mobile. It's not working on my laptop. Grrrr

Awesome! Just tweeted them the other day asking. The SLingTV app on Xbox One ... leaves something to be desired. The UWA though? Pretty slick.

I love sling. I just cancelled my subscription yesterday. It's so great to watch TV while on the go

Still dont get why slingtv doesn't offer the basic NBC, ABC, etc. Kind of a killer.

Totally get what you're saying there, however I do believe (and I think it is a ripoff) Sling offers a $5 package for ABC and a few other affiliate channels. As well as this, I do believe (and I could be wrong) that when visiting my girlfriend in Chicago I did have access to NBC or Fox on Sling. Still, a right proper formal explanation of why they can or cannot include local stations, as well as just bundling it in with Sling Blue/Orange would go a long way.

They do offer it in the blue package

Get a 9.99 set of rabbit ear antenna, that's what I use.

Hopefully the new Sling TV Xbox One app is actually good, the current one is garbage and barely is useable. Seems to work fine on everything else but the Xbox.

Oh yes, TOTAL garbage. When it came out, they shot themselves in the foot by offering a one month free trial through XB1... Let me see just how horrible it was. The PC app at the time was slightly less miserable, but still bad. I cancelled my trial halfway into the month. Couldn't even put up with something free

Sling really did hurt themselves with the terrible Xbox One app, for anybody that only used the service on the Xbox they got a very poor opinion of Sling and the majority of complaints I read about online are from people using it on the Xbox. When I had Sling it worked fine on my computer, my iPhone/iPad, and Fire TV 4K Box. On the Xbox one though it had constant issues enough to really make it often not even watchable. It is just amazing on how terrible the app is and many people say the same thing.

The XB1 app is complete garbage and buggy as fukk.

Yes! I've been waiting for quite some time. I really like Sling.

I'm really wanting to get rid of Comcast TV and just keep the internet. Is Sling TV a good alternative?

Depending on what channels you watch, Sling may or may not work for you. The $20 and $25 packages are a steal, though there are some quality issues b/c of their server - buffering, freezing, etc. I also have video content available through Amazon Prime, but the UX (and show selection) for Sling is much better.

It is as long as your internet is decent (probably at least 15 Mbps for it to load fast and what not) and if you find it has the channels you want. What I really like is it allows you to use it as your provider for WatchESPN so I was able to watch pretty much whatever tennis match I wanted to in the US Open even when it wasn't on the regular ESPN channels.

I have 6mbps and it works fine. It takes a few seconds to get started, but once the stream begins, it's fine.

Yeah, we had 6 Mbps internet before and it worked okay, but it definitely affected the rest of the family.

Folks like I said before the General Public might be hooked on buying Android and Apple smart phone but businesses and smart developers know Microsoft will make it's Windows 10 mobile smart phone ths best smart phones to use with the bigger world of computers and devices that use the variations of the Full Windows10 operating system. They will make one good Microsoft Universal app and it will run on any full Windows10 OS Computer or Devices and also run on a Windows 10 mobile smart phone. Make ONE Universal App that runs on all Microsoft devices that's the way to go

Thanks, I like my sports, NBA for sure. Will i be able to get games on. TNT, ESPN, or ABC?

It's been a couple of days, but ESPN, TBS and TNT yes. ABC - I think it might depend on your area. Go to the site, put in your zip and check it out. (I have an antenna for ABC).

Glad to hear they're going to release for W10M. It shouldn't take months but at least they're working on it. I think Slingtv itself is good but not great until they get more stations.

It keeps erroring out on me when trying to sign up.

Yeah I think they have issues with their sign up process. They have a tmobile promo that if you have tmobile, you can get the cheaper package for $14 a month. I signed up and it doesn't work on anything, yet they still charge me. Although I recently tried the new PC app and I am at least able to search my channels manually and it works...

Can't wait! Love Sling and have it installed on my PC and home Roku. The mobile app would allow me to cast from my L640 to my friend's Roku box for a movie night or to watch the big game.

Did the W10M app ever come out?
Windows Central Newsletter
Thank you for signing up to Windows Central. You will receive a verification email shortly.
There was a problem. Please refresh the page and try again.