Windows 8.1-based Notion Ink Cain 8 tablet launched in India, exclusive to Snapdeal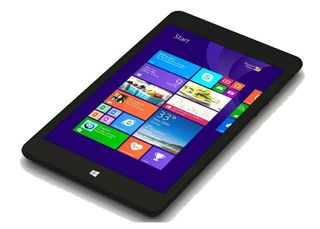 After the launch of Notion Ink Cain 2-in-1 couple of months ago, the company has announced the launch of Cain 8, a Windows tablet, exclusively available on Snapdeal.com.
The Notion Ink Cain 8, powered by Windows 8.1 and Intel, is an 8-inch tablet featuring a 1280 x 800 IPS display on a 5-point capacitive touch screen and powered by Intel Atom Processor Z3735F. While the device does not support voice calling, it packs in 3G support with a micro SIM slot. According to Manish Giri, COO, Notion Ink:
Available in matte black color, the Cain 8 includes a one year Microsoft Office 365 subscription and is priced at ₹9,990 ($150). You can check out more details about the device, and order one from here (opens in new tab). At the moment, the online retailer is also offering a free 8 GB memory card with the purchase.
Notion Ink Cain 8 Specifications
Operating System: Windows 8.1 with Bing
Processor: Intel Bay Trail CR, Atom/Quad core | Model: Z3735F | 1.83GHz
Graphics: Intel HD Graphics - Gen7 646MHz
Sensors: G Sensor, Light Sensor
RAM: 1GB DDR3
Internal Storage: 16 GB; expandable up to 64 GB with microSD card
Display: 8-inch IPS LCD | 1280x800 pixels
Touch: 5-point Capacitive touch screen
Camera: 2MP rear camera | 2MP front camera
Ports: micro USB, micro HDMI, 3.5 mm Headphone Jack
Dimensions: 215 x 128 x 9mm
Weight: 365 grams
Battery: 4000 mAh Lithium Polymer Battery
On paper, the Cain 8 looks like a pretty good tablet at a sub-₹10k price point. It checks most of boxes on the features list, and packs in decent specifications. It might be a great option on the table competing with a multitude of Android tablets if you are looking for a budget mini-tablet. Tell us what you think of the Cain 8 in the comments!
Windows Central Newsletter
Get the best of Windows Central in in your inbox, every day!
Quite good for its specs and a big thumbs up to it for considering windows, but there should have been at least 2 gb of ram. Otherwise it looks quite well actually....

Reminds me of an iPad... The positive way

No regular USB port... :/

Is Nokia Lumia 2520 came to stores in any country.... Its not came at all in India .... I tried my level best to search it

HS18 had said it was launching in India in the last week of Jan '2014', and that week never came. We are still waiting like dumb asses here.

Oh okay..... Hope Microsoft will release it

It was a Windows RT tablet. It's effectively dead. I hope Microsoft learns not to release any more of those devices when Windows 10 launches.

Hi Abhisek, the L2520 is not available in India yet. We just bought it from US. In http://microsoftstore.com, AT&T's unlocked product available for US$299 in offer. We grabbed the offer. :D A friend bought it from US to India. Check out shipoutfromUSA if needed to transport anything to India from US. But i havent used the shipoutfromusa.com Lucky to have this tab. Regards, S.Rajthilak

Dude why about services and parts/spares?

Nice for a budget tablet.

1Gb RAM on Window Phone seems fine. So, the same could work out with a tablet. I don't think this has been aimed towards aggressive processing.. But the price point is really attractive. Shall wait for a hands-on review. Hope it supports 128gb SD cards as well.

It's a budget tablet, stop demanding higher end specs. Some compromises are made for sub 10k price point

I'VE been looking for Windows tablets. There's a lot of Chinese tablets with pretty good specs. In paper they look very good too. I saw some feedback from who have brought Chinese tablets, saying that the screen, even the IPS, sometimes is non responsible, the tablet gets too much hot when is charging that they think it'll burn on fire...

Complete Garbage.......Microsoft should focus on bringing surface of lumia tab to india...otherwise no market share atleast in india...

This tablet has been manufactured by an Indian Based Company in India with a previous product that has been met with very good responses.. So stop bashing it if you can't support it.. Plus looking at the current prices at which the Surface is priced.. I'd put my money on local manufacturers and encourage them to do better.

ohh.. But I heard this name first time and what about aftersales services, even micromax aftersales service is very poor. so what can I expect from this cheap OEM. msft bought nokia now they have their supply chain they should make decent low cost tablets for emerging markets. This only proves micosoft is not capable to make great low cost hardware.

Please search for the Notion Ink Cain 2-in-1 10 inch windows tablet and you'll know what I'm saying.. And microsoft DOES NOT have a hardware store in India.. Nor do I see them planning one.. I can't even buy those products at their online website which currently supports only software sales.. And for after sales, they offer a 1year device swap warranty which sounds good enough to me.. And Microsoft does not support after sales in India as they have no official stores here.. Nokia Mobile was brought under the Microsoft Mobile Division and not the Tablet PC Division. They are two different entities.

msft bought nokias devices and services division and as far as i think lumia 2520 was a hardware device tablet not a mobile. They must merge surface and tablet division of nokia and also suface design was a nokia patent back in 2011.

Go to snapdeal site and you'll come to know about sales and services, they are telling that they are going to pick your malfunctioning tab and they will replace it with new one.

Do some research and you will know that Notion Ink is not like others. It is the only Indian company that is producing high quality tablets. Plus you need not worry about warranty because Notion Ink is offering 1 year door to door replacable warranty whereby they will replace the faulty device with a new one by coming to your home. This shows that they are really dedicated to quality service and product. Having said that, I will ask you to wait for the review before purchasing this tablet. As far as Microsoft is concerned, I waited for Lumia 2520 for about a year before I was told that it wont be launched in India. But it is not just Microsoft. Look at Dell's new Venue 8 Pro 3000 tablet (Rs 12000) or its XPS line of laptops that are not launched in India yet. These US based companies are biased towards US consumers. So it is nice to see an Indian company taking charge.

Microsoft does make great low end hardware. That don't mean they wont let other OEMs. Use there OS and if you from India and this is a local OEM why don't you support them. Jobs are hard to come by in any country right now. So the more Microsoft supports local OEMs the more jobs it help great helping the whole Indian economy. Yeah the surfaces are cool but there's no way your going to get it for that price.

@Rohit
Completely agreed.

Going to buy one after hands on reviews.

Similar tablets sold for around 599 rmb in China (1 rmb = 10 inr) so this one is really expensive

And same sh!t happens when u converts $ price into ₹ rupees

To know more click here
http://www.fonearena.com/blog/122111/notion-ink-cain-8-windows-8-tablet-...

I also hope it has a stylus/digitizer support for fat fingers..

I was all into the original notion ink... Then the reviews came out. I don't trust the company anymore Posted via the Windows Phone Central App for Android

Really.. I thought the reviews very pretty neat except for the part where it was blamed to be a fingerprint magnet.. I am thinking of picking one up myself.. Why did you find it so negative?

those are very nrw to the business. give them time to grow they will be one of the good oems.

I just don't know how you can run full windows on 16gb of storage. The OS grows substantially as you use it. I had so much trouble running it on a 32gb tablet. Cannot imagine 16gb

If anyone has used this tablet, kindly put some light on it's display quality and touch.

Nice specs for the bucks!!!

I'm using the HP Stream 7" tablet at the moment - very similar specs to these. Just wanted to assure you that Windows 8.1 runs really smoothly on 1GB RAM. I've been blown away by how good it is as a Kindle/Plex/VLC/Games type of device. Can only assume this new tablet will perform just as well.

This tablet is great for kids and student in education. 3g support is a welcome news.

Looks like a rebranded Chinese tablet to me. Check out the likes of Pipo W2, W4, Ployer, Onda and you will understand what I mean. Besides those Chinese tabs are available with these exact specifications for INR 6500-8000. I had high hopes for the company, but after the debacle of their first tablet I'd rather go for a Chinese manufacturer with no after sales support.

With a name like that I was hoping for a pen..
Windows Central Newsletter
Thank you for signing up to Windows Central. You will receive a verification email shortly.
There was a problem. Please refresh the page and try again.