Work hard and play harder with Office 365 and Watch Dogs Legion for only $30
From conquering spreadsheets to conquering cyber-villains, this offer has something for everyone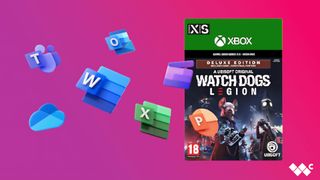 (Image credit: Future)
Admittedly, Office 365 isn't the most thrilling deal I write about each day, but it's something I consider an essential subscription — a necessity just like the weekly grocery bills and energy expenses. Word, OneNote, Excel, and OneDrive have become integral parts of my daily life, and I require seamless access to them on all my devices. Normally, an official 12-month subscription would set you back $69.99. So, imagine my surprise when I stumbled upon this incredible deal on Antonline, offering the full 12-month subscription for only $29.99. But that's not all; it's bundled together with the Watch Dogs Legion Digital Deluxe edition for Xbox. It's time to gear up for both your gaming adventure and your productivity journey, as this epic deal is simply too good to pass up.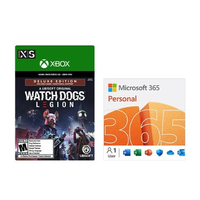 Microsoft 365 Personal 12 Month + Watch Dogs Legion Digital Deluxe | value of $139.98 now $29.99 at Antonline

This bundle is worth it just for Microsoft 365 Personal alone. Use the full Office suite of programs over multiple devices and using cloud storage to back up your important documents. A full subscription would normally set you back $69.99 a year through Microsoft, and this is the cheapest we've seen a sub, and a free game is never unwelcome.
Let's break it down: That's a whopping $109.99 in savings if you look at the combined value of these items at MSRP. These two digital gems are normally a hefty $139.98. But thanks to this mind-blowing offer, you can grab both for less than a dinner for two at your favorite restaurant.
Microsoft Office 365 Personal Subscription is a steal on its own
Even if you aren't a hardcore gamer, this deal is worth it in spades. The Office 365 Personal subscription alone is a game-changer in the world of productivity. With it, you'll unlock a treasure trove of powerful software, including Word, Excel, PowerPoint, Outlook, and more, to supercharge your work and personal projects.
From crafting your resume to crushing your next big presentation. Stay organized, collaborate seamlessly, and take your documents wherever you go (my personal favorite feature). I check each month for Office 365 deals and the cheapest you could find the Office 365 Personal Subscription recently, was for $42.99 at Walmart. But now, it's yours for just $29.99 as part of this incredible bundle.

Office Online is of course free for the web-based programs, but you cannot use the programs offline and you won't get the extra features like macros and advanced formatting that a subscription affords you.
Watch Dogs Legion
If you're an Xbox gamer, Watch Dogs Legion Digital being included in this package should interest you. Watch Dogs Legion was a bit of a departure from the usual Ubisoft formula (and that's a very good thing) and has a fun mechanic where you can play as anyone it's world of near-future London. The game is set in a near-future London that is under a techno-fascist police state, and you have to recruit and play as different characters to fight back.

It's an intense story, unabashadely political but layered with humor and satire. You can read more about it in our full Watch Dogs Legion review, but even if it's not your cup of tea you can regift it and just purchase this bundle for Office 365 alone.
Not the deal you want, but the deal you need
Most Windows users use these programs daily, and we will take a discount wherever we can get it, and this is a cracking one. The deal is available for a limited time through Antonline. It's your chance to score big on both productivity and entertainment.

Do remember if you purchase this deal to turn off auto-renew in your settings to avoid being charged full price for Office 365 at the end of the 12-month period, because of course, by then you can come back to us to find the best price.
Get the Windows Central Newsletter
All the latest news, reviews, and guides for Windows and Xbox diehards.
Jen is a News Writer for Windows Central, focused on all things gaming and Microsoft. Anything slaying monsters with magical weapons will get a thumbs up such as Dark Souls, Dragon Age, Diablo, and Monster Hunter. When not playing games, she'll be watching a horror or trash reality TV show, she hasn't decided which of those categories the Kardashians fit into. You can follow Jen on Twitter @Jenbox360 for more Diablo fangirling and general moaning about British weather.