Sony adds the VAIO Fit 11A to its line of convertable Flip PCs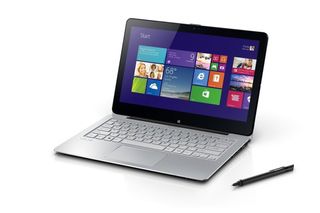 Sony's line of VAIO Flip PCs are a very interesting and beautiful concept for the future of Windows 8 computers. They appear to be Ultrabooks, but have a latch that releases the screen and allows the display to flip 180 degrees backward on a fulcrum. This year at CES 2014, Sony has just introduced a new addition to the lineup – the VAIO Fit 11A Flip PC.
The new 11A Flip PC will come pre-installed with the latest version of Microsoft's operating system, Windows 8.1, and will be bundled with a pressure-sensitive VAIO Active Pen for use in your favorite sketching applications. The pen will also be compatible with industry standard software such as Adobe Photoshop and Adobe Illustrator.
We love to use digitizer pens to doodle in applications like Microsoft's Fresh Paint, but if you want to step it up, the new line of VAIO's will be including Adobe's Photoshop Elements 12 software absolutely free.
The VAIO Fit 11A Flip PC features an 11-inch screen and weighs in at 2.82 pounds. Consumers will be able to choose from a variety of color options including black, silver, and pink aluminum. Under the hood, the unit will house a solid state drive and Intel's latest Pentium quad-core processor.
The new VAIO Flip PC will be available this February at a starting price point of $799. If you are a fan of the other Flip PCs or any of Sony's other VAIO machines (VAIO Flip PC 13-inch, 14-inch and 15-inch, VAIO Tap 11, VAIO Tap 21 and VAIO Duo 13 and VAIO Fit 14E and 15E), they will be receiving a Windows 8.1 update and Photoshop Elements 12 this upcoming Spring.
Stay tuned to WPCentral for more CES news and, of course, a future review of the VAIO Fit 11A Flip PC!
What is your favorite Windows 8 machine out of CES so far?
Source: Microsoft
Windows Central Newsletter
Get the best of Windows Central in your inbox, every day!
I wish Sony would've announced new WP as CES, or at least an announcement of one coming :(

Or any OEM. Anyone, please!!!

By the sound of things here, people can't wait to put a different phone to use in place of a good ol' Nokia :(

I'd say new Windows Phones will be more likely to be shown at MWC.

That's actually very interesting. I think manufacturers will want to unveil devices at MWC if ever, but I assumed 8.1 would come at Build. So either Microsoft does something at MWC, or devices shown there won't work.

Lenovo yoga 11 at $529 is better value than this IMO even though it does not have full HD display

My favorite windows 8 devices are asus note 8 (just because of wacom stylus), Lenovo miix 10, Lenovo yoga 11

This would be great if it had more performance than a Pentium. The Lenovo Yoga 11S has an i5, solid state, as well. It does lack the pen digitizer (that would be nice), but at $799 this isn't that great of a deal in my opinion. I'd rather have the Yoga.

The included Photoshop is awesome, but I thought that N-Trig pressure sensitive digitzers weren't enabled for Photoshop yet. Did Adobe finally address this?

For me its looking like its the Miix 11 that's the frontrunner for my next tablet but will have to wait out for the reviews before i can say for sure.

Waiting for a Surface Mini. :D

Waiting for Baytrail Surface.

Waiting for the firmware of the Flip 15A to be updated and I'll take that baby right away.

Not having any troubles with the 15. Maybe because It is for now laying around but am I going to Be disapppointed when I start using It? Would be lousy

Asus Note 8. If the Duet had only Windows 8.1 I would have said that.

I see the chip name "Pentium" and I am suddenly transported back to the 1990's. Why would Intel think it's a good idea to reuse a brand from 10-15 years ago??