Sony announces new ruby red coloring for select Windows laptops - Duo, Pro, and Fit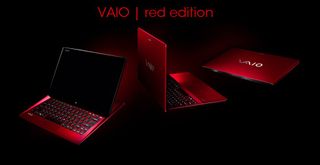 If you are a Windows Phone fan, there is a good chance you are a fan of vibrant colors. I myself am a lover of the color red and keep my vibrant Nokia Lumia 920 on me at all times. Today, Sony has announced a new addition of ruby red Windows PCs. For those wondering, the brightly colored machines are not a part of the (RED) ™ charity.
Sony has announced three models in the high gloss red finish including the VAIO Duo, VAIO Pro, and VAIO Fit. The company claims that each finish is "created by a variety of painting techniques on different materials such as carbon fiber and aluminum."
All the available models offer high performance Intel Core i7 processors, up to 12GB of RAM and up to 512GB of Solid State storage. Many of Sony's laptops also include larger hybrid drives or Blu-ray disc drives.
You can run to a local Sony store or purchase the PCs online at the company's website here.
What do you think – tacky or sexy?
Source: Windows Blog
If only they transferred this skill to their gaming consoles.

Yeah its called the PS4 lol.

I prefer my Sony equipment to be monolithic and black.

Those are absolutely gorgeous! I'm assuming they run on Windows 8?

Red = hot, and that looks badass...

Oh dear. Wish the razor blade came in that color. Or the Sonys had a slightly better gpu.

I think Sony days are over, it has been replaced by Samsung. Weirdly though, they still got their PS.

What crack were you smoking? It is blasphemy to compare Sony to Samedung in the same sentence, period. Sony is the best entertainment electronics manufacturer, period.

Your joking right? Sony is nothing but overpriced and their tv's are shockingly awful

I only meant that, if you look at it, everything was Sony since the 90, it was so powerful you would find Sony socks (under the name of Sany) :P, the brand was trusted and wanted, now this is the case with Samsung, they are the trusted brand, btw you are a smart person, but the average person can't see past what is being marketed.

I just shat in my pants *drool*

Are Sony laptops any good? I know they're expensive, but is it a more bang for your buck kinda situation?

You can count on Sony with hardware. Despite coming with some bloatware (u can uninstall) I've never seen the blue screen of death and barely hangs. Stability is good. But I haven't used W8 with Sony yet. Just don't get the highest end Z series. That I cannot justify......

Sexy. Sexy. Sexy. I have a Vaio from 2011 and its getting old. These look like great upgrades. I also have the red 920 so yea...

The "pro" series have been garnering some impressive reviews. Only problem... They are expensive!

Oh my God, I have a silver version of the one on the far right (looks identical from that rendering anyway) and I thought it was sexy...that red looks incredible!

Sexy! I just bought a Fit a couple months ago in silver! Damn it!

Love it. Now I would only buy it if Sony complimented this laptop with a high end Windows Phone 8. :p
Seriously though, why havent they jumped in yet on the phone side of things? They made excellent hardware. I just will likely never go back to Android.

Agreed. Sony have always had great laptop designs, it'd be good to see them complimenting them with phones. Their Android phones have been rubbish until this year and they have some nice looking phones now. I've always liked Sony (in a similar way to liking Nokia) and if they were to come out with a good WP8.1 device next year I'd be delighted and hopefully struggle to decide Nokia or Sony for my next phone.

Didn't this happen MONTHS AGO??
Or does stuff become news-worthy only after they're announced in the USA?
Windows Central Newsletter
Get the best of Windows Central in in your inbox, every day!
Thank you for signing up to Windows Central. You will receive a verification email shortly.
There was a problem. Please refresh the page and try again.