Sony introduces a variety of personal computers at IFA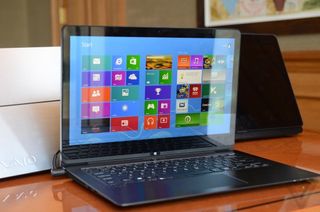 Sony released three new laptops at their IFA press appearance; two of which are hybrid style device that can switch from notebook to tablet mode and one that can switch from all-in-one desktop to... super "portable" all-in-one desktop.
The first new Sony VAIO PC is the Flip – a bold move into Lenovo's YOGA space; this new PC is a part of the company's more affordable Fit lineup of machines. The Flip PC may be a slight case of Déjà vu, if you have seen Acer's Aspire R7 Ezel notebook. The Flip PC uses a hinge half the height of the PC to swing around backwards and turn into a tablet.
The team at The Verge were able to go hands on with the Flip unit and stated that "you get all the viewing options as a device like the Lenovo YOGA, but with a more complex (and slightly less sturdy) mechanism." The device will be available in 13, 14, and 15 inch models with processers up to Intel's Core i7 and a 1080p touchscreen.
If you prefer to carry a tablet that turns into a laptop rather than the other way around, you may enjoy the new Sony Tap 11. This thin tablet measures in at only 0.39 inches thin and includes a magnetic keyboard dock. The device itself is a full Windows 8 tablet and powered by Intel's latest Core i7 Haswell chip, while sporting a 1080p inch display.
While you may think the magnetic keyboard is a copy of Microsoft's Surface design – it isn't. When the keyboard is in use with the Tap 11, it sits separately from the unit and communicates wirelessly via Bluetooth. When you are ready to go, simply snap on the keyboard and it magnetically attaches to the front of the unit to protect the screen. While screen protection is a good idea, we question how we will be able to use tablet mode with a keyboard on top – guess you should leave the keyboard at home if you intend on using mostly tablet mode.
Lastly, Sony introduced the new Tap 21; as you might be guessing, it is a successor to the company's previous Tap 20 "portable all-in-one" and brother to the smaller Tap 11.
Those of you who think "portable all-in-one" machines are crazy aren't alone (I agree), but we are in the minority – Sony reps stated that "they couldn't keep [the Tap 20] on store shelves". There is an apparent market for large, yet portable, touchscreen PCs.
The new Tap 21 offers an improved build quality, a slightly larger 21 inch screen with 1080 resolution, a lighter body frame, and a new hinge that allows you to lay the device flat on a table or keep it upright with ease. We have previously seen this style of hinge on the Lenovo Horizon and think it works quiet well.
The company has given no pricing or release dates for its new products, but we will be sure to keep you updated with the latest information.
Lenovo and Sony seem to be going head to head in the battle for premium PCs – what do you think?
Source: The Verge
Get the Windows Central Newsletter
All the latest news, reviews, and guides for Windows and Xbox diehards.