Sony introduces a variety of personal computers at IFA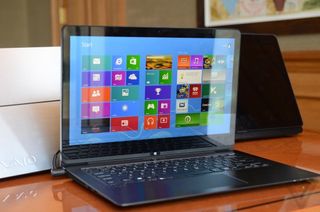 Sony released three new laptops at their IFA press appearance; two of which are hybrid style device that can switch from notebook to tablet mode and one that can switch from all-in-one desktop to... super "portable" all-in-one desktop.
The first new Sony VAIO PC is the Flip – a bold move into Lenovo's YOGA space; this new PC is a part of the company's more affordable Fit lineup of machines. The Flip PC may be a slight case of Déjà vu, if you have seen Acer's Aspire R7 Ezel notebook. The Flip PC uses a hinge half the height of the PC to swing around backwards and turn into a tablet.
The team at The Verge were able to go hands on with the Flip unit and stated that "you get all the viewing options as a device like the Lenovo YOGA, but with a more complex (and slightly less sturdy) mechanism." The device will be available in 13, 14, and 15 inch models with processers up to Intel's Core i7 and a 1080p touchscreen.
If you prefer to carry a tablet that turns into a laptop rather than the other way around, you may enjoy the new Sony Tap 11. This thin tablet measures in at only 0.39 inches thin and includes a magnetic keyboard dock. The device itself is a full Windows 8 tablet and powered by Intel's latest Core i7 Haswell chip, while sporting a 1080p inch display.
While you may think the magnetic keyboard is a copy of Microsoft's Surface design – it isn't. When the keyboard is in use with the Tap 11, it sits separately from the unit and communicates wirelessly via Bluetooth. When you are ready to go, simply snap on the keyboard and it magnetically attaches to the front of the unit to protect the screen. While screen protection is a good idea, we question how we will be able to use tablet mode with a keyboard on top – guess you should leave the keyboard at home if you intend on using mostly tablet mode.
Lastly, Sony introduced the new Tap 21; as you might be guessing, it is a successor to the company's previous Tap 20 "portable all-in-one" and brother to the smaller Tap 11.
Those of you who think "portable all-in-one" machines are crazy aren't alone (I agree), but we are in the minority – Sony reps stated that "they couldn't keep [the Tap 20] on store shelves". There is an apparent market for large, yet portable, touchscreen PCs.
The new Tap 21 offers an improved build quality, a slightly larger 21 inch screen with 1080 resolution, a lighter body frame, and a new hinge that allows you to lay the device flat on a table or keep it upright with ease. We have previously seen this style of hinge on the Lenovo Horizon and think it works quiet well.
The company has given no pricing or release dates for its new products, but we will be sure to keep you updated with the latest information.
Lenovo and Sony seem to be going head to head in the battle for premium PCs – what do you think?
Source: The Verge
I would like to play with the Tap 21.

The tap 11 what a BEAST!!!

Looking forward to seeing the price on this. I'm wondering how often I actually need to type in my lap. That's the only thing I think this wouldn't do.

I love to tap your wi... Nevermind

I wish there could be a Vaio WP. I would be all over that. I love Sony laptops and hardware.

ageed, Microsoft should only allow manufacturers who build quality units release win 8/WP8 Hardware, starting with themselves since they purchased Nokia, Sony, Visio, acer(maybe), HTC and give Samsung some guide lines (stop recycling android phones and bring an original design to WP)

Definitely sounds like the business model Google used to make Android #1.

I'd like to get my hands on the Tap 11.

Yeah I'd like to tap that...

What is the processor and graphics on the Tap 21? I am interested in this, new hp desktop, and xps 27. Hard choice.

Your choice of i5 Haswell, or i7 Haswell. Price not yet confirmed.

And graphics? Integrated or nvidia? And which type?

Wish they were making phones for WP8 os. That said, I still love my 920 tho....

Sony captured the future -- works behind the screen. Thin. Pop them up at any angle or lay them flat.
These 20" form factors are not much larger than my 17" HP battle tank I used to lug to work. In a form fitting case probably the same size and weight as a large road warrior Targus case with battle tank


I think these are great options but I seriously believe 1080p is a bit lacking as soon as we start talking about 20" and larger.
Here's hope the Yoga 2 Pro will help ignite the HDPI screens race...

Not really sure using the word 'flip' is the best way to go... =[

Ha! I prefer it to "flop" :D

Lenovo has me sold with the ThinkPad YOGA :)

Unless Microsoft somehow impresses me even more with the Surface Pro 2!

I bought a Tap 20 for work. We keep it on the counter, and whenever we want to show a customer something on our website, or a supplier's website, we use it. It's awesome, and we regularly get positive comments from customers who're amazed by how good it looks. The article is confusing about the kickstand. The previous one could both stand up and ly flat too; the change in the new edition is it previously took two hands, and now apparently takes one. And for the record, the Tap 21 apparently has a 21.5" screen (not the 21" you might expect, or that was reported in the article). Finally, the Tap 20 was featured by Microsoft in a Windows 8 ad that was in heavy rotation (at least here in Canada), though not by name. That may have helped its sales.

I'd really love to "TAP" that, lol

When do they finally pull out a 14-15 inch tablet??? Who needs a 21 inch one? 14-15 would be perfect for Work and travel... I'd buy it right away. Anyone knows a manufacturer who offers a 14-15 inch tablet already?

I still have a Sony Vaio with Windows Vista. I think I'll upgrade to this for sure. Just hope it doesn't cost an arm and a leg.
Windows Central Newsletter
Get the best of Windows Central in in your inbox, every day!
Thank you for signing up to Windows Central. You will receive a verification email shortly.
There was a problem. Please refresh the page and try again.