Steam Deck performance tested: How do your favorite games play?
By Miles Dompier published
Putting the Steam Deck through its paces.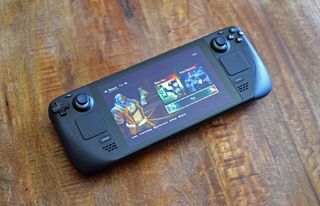 (Image credit: Windows Central/Miles Dompier)
After months of anticipation, the Steam Deck has finally arrived. Leading up to its launch, Valve has made some rather bold promises regarding the performance capabilities of this ambitious handheld gaming device, and many players want to know exactly how their favorite games will run. Thankfully, we've got you covered.
We've had the pleasure of spending the last several weeks testing a wide variety of Steam games on the Steam Deck. Here's a list of every title we've experimented with so far, how they perform under default settings, whether or not they're able to offer a stable 60FPS experience, and our best recommendations for integrated Steam Deck gamepad settings.
Age of Empires II HD
Performance: Amazing performance at max settings. However, some UI elements and images leading into the main menu lack proper color.
Controls: Using the right trackpad for this RTS is straightforward. The left and right triggers serve as left and right mouse clicks, and if you're willing to play without any hotkeys, it works well enough.
Aliens: Fireteam Elite
Performance: Standard settings with Aliens: Fireteam Elite seemed far too high. The initial performance was abysmal, in the ballpark of 15-20FPS. However, dropping the settings to Low allowed for fairly consistent 60FPS gameplay.
Controls: The game had excellent default gamepad controls. I adjusted the rear buttons for rolling and swapping weapons, but otherwise it felt great and didn't require any major tweaks.
Apex Legends
Performance: Couldn't progress Apex Legends beyond the initial title screen on Steam Deck. Selecting "Register" took us to an unrecognized website and closed the client upon every boot. The game uses Easy Anti-Cheat, which has been a problem with developers getting their games to run on the handheld, although that might be fixed down the line.
Controls: N/A
Dark Souls 3
Performance: Dark Souls 3 defaults to High graphics settings. These settings seem to target 30FPS, but we were able to get a somewhat consistent 60FPS with Low settings. It felt better to play than the launch Xbox One version and looked similar graphically.
Controls: Standard controls rely heavily on the right trackpad to move your camera, and changing to a standard gamepad layout felt more natural. We also assigned the rear buttons to dodge and inventory cycling.
Destiny 2
Performance: Destiny 2 wouldn't boot in any capacity on Steam Deck, possibly due to anti-cheat software.
Controls: N/A
Elden Ring (via Jeff Grubb of GamesBeat)
Performance: "Elden Ring is one of the least-optimized games I've tested. At 1280x800 with FSR on at a system level, I was getting 40+ frames per second on the medium preset. Dropping to Low didn't get me much better performance."
Controls: Full gamepad support delivers a controller experience similar to an Xbox controller, and no significant adjustments were needed.
The Falconeer
Performance: Default performance settings are nearly at maximum, and The Falconeer runs at essentially locked 60FPS. No adjustments were needed for a smooth gameplay experience.
Controls: The default gamepad controls work excellently, but I found myself enjoying The Falconeer with gyro controls turned on. This optional way to experience the game allowed for sweeping camera movements just by simply moving the Steam Deck.
The Forest
Performance: Default settings for The Forest are set to High. This setting's performance and visuals are impressive, but adjusting all settings to Medium allowed for locked 60FPS performance.
Controls: The intuitive gamepad controls provided an easy-to-grasp experience. Using the right trackpad allows for a more accessible menu and crafting navigation.
Gunfire Reborn
Performance: The standard settings for Gunfire Reborn are set to Low. These options mostly deliver 60FPS gameplay with occasional dips during moments of intense action like explosions.
Controls: Standard gamepad controls felt great. I adjusted the rear buttons to jumping and changing weapons for a more streamlined experience.
Halo Infinite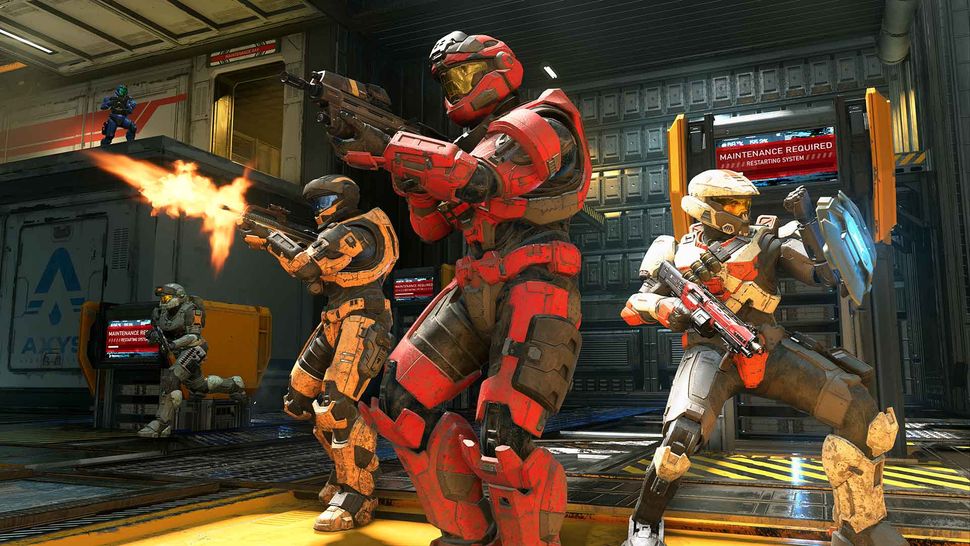 Performance: I couldn't get Halo Infinite to open from the Steam Deck library. The game attempts to boot and quits to the dashboard.
Controls: N/A
Left 4 Dead 2
Performance: Left 4 Dead 2 runs beautifully at 60FPS with High settings across the board. However, load times felt suspiciously long, and I even thought the game froze multiple times while loading into the main menu.
Controls: Default controls use the standard gamepad. The left trackpad is used for additional shortcuts like push to talk.
Lost Ark
Performance: An error initializing anti-cheat software keeps you from logging into Lost Ark.
Controls: N/A
Martha is Dead
Performance: Unfortunately, even with all the graphical settings dropped to the lowest levels possible, Martha is Dead was unable to get close to a consistent 60FPS. However, around Medium settings, we could keep the game running around 30FPS.
Controls: Standard Steam Deck gamepad controls worked as intended. You'll get everything you'd expect from a controller experience while playing Martha is Dead on Steam Deck.
Monster Hunter Rise
Performance: Steam Deck delivers slightly better visuals than the Nintendo Switch version of the game, but drastically improved performance. Default settings for Monster Hunter Rise provide a consistent 60FPS experience.
Controls: The default controls are solid. However, I would recommend assigning some inventory management actions to the rear buttons for more flexibility.
Nickelodeon All-Star Brawl
Performance: Nickelodeon All-Star Brawl runs at a locked 60FPS without any graphical adjustments needed. Default settings provide solid gameplay and excellent visuals.
Controls: Default gamepad controls are fantastic with Nickelodeon All-Star Brawl. Joystick, D-pad, and trackpad support offer plenty of variety for fans of fighting games.
Phasmophobia
Performance: Default settings for Phasmophobia seemed remarkably solid. I had decent graphical presentation and locked 60FPS.
Controls: No major tweaks were needed to enjoy the experience on the gamepad, but reassigning the rear buttons helped with functions like opening doors and grabbing objects.
Risk of Rain 2
Performance: Risk of Rain 2 is one of the best-looking and performing titles on Steam Deck without any major graphical adjustments. I, however, did drop texture quality to Medium for more consistent 60FPS gameplay.
Controls: Tight, responsive gamepad controls. I assigned some of my action abilities to the rear buttons, so I seldom had to remove my thumb from the right stick.
Sea of Thieves
Performance: Steam Deck automatically prioritizes Legendary graphics settings with Sea of Thieves. While this looks fantastic, overall performance is inconsistent. Dropping the settings to Common allows for rock-solid 60FPS gameplay.
Controls: Anybody familiar with the Xbox controller scheme for Sea of Thieves will feel right at home. I assigned my rear buttons to jump, weapon swap, and cycle food items, as well as cannonballs.
Secret of Mana
Performance: Secret of Mana plays perfectly with default settings. No additional tweaks are needed for solid 60FPS gameplay.
Controls: Default controls for Steam Deck are intuitive and fantastic.
Streets of Rage 4
Performance: Streets of Rage's excellent colors shine on Steam Deck. This title plays at a beautiful locked 60FPS with High settings.
Controls: The Steam Deck d-pad feels great with many 2D side-scrolling titles, and Streets of Rage 4 is a shining example of that. Default controls are perfect here.
Spelunky 2
Performance: Spelunky 2 has consistently been one of my favorite games to play on Steam Deck. This 2D platformer runs flawlessly at High settings, and the integrated suspend states make it a great title to pick up and play any time.
Controls: If you've played Spelunky 2 on an Xbox controller, things will feel comfortable. No changes were needed for a solid gamepad experience.
Tales of Arise
Performance: Remarkable performance with default settings. With a mix of Medium and High settings, I was able to get Tales of Arise running at a locked 60FPS. Truly exceptional visuals and performance here.
Controls: Gamepad controls were fantastic. No major adjustments are needed for a comfortable experience.
TemTem
Performance: Standard graphical settings in TemTem prioritized High, which led to inconsistent frame pacing. Dropping the overall preset to Low delivered an experience close to steady 60FPS with occasional dips in the more open areas.
Controls: Default gamepad controls functioned pretty well. Inputting names is easier with the on-screen keyboard than the joystick, but other than that, the entire game seems functional with just the gamepad.
Trials of Mana
Performance: Trials of Mana performed fantastically without any adjustments, providing locked 60FPS gameplay even during the most frantic moments of combat.
Controls: The standard gamepad controls are excellent and natural.
Valheim
Performance: With Medium to Low settings, Valheim can run at a solid 60FPS. Some of the text is difficult to read, but overall, it was a great handheld experience.
Controls: Default controls with the Steam Deck gamepad are quite good. Almost all of the critical functions of the game can be easily managed with the gamepad, and the right trackpad assists with menu navigation.
More testing to come!
We were consistently impressed by the Steam Deck's performance in our review, even with more demanding titles like Dark Souls 3. Having a handheld gaming device that delivers consistent 60FPS gameplay with many titles is nothing short of remarkable. As you can see by our wide range of tested titles, regardless of your preferred genres, chances are the Steam Deck will deliver on your expectations — unless you're playing in a multiplayer scenario like Apex Legends or Destiny 2.
We will continue to monitor these games and note any performance improvements as they arrive, in addition to adding more titles as we run the Steam Deck through the performance wringer. In the meantime, why not check out our list of the best PC games to potentially add to your Steam library?
True portable power
Steam Deck
Play your Steam library anywhere

Wanted more places to play your Steam library? Now you'll be able to with the Steam Deck. This machine comes in three configurations, each allowing you to play your games locally and portably.
Miles Dompier is a Freelance Video Producer for Windows Central, focusing on video content for Windows Central Gaming. In addition to writing or producing news, reviews, and gaming guides, Miles delivers fun, community-focused videos for the Windows Central Gaming YouTube channel. Miles also hosts Xbox Chaturdays every Saturday, which serves as the Windows Central Gaming weekly podcast.
Can you test battlefield 5 and forza horizon 4 on it and mortal kombat 11. Thanks 😊

Please test Grand Theft Auto V

This is very helpful as I wait for my pre-order. Keep them coming. Thanks,

Halo Infinite, GTA V etc.. are pretty big deals for those coming from a console landscape if they can't run reasonably or at all on the Steam Deck. It may not have a big impact on PC gamers who run Windows and I wouldn't be effected if certain popular and huge AAA, in particular those requiring easy anti-cheats, games cannot or will not run but unfortunately this is something Valve will have to figure or get around somehow. As a PC/console and multi operating systems user - Windows, MacOS, CentOS, Android, iOS etc..and fairly open person Valve has won me over to consider gaming on Linux, but I'm an easy person in that respect. I believe Valve can and eventually will be able to make it so that in a console gamers mind "Steam deck can play all those pc games (or most of the ones I care for on my XbX/PS5 console)" No controller, UI, drivers, compatibility etc…beyond typical issues of consoles fuss.
Windows Central Newsletter
Get the best of Windows Central in in your inbox, every day!
Thank you for signing up to Windows Central. You will receive a verification email shortly.
There was a problem. Please refresh the page and try again.