Watch the replay of our 'Stick it to the Man' Twitch streaming event!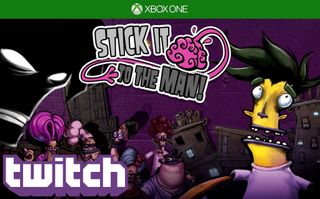 Every weekend, WPCentral streams an Xbox One game on Twitch for one hour and gives out free games to the cool people who join us during the stream. Last week, we streamed 3D puzzle platformer Contrast and dished out codes to eight lucky viewers.
This evening, we'll be playing the hilarious 2D platformer Stick it to the Man from Zoink! and Ripstone. We want you guys there, chatting along. So we're giving out five Xbox One codes for Stick it to the Man, plus several Playstation 4 and Steam codes! Even our unfortunate non-Xbox One owning brethren are welcome. Just follow me on Twitch.tv/Eastxtwitch, watch along, and participate in chat for your chance to win. (You can also watch the event live or after the fact, right here.)
Update: The contest has ended but you can still watch the replay of our stream!
Watch live video from EastXTwitch on Twitch
Stick it to the Man
One day "average Joe" Ray Doewood is walking home from his job as a hard hat tester when a mysterious canister falls from the sky and knocks him into a coma. The canister unleashes a parasite that quickly makes its home in Ray, giving him strange and fantastic powers. Meanwhile, the shadowy governmental organization that lost the parasite (run by THE MAN) will stop at nothing to get it back.
Now that Ray has a funky glowing arm stretching out of his head (which nobody else can see), he'll have to learn to use it. At its most basic, the arm can grapple onto objects and pull our hero up onto new platforms. Soon Ray learns to use the arm to pull on tears in the background, revealing new areas behind them. And naturally the arm can pick up objects and use them on other objects.
The arm's most unique power, though, has to be reading people's minds. Ray can attach his new appendage to the brains of anyone he meets (even dead people!), hearing their innermost thoughts and desires. Many of the game's puzzles revolve around helping people based on the contents of their noggins.
If you like a good platformer with a sense of humor, grab this game and start sticking it to the man.
Stick it to the Man – Xbox One – 1.8 GB – $9.99 – Xbox.com Link

(opens in new tab)
The Contest
We'll be streaming Stick it to the Man for one hour tonight, starting at 8pm Central (9pm Eastern, 6pm Pacific). During that time, we'll be giving out a total of 10 game codes:
5 Stick it to the Man for Xbox One
3 Stick it to the Man for Playstation 4 (US only)
2 Stick it to the Man for Steam
To enter, just follow me at Twitch.tv/Eastxtwitch and tune in during the stream. You can watch the stream right here in this post, but you need to actually participate in the stream chat to have a chance at winning. We'll deliver codes to the winners via Twitch message (PM) during the stream. No code begging!
What's the best way to experience Twitch? If you don't have a PC, you can get the Xbox One or Xbox 360 Twitch app and watch from the comfort of your couch. Or grab the unofficial app Livegaming for Windows Phone. It has plenty of great features, including the ability to chat along with your fellow viewers.
I'll be available for a few minutes before and after the stream if you have any questions or just want to say hi. If you enjoy the stream, I'd love for you to tune in to future streams. For now, we'll do one every weekend, with a few non-contest streams throughout the week.
Contest schedule
Want to know what's next for WPCentral's weekly Twitch streaming contests? Here's the schedule for the next few weeks:
October 18: Stick it to the Man from Zoink! And Ripstone
October 25: Zombie Driver Ultimate Edition from Exor Studios
November 1: Another World from The Digital Lounge
Mark your calendar and tune in those days for your chance to win each game on Xbox One (and sometimes other platforms)!
This won't have a contest attached, but we'll also be streaming Sunset Overdrive on Monday the 20th on our general WPCentral Twitch channel. Check back on our site that day for the official announcement.
Winners
We had an excellent crowd of viewers, with lots of fun chat going on during the stream and well after it ended. Congratulations to everyone who won a prize:
Xbox One:
UcfKnighthood
halfblackcanadian
A54d
Geoketch
Aj6627
Playstation 4:
northeastmonk
chris1neji
pastormtitus
Steam:
Get the Windows Central Newsletter
All the latest news, reviews, and guides for Windows and Xbox diehards.
Paul Acevedo is the Games Editor at Windows Central. A lifelong gamer, he has written about videogames for over 15 years and reviewed over 350 games for our site. Follow him on Twitter @PaulRAcevedo. Don't hate. Appreciate!
Heard this game is fun...will be there.

Was about to say this is your call

There's always that one guy...

Wii u is cool actually . * pc master race here btw*

So exactly after how many hours is "Saturday evening" it your place? Just making sure because it's 6am Saturday morning in my country.

And the first thing I'm going after waking up is reading WPCentral xD

I listed the time: 20:00 hours Central, which is -0600 GMT. :)

Ah yes,just saw it in the article but too bad it'll be 7:00am Sunday in my country when it's 8pm Saturday Central in your.(My country is +5:00 GMT).Doubtful if I'll be awake at that time but I'll certainly try to!Or I'll watch the replay highlights when it's over :) Just started gaming on Steam again,so a code won by watching a stream might come in handy xD
P.S:Talking of steam.I started gaming on steam again because "Payday:The Heist" was free yesterday,download it once and play forver for free(Not those limited time offer like "Play this weekend for free and then buy it," it's free forever if someone downloaded it yesterday).Did you by any chance take advantage of this offer? :D

I didn't hear about the Payday giveaway, but that's a great deal! Steam is really great - I used to buy and play dozens of Steam games before I joined up at WPCentral and life got busier.

Usama bro, if you are new to steam well I can help you with some free games.
PM me and we'll talk.

love the streams Paul, I'll be there again 3 weeks strong!

Always or just this week? Plan is for it to always be at the same time on Saturdays.

Always work Saturdays... :'(

Depending what your job is... Sneak a look with livegaming in WP Store to follow along ;)

Damn... Won't make it in time, I gotta work... but will follow you guys on Twitch, no doubt...

Thanks man, a follow would be great! Hope we'll see you at a future streaming event. :)

hahaha only if u guys are changing ur streaming times, Paul ;)

Is this a WindowsPhoneCentral or XboxCentral?

Search the post history for 'new name', a rebranding has been in the works for quite a while.

For anyone in New Zealand, that's 2pm Sunday. 12pm for anyone in Sydney.

I got my 360 for 214$ so of course I don't have it yet, cheapest Is 399$ still o.e

$86 saved 6 months is an xboxone.

Great stream. Congrats to the other winners. Thanks Paul and Tyler.

Hi once again! :D
Congrats!I won the game for steam as well! :D

i was sooooo close to getting that XBone code, oh well anothewr day another contest. Here is to the next fun stream.

Yaay!I won, thanks Paul and Tyler! :D
Btw,guys you have got to try out watching these streams, they are really cool! :D even if you don't own an Xbox. :D

Good stream guys. Thanks for the game!