Stuck at home? Do these 4 things to get started gaming on your PC.
It's easy to get into gaming, especially when stuck at home.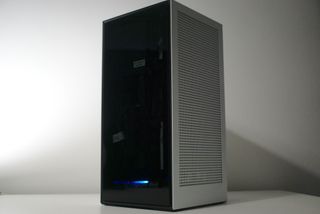 (Image credit: Rich Edmonds / Windows Central)
Many of us are being told to stay at home, which is a pretty good idea to help curb the spread of the COVID-19 virus. There are plenty of things to do at home, including cleaning, experimenting with food, playing some board games, and catching up on TV series, but PC gaming is also a great avenue to take.
It's easy to get into as well, even if you don't have a PC at hand. I'll be running you through a few steps to take to get up and running in no time at all.
1. Prepare your PC
To play games on the PC, you'll need ... well, a PC. If you already have one, brilliant! You're already partway there. All we need is to check your system components to see what you'll be able to play. To do this, follow these steps:
Hit Win Key + R.
Enter "dxdiag".
Hit Enter.
Choose "No" in the prompt.
This will open The DirectX Diagnostic tool. In the main window, you'll be able to see what processor (CPU) you have, as well as how much RAM. The display tab will show you what GPU is currently installed. If your hardware is a little on the older side, you may want to look at performing some upgrades if you plan on playing the latest games. But I'll be sure to highlight some exceptional games that can run on almost anything.
If you know you need to upgrade a component or two to play the game you want at the resolution and frame rate you desire, you'll want to check out our collections for the following:
And bear in mind, unlike a console where a TV and living room are usually an ideal combination, for PC gaming, it's all about the gaming den and smaller monitor. 25-inch panels are generally considered the sweet spot, especially when you consider 1080p and 1440p resolutions. For 4K, you're going to have to spend some serious cash.
If you don't already have a PC
If you do not have a PC and want to build one, we've already got a stellar guide that walks you through each step of the process. Since you're at home, now's a good a time as any to put a new gaming rig together. It'll focus your mind, allow you to feel the sense of accomplishment, and get you online to communicate with others while being entertained.
Building your own PC
Building your own PC isn't a complicated process. You just have to make sure you buy all the right parts and put everything together in such a manner that no component is damaged. To showcase just how easy it is, give our helpful guide a quick read and use it as reference.
You can actually build a capable gaming PC for less than $800 from scratch. It's all dependant on what games you want to play.
2. Get Windows 10 ready
So this may sound strange, but Windows 10 isn't quite ready for heavy gaming sessions from the get-go. We need first to make sure we have the latest drivers for our system, notably the GPU. Depending on which manufacturer your card is from, you'll need to use either of the following links:
Another good idea is to check there aren't any outstanding Windows 10 updates available. You could even look at optimizing Windows for gaming a little to get the most out of your PC. Lastly, install Discord and set up an account if you don't already have one — Discord is a fantastic tool to communicate with friends and others online while in-game.
Buy a gaming headset
To communicate with friends, hear others talk through Discord, and enjoy your games in peace, you'll need a headset that works on PC. Luckily, for you, we've rounded up some of our favorites.
3. Choose a storefront (or few)
Playing games on a PC is much like on a console like an Xbox or a smartphone. You need to install a gaming storefront (think of these like app stores for PC games), create an account, and pick some titles to play. Here are a few of the top gaming storefronts around:
Fear not if this is all a little confusing. You can consider each store as a separate entity. Still, an effort is underway within the PC gaming community to bring all these together in a single location, called GOG Galaxy 2.0.
4. Play some games
Now your PC is all ready to go; you need some games to play. Here are some of my favorites. Be sure to check each title for its requirements to make sure you will be able to play it. (No one wants to waste money, right?)
Terraria is one of the best PC games of all time. Period. For the low price, this almost decade-old game offers hundreds of hours of enjoyment, and even more if you team up with friends.
Stardew Valley puts you in control of a farm you've inherited from a passing relative. It's a blank canvas in a location you've never visited prior, tasking you with getting to know locals, explore caves and go fishing.
Grand Theft Auto V is one for the mature audience, but if you're old enough to play it, you're going to have a bag of fun. With the impressive storyline complemented by an online mode, GTA V will hold your attention for countless hours while you go around, causing carnage.
The Witcher 3 is one of the best RPGs to grace the PC platform. With an open-world, incredible story, fantastic lore, and plenty to do, you'll be slaying all kinds of monsters and taking in the breathtaking environment.
Get the Windows Central Newsletter
All the latest news, reviews, and guides for Windows and Xbox diehards.
Rich Edmonds was formerly a Senior Editor of PC hardware at Windows Central, covering everything related to PC components and NAS. He's been involved in technology for more than a decade and knows a thing or two about the magic inside a PC chassis. You can follow him on Twitter at @RichEdmonds.