Surface 3 discounted to just $320 at Woot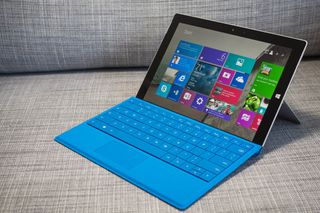 It may be getting a little long in the tooth, but Microsoft's Surface 3 tablet is still a potentially solid buy if you can find a retailer offering it at a good price. Currently filling that role is Woot, which offering the 10.8-inch tablet for just $320 (opens in new tab), which is just over 50 percent off of its original list price of $649.
The Surface 3 first made its debut all the way back in 2015 as a sort of lower-end alternative to the leading Surface at the time, the Surface Pro 3. It's powered by a quad-core Intel Atom x7-z8700 processor, 2GB of RAM, and 64GB of storage. The model on offer at Woot also packs 4G LTE for use on the go.
Compared to newer hardware, the Surface 3 isn't going to set the world on fire. But, if you need a relatively cheap tablet with the build quality that Surface brings to the table, then it's not a bad deal.
See at Woot (opens in new tab)
Windows Central Newsletter
Get the best of Windows Central in your inbox, every day!
Dan Thorp-Lancaster is the former Editor-in-Chief of Windows Central. He began working with Windows Central, Android Central, and iMore as a news writer in 2014 and is obsessed with tech of all sorts. You can follow Dan on Twitter @DthorpL and Instagram @heyitsdtl.
This has full windows right?

Holding off on this. Hoping the next version or Surface (non-Pro) is Windows on ARM with insane battery life and LTE, would totally buy it.

I want a 6" arm so that I can dock it on a gamepad for xpa gaming!

Huh, I didn't know they made a version with 64gb storage and only 2gb ram

Has anyone been able to get an answer from Microsoft on revisions of the Surface line?
For such a large organization, it's baffling how silent they are on items that the consumer invests in.
A few years ago I was all in, but the shift in communication has me tentative on purchasing new offerings from Microsoft.
I got burned on Surface 2, Surface 3, and Lumia devices like so many others.

Surface 2 and Lumia I get, but how did you get burned on the Surface 3?

The 4GB RAM version is much more interesting. It's not a bad device but you'll definitely feel the lack of RAM.

you can find it for the same price in heureka.cz
Czech Republic offers cheap of everything

I have the 4/128 nonLTE version and it is a very good 2in1. I get through all my productivity, light A/V work, and can still play Starbound, CivV, and Torchlight.

Having said that, if an ARM W10 successor appears, I'm probably trading up.

"On the surface, it looks like a pretty good tablet. But under the surface, it also looks like a pretty good tablet."
The folks at Woot! are hilarious.

In June 9th Intel said Microsoft is infringing their patents on Windows ARM, I think this move to end inventory of Surface 3 devices is Microsoft telling Intel the reason they're launching Windows ARM is because Intel stopped upgrading Atom CPU more than 2 years ago. Cherry Trail was the last iteration and despite not being as powerful as Intel Core M3 it still doesn't have the benefit of ARM which is much better benchmarks in 3D graphics with the Snapdragon 835. I'm pretty sure Microsoft is preparing the next Surface (Non Pro) model with Windows ARM OS.

I think original price was 450, LTE added like a 100$ to that, so this is hardly the deal of the century, similarly specced atom tablets can be had for less than 100$ nowadays, this just paying for extra flair on top

Original price was not $450, and you cannot buy a similar tablet for around $100. Are there tablets that cheap? Yes there are, but with a slower Atom, lesser screen, and no stylus support.

by slower you mean negligible difference from bad to baddest I guess, there are alternatives with even higher res screen probably newer which usually means more than what was premium years back, and stylus support isn't worth a x6 price premium, original price is 500$, overpriced af even back then

If that price does not include the keyboard it is still way too expensive.

Make it $150 and we have a deal.

You know this is premium hardware do you ? This is not starter device like a Vulcan Caravan tablet. I paid $59 for an Atom 7" Windows 8.1 tablet which I upgraded to Windows 10 and its the worst device I ever owned, it only has 16GB of storage, touch doesn't work on some edges of screen, so you always have to turn it over about every 3 use cases, also it crashes from time to time since it has 1GB of RAM. Microsoft is in the top league, the opposite of my tablet, the Surface 3 is discontinued but Windows ARM is coming to upgrade this device on a 2 in 1 with ARM CPU, Pen support and best of all will be performance of the Qualcomm Snapdragon 835 chip and its always connected feature. One clue is this device will probably cost more than $700 (64GB), $800 (128GB), $900 (256GB)

I understand that but this devicie is old now. I personally wouldn't buy this at $320. I'm excited for Windows ARM devices as well; however, if they are priced that high they are DOA.

We have a Surface 3. Its really a nice machine. Glad we got it.

Has anyone tried to get Windows S installed on something like this... I think it would make a great laptop for my 10 Year Old son

Dang, this is what I get for barely catching up on my news. This was for a new Surface vs. refurbished too, dang.