Surface Book 2 hit with BSOD errors after cumulative update for some users (Update)
The BSOD issue appears to have started after users installed a recent cumulative update for Windows 10 version 1803.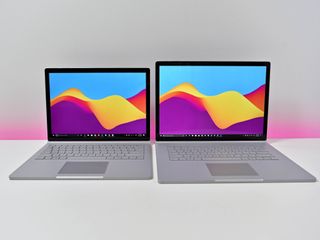 (Image credit: Windows Central)
Updated December 7, 2018: Microsoft has now pulled cumulative update KB4467682 completely following reports of blue and black screen errors from users. In its updated release notes, Microsoft states: "As a precaution, we have removed this optional update from Windows Update and Window Catalog to protect customers." A fix for the issue is still expected to launch with December's Patch Tuesday updates next week. The original story follows.
If you've been experiencing the dreaded Blue Screen of Death (BSOD) on your Surface Book 2 recently, you're not alone. Microsoft has confirmed that a recent cumulative update for Windows 10 version 1803 (April 2018 Update) is causing havoc for Surface Book 2 users, causing the company to put a block in place.
The update in question is KB4467682, which began hitting Windows 10 version 1803 on November 27. In an update to the release notes (opens in new tab) (via Reddit), Microsoft detailed the error as a known issue:
As a temporary solution, Microsoft recommends using its blue screen troubleshooter (opens in new tab). Some users have reported success with uninstalling KB4467682, but getting a BSOD in the middle of the process could wind up bricking your Windows installation. For now, Microsoft has put an upgrade block in place for Surface Book 2 users, so you shouldn't be prompted to install the KB4467682 going forward.
As for when the issue will be fixed, Microsoft is promising a resolution will be available in the December 2018 security update release. That should mean a fix will arrive on December 11 as part of Microsoft's monthly Patch Tuesday updates.
Dan Thorp-Lancaster is the former Editor-in-Chief of Windows Central. He began working with Windows Central, Android Central, and iMore as a news writer in 2014 and is obsessed with tech of all sorts. You can follow Dan on Twitter @DthorpL and Instagram @heyitsdtl.
Yup, I can confirm that this has been happening as recently as last night, 2 in a row, on my SB2 i7 16GB 512. It's a beast of a machine but this is a bit unsettling.

Add this issue to the long list of things Insiders cannot find as a replacement system for true QA vetting releases.

Really pathetic from Microsoft

No, not just pathetic. It's poor fiscal management. As lowering
The wage bill is the easiest and laziest way to increase profits. To me it shows several things: Poor leadership as the constant re-orgs annihilates moral and renders the people working in a company into a group of "Yes" People - who will say yes just to keep their jobs, poor fiscal management - some points mentioned above, zero foresight - you can't keep cutting people and expect to face zero consequences, complete risk aversion and afraid of the scrutiny - stock price goes up - CEO get's easy questions. I've said before and I'll say it again. Microsoft is past their inflection point, they must invest significantly across the board. As this is a total PR disaster, as the Surface line is supposed to be the best Windows experience and show case design as well as engineering. A disaster which was completely avoidable by rehiring the QA team and programmatic testers. It's even made worse that you can't really put the hdd / ssd in an enclosure and retrieve your data. Plus almost all people with surface book 2's will have no recourse as there are hardly any Microsoft stores outside the US. To add to it all this was a cumulative update!
Not a feature update or upgrade. An absolute PR nightmare.
Microsoft better start rehiring the QA team, yesterday.

Not just bottom line profits are up for MS. Top line revenue is also up. I think we here at Windows Central tend to focus on the consumer (minus Xbox) failures, but their service and cloud and gaming businesses are growing and doing very well. As a Windows Phone user, I don't like Nadella's direction, but I can see that his focus is making Microsoft's foundation stronger. What we don't know yet is what will they do with that stronger core? Will they leverage it to grow in a different direction than they had under Balmer, or will they become more risk averse and move further away from consumers?

And that's the main reason why I got rid Windows from my beautiful Dell laptop since 2016. I have one Linux distro which:
- Saves RAM,
- Do not waste space on SSD by installing who knows which services,
- Is fluent,
- Has no virus for every vulnerability discovered,
- Has native development capabilities,
- Is incredibly customizable,
- Has no Edge browser,
- Has an awesome battery life
Such an amazing thing.
Oh man, I hate Windows 10 so much

You're barking up the wrong tree peddling Linux here on Windows Central. For the typical non-sysadmin non-developer user, Windows 10 is infinitely better than Linux. It's like comparing a luxury sports car with a rusty old pickup truck and touting open air bed in the back. Sure it has its advantages, but there are very few users to whom those advantages are relevant. Now if you want to compare Linux to Windows Server, at least there you're closer, where you're putting your rusty pickup against the Microsoft luxury SUV...

I have it to, Surface Book 2 15" i7, 16GB ram 512GB SSD

"Microsoft Windows Update - Because an unstable $3299 computer shouldn't be the privilege of those selected few who got the 1809 update." Thanks Microsoft, I guess you knew better than me if that computer should be in Insider or Release, so crappy support for all versions it is...

To my understanding, The insider program does not test cumulative updates. Only builds in development.

The Release Preview Ring is supposed to be used for testing fixes and drivers for the current release.
But instead, they pushed this cumulative update to the public non-insider release, apparently without testing on one of their own flagship devices. Yet another fail for the Insider program.

Oh, and if anyone thinks we should just update to 1809, since this issue is with 1803... well they didn't bother to properly test the 1809 even before its re-release either, so it still breaks Windows Hello facial recognition, and some background process takes an insane CPU % making the Surface Book 2 overheat and Mixed Reality slow down to a nauseating slideshow... So yeah, latest 1803 cumulative update breaks it, and 1809 also breaks it... good job Microsoft.

I manually installed 1809 while ago and not seeing these issues (although don't have MR to test). Seems I got lucky to avoid the issue 1803 CU issue as I got impatient waiting for the update.

I grabbed 1809 on launch day across most of my computers (before it was pulled for the horrific file erasures for people who had moved the user profile folder from the default location and synced it with OneDrive). The only issues I experienced were cosmetic or mildly annoying, like the incorrect CPU % reports in Task Manager (but the total CPU usage was still correct, and the relative values between the apps were still correct). The benefits of new features in 1809 far outweighed the negatives for me, meaning I was glad to have the update in spite of the initial issues, all of which were fixed weeks ago.

It's not just the Surface Book 2. The original SB also suffers from it... https://aka.ms/AA3fi1c

I have the 15" SB2, "wreaking havoc" is an understatement. I can't use it for more than 15 minutes without at least one BSOD. This is a bad one.

Looks like I missed the bullet. I can confirm my Surface Book 2 doesn't allow me to download this update. I got lucky....thanks, Windows Central!

Same here. SB2 13" with dGPU that didn't download the update. Phew, that was a close one.

Not a fan of all these update issues with Microsoft lately. My SB2 was hit by this BSOD problem, and I wasted nearly a day trying to solve the problem. Then there were the numerous issues with 1809 (which my newly resuscitated SB2 wants me to install now... not exactly comforting). And to top it all off, this morning an Office update ran on my MacBook Pro. When that finished, the OneDrive client (which I've never used on the Mac) kept popping up, asking for my login credentials. Quitting the app didn't help - it would reappear moments later. A quick poke around the command line showed that Microsoft inserted it into launchd so that if the process was quit (or even killed, forcefully), it would restart automatically). Apparently this is a known bug and they're pushing out an update asap... like all the other issues of late.

1809 is great now that the initial issues have been worked out. As with each biannual upgrade, it's much better than all the versions before it.

I guess I've been "lucky." Only hit with 1 BSOD thus far on my 15" SB2... (famous last words)

I ran into the same problem that is listed here, Blue Screen of Death! I searched all over for a fix, but nothing was found. However, I went to the Microsoft website and downloaded the Windows updater. The reason I did this was that the "Check for Updates" in system settings was not giving me any options for upgrading to 1809. My thought was that if this bug is specific to the latest 1803 Cumulative Update, then 1809 might erase the issue. I was exactly correct! I updated my Surface Book 2 15" to 1809 4 days ago and I have not had a single BSOD yet. Things are extremely stable on my SB at the moment.
Windows Central Newsletter
Thank you for signing up to Windows Central. You will receive a verification email shortly.
There was a problem. Please refresh the page and try again.