Surface Book and Surface Pro 4 getting November Hardware Update right now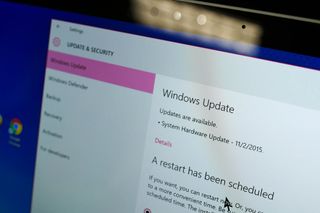 If you are a new owner of the Surface Book or Surface Pro 4, you may know there are some bugs with the trackpad, display and standby. Microsoft knows too, which is why we are glad to see a new firmware update rolling out right now.
Checking under Windows Update we can see a System Hardware Update 11/2/2015 is coming through on our Surface Book and two Surface Pro 4s. Here is what is new:
System Hardware Update 11/2/2015
HD Graphics 520 driver update (v20.19.15.4308) addresses some display issues, including some scenarios that result in screen flickering.
Display audio driver update (v8.20.0.659) supports compatibility with the updated graphics driver.
Surface Embedded Controller Firmware update (v103.855.257.0) improves system stability.
Surface Pen Settings driver update (v10.0.302.0) adds support for future functionality on Windows 10.
A lot of that seems very promising, and we'll be playing around tonight with our devices to see what is fixed.
Head into Settings > Update & Security > Windows Update and check for updates to grab it now. You will need to restart the PC to take the changes.
Source: Microsoft (opens in new tab)
Get the Windows Central Newsletter
All the latest news, reviews, and guides for Windows and Xbox diehards.
Daniel Rubino is the Editor-in-chief of Windows Central, head reviewer, podcast co-host, and analyst. He has been covering Microsoft since 2007 when this site was called WMExperts (and later Windows Phone Central). His interests include Windows, laptops, next-gen computing, and for some reason, watches. Before all this tech stuff, he worked on a Ph.D. in linguistics, watched people sleep (for medical purposes!), and ran the projectors at movie theaters because it was fun.
Wonder if this will help improve the battery drain issues while in Sleep mode.

Sadly it hasn't. It resolved some display flickering and random display crashes, but has also introduced a new problem. The display will not wake from sleep sometimes. And this is on current ring. I am not yet willing to insider my SP4.

"Surface Pen Settings driver update adds support for future functionality on Windows 10". Wonder what that/those could be.

Likely button programming back. You can't even change the OneNote thing anymore.

Explosive James Bond pen feature: 1 click - activate 2 clicks - deactivate

'course it is, it's in a movie.

I'd buy it just for that lol

Future functionality for Surface pen??? Wonder what that's all about.

I hope my SP3 gets a similar firmware update. My display driver crashes about once per day.

I was hoping we had an update too. I rolled back to RTM, so as long as they fix it before it goes out to the masses, whatever I guess.

Same here, except it's more like 4-5 times an hour

That is how mine was on the last insider build. Are you on the new build? I am not doing insider builds for a while...

Just installed firmware Nov 2, 2015. Did not fix the "Display driver stopped responding..." error. On my machine it has always been a momentary pause, and message, with immediate recovery. Surface Pro 4 i5 8GB 256GB model.

Are you running stock Windows 10 or did you install the latest Insider build?

Using stock Windows 10. Display driver issue annoying but doesn't affect usability.

I'm also having the same issue, but only when I use EDGE or an app that is built with the same code. I am temporarily using Chrome till they fix that issue other than that I have not had any issues. I had it lock up on me once today, when I loaded my exchange service from work onto it, but could because I was at Starbucks on a bad connection. What about you any other issues?

I'm giving it another week, if they don't come out with something to fix the bugs, such as display driver, I am taking back while I still can. Can't justify the $2,100 for something that doesn't work properly.

Yea I just installed the 11/2/2015 update and as soon as i went to edge and opened it. My computer crashed with blue screen. Then once i got back into windows i went to edge and went to a few pages and scrolled around using touch and display driver stopped responding /recovered message. So not sure what's going on. I have the 256gb i5 model as well

happened to me too. i don't know if this setting is affecting edge but i checked it before to use software rendering instead of gpu (Internet Options: Advance). since then, i don't have a problem with the display driver anymore; weird stuff.

Do the people with display driver crashing issues have the NVIDIA card or only Intel?

I tried what that other person suggested going into your advance internet options and changing it to software rendering and EDGE is actually faster and not giving me issues.

The display driver issue is a known problem with the intel 520 on pretty much all devices running it. Not just surface devices.

This seems to be a default NVIDIA driver issue and they seem to fix in one release and break in another release. I have 3 PCs and 1 Laptop and they have all had that issue and one time or another to the point that once I found a fix usually via a newer driver, I stop taking any updates for fear that it will happen again.

Same! Microsoft support said to just go to the Microsoft Store and exchange it for a new one. Judging by forum posts, that's what they're telling everyone now. Even though it's very unlikely that it's a hardware issue. I never understood the Microsoft hate some people have, but after experiencing this crap first-hand on a brand new device, I get it now. What's going on over there in Redmond that they can't seem to get it right? It's like every product that they launch has major issues.

I have the same issue and on top of that, after the pause, my surface pen stops working, does that happen to yours? only thing on the pen that works after the event if the rear button when I push it to open things, but the eraser and cursor(pen tip) no longer works and have to resort to a restart.

Not to be a jerk, but this isn't a "hardware update"...it's firmware. It would be nice if they could push out upgrades to RAM and storage, though.

In Daniel's defense, even Microsoft is calling this a "hardware update." Someone check their specs​ after the upgrade in the off-chance Microsoft achieved the impossible and just decided not to tell anyone.

Well in the list of updates it's updating software and drivers. Both are actually hardware updates. Firmware is installed in the hardware while Drivers are installed in Windows and they help windows to interpret instructions. In other words firmware can be updated and run if you install Linux. But the Windows device drivers won't work for Linux.

OK, this firmware makes me really sad. I have lost the ability to login to Windows Hello and it always thinks I am detached. I have a 512 i7 Surface Book.

Why did I read this right after I pressed the restart button? ... I have the same setup. Well here goes nothing. *edit* Windows Hello did not break and it knows that I'm attached. Sorry about your luck. Hope you get it figured out.

OK, it is working again. I did reboot lots of times before I wrote this. It was one of 2 things that fixed it. More reboots or I did go in and turn off Windows Hello reboot...turned back on Windows Hello reboot...and then it was working. I noticed after I turned off Windows Hello and rebooted that it no longer thought I was permanently detached as well. So everything seems to be back to normal.

future functionality? seems interesting

Would love the past functionality of choosing the OneNote version.

The display driver seems to be the same one Intel had already released on their own

How is any of the above a hardware update it's all firmware Posted via the Windows Central App for Android

I have a SP3 and i will never run any insider build again. Thats my advice, do not run insider builds. The last update fiasco made me have to reinstall everything. Now everything runs great.

My Surface 3 runs better with the fast path TP. But it could just be the driver and firmware updates that have since come.

In only 10 minutes after applying the update on SP4, I've already received two "Display Driver Stopped Responding and Has Recovered" messages. On Facebook when scrolling up/down with embedded video posts, the colors in Edge aren't changing (hue) like previously. Appears that issue may be fixed. Frustrating that the display driver crash hasn't been addressed.

Yup. Display driver still crashing on my SP4 as werll.

So it seems to have fixed He bug where the screen changes color while on Edge, but I did get a displayer driver crash error after the update.

An so it begins... The parade of firmware updates that help a little in some instances, but never fix things completely -- the Surface tradition continues

Lol.. I know exactly what you mean. These firmware issues have plagued the Surface line from the start.

Yeah... they finally gave up on my SP2. If Bluetooth is on, WiFi speed drops by half -- an issue with the combo WiFi/Bluetooth chip they used that was 'addressed' in many firmware updates until the updates stopped coming. The last 3 supposedly fixed it, nothing ever changed though :-(

I use my SP2 with a Bluetooth mouse and play Diablo 3 with it with no latency problems. Perhaps you should try uninstalling the WiFi and Bluetooth drivers through the Device Manager.

Then you haven't actually checked. I just turn Bluetooth off, and all is fine. I contacted the manufacturer, Avastar, the maker of the Avastar 350 combo chip -- they confirmed it was a known issue. Heard of Google...? https://www.google.com/search?q=surface+pro+2+bluetooth+wifi&oq=surface+...

I play Diablo 3 on a 2 Mbps broadband connection, so if the Wifi speed would cut by half when I use my Bluetooth mouse then surely I'd notice? I did have some unrelated issues with Bluetooth and Wifi at some point, but uninstalling the drivers on the Device Manager fixed them.

Congrats! Some people are fine with settling for slower connectivity, I wasn't.

surface book here, blue screen after undocking is still there.. i dont know u can mess up 1 of the main features of your product.

Good. Because my SP4 embarrased me today in the middle of a meeting. Was on a Lync call + sharing my screen with a Director from my client when all of a sudden, blue screen :wtc: Hopefully this fixes the ​blue screens as well as it getting hot and battery drain when in standby.

Well, that didn't take long to figure out. 3 minutes after the firmware update, display driver still crashing.

That's service right there! Aw yeah... ;P

Having nothing but video problems crashing with update. trying to surf webpages like pinterstand facebook and video keeps crashing

I wonder how many times this is going to have to install before it really installs.

I hope this update isn't like the updates in the past where after installation you need to reboot a 2nd time since you have no way of knowing you should reboot until you start searching for answers

Firmware updated. Opened Edge, two seconds later blue screen. I didn't have any issues prior to the update :)

This firmware made me eventually do a recovery

Huh. So it actually seemed to install for me on the first pass. I've managed to undock and redock a couple of times with nothing seeming to go horribly off the rails. It was very iffy before, so there's that anecdotal evidence.

I am sorry to hear about others still having issues. As for me- running a surface book i7 256 dgpu, the new firmware has been great. No more display driver issues in Edge. I am running build 10576 by the way. I am using the Surface book docked to 3 external monitors for 10 hours a day at work. It is dramatically more stable now than on day one. It is of course unfortunate that as early adopters we wind up enduring these glitches.

No flicker, Edge is finally usable. No speakers popping. Just had a blue screen, though and a few disply driver stopped warnings before that. So big improvement, not quite there. Had this been the day one state, I wouldn't have been as critical.

Do you have Hyper-V turned on? If not, could you enable it and verify if the screen flicker returns?

Much better graphics performance... color shift and flicker have been eliminated. Still have the driver stopping issue but not as much. Speaker pop is also eliminated as well. Touchpad issues remain but they are getting better.

Are you using the new Surface Dock for the external monitors? I am still not able to get the monitors to extend like they should. I first have to duplicate monitors 2 and 3 and then extend them one at a time. Also, if you remove the screen and reattach, do your monitor settings pick up where they left off?

mine works like a champ now. I had recently done a full reset and have no 3rd party software installed. so happy right now.

Somone on the thread suggested I go into my Internet options>Advanded and toggle on Software rendering. Did that befoe the update and EDGE is running smoother and faster have not had any issues what so ever. I currently on a SP4 i5 with 4GB RAM

Well. I decided to see if the firmware update fixed my battery drain. Nope. Sleep study said the CPU was active 73% of the time and the Intel 520 was active 100% of the time for the battery to drain 11% in 90 minutes. So back to having it always go into hibernation mode.

im eyeing that battery issue as well...

Didn't seem to fix the battery issue on mines neither. Left to work at 100% today, used it at 830am for about 35 minutes to do some browsing, checked morning emails and typed up some reminders for my week. I put it sleep I changed the power settings back to steep instead of hibernate because [ wanted to see if the firmware truly helped fix the issue) opened it up at 12pm for a lunch meeting and I was down to 62% I was actually extremely annoyed. I would have been better off Ieaving the power settings to hibernate and turning off the device after I used it.

For you guys crashing just by opening edge do a refresh on your device..ive had the driver crash removing the clipboard but its not every time.. Surfacedtx.exe usually hangs requiring a kill task.

I had the problem the day I got the device, and the keyboard became unreponsive and the clipboard couldn't be detached. I called MS and I was tiold to hold the power button and the volumn up key for 20 second. Exit the Bios screen afterward. It fixed the issue. I don't get that error any more.

Still getting driver problems and now I'm getting blue screens. Never had a blue screen since the launch day, and now I'm getting blue screens. Damn it.

Same here as well. I never saw a blue screen since launch. When I took it out of my bag for a 12 pm meeting I opened the SP4 to a blue screen.

Can anyone with bluescreens reproduce it at will?

Also if those bluescreens produce an error code, please post the codes...

For some fucking reason, the system wont update mine. It keeps saying problems installing some updates.

Hardware Driver update would be a more appropriate name, I guess.

Doesn't recognize my type cover on SP4 anymore after firmware update. Anyone else the same problem?

Got the update, but with Hyper-V turned on, the screen flickering issue still persists. Is this the case for anyone else?

I take that back...I don't have the update yet...it has yet to roll out to me. I mistook a Cumulative Update for Windows 10 that came down this morning as the hardware update.

Finally got the update. Hyper-V enabled and no screen flicker. So far so good.

I have been trying to install the update for days but am stuck at 12%. Anyone have any ideas