Surface Duo hands-on demos now available at select Best Buy locations
Get down to your local Best Buy and take a look.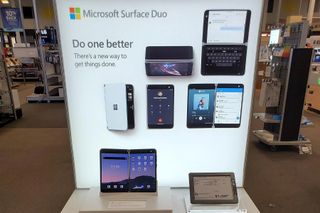 (Image credit: /r/caileanislucid on Reddit)
What you need to know
Select Best Buy locations now host Microsoft Surface Duo demo stations in the U.S.
These devices provide the first public hands-on opportunity with the device.
The Microsoft Surface Duo launches September 10, now available for preorder at $1,399.

(opens in new tab)
The Microsoft Surface Duo looks set for its September 10 arrival, with the recent opening of preorders, and the first wave of devices hitting reviewers. The company has now fully outlined its ambitious dual-screen foldable device, straddling the line between the premium smartphone segment, and a new form factor for mobile productivity. And if you're eager to get hands-on before the street date, Surface Duo is now on display at select Best Buy locations.
Microsoft previously detailed planned hands-on opportunities with Best Buy and AT&T starting August 28, with the first devices seemingly appearing on store shelves. We're seeing several reports of Surface Duo demo stations present in-store, including images of its Grand Rapids, MI installation via Reddit user /r/caileanislucid. However, expect the presence of devices to vary widely between locations, making it best to inquire before visiting.
The Surface Duo does a lot different from past Microsoft devices, switching to a customized spin on the Android operating system. These hands-on opportunities provide a chance to experience both the hardware and software in-hand — the latter an experience even us reviewers aren't currently able to discuss.
There are still ways to learn more about Surface Duo for those who aren't comfortable visiting a store, given the current global climate. We recently received our Surface Duo, with our full unboxing and hardware hands-on impressions providing a peek into that launch-day experience. The Microsoft Store is also hosting scheduled virtual sessions, which provides a complete device walkthrough, and space for a brief Q&A.
Have you seen a Microsoft Surface Duo at your store? Let us know in the comment section.
Preorder today
(opens in new tab)
Two screens are better than one

Microsoft delves into the future of foldables with an ambitious dual-screen device, featuring two ultra-thin 5.6-inch AMOLED displays bound by a 360-degree hinge. This pocketable inking-enabled Android smartphone marks the latest in the Surface lineup, geared for mobile productivity.
Main
Windows Central Newsletter
Get the best of Windows Central in in your inbox, every day!
Matt Brown was formerly a Windows Central's Senior Editor, Xbox & PC, at Future. Following over seven years of professional consumer technology and gaming coverage, he's focused on the world of Microsoft's gaming efforts. You can follow him on Twitter @mattjbrown.
really wish it had wireless charging and nfc. if it did, I would have preordered it. It look like it is going to be a good phone and something different.

Those are the two show-stoppers for me too. I'm not sure that I would have bought one anyway, given the price, but if they can address those two points for v2 then I'm in. I think the fact that each half is so thin could be a challenge when it comes to fitting wireless charging coils in. The challenge regarding NFC could be deciding which side of the device it works on, although the thinness could actually help in that regard, which one NFC chip possibly working through front and back. If it only worked on one side, I can see some people being unhappy either way. It would annoying to have to either open or close the device in order to use NFC. Also, which half do they put it in? When the device is closed, the right half (without the Microsoft logo) would be considered the back but, when it's open, the half with the logo would be considered the back in most cases. These considerations may be the motivation for forgoing NFC in this generation.

It has faults, a lot of them actually, but it truly is an engineering marvel. 4.8mm thick alone is crazy! Calling my Best Buy today to see if they have one just to hold it, but still think caution is the wise course here. At $1400 + accessories I need to build a return on investment case. It is truly disappointing it's missing features common in "lesser" phones of comparable price. Waiting for the early adopters honeymoon period to wear off and hear real reports of actual usage. But wow! That's Tesla-esque, Porsche-esque, engineering on display there.

The missing features may be disappointing, but it has features not available anywhere else. There are no other foldables with pen enabled screens. When looking at the price, I think you need to consider this has two SamsungNote screens which is as expensive, and it folds (sorta) like the Galaxy Z Fold2, which is more expensive than the Duo. Adding in those missing features would likely have pumped the price up even higher and further stressed the engineering this go around. You have to decide for yourself if these are deal breakers for you.

True, the price could have been higher I suppose, but still disappointing. I was asking myself if I'd buy a Tesla if it didn't have a backup camera? Heated seats? Or Bluetooth? And I don't think I would, even with all the other cool features. As for Duo, it's just a lot of dough to be forking out for what feels like an ultra-premium, but oddly experimental, device.

People don't buy tesla for the bells and whistles. They buy for the unique tesla features (namely, bring electric). In fact nearly all the rivals have better build quality and more features. If the Model 3 was a gas car, it would be way below a Toyota Camry.

The new Camrys -- especially the XSEs, V6s -- are great.

So you're saying Teslas don't have a backup camera, heated seats, or Bluetooth? Very common features? If not I just feel sad for buyers. I'm happy as a clam driving around my Santa Fe loaded with all those and more.

Anyone check it out yet. I joined the Microsoft live demo and it is compelling and cool. They would not show the camera on the live demo, not even the app. Wonder it it will be passable or real rough... That is my one hold out and why I won't pre order. Going to wait for a review. For $1400 this needs to be my only phone so the camera has to be OK. I'll settle for OK but cant use horable...

mutant 9, that's 100% my thinking at this point. I'm hoping to hear the camera is at least "OK", good enough that I can justify making this my one device.

I am guessing they are not showing the Os/app yet because they might be working on fine tuned Os/Apps for immediate SW/FW update upon power up.
Remember I am guessing

The app is fine, there's been a couple of videos put up on YouTube by people visiting AT&T stores to check out the Duo.

So I went to an ATT store and they had a DUO on display.. I played around with the device.. the software/apps are really smooth while changing orientations.. very little lag... Also, the device is incredibly thin.. I don't know how MS achieved that..
Now to camera. I don't know how the AI knows when it's a selfie but it automatically changes what screen it displays on.. that was cool..
I took a couple of pics.. they looked good/ok, I couldn't take the phone outside (obviously) to take pics so I had to contend with indoor pics..

Indoor is a harder test. Even bad cameras can take good photos in sun lighting.

Went to both my local Best Buy and AT&T, neither one a demo, unfortunately.

I expect you will just be able to look at them either place. With the review unit embargo until the 10th, I can't imagine you will be able to do much with the demo units. Wouldn't make sense to risk hundreds of 5 minute in depth reviews.

You can use them in the store. People have done so. You allegedly can't install apps, but things like the camera can be tried out.

So, just thinking...What would keep someone from doing an impromptu hands on review in a Best Buy or AT&T stores being told by Microsoft to not allow this to occur?

They're probably not going to let you mill about and mess with it for the hours needed to do a meaningful review. Obviously, you can't test battery life. You probably can't install apps to test out things that aren't optimized for the Duo. You aren't going to get to test quality of the call audio or reception. You won't get to get the GPS quality. You aren't going to be able to test video call quality. You won't get to use it for an extended period to test out how much it heats up. You won't get to test how well the screen does in direct sunlight. You'll get to test little with the camera, including not being able to test low-light image quality or how it does with HDR and such in an outdoor setting. You probably won't even get to try out pen input much, if at all. On top of all of that, it's totally possible that we see a Day One update to fix little things discovered by reviewers. Those things you try out might be improved...or not...by the time the thing officially launches.

I'll bet you can't even do that. The official review units that went out are enjoined to not comment beyond they got them, here it is unboxed, until the 10th. I can't imagine they are going to have fully functioning units out there for every Tom, Dick and Harry to mess with and take pictures of.

Those were my guess and thought exactly.

Actually, they're typical best buy demo units. Meaning they're out if box and just plugged in often with no prep. If you launch the office app, for example, you see it hasn't been set up at all. If Microsoft wants to show off demo units, they need to have the devices fully updated with all the apps pre set up so that a customer doesn't launch an app and have to go through tedious setup screens.

I wouldn't trust BestBuy or cell carrier sales people as they only focus on iPhones and Galaxy devices the same way they did with WP. Those devices are there bread and butter so they have no interest in learning anything else. I hope none of your here believe they will.

As others online have noted, there are employees who are "Microsoft Experts" at these stores. They are MS-paid staff who work at BB, and they are apparently responsible for setting things up.

Dude, Microsoft paid BestBuy to put a Microsoft section in their stores which at the time didn't have a dedicated Apple section and guess what happened 2-3 months into that deal? BestBuy made a dedicated Apple section put it up front and moved all Microsoft surface item to the very back of the store just like the cellular carries did. This is fact... Fry's Electronics also did the same.

In every Best Buy around me, the Microsoft section is in front of the Apple section.
First is general PC stuff, Second is MS stuff, and next is Apple stuff.
The Apple section is a lot bigger than the MS section, but it probably should be since Apple sell a bigger variety of products.

You are correct. The deal with Best Buy was for the Windows section (that's what the sign says), is the largest of the store within a store sections of Best Buy and is usually, depending on limitations of the physical building, prominently centered at the rear of the store. In the three BB's around me, that is exactly where they are and are directly in your line of sight entering the store. I've also seen the Windows section in other parts of the store in smaller BB stores.

at&t wanted to sell a surface duo so they let me play with it :) https://youtu.be/7yZBY9u3nzg

Nice video! Thanks for that. I'm with everyone else in waiting for a v2 that hopefully will have NFC at least, if not Qi as well. I also have been burned by MS too many times with other products that they abandon, so I want to make sure it has some staying power. Props to the early adopters like you who will hopefully spur v2 :)

"So, just thinking...What would keep someone from doing an impromptu hands on review in a Best Buy or AT&T stores being told by Microsoft to not allow this to occur?"

Microsoft can't stop anyone. But, except calling it a "review" is an insult to my job 😂 Seriously, if you think filming a two-handed device running outdate software with one hand after using the phone for 5 mins is as good as pro reviews who used the device in-and-out for 2 weeks with updated software, then I'm not sure what to say besides expect some different results.

I am one of the few people that actually use a mobile phone as a phone. Currently using the Essential PH-1, and it a really good phone, but my house specifically has dead zones for ATT coverage. They finally added Wifi calling, but I don't think it works well. ATT has been pretty bad at allowing Wifi calling on 'random' phones, but since they are selling the Duo hopefully it will be included and works as good as Iphones. Similarly, I am hoping that the antenna in the phone is better (my wife's One Plus 6 has consistently more 'bars' than I have for example).

I don't know... have to sleep on it... but I'm heavily leaning toward not even bothering with risking Covid at Best Buy or waiting for the 3 to 6 months reviews. I found this Galaxy Note 10 Lite for $459 www.ebay.com/i/352975616557. I've found several deals like this. Fully compatible with latest YourPhone features, takes great triple camera array photos, has a 6.7 inch screen (wow!), 855 Snapdragon (not sure why they call this "lite"?), Dual Sim, NFC, and has the bloody pen included in the price. Bottom line... I am 99.9% sure I'm waiting for v2 of Duo. Or perhaps even v3. I think the Panos Panay sales job has finally wore off. But a sincere thank you to all you early adopters out there willing to figure out for us whether having two screens on a phone really makes you a more "productive" person, or just a workaholic. btw I think I'll take the $1000 I'm saving and get a Surface Pro or Surface Pro X and splurge on the Alcantera keyboard or Keyboard/Slim Pen combo. That + YourPhone + Galaxy Note should make me about as productive as I need to be.

"... really makes you ..., or just a fanboi." I'll also wait for v2 or v3 while paying off a Note 9 and holding out for a committed Android phone vendor to show what they can do making a phone better, even as a WiFi hotspot for a non-boutique bit of hardware fluff. No more MS early adoption. It's not going to make you the next Elon Musk or even "hot runner", cuz they have lackeys who do it all for them.

I tried Duo out! Definitely the coolest device in the store today. This hardware is SUPER LUXURIOUS. This is beyond high end. Definitely a different experience here vs a traditional smartphone.. And, the device works great the 6gb of ram, and the 855.. The biggest surprise was the camera was actually not too bad. It's very acceptable. It's nowhere near world class, but I will be fine using it. It honestly was almost as good as my Note9's camera. Just slightly less sharp. But the camera is definitely not a problem anymore. It's fine. 🤷🏾‍♂️👍🏿👍🏿👍🏿

I've got anxiety waiting for mine to come in. My screen protectors will be in tomorrow. I'm pumped as Paynos Panay says!

Really though if one wants a "world class" camera, why not simply buy a TA-DA camera?

That's my thoughts, every photo taken with my galaxy looks great until put next to a mirrorless compact camera, then you notice all the short comings, both look terrible when compared to a semi pro digital SLR, if I have to take photos for work, I'll take along either of the proper cameras because the phone one is just not good enough. I don't recall ever seeing a review of a phone camera put against a proper digital SLR, probably for good reason, it's best to compare iPhone vs Samsung the show up the shortcomings of both.

11 MP is a strange resolution.
I would expect 10 MP or 12 MP.

I'm more worried about battery life. If anyone plays with it atAT&T or Best Buy long enough see if you can unplug it and watch battery drain for 10 min. I've got mine pre ordered but would like to save the hastle if the battery sucks.

The Best Buy in Rancho Cucamonga has their display out as well, I was able to try it out for a while, it runs really smooth. The spanning works well with the MSN news app. Office and outlook were not setup so I could not test. The device feels solid and the hinge feel sturdy and consistent from front to the back. It's going to be a long for mine to arrive

waiting for mine to arrive!!

Seen some videos of it in operation on you tube, this thing is crippled by the Android operating system and it is just too big for a phone... Would rather spend this kind of money on a Surface Pro for productivity and get something like a Nokia 7.2 which is so much more pocketable... Is it possible to use the Surface Duo with only one screen like a normal phone and extend battery life?

I was able to play with one today since I've already preordered a Duo. I really hope they patch the software before launch because the unit I used crashed twice. It started with a flickering in Chrome, followed by unresponsive screen, then the duo restarted. Here's an IMGUR link: https://imgur.com/gallery/lV86WyH

Did it do the same with Edge on the same site? I am going to try it when I go back.

As I noted on Twitter, I'm seeing some demo units running older software as well as the demo software on it, which can cause issues. Seeing the hw in person and trying the software is great, but it's still best to wait for reviews to get a more controlled analysis.

This. Particularly the way some of these folks have shown themselves using the device, it is like they've never used a phone before: rapidly jabbing at one icon after another, confusing the demo software for the underlying OS, and even complaining about the Duo being hard to use as they handle a device tethered to the table with one hand while filming themselves with the other.

Did anyone else think it felt plastic-y and cheap? With the glass sides (felt like acrylic) and because it felt so light it honestly felt kind of cheap. I was only briefly able to try it at the AT&T store I visited and it was definitely buggy and slow, but that could've been due to the demo running in the background. I restarted it for kicks to see the boot screen but it was very uninspiring with just a white windows log on the left screen and a standard android boot screen on the right-screen. I almost cancelled my pre-order but decided to give it a chance. I've already got the slim pen and am just waiting for another 10 days to get the device. I hope it grows on me.

I also think it's ridiculous that professional reviewers are embargoed, yet anyone can walk into a BestBuy or AT&T store and upload a video showing them playing around with the device. (Although I've watched over a dozen of them this weekend as I drooled ever so slightly... ;-)
Windows Central Newsletter
Thank you for signing up to Windows Central. You will receive a verification email shortly.
There was a problem. Please refresh the page and try again.