Surface Duo preorders: Price, release date, and where to buy
By Matt Brown published
Microsoft's dual-screen Surface Duo launches September, and we have all the details on preorders, pricing, and where to buy.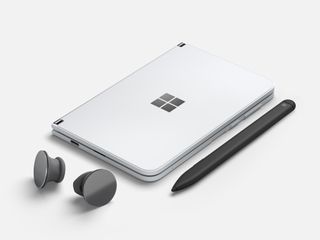 (Image credit: Microsoft)
The Microsoft Surface Duo launches this September, marking a return ahead of schedule for the experimental foldable device. The company returns to the smartphone space with a dual-screen flagship, retaining many existing Surface family signatures, while embracing Android for the first time. You may have some questions, and we have all the answers.
Here's what you need to know about Surface Duo preorders, including its release date, price, and where you'll be able to buy it.
Microsoft Surface Duo preorders now live
Microsoft Surface Duo is now available for preorder in the U.S. ahead of its formal release date scheduled for September 10, 2020. The ambitious foldable device arrives through three partnered retailers across the nation, with a $1,400 retail price for its entry-level, unlocked model. It will also be available via online retailers, and on physical store shelves, after release.
Preorders Live
(opens in new tab)
Two screens are better than one.

Microsoft delves into the future of foldables with an ambitious dual-screen device, featuring two ultra-thin 5.6-inch AMOLED displays bound by a 360-degree hinge. This pocketable inking-enabled Android smartphone marks the latest in the Surface lineup, geared for mobile productivity.
Microsoft Store, Best Buy, and AT&T preorders are now live in the U.S.
Featuring two 5.6-inch AMOLED displays, 1800x1350 (401 PPI) resolution, and a 360-degree hinge, the Microsoft Surface Duo rides on its dual-screen form factor. The final hardware specifications include the Snapdragon 855 processor, 6GB RAM, and up to 256GB storage, which shapes up to be decent, albeit slightly dated. The device also has an 11MP camera, with its hinged design allowing the single sensor to serve as the front- and rear-facing shooter.
One of the best attributes of the Microsoft Surface Duo comes from dual, hinged displays — just 4.8mm each. That's only just thick enough to fit its USB-C port, making an ultra-thin foldable that's easily pocketable when just 9.6mm when closed. Microsoft has also baked in inking for notetaking and sketching, with support for Surface-branded pens out of the box.
But the Surface Duo does have some well-documented limitations, namely forgoing wireless charging, NFC, and 5G support. That helps drive down the cost, even if many features are commonplace on other premium flagships.
Where to buy the Surface Duo Pen
With the Surface Duo also boasting inking capabilities, purchasing an accompanying pen completes that dual-screen experience. But the phone doesn't ship with a pen, supporting existing Surface inking accessories, like the Surface Pen, Surface Slim Pen, and the Surface Hub 2 Pen. However, Microsoft pitches the Surface Slim Pen as the best pen for Surface Duo, given its slimline silhouette that aids portability.
Add Pen And Touch
(opens in new tab)
Microsoft Surface Slim Pen
Microsoft's sleek stylus joins the Surface Duo.

Microsoft's latest stylus is a fantastic peripheral, sporting a slim design, wireless charging with an included cradle, and binding perfectly with the Surface Duo. It's the best way to experience mobile inking.
The sleeker revamped pen debuted alongside the Surface Pro X in 2019, since appearing in Surface Duo marketing. The pen is more portable and better suited to the Duo design, leaving others feeling cumbersome in comparison. But the pen is just some of the best Surface Duo accessories out there, with more expected to hit the market later in 2020.
How to demo Surface Duo before launch
While the Microsoft Surface Duo doesn't launch until September 10, you can already experience a preview of the device both online and in-store. These opportunities provide a deeper dive into the dual-screen device, likely to answer the outstanding questions before placing your preorder.
The best comes with by actually getting hands-on, with units now in select physical Best Buy and AT&T stores. The demo allows for a feel of both hardware and software before launch, proving hugely valuable for a new form factor. We recommend calling your local store to check whether a device is on display. However, the Microsoft Store won't provide such experiences, given its recent decision to shutter all brick and mortar locations.
If you have reservations about visiting your local store, online experiences are also on offer given current world events. The Microsoft Store now hosts regular live demo and Q&A sessions (opens in new tab), where employees talk through the device, via a live video stream. You can also check our pre-release unboxing from Windows Central's executive editor Daniel Rubino, exploring the out-of-box experience for new buyers.
How much does Surface Duo cost?
The Microsoft Surface Duo starts $1,399 with both unlocked and AT&T-bound variants available for purchase. Preorders for the device come via the Microsoft Store, Best Buy, and AT&T, before its U.S.-exclusive debut.
The base Duo features 128GB onboard storage, under that $1,399 price tag. Microsoft also provides the option of a secondary 256GB model, priced at $1,499.
You've likely noticed, the Microsoft Surface Duo isn't cheap. The device falls firmly within the premium smartphone bracket, outpacing rival flagships from Apple, Samsung, and more. It's easy to find an equally capable device in a traditional form factor for a lot less, including the new, top-of-the-line Samsung Galaxy Note20 Ultra at $1,299.
But the Duo's premium price comes from its distinct design, pioneering an experimental dual-screen setup. The Samsung Galaxy Z Fold 2 comes in at $2,000, although with a price further inflated by that single, folding screen technology. But it's the expected cost for an early adopter of such devices.
What's in the box with Surface Duo?
Microsoft Surface Duo ships with all the essentials, with the box containing the dual-screen device itself, a USB-C to USB-C cable, and the power adaptor. The package also has an included bumper case, which helps protect the edges of its glass screen and rear panels from scuffs and small drops.
While the Surface Duo boasts inking support, Microsoft isn't shipping it with the required pen. Any Microsoft Surface pen will function, whether from an existing device, or purchased separately.
Which countries will Surface Duo be available in?
The Surface Duo launches exclusively in the U.S. for now, but Microsoft hasn't ruled out additional regions with time. The company's roots guaranteed the U.S. release, but its overseas absence is likely to disappoint more than a few budding buyers.
We know Microsoft has additional markets on the roadmap, with past international documentation suggesting it's not exclusively U.S.-bound. The device's model number has popped up at both Canada's UL LLC and Japan's Ministry of Internal Affairs and Communications, with launches in further regions expected.
Launching a phone in new markets has its unique challenges, including consideration for popular cellular bands, and navigating local carriers. Expect more to come in the months ahead, as Surface Duo clears its U.S. arrival.
Which Surface Duo colors will be available?
While Microsoft's Surface family is famed for the brushed-platinum finish, other options such as burgundy, blue, gold, and black have emerged in time. However, with the Surface Duo, launch only offers a light-grey colorway dubbed "Glacier."
We know Microsoft has experimented with various dual-screen form factors over the years, including a black prototype in the hands of Microsoft Chief Product Officer, Panos Panay. But as with other Surface products, don't rule out the potential for additional colors with time — maybe for Surface Duo 2?
Which carriers will Surface Duo come to?
Microsoft has confirmed the Surface Duo will support all major carriers, including AT&T, T-Mobile, and Verizon Wireless in the United States. The unlocked model from Microsoft and Best Buy will likely work with your existing plan, while devices from AT&T will be tied up with the service. The broad range of supported bands suggests that the Surface Duo will function overseas, allowing for a seamless transition into new markets.
Preorders Live
(opens in new tab)
Two screens are better than one.

Microsoft delves into the future of foldables with an ambitious dual-screen device, featuring two ultra-thin 5.6-inch AMOLED displays bound by a 360-degree hinge. This pocketable inking-enabled Android smartphone marks the latest in the Surface lineup, geared for mobile productivity.
Main
Matt Brown is Windows Central's Senior Games Editor, Xbox & PC, at Future. Following over seven years of professional consumer technology and gaming coverage, he's focused on the world of Microsoft's gaming efforts. You can follow him on Twitter @mattjbrown.
Who pays these writer for these articles with absolutely no real info in them?????

Yep, just funded my third Lambo, but needed extra cash to fund the new rims — thanks Microsoft

Lol that's a hilarious response.

Thanks for the information, Matt. Keep em coming. 👍🏽👍🏽👍🏽

Arn't just Lambos a bit boring? How about a Morgan or an SLS, just for variety?

I'd prefer a AMG GT Black Series, as long as we're dreaming. 🤷🏾‍♂️🤷🏾‍♂️🤷🏾‍♂️

It's basically a place holder piece until they have more information. And then they fill in the information as it's announced.

Thanks, appreciate the understanding! Wrapping up the best we know today, with more hopefully just around the corner 👀

That's even worse. It means they edit old content and recycle articles, which usually leads to disjointed writing styles. On top of that, you have these recycled posts that get pushed to the top with their old comments, which are often outdated or flat+out wrong because the author set people up to speculate.

Why you such a Karen, Keith?

Whoops, I messed up and had journalistic standards in mind. I should have realized they were just going to come in and edit out all of their wrong info on release date and price (when they said starting at $1,000 and 64 GB of storage and shipping 8/24) while shoved affiliate links in on top.

Good one as we're seeing enough Karen's on the news now they're becoming commentors in tech sites too!

He Karen's on so many articles too lol. I just keep calling it out. It's hilarious

Why are you such a 'Frank'?

The bad thing about that is then you have to slog through all the old comments to find the relevant ones. I'd rather get a new article each time.

Judging by the way your comment was poorly written, certainly not you, although you should.

I hope this is priced 1k or under.... If it's just 64gb for 1k.... Pixel 3a has 128gb for $350... And my oneplus 7 pro had 256gb for $700, 8 pro is $1k. So feel like no excuse to launch with something lower than 64gb. Been really interested in this device though camera, lack of nfc, and price may deter me. Really excited to see it released and reviews. Looks like Microsoft has put alot of optimization into software and them hiring from company they contracted with bodes well for future support. If Microsoft can push out weekly windows updates to thousands of different devices then Android shouldn't be problem for them.

you're listing devices with truly midrange chipsets. chipsets that are SIGNIFICANTLY SLOWER than the 855 even though they're newer. Storage space is not the most expensive part of devices.

You're your finger muscles typing your explanation to those performing price comparisons they ignore the work put into developing this screen technology, split board and battery tech, purchasing and setting up factory to develop the cabling technology used to run through the hinges to link the tech.

I'm hoping they bundle in a couple things to sweeten the deal. I've heard Zac & Dan mention they think the bumper case may be included. I would like to see the Microsoft Store include Surface Earbuds.

Zac and Daniel have already confirmed there will be a bundle with the grey Surface Earbuds.

Oo, did they? Where did they confirm that? That's great news.

thats what. I am looking for

The bumper case is included, at least through ATT. I put a link to the what's included for those who are with att.

Keep trying to decide what price I want to pay. I care less about the SD855 and more about how many hardware features are missing. No IP rating, so that means the design and testing should be a bit cheaper. They aren't using a folding display, so it should be able to be priced closer to a 2019 LG and its second display than a Galaxy Fold 2. No 5G, NFC, Qi, 3.5mm, or micros, so hardware costs shouldn't be as high. Lots of things to suggest it should be WAY below other foldables.

Like around $700-800 due the 5 features you list that this thing does not have.

Well...it's double that. I would have paid $1,000, but $1,400 is absurd.

MS is charging early adopters for the R&D

Yeah an extremely highly profitable company needs to recoup maybe, what, couple million. Even if it was $10-20m in R&D that is drop in the bucket for MS.

One Thing I can say for sure, if they followed the same retail policy as they did for Lumia 950/XL it will fail for sure, limited availabilities in many countries, only sold on MS online store, no deal with carriers. they need to work out these issues.

No amount of strategy, marketing, subsidy or bundling will sell this thing. 950xl had its faults but had the X factor of being Windows, new technologies and new OS. That made it exclusive. This is going to be looked at like a children's laptoy. Like all toys, kids will expect to pull the screens apart. I predict it won't sell 5% of 950xl. They can't launch globally because the bar is set so high by hauwei and Samsung they'll be laughed at.

Imagine thinking "running windows" makes a phone exclusive

No, it would just make it awesome. The security benefit of low market share was just a nice to have.

It did. WP and W10M offered a unique OS experience and I maintainitnwas a couple of Big steps up from Android and iOS.

Someone hasn't forgiven Microsoft for not making the phone they wanted.

Maybe but look at those bezels and the door hinges.
It needs a hinge that spans the entire gap like surface book. SB keyboard and the screen still look like the same device attached or detached.
This looks like two devices. Even if the screens don't blend but the enclosures have to merge in the centre. You'll be laughed at for carrying this thing around...Windows or Android. Aesthetics are pathetic.
I'm embarrassed Panos.
No technical ability to pull something like this in the west. He needs a partner in the east.

Nah, you won't be laughed at. People will simply ask, "What's that?"

Kind of sounds like you have self-confidence issues, tbh.

Man, have you compared the Duo with the Galaxy Fold? Which one of them would you like to be seen with in public?

This surface duo with square home launcher is going to be so cool Cant wait to buy it.

What if all the dual screen tricks are in the launcher? I bet Duo will be very dependent on the Microsoft launcher. Microsoft would be smart to put as much as possible in the launcher so they have an easy path to updating the UI.

Considering I am running the MS launcher for Windows 10 on my LG G7 AndroidOne now, they should be able to manage what you suggest. It gets frequent updates, and can even disable that annoying Google Assistant button (to me - hate physical booby-trap buttons), so they seem to already be keeping up with Android launcher features in general at least.
However, if the Duo really will omit microSD storage expandability, and headphone jack, the price will have to be really low for my consideration. Physical size will be another factor, and that is something I have to get hands on to determine suitability for my hands (not those of an ever-growing giant as seems to be the trend overall for "premium" phones).
Oh well, will keep tabs on software progress achieving critical mass for my Linux-based PinePhone for a platform I am most interested in - lots of action in that regard.

I remember when you said over and over that Microsoft would never make a device like Surface Duo... Iike everything you say you were wrong. Now look at you still running your mouth about nothing. SMDH 🙄

I will really be surprised if this device goes anywhere. Aside from the initial surge from the "I MUST have the newest toy" crowd, I'm anticipating this will see lukewarm numbers at best.

The travesty in this situation is that you have individuals who are being critical of the author who is trying to provide more information which is what we want. I honestly am impressed that we have as much as we do with Microsoft not being the most cooperative entity here. Regardless of how recycled or regurgitated the information is, there is still enough new content to add intrigue and to me that's the purpose of the article. I will continue to read and enjoy them. Keep up the good work.

Our core audience, which is who mostly comments, is still salty over the Ballmer-era failures, unfortunately. I'm confident they'll never let it go, which is why you still see "Zune" mentioned in 2020 when iPods never are.

I can still buy an iPod and use it with Apple Music. My Zune(s) and ZunePass/Groove has been laid to rest. RIP (and BTW, my click wheel iPod with the 30 pin connector still works too)

Can you still use Pippin or OSX Server? Just asking.

Honestly, there would be no surface and Ballmer not approved its creation under his tenure as Microsoft CEO, so honestly, we should thank him for that because it sparked I new direction for MS asking with office 365 also begining with him as well. This just shows that a lot people are inherently negative and hold on to it for easy to long.

That's a really good point.

Running Android is going to save this phone like running Android saved Nokia phones. Open source non-forked Linux kernel mobile OS's like Ubuntu Touch and WebOS need to be pushed into the mainstream market. This can only be successfully done through marketing. We need a "Steam Store" for third party mobile applications like there is for desktop games. First, people said that game developers would never use Steam's SDK or publish their games on Steam. They were wrong. Then people said that mainstream developers would never develop even a single game natively for Linux OS because there's no money or market in it. They were wrong. Let's prove to Apple, Google, and third party devs that they're wrong about mobile too.

Marketing isn't the answer unless you have a great product. You will find zero mainstream appeal with Ubuntu or WebOS on phones. Marketing would be the least of your issues.

I'm really curious about real size of that thing. And how much it is usable without Play Services from the evil company.

Surely it arrives with the Play store installed?

Google Play services/Store is included.

It has GMS which means it's the entire Google suite of software including Play Store, Google Maps, etc. Google doesn't allow a vendor to pick and choose what apps to install. It's all or nothing. That is why Samsung phones have 2 of every app. 2 calendars. 2 calculators. Etc. They wanted the Play Store and Google Maps but they don't want to be tied to Google's restrictions.

Have there been any rumors of additional announcements that may be coming from the same event as the Duo announcement? It would be great if something like a Surface-branded Teams Device were to launch, too, knowing that Lenovo and Yealink have a couple of devices available and on the way.

This was announced almost a year ago. It's unveiled for pre-order today. Ships Sept 10

You can use teams on this device so why would another device be announced for teams? This was demoed by Paynos.

So when Zak (and others) said that they had been told that people would be very pleased with the price (or something to that effect) ........ I don't know anyone who is happy with that price.

Price seems fine to me, for what it does.
later
-1

Yeah, $1,400 is more than a Note 10 or a Galaxy Z Fold and it does LESS than either! What a steal!

The galaxy fold is almost $2k. The z flip is basically a regular phone that folds in half. It doesn't offer any benefits over a regular single screen phone besides folding.

The Z-fold 2 is $1900, how is this more?

Yeah, remember that Zac reported $1,000 and an August 24th ship date. This is why I said at the time that I thought WC was hurting the Duo's cause with their speculation and it suggests Zac didn't have good sources for his reporting.

"Yeah, remember that Zac reported $1,000 and an August 24th ship date."

Zac literally

never

reported $1,000 anywhere in print, a tweet or on the podcast. Otherwise, show your receipts. We did take a guess on the podcast and I was hoping for $1,000 for a 64GB model. We also said that wasn't based on sourcing, just our guesses/hopes.

Week of

August 24th was accurate. The date was the 28th (we have the PR materials). It was pushed to the 10th due to Verizon certification.

Dan, these commentors don't understand the term hoping, further more, as you stated, that was for a 64GB version which isn't available so 128GB pricing is inline. MS can't please everyone and they knew this going in. I just wish those who don't like the price would just purchase something in their price range and move on.

Nice, now you have the chance to be both beta tester and financier for Microsoft's test balloon.

Having disposable income means you don't need to worry about such things. For those on a budget, you should not be buying $1,400 phones. Or $1,000 ones either. Maybe a nice OnePlus Nord.

In the last wee I know of four companies willing to buy these to test with their employees, which is surprising for a new device especially with the price. Given their past track records for one company I know the most that's an order of 400 devices for the US alone if it passes trials. Not a lot of orders but it's a start as they usually use 2-3 year old phones from Samsung or Apple.

I'm not opposed to the price or the concept. But I've been bitten too many times by Microsoft. If there is a Duo 3, then I'll buy.

MS usually follows the three strike rule. If by the third try, it's a hit, MS sticks with it. If it's a failure, it is kicked to the curb. We'll know in 2022...

Sigh! I wished that was true with the microsoft band! :-O

"MS usually follows the three strike rule. If by the third try, it's a hit, MS sticks with it. If it's a failure, it is kicked to the curb."

While I like this idea where is the evidence for it?

It's times like these that I'm glad I've hung onto ATT. First off, I'm able to get the Duo on an installment plan, but the real benefit is having the early upgrade so I can get a Surface Duo 2 next year. I'll be paying $700 to basically "lease" the Duo for a year in order to get to a Duo 2 that I may or may not decide to keep instead of lease.

Finally, a smart person as opposed to haters. Strange to because back when WP existed, all they wanted was a pocketable pc styled mobile device with Android apps. Now they get it and it's whine city. Amazing!

No, people wanted to run Windows apps on WIndows phone also. They were supposed to introduce Windows Andromeda for that. And yet another MS epic fail.

Nobody cares about Windows apps. That died years ago. Get over it.

well I did it. I pre ordered it....weird when they announced it I thought it came with the headphones, I believe tech demo packages even came with the headphones.

I'm leaning against this because I'm struggling to see the value for the very high price, but I thought I would check it out because (a) I'm the target audience, and (b) I've owned most of the Surface devices. Here is my "check it out" experience at BestBuy:
1. Called my local BestBuy to see if they have one on display; they said yes.
2. Went to BestBuy to their Surface area and asked to see the Duo. The Surface guy starts showing me every device but the Duo. I had to keep saying "no, the Duo" over and over, and he just kept showing me the next non-Duo device until finally my wife yells "THE PHONE! THE DUO PHONE!" The guy says, "Oh, the Duo," as if I hadn't been saying that over and over. He points us to the phone area. We go there.
3. The lady in the phone area says that they don't actually have one on display. She shows us the display, which is all set up for the Duo, but the phone isn't there. She didn't say that they didn't have one, just that "it's not on display." I don't have the energy during the Coronavirus to keep driving all over town hoping that some store that says they have one on display actually has one on display, given that I'm inclined to pass on the device anyway. So, I'm not sure whether I would have bought one, but whatever chance there was for me to buy one is not gone. I think MS made a terrible mistake closing the Microsoft Stores.

I have been waiting for this device for like a decade, even without NFC, which I do use a lot, the Duo is just to exciting, and really to be honest, I am still sort of thinking this is a dream, lol, Microsoft & Google together in bed, can only be a good thing, even if diehards, and I was one of them, thinking how can Microsoft call a Mobile device a Surface, if its not running Windows, but as we all know times change, Markets change, and Microsoft has really thought about the OS for the Duo, and its form factors, and what is best for it to succeed, some people will use the Duo as their main device, ill be one of them, the first thing I did was check and double check the bands on the Duo, then straight to my Australian network providers to do the same thing, i end up spending nearly Australian $2400 all up, from BAB, that is crazy expensive ,but for me it worth it, and looking forward to testing it out soon.

Is anyone getting shipping notifications yet? Supposed to get this by Thursday...tiktok...

fwiw, I still haven't gotten a notification from the Microsoft online store, but I checked my FedEx acct this morning and it says that a label is being created and the shipment is due to be delivered before 8pm EST tomorrow...
Windows Central Newsletter
Get the best of Windows Central in in your inbox, every day!
Thank you for signing up to Windows Central. You will receive a verification email shortly.
There was a problem. Please refresh the page and try again.