Join a live Surface Duo demo and Q&A with Microsoft
Join Microsoft live across a whole bunch of demo sessions leading up to launch.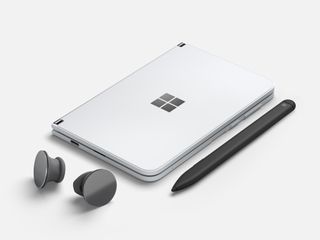 (Image credit: Microsoft)
What you need to know
Microsoft has a dozen Surface Duo live demo and Q&A sessions available through the end of August.
You can sign up to see some of Duo's unique features and ask any questions that come to mind.
Surface Duo is set for a September 10 launch and is available to preorder now starting at $1,400

(opens in new tab)

.
Microsoft hasn't exactly advertised this, but there are a dozen Surface Duo demo sessions scheduled through the end of August. The sessions are live and available to stream online, and you'll get a chance to ask questions about Duo as well. You can sign up to join one of the sessions (opens in new tab) at Microsoft now.
With the current state of the world, this might be your best bet to get an in-depth look at Duo ahead of its September 10 launch. It's not the only way to check it out, however. Microsoft also recently revealed that demo units are available now at select Best Buy stores, and they'll be at AT&T stores starting August 28.
Surface Duo is Microsoft's return to the phone space, but Microsoft is pitching it as much more than a phone. It's primarily intended as a mobile productivity device, with the unique dual-screen setup offering some interesting capabilities. While it isn't intended to appeal to the masses, it's another unique addition to Microsoft's growing stable of Surface devices.
Surface Duo is available to preorder now from the Microsoft Store, AT&T, and Best Buy starting at $1,400. It's expected to launch on September 10.
Preorder today
(opens in new tab)
Two screens are better than one

Microsoft delves into the future of foldables with an ambitious dual-screen device, featuring two ultra-thin 5.6-inch AMOLED displays bound by a 360-degree hinge. This pocketable inking-enabled Android smartphone marks the latest in the Surface lineup, geared for mobile productivity.
Main
Windows Central Newsletter
Get the best of Windows Central in in your inbox, every day!
Dan Thorp-Lancaster is the former Editor-in-Chief of Windows Central. He began working with Windows Central, Android Central, and iMore as a news writer in 2014 and is obsessed with tech of all sorts. You can follow Dan on Twitter @DthorpL and Instagram @heyitsdtl.
That's a lot of money for something they are just going to abandon in a year or two from now. I thought I got a deal on some Harmon Kardin smart speakers with Cortana (3 of them) now they are killing that, or the 4 MS Bands for my wife and I or all my windows phones for my family and I. Thanks for all the things I invested in and that you've forsaken.

Under Nadella, he has been killing stuff that was started before his tenure. I agree with you that it's bad, but we've not seen them test and abandon Surface or any of the major initiatives begun under his leadership. I don't see any reason (yet) to suspect they will ditch this. Zac has reported he's certain they are already well into developing the Duo 2.

Zac also reported the Duo would be out in June or July and August and have a 64 GB model and start at $1,000. All of that stuff is just speculation, at best. That said, Microsoft has a pretty good history of giving all of their products AT LEAST two release cycle before cancelation (Surface RT, Band, Microsoft Lumia, Kinect, etc.).

This is Android so it is designed to be abandoned by the manufacturer. It won't matter if Microsoft never updates it, five years from now it will still be supported by Google Play and work just fine.

This is a very rare occurrence around these parts, but I have to say bleached is right. In the end, it will still be an Android device, which means it can be used and will have apps.

But it will be two android phones duct taped together. It really needs some developer support to take advantage of the unique opportunities the two screens present.

and in that same timeframe, how many Google products did they abandon (sometimes with almost no notice)? Tech moves fast, and takes no prisoners. If a product is not doing well in the market (or in Google's case even if it IS) the management may decide to kill it off for any number of reasons (some of which can be petty, like it was a product championed by the previous CEO.) That is what makes buying tech a crap-shoot at best. I had all Windows Phones in my family too, but when I saw the writing on the wall, I moved over to Android. Do I like it as much? No. But it has some really good functions and ideas, and it gets the job done. After all. It's JUST A DAMN SMARTPHONE. Get over it. If you invest your personal identity into the PRODUCTS you own, they actually OWN YOU.
You really have only two choices;
1) Live a life of constant disillusion, disappointment, sometimes outright betrayal, and jumping from one product to another, but at least maintaining control over what you purchase and use.
2) Join one of the Brand-Name Cults, like Apple, and give up any independence or personal opinion on products and become a Fan-Boy Sheep. Dumb, frequently Fleeced, sometimes led to slaughter, but mindlessly contented to be told what to like and what to think.

Agreed. Welcome everyone in the world of services.

Attended one of these events yesterday. It only got me more excited to finally have one in my hand on September 10th. Excited to finally have the Windows phone device, I have always wanted. 3 years of support is great, as I upgrade my phone's frequently. Don't have to worry of MS slowing down my device to make me upgrade, like good old Apple.

You realize this isn't a Windows phone, right?

I participated in one of these sessions. It was useful and I submitted a question that got answered. (Yes, you can get rid of that Google search bar on the home screen.) The session included a photo demo and the selfie that was taken and shown looked pretty good, certainly adequate for the use case of this device. I may sign up for another and ask if they can take a still life of something in the studio to get an idea of the quality of a more distant focused shot. Others on my session asked for a game demo but they said they had no games loaded on the unit they were showing. That seems like a natural thing to show. This is a great way to demo a product when you don't have physical stores anymore but I'd like to see a more detailed demo on You Tube or the Microsoft Mechanics site.

I'm going to be getting one and am thinking about doing a few demos of things on my YouTube channel if I feel like I have something to contribute to the Duo community besides what Microsoft / Windows Central do. We'll see.

Interesting. I attended one today, and they said they couldn't show anything about the camera. Maybe they have been chastised since your session.

Tried to register for a session, but it sent me a dead link to the meeting …

Is there any way to watch a past session?. I don't mind NOT watching it live

Please add a list of countries that support the US Surface Duo bands, I want to import one, but are having a hard time finding the information I'm after, Australia!

I know they support "some of" the UK bands. Not too sure about Australia. Beyond that, the best thing to do is look up the information for your specific country and cross reference the information with the Surface Duo specs. Asking Windows Central to list every single band for every single country is asking for too much, considering how many bands there are, how many countries there are, and the amount of research it would take to make sure the information is accurate, only to have it change as new bands are always being added. Or just wait for an international version, which is coming at some point.

In the one I attended, there were a few good questions asked that didn't get definitive answers: 1. Does it have a light sensor for automatic screen brightness adjustment? (no answer) 2. Can Android widgets be added to the feed? He showed that widgets could be added, but it wasn't clear if this included all widgets or just MS widgets. I checked and assuming this is the standard MS launcher, just tailored to the Duo, the MS Launcher does support what looks like all widgets in the feed. 3. My question (they included it as someoneinwa said they did with his, so seems they are very good about getting through all the questions asked): I wondered if with that huge second screen devoted to a keyboard in Compose mode, if it could include the number row always on the keyboard instead of needing to hit the number button in the lower left every time, which they weren't sure, but I have since found that as a SwiftKey keyboard, yes, that's an option.

1. That's terrible if it doesn't have one!

So does the pen attach to it magnetically?

It does not. The duo is glass backed, not metal. Zac/Daniel have confirmed in the FAQ that the pen does not attach (magnetically or otherwise).

Swore I saw a video where the slim pen did connect magnetically.

I attended one of these sessions today, and I felt it was a complete waste of time. They did nothing beyond what has been seen in videos already released, and they seemed to only answer questions that have already been answered. I posed a couple of good questions that never hit the public Q&A board. There were only 2 questions asked and answered that I felt gave more understanding of the device or UI.
Windows Central Newsletter
Thank you for signing up to Windows Central. You will receive a verification email shortly.
There was a problem. Please refresh the page and try again.