New Surface Laptop 2 and Surface Pro NEED Thunderbolt 3, and it could finally happen
If Microsoft times its refreshed Surface line with newer Intel processors, we may finally get that Type-C port we all want.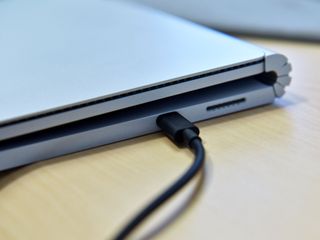 With Microsoft's upcoming media event scheduled for October 2 in New York City (we'll be there, of course) there is a lot of speculation about what will be announced. While no new Surface form factors are expected refreshes for the existing Surface product is likely.
Back when I reviewed Surface Pro (2017) and Surface Laptop last year the lack of USB Type-C was frustrating, but not quite a deal breaker for most. Fast forward one year, however, and I'm finding the absence of this universal port Microsoft's biggest Achilles heel.
The sudden rise of Type-C (and Thunderbolt 3)
Microsoft's hesitation with USB Type-C goes back to the Surface 3, which shipped with a "universal" micro USB port. The concept and expectations with Type-C were similar – it was going to be used by everyone and every device with one port for charging and data.
History has not been kind to Micro USB, and the Surface team learned some valuable lessons. The biggest problem for them was Surface 3 customers losing the Micro USB Surface 3 charger and replacing it with the one for their smartphone. The challenge was the wattage difference between a phone charger, and a Surface 3 is significant. The result was many customer complaints and returns due to slow charging that could not power the Surface 3 faster than it could drain its battery.
Why Microsoft's new Surface Pro doesn't have a USB Type-C port
Microsoft hedged with USB Type-C for the new Surface Pro and Surface Laptop and instead played it safe with USB Type-A and a Mini DisplayPort. The expectation was the Type-C would take years to catch on with consumers, accessory makers, phones, and especially enterprise.
Microsoft was very wrong.
With Android phones adopting Type-C nearly across the board, Apple using nothing but Type-C ports on its laptops, and the general usefulness of being able to power devices through the same port for display and data was just too enticing to refuse.
Type-C is quickly (and thankfully) becoming ubiquitous.
In 2018, there is now an abundance of Type-C and Thunderbolt 3 peripherals including portable displays, blazing fast external storage drives, hubs, portable graphics docks and even desktop monitors (opens in new tab).
The premium-priced Surface Pro and Surface Laptop can't use any of these. When I travel, I can't take my new HP EliteDisplay S14 with the Surface Laptop or Surface Pro. Surface Book 2 can't leverage Thunderbolt 3 external drives, which is otherwise perfect for content creators. And don't get me started on the rise of eGPUs. Can you imagine using Surface Pro with a new NVIDIA RTX 2080 at home?
While the oddly-designed Surface Type-C adapter helps it is very far from ideal and has its limitations.
Surface Book 2 and Surface Go are good signs
The good news is that Surface Book 2 and the budget-friendly Surface Go both use USB Type-C 3.1. While they equally lack the more powerful Thunderbolt 3 specification (more on this below) they can at least handle the most commonly used Type-C peripherals on the market.
For these reasons, I think it is a foregone conclusion that when Microsoft announces sequels to the Surface Pro and Surface Laptop the inclusion of Type-C in place of the outdated Mini DisplayPort is guaranteed.
The bigger question is what about Thunderbolt 3 support?
Thunderbolt 3 – It's not all Microsoft's fault
Intel's Thunderbolt 3 is the Holy Grail of USB Type-C specifications. It does all that Type-C 3.1 can do plus handle 40Gbps of data making it ideal for external GPUs (eGPUs) as its data transfer is four times that of the USB 3.1 standard. Because of that speed we're also now seeing Thunderbolt 3 external drives, which results in dramatic increase in the rate of data transfers (see my Dell Thunderbolt 3 review).
What's the difference between USB-C and Thunderbolt 3?
So, why didn't Microsoft include it with Surface Book 2 or Surface Go? The problem is much more complicated than simple omission by choice, but rather a technical one too.
Surface Book 2 relies on Intel's i7-8650U processor, which has a maximum number of 12 PCIe lanes. When you allocate those by ports – four for Surface Connect port, four for Surface Cover Connector (for GPU and keyboard), and four the SSD and Type-A port, well, you run out of room for the four lanes needed for Thunderbolt 3.
Surface Go uses the lower-end Pentium 4415Y which only features ten PCIe lanes, and, as far as I know, does not have an option for a Thunderbolt 3 component on the board anyway.
The bottleneck for Microsoft arises from its usage of the Surface Connect port for power and data and Intel's limitation for its Coffee Lake/Kaby Lake Intel U-series processors.
Where things get interesting is Intel's latest refresh to its 8th generation Core processors – dubbed "Whiskey Lake" – bumps support for PCIe lanes from twelve to sixteen in the U-series line. That makes the new Core i7-8565U not only 400Mhz faster, but able to support more PCIe devices. (Despite Intel dropping royalty costs, however, the Thunderbolt 3 controller for Whiskey Lake is still an extra component and not yet built in. That means the cost will have to passed on to the consumer.)
In theory, if Microsoft announces new a Surface Pro and Surface Laptop (and maybe even Surface Book) with Whiskey Lake Intel processors it can finally keep the Surface Connect port and get a fully spec'd Type-C port with Thunderbolt 3 because of that change.
Hope springs eternal
The timing for Whiskey Lake processors is October and November, which lines up nicely with Microsoft's event on October 2.
Whether all of this happens remains to be seen, but at the very least a USB 3.1 Type-C port is very likely for refreshed Surfaces, but there is a possibility here for Thunderbolt 3 too.
If that happens, the Surface line may finally be what we all want it to be, and Microsoft's premium PC line will be future-proofed for many years. Just as importantly, I can stop leaving my Surface Laptop and Surface Pro home when I travel because they can't do as much as laptops from HP, Dell, or Lenovo.
Did Microsoft learn its lesson, and will Intel's refreshed U-series processor line save the day? Tune into Windows Central on October 2 to find out. I'm as curious as you.
Windows Central Newsletter
Get the best of Windows Central in in your inbox, every day!
Daniel Rubino is the Editor-in-chief of Windows Central, head reviewer, podcast co-host, and analyst. He has been covering Microsoft since 2007 when this site was called WMExperts (and later Windows Phone Central). His interests include Windows, laptops, next-gen computing, and for some reason, watches. Before all this tech stuff, he worked on a Ph.D. in linguistics, watched people sleep (for medical purposes!), and ran the projectors at movie theaters because it was fun.
Nice article explaining thunderbolt 3 and why it wasn't in the Surface devices released in the past year. Interested in what the Surface Book 3 has to offer.

Nice article Daniel Microsoft better have learned their lesson! The market is so competitive that any whiff of a weakness or limitation in your offering, as compared to the competitors', can have a direct impact on your sales. Every tech reviewer kept mentioning the lack of USB C (partly resolved) and Thunderbolt (non existent) as a limitation for the Surface line. I'm hoping for feature parity after the October event.

Good article Dan. I still hope they retain a type-A port if possible. And the display port as well. Of course if it's only one choice then type-C is the only way to go, but that still means dongles and adapters for now. Too many legacy accessories in my workspace

Tech reviewers giddiness for Thunderbolt has often been comical to watch. USB C ports have always had clear advantages for nearly all consumers. Not so with Thunderbolt 3. Yes, I know it is fast and sexy and Macs had it, but that didn't make it ready for prime time. There has been growth in practical peripherals using Thunderbolt just this year and now it may finally be a mainstream technology. But what was always amusing to me was reading a review of the Surface Book 2 in which there would be inevitable criticism of the high price of the laptop along with its inability to allow a user to plug in an external GPU, as though that was some popular thing to do and without mention of how wildly expensive xGPUs are. To be fair, Lisa Gade was about the only reviewer I saw who did mention this. The other point worth remembering is that Microsoft's mission with Surface is always to leave space for its OEMs in whatever market segment it creates or enters. That HP and others adopted Thunderbolt earlier than Microsoft is probably just fine by them.

Oh, agree on that. I just want Type-C. I'd be happy to have that. Thunderbolt 3 doesn't hurt to have, but I do think most of the advantage is just Type-C 3.1 for most users. But, I also think Microsoft having TB3 for $2k devices is a good thing too.

While it would be nice to have Thunderbolt for some of the faster devices, I am ok with USB-C instead. One of the best features of the Surface is the long bettery life.
When you add Thunderbolt you will lose some of that life. There may also be a need for a bigger brick. Again it would be nice, but I don't see a Need for it.

MSFT has suffered due to Intel being asleep at the switch. Intel focused on the data center because PCs sales were declining. Intel also missed the boat badly on mobile. no viable modems, no viable SoC chips. The consumers relied more on more on smartphones and Intel missed that opportunity. Intel figured this out belatedly after the Atom series failed. Add in the troubles with 10 nm process node and Intel left MSFT struggling to have the hardware to capitalize on the goals of Windows 10, oneCore and CShell. Maybe the WinTel ecosystem as turned the page and is now competitive with iOS and Android in mobile form factors.

I really like how Microsoft is pushing the future of digital transformation with amazing state of the art devices like the Surface Laptop and Surface Pro, Windows 10 is strong OS capable of running the most demanding 3D/CAD design software like Maya, and also running the mobile games of Android/iOS thanks to fast emulators like Bluestacks 3.
However, I think this is thanks to their fans, I think there is a huge difference between Apple fans and Microsoft fans is that Microsoft always care about the best hardware on Mobile devices like a Surface Pro, while Apple fans just care about how the device looks from the outside. As an example, just look at latest iPhone XS Max 512GB, it costs almost the double of a Surface Pro ($799 model) and it comes with 5 Watt slow adaptor, I mean come on, you're Apple and you're making a $1500 device with a slow 5 Watt crappy charger?

This is what I want to hear for this years Surface. Full Thunderbolt 3 with eGPU. I have the original Surface Pro (i5) and it still works for my basic needs, Work, hobby programming, and streaming Xbox games. My desktop PC also needs updating. I'm looking to consolidate my Desktop and Mobile. eGPU is the answer for me. I also want to stick with Microsoft Surface Pro line or maybe the SurfaceBook.

But what about Surface Connect? Looking at he Surface Book 2 it had throughput capable for eGPU support as well enough charging power. Is it possible to create simply SC/USB-C adapter? Even if nor fully TB3 compatible, a lot of devices would be used at full performance. So what is the reason of not availability of such adapter form Microsoft nor any 3-rd parties?

"Looking at he Surface Book 2 it had throughput capable for eGPU support as well enough charging power"

We actually don't know the full capabilities/limits of Surface Connect for data and power. It's been around for

years

so I'm hesitant to claim it's as good or better than TB3, which seems implausible. My guess is it isn't. But with Whiskey Lake, I suppose MS could rework Connect to be more powerful instead of using TB3, but that seems like a bad choice.

Will the Surface Connect disappear in 2 or 3 years? I have a Surface dock at work with a 27 inch screen, google fiber connection, wireless mouse and keyboard. I plug in the surface connect and start working. Do the same at home. Plus the Surface travels with me everywhere. I have an Invoke in my office and my home. The sound is awesome. I like the magnetic Surface Connect. Not sure I want to plug in a USB C all the time. It is a bit clumsy to have both connectors. Complicates the engineering. But they do serve two very different use cases. So maybe it will hang out a while. Besides you might have a Surface Connect two.

Wonderful article. It also reminded me of when Thunderbolt was initially introduced as an Apple/Intel exclusive feature. I think that also played a part in its slower adaptation by rival companies.

My tech-nerd side wants TB3. Wants to do an eGPU setup with a Surface Pro. Because that would be awesome.
My rational side doesn't give a damn. My rational side knows they're expensive, impractical for the casual consumer, and exist only in tech-nerd mindshare.
My mom, sister, wife, dad, uncles, cousins (except that 1 tech-nerd cousin) all don't care about TB3. They DO care about USB-A and they DO care about card readers. I don't see a hole in their lives that Surface Dock doesn't fill.

Haha I'm in the same boat

The new Surface Laptop has already been leaked. It won't even have USB-C, let alone TB3.

Not sure if I'm allowed to post a link, but it's been on many major tech websites. Just google "surface laptop leak".

All I'm finding is the new colour (black) leak. Nothing about specs...

Leaked pictures of the new black color option show the same connectors as the current version (no USB-C). It is possible that these pictures were made by doctoring pictures of the current model and don't fully represent what the refresh will look like, it is also jiust as possible that they accurately reflect the upcoming refresh.

Nope. Wasn't leaked. What DID happen was you fell for some shotty site posting last year's press image doctored and colorized. I tweeted about it here and found it quite funny that by removing a shadow people suddenly thought "it's soooo thin now!". It's the same device.

Given that the Book and Go have USB-C, it seems pretty much a given that Pro and Laptop will too. The only real question is TB3 support.

Other than the Surface Go and MacBook 12 you would be hard pressed to name another laptop or 2-in-1 device that has a USB-C port hat is NOT Thunderbolt 3. Regardless of the excuse(s) Microsoft is perilously on the edge of being a technology Dodo for not supporting TB3 at this point. If the fall upgrade to the Surface Pro includes USB-C but no TB3 (like the Surface Book 2) they will lose all tech cred they have going into the "significant redesign" of the 2019 lineup.

"Other than the Surface Go and MacBook 12 you would be hard pressed to name another laptop or 2-in-1 device that has a USB-C port hat is NOT Thunderbolt 3."

Plenty. I'm reviewing the new MSI premium PS42. Not only not TB3 with its 2x Type-C ports, but they can't even handle power delivery. Dell until this year only had 2x PCIe lanes in its TB3 ports, which made them not nearly as good for eGPU due to bandwidth caps. You see Type C with no TB3 mostly with low-end and mid-range. Even some budget gaming laptops from HP only have it in the higher price tier options.

"Regardless of the excuse(s) Microsoft is perilously on the edge of being a technology Dodo for not supporting TB3 at this point."

Sure, but on Book 2 and Pro they have the keyboard connector to content with and Surface Connect - both are things other devices do not have to take into account. Add just x12 PCIe lanes for U-series processors, they are boxed in by Intel. That changes this year with Whiskey Lake - that's not insignificant.

Intel has been boxing in MSFT for many years.

Didn't mean to sound so contentious. I do hope you are right about Whiskey Lake, but wouldn't it be expecting too much for the TB3 upgrade in the Surface Pro? I assume that would require a system board revision to accommodate the additional lanes, not just a port upgrade? Given they are strongly rumored to be working on a substantial redesign of the Surface Pro for 2019, that's too much to hope for here.

I hope the Surface Pro get Thunderbolt ports because that way that tiny tablet can become a gaming powerhouse when I put a eGPU on it. I thinking about making videos so that can only help too.

I would be happy with a Surface Book with a charger that actually charges the device when playing games. I like the tablet for the SB 2 but when I run games on it, well let's say I kinda get mad that I have to check the battery life from time to time.

Surface Pro Black introduction during the 10/2 event?

Maybe. Honestly, a new color scheme is hands-down the LEAST exciting part here. It's a new color, not magic.

Given that surface connect has the same bandwidth as thunderbolt 3, I've always hoped for a new dock with a thunderbolt port on it. For the eGPU case, it's not like you are going to be using it while mobile anyways.

Yes please! I'll be upgrading my surface hopefully early next year so if I can get a TB compatible device from Microsoft (I've been happy with the build quality of mine, now that the software issues are fixed up) then I'll be able to GPU dock that thing and it'll be significantly more powerful for work (and gaming) which my SP3, while it does the job enough to get by, struggles to handle lately. That being said, if they jack up the price another $500 bucks for the equivalent level machine again then they can do the whole long walk off a short pier thing.

I don't see anyone talking about the lowest end Surface Book 2, which has a 7th gen Intel chip. I'd get that if they bumped it up to 8th gen.

What's the chances they may finally add a low profile GPU to the surface pro? Even an mx150 would be miles better!

Removing Type A for C would be stupid. I have like 50 devices with Type A connectors and 2 with Type C. As an additional port, no problem. But when you can sell your own charging cables for a premium, why go for a standard port?

I have 50 devices that come with a Type-A cable by default but they work with a Type-C cable just as well. Most "Type-A" cables for things like hard drives are actually already adapters from Type-A to Type-B Micro 3.0 plugs.

Hey Dan, I was wondering if you think we'll get an updated Surface Studio this year? Seems like its been due for an update since it even came out with a 9 series card. But I feel like the fact that no one is even talking about it makes me think that its because no one cares about a follow up? Would love to hear your thoughts.

Replacing the Surface Connect with USB-C TB3 would have a myriad of positive effects. Consider my SB2 - assume the TB3 replaces the connection between the Clipboard and Base - when used as a Clipboard you have USB-C connectivity and fast recharge, making the Clipboard a workable solution - add the fabled kickstand to that configuration and you have a KILLER 2-in1 combination.

Any reason why the Pro and Laptop are getting refreshed, but no mention of a possible Book 3 and perhaps a Studio 2? DO you think we will be getting an surprise announcements Dan?

Now we can use that i7 surface laptop for gaming 👍

There ain't enough bandwidth in Thunderbolt to make use of a 2080. Slower gpus and slower games work fine over Thunderbolt, but the different between Pcie and Thunderbolt is massive.

I'd prefer they concentrate on increasing battery life, which isn't good enough and fixing Tablet mode, which is unusable than Thunderbolt 3. These two issues are the biggest problem with the Surface Pro.

Ok, and when will this thick ass brick become slim device that is easy to carry like the mbp, exactly? Also, what about the big hole a.k.a. the dust/junk collector?
Windows Central Newsletter
Thank you for signing up to Windows Central. You will receive a verification email shortly.
There was a problem. Please refresh the page and try again.