Surface Pro 3 gets last minute firmware update before it goes on sale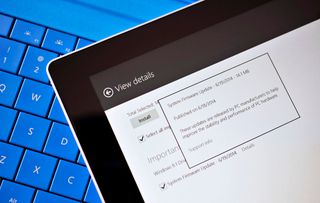 Microsoft has just pushed out a last minute firmware update for the embryonic Surface Pro3. The update comes just in time for those looking to acquire the hybrid device on its launch week, which begins tomorrow from Microsoft and Best Buy Stores.
According to Mary Jo Foley, the update address an ongoing power problem in the Surface Pro 3 in addition to delivering "overall performance updates."
The power issue refers to a problem early testers had with the device not waking up from standby or the battery draining, even when the AC is adapter is being utilized. The problem may originate with the newly supported 'connected standby' feature in the Surface Pro 3, which aims to "bring smartphone-type power management capabilities to the PC platform." It's not immediately clear what other performance updates may include, or what they exactly optimize. The new firmware is about 14 MB in size, and it will take around five minutes to update the device.
It's not immediately clear if those who pick up a Surface Pro 3 tomorrow will have the update already installed, or if they will need to force a system update (Settings > Change PC Settings > Update and recovery > Windows Update > Check Now), though users will probably want to check quickly to be sure. If, however, people do not force-check, the update will eventually install automatically.
The Surface Pro 3 with Core i5 goes on sale tomorrow in select locations and online, starting at $999 for the 128 GB / 4GB RAM version and $1299 for the 256 GB / 8GB of RAM option. The Core i7 and Core i3 models will be available at the end of August. Some pre-orders for the 128 GB/ 4 GB Core i5 version have been pushed back 10 days due to unknown reasons.
Update: Microsoft has now confirmed that when customers are setting up their Surface Pro 3, they'll see the new firmware update.
We'll have our full review of the Surface Pro 3 tomorrow morning before any Stores open!
Daniel Rubino is the Executive Editor of Windows Central, head reviewer, podcast co-host, and analyst. He has been covering Microsoft here since 2007, back when this site was called WMExperts (and later Windows Phone Central). His interests include Windows, Microsoft Surface, laptops, next-gen computing, and arguing with people on the internet.
I had this problem too. Really hope this fixes it!

Um, you wrote the article

He does that to prevent "first" comments, I think. Many of the staff have been doing that lately.

If you mean those Hidden Gems ones, he did that to instruct to those who are new to that. I didn't notice other editors doing that though except Sam, maybe i missed ;)
EDIT: LOL Sam did it again!

For Microsoft's sake I hope the issues are fixed. Lol

My money says it will be a update after you get it. These things would have been retail packaged some time ago to allow for shipping. We will all know for sure tomorrow. Looking forward to mine. The MS store called me this afternoon to tell me they have it ready to go.

I'm downloading the patch right now for my SP3. As soon as I read the article, I went into Windows Update and it was there waiting for me.

Firmware update installed. Took about 15-20 minutes and the fan spun up once but SP3 is up and running again.

Something to do during the VIP breakfast at the Microsoft Store tomorrow...

i wish i won one of these bad boys, did WPcentral announce winners yet?

That will be tomorrow too!

I'm excited to win mine! I'm just hoping, btw. :P

My winning percentage is 0.0025% so I wont hope at all :)

Well, someone has to win, even if the odds are so low. That's how I keep motivated. lol :D

The fact that pulls me down is that I've never been that lucky... But i guess, you're right. Hope is everything.

Sorry, it's alredy my, and it's so beautiful ((just kidding) OR NOT)

Daniel, in the article of the giveaway you haven't mentioned if it's going to have an touch cover included. If it's not there's some way that the winner can ask and pay you to include one? I'm just checking because if I win I'll give it to my girlfriend, and she would like it more with the cover. :D BTW, I'll win. I'm confident. :D

Good point, but yeah, we'll include it!

Come on. Choose someone from Saudi Arabia. No one's using that here, it would truly create a spark of curiosity once I use that at the office, at Starbucks or at my friends places.

Would love to have surface pro 3 here in india! *fingerscrossed* *praying* please god.. please god.. Or please WPC.. please WPC..

I'm already thinking how I will use and configure mine when I win tomorrow.

I really wish there was a MS store in my city. Ordering (importing) them adds a lot of cost to the original price...

@WPUserRevolt - Follow us on TWITTER, we need to show we want better apps.

Could your stop doing that? I don't use twitter much as well.

Huh? Now the comments are getting ads? Dammit. -.-

Wish I could afford a sp3

I read it like "Wish I could affod a sp3" and then I:"WAHT?"

Not holding out too much hope... MS still hasn't fixed the power problems in the Surface Pro 2....

Will the i7 version ship with 8gigs RAM, or is there a 16gb version as well? If yes, I found myself a new machine to work with.

You genuinely need 16GB? For what? Just don't tell me you're planning on crunching 16gb of data at a time on a laptop/tablet

I do visual effects and 3d for living. The software I use are memory hogs. I replaced desktop to MacBook pro, but would love to use something like Surface.

I would probably buy a 16GB version too if it existed. I use my SP2 as a tablet, laptop, and dual monitor desktop (triple if you count the built in screen). VMware can use up a lot of memory depending on the type of virtual machines you are running.

Depends on the HDD size you order it with. 64 and 128 have 4GB memory. 256 and 512 have 8GB. No 16GB option.

I received my shipment confirmations today for the SP3 and Type Cover. Here we go!

Shame on u Danny boy::: With reports of a problems in a not yet released product. Makes it seem like Ms quality control sucks and that they release all around bad products. ( my first bi tc Ing comment)

How is this his fault? Microsoft already confirmed there were a few last minute bugs to be squashed and that they were working on firmware fixes for them. This happens with all products. Issues are found around release time and fixes are worked on. Microsoft just acknowledged them early so people knew they were going to stand by their products.

I really think Microsoft did an misstake and not haveing the 128GB harddrive with 8GB of RAM. That would be an sweet spot for a lot of companies that need a lot of RAM running all company security agents and such but don't wanting to spend unnecesary mony on harddisk storage that isn't used as everything should be stored in the company "cloud". Time will tell if this will be an sucess with the companies or not but an $1099 version with i5, 128 GB HD/8GB of RAM or even a $899 version with i3, 128 GB HD/8GB of RAM would probably be easier to sell than the $1299 version. No big company today that I now of would go with an 4 GB RAM config.

Totally agree!!! Maybe by the time the i7 comes out they will have that configuration? Hope so!

So much truth in this comment! I really want 8GB RAM, but I have zero need for 256GB memory, because I have plenty of cloud storage, and don't need that much data parking on my device at any one time.

honestly 8GB is the bare minimum for any i5 or i7 device. there shouldn't be anything else. and BS charging premium for that because ram is cheap. In fact, I'd say that the i7 should have 12-16 since ultrabooks of this price are expected to go past 8GB.

Brace yourselves, the winner is coming

Ordered mine with a cyan type cover but now I think I want a red one :/

Guys, let me win that SP 3 :D

I hope the launch day goes well with the new update!

FYI a quicker way to updates is long press the start button I.e right click. Go to system. Windows update is at the bottom left. Done.

I can't believe it's actually easier to reply back to a comment on the android wpcentral app than on the Windows phone app (off topic) Posted via Windows Phone Central App

Totally agree!
Proof is in this pudding ;-/
From Note2 ... Posted via the WPC App for Android!

Received my Surface Pro 3 today. Ran Windows updates and the firmware came down along with some other updates. Took 5 or 10 minutes.

It will arrive here DU sometime in spring: http://www.microsoftstore.com/store/msaus/en_AU/pdp/Surface-3/productID.... Have been rubbing my hands in anticipation.

I had to put up with so much crap with SP2 since I bought it that I can't believe that they are still having issues with this chipset. internally it is the same i5 4400 SOC. Boy I can't wait for them to move away from it and see if they finally get it right.

I'm headed to my local MS store in the a.m. for launch festivities! Hope while I'm there I get notified by DanR. that I won 8-P Posted via the WPC App for Android!

SP3 would supplement this orig SP that I won at a Stephen Rose W8/WP8 "Futures" presentation last month. About a dozen of us lucky winners. 128GB, Office2013 inc. ... old h/w, but cant complain for $0 Posted via the WPC App for Android!

i really can't wait for the annoucement i really really really want this device and i can't see myself getting it any other way... short prayer

please make it available for wp7.8...Developers are concentrating on developing apps for wp8 .what about wp7.8?? We too need updates we too need apps.these apps are good to use .. we bought our phones at high costs yet we aren't getting any good apps for wp7.8..we are suffering even after spending lots of money on phones(wp7.8)..please make good apps like these availible on wp7.8.please
Windows Central Newsletter
Get the best of Windows Central in in your inbox, every day!
Thank you for signing up to Windows Central. You will receive a verification email shortly.
There was a problem. Please refresh the page and try again.