Unboxing Microsoft Surface Studio — probably the most gorgeous PC ever made
By Daniel Rubino last updated
I unbox and give a quick tour of our new Core i7 Microsoft Studio!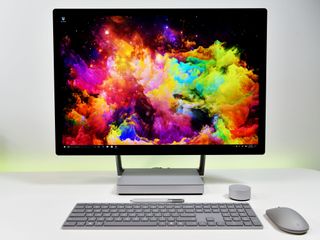 (Image credit: Windows Central)
It was only a few weeks ago that Microsoft unveiled to the world their PC for creators – the Surface Studio. The 28-inch all-in-one PC starts at $3K, and preorders are slowly trickling out to those who put their money down first.
Today, I'm going to unbox it, give you a quick tour, and some initial impressions! You don't want to miss this video or these photos.
The big box is now shipping, kind of
Inventory for the Surface Studio is super tight right now. In fact, you cannot even walk into a Microsoft Store and buy it. Preorders are shipping at a first come, first serve, basis, but if you order today you likely won't get one until "early 2017". Nonetheless, some orders do ship early (like ours), so no date is permanent. Shipping weight is about 32lbs (14.5kg) with 3-day shipping.
The reason for the slow rollout is manufacturing. Microsoft inspects each part that comes off the line looking for any manufacturing weaknesses and ensuring each build meets quality standards. Even the chrome hinges are individually polished to ensure no light reflections hits your eyes (I mention this in the video).
Considering some people will be paying $4200 for one of these bad boys Microsoft is taking no risks on cutting corners.
Our model
For now, we have the middle version (there are three levels). It runs for $3400 and features the quad-core Core i7 processor. This one also features 16GB of RAM, 1TB of storage, and the GTX 965M GPU with 2GB of video memory.
Here are the full specs:
Specs
Category
Specification
Display
28-inch PixelSense™ Display
Color settings: Adobe sRGB, DCI-P3 and Vivid Color Profiles
10-point multitouch
Display Resolution
4500 x 3000 (192 ppi)
Aspect ratio: 3:2
CPU
6th Generation Intel Core i5 or Core i7
Graphics
NVIDIA GeForce GTX 965M 2GB GPU GDDR5 memory or 980M 4GB GPU GDDR5 memory
Memory
8GB, 16GB, or 32GB RAM
Storage
1TB or 2TB hybrid SSD + HDD drive
Connections and expansions
4 USB 3.0, SD card reader, Mini Displayport, 3.5mm headset jack, Surface Dial onscreen interaction
Security
TPM 2.0 chip for enterprise security, Windows Hello face sign-in
Wireless
Wi-Fi 802.11ac, Bluetooth 4.0, Xbox Wireless
Cameras
Windows Hello face sign-in camera
5.0MP front-facing camera with 1080p HD video
Audio
Dual microphones
Stereo 2.1 speakers with Dolby Audio Premium
3.5mm headset jack
Dimensions
Display: 25.09 x 17.27 x 0.44 in (637.35 x 438.90 x 11.4 mm)
Base: 9.84 x 8.66 x 1.26 in (250.00 x 220.00 x 32.20 mm)
Weight
21.07 lbs max (9.56 kg)
In the box
Surface Studio
Surface Pen
Surface Keyboard
Surface Mouse
Power cord with grip-release cable
Down the road, we'll see about comparing it to the top-end Studio that features 32GB of RAM and the more powerful GTX 980M with 4GB of video memory.
Initial thoughts
It's nice!
Of course, you would expect that from such an expensive and premium PC. Being more serious, it is as gorgeous and perfect as those ads lead you to believe. The hardware quality is impeccable, the packaging is fantastic, and the overall presentation is excellent.
Even the setup process is unflawed. Specifically, I mean how all the peripherals (mouse, pen, and keyboard) are all wireless. That matters during setup where you expect those to work as soon as you pull the battery tags. And they do, without pairing. The accessories turn on, and auto connects to your Studio with no waiting so that you can just go through the Out-of-Box (OOB) setup experience right away. That's one of those moments where you're like "this should do this automatically, and it does!". Nice touch, Microsoft.
So far, my only gripe is the storage. I actually would have preferred an all-SSD option instead of the split 'Rapid hybrid drive' (128GB SSD with 1TB HDD). To be fair, this drive evidently adjusts over time meaning your most frequently used apps get pushed to the faster SSD, while less commonly used or gigantic apps stay on the HDD. But you can feel that this machine could be faster. I run all-SSD desktop PCs (two of them, actually) and I know that the Studio could be more performant.
I do like the Surface Keyboard. I already reviewed the Surface Ergonomic one if you haven't seen that and while I still prefer Ergo the included keyboard here is solid. I'm less a fan of the Surface mouse. It works, but it's low profile compared to be my preferred Microsoft Sculpt Ergonomic, which is like gripping a hamburger.
For those wondering about gaming, Pinball FX2 plays just great at 2XAA, and you can play Gears of War 4 albeit at medium settings. Gears was okay but you can see the detail degradation on such a beautiful display.
Windows Hello is stupid fast likely due to that quad-core processor. Speaking of that 5MP front camera is superb and likely the best out there (I'll compare it to a Logitech C920 eventually).
Overall, I'm very impressed. I even use the Studio a bit differently with the display closer. It's such a joy to look at and use especially with that 3x2 aspect.
See at the Microsoft Store (opens in new tab)
Stay tuned for my full review (likely post-Christmas) and more deep dives into the Microsoft Surface Studio. If you have specific questions answered put them in comments, and I'll try to cover it in my review or additional articles.
For those asking about the wallpaper used with the Surface Studio, it is copyrighted and paid for so we cannot share it. You can, however, find it here on Shutterstock (opens in new tab). Also, watch the video to the very, very end ;)
Daniel Rubino is the Executive Editor of Windows Central, head reviewer, podcast co-host, and analyst. He has been covering Microsoft here since 2007, back when this site was called WMExperts (and later Windows Phone Central). His interests include Windows, Microsoft Surface, laptops, next-gen computing, and arguing with people on the internet.
I really want the Surface Studio's monitor that I could hook up to my Workstation/Gaming Rig. It's more powerful than any of the Studio's configs and after seeing the screen in person, I love it. Also... based on what Leo Laporte and Fr. Robert Ballecer have done with replacing the slow hybrid drive with a fast NVMe drive seems to have fixed the issues with performance on the entry level device. For the price, MS should have done this from the beginning.

We'll probably do a how-to on replacing the drive too. I think it'll be a popular DIY upgrade.

Hard to say. It's an expensive product, and I would anticipate most buyers would rather order their preferred configuration out of the box like with the other Surfaces. I figured they would make SSDs standard--aren't large external drives pretty common in the creative world due to huge file sizes?

What about durability Dan? How long one can stick to this?

Is the HP SPECTRE 13t wallpaper that you flaunt also paid for ? :/

2) How many apps can be snapped on that 28" display?

I agree. Would love to have just the monitor to hook up to my existing systems.

Just the monitor would cost well past $2k though. I think they're selling as much as an idea here as the product itself. It's about the whole experience, etc. Maybe they'll do that down the road.

Makes sense. I've been looking for a good touchscreen monitor (25 inches+) that I can use with the custom builds I made for my kids. Dell discontinued their 27 inch model a while back.

Selling a screen alone would mean no Windows.
I don't see it.

Depends if it's connected to a PC.

although this product is way over my budget either way i would still prefer a monitor only device vs an all in one, to me the all in one aspect makes the device less valuable because you are limited to Microsoft's setup as well as the inability to upgrade and repair, i would probably be willing to pay more for it without the desktop part then i would with the desktop part ..... if i could afford the surface studio.

Someone need to throw the Samsung 950/960 Pro into that thing and see how fast it goes.

Since this isn't available in Europe, I have to admit it's the first time I would actually like to find out where Rubino's office is to perform a "hostile acquisition" of one of his gadgets :P But I'll be nice, I'll leave the keyboard and mouse.

Aren't you guys around Hauppauge somewhere?

Wrong state lol. I'm in Massachusetts.

Marlboro. I use to live in Southboro :) However, no worries, I won't be stalking you. I have people to do that for me. I've set aside a nice spot in my home office for your Surface Studio.

This is becoming fun to read lol.

No kidding. For the longest time I thought you guys had an office in Long Island. I used to travel everyday from Connecticut to Wilmington for moving a factory to CT. Didn't realize you guys were up that way. No wonder you traveled to the Microsoft Store when it opened in Boston.

He's so lucky, trying out different gadgets and actually using some, lucky him

Heh, don't think it doesn't come without a ton of work though!

Nice device, could've been full SSD. Is the storage upgradable?

You can, not super easy. We'll look into doing a how to.

iFixit has already (humanely) torn one apart.

I don't think I can watch the unboxing without crying so I'll give it a miss for now!

I want a teardown video :)

My new dream pc.... Just amazing.

The conversational tone of this unboxing is much better compared to when you read from a script in some of your other videos. Great job!

Thanks, always trying new ways of doing things. This style seems more favorable.

Agreed. All segments of WC have grown very nicely. I love the team and the community. The interaction of the two is unique. Being one of the early members/visitors, I do miss some of the people at WC, like Sam Sabri for example. But I'm sure he is doing well at Microsoft. Cheers!

Cheers. Yeah, we've moved from low-hanging fruit (app updates, reblogging news) to content creation. Harder, need better people, more equipment, organization, etc. but it's coming together we think. Glad you appreciate it.

was that an Apple watch I saw... SMH

Jordan, plz. It was a Fitbit Blaze. It and the leather band was on my gift shopping list posted earlier this week.

Nice - How is it? Any golfing apps on it to track distance, score etc like the Band app powered by Taylor Made?

I prefer it, hence why I recommend it. I don't golf nor do I see anything golf-related for Fitbit for programs though.

Just pick up a Microsoft band 2. The golf app works great.

But why they didn't go for newer graphics cards? I mean arent they better AND cheaper? It just doesn't make sense to it. Every time I see this amazing device only this question drops in my head.

Price, thermals, size. Have you see the size of the 10xx cards and heat they put out? It's not easy restricting that to a tiny box and keeping fan noise down so that when you're hunched over the display (very close) you are not hearing a hair dryer.

But they cost 599$(for consumers not huge corporations) max and surface pricing would justify it. Also they could have put in water cooling and they have more than enough people working in design department to fix that. There are so many workarounds to this.

I dunno. I talked to the engineers about it and why no full SSD. They had considered all of that stuff and had reasons as to why it didn't/couldn't work. I think between (1) being 1st gen device and (2) target demographic (designers, artists) they are keeping it relatively conservative. Like Surface Book with Perf Base, they may iterate more and offer more options/price points if it sells well. That's a big if too. No one knew what Apple would do nor if people would actually buy these.

My take is that there is never going to be a perfect device especially a gen 1 device. Given the amount of R&D time it takes to get this stuff from concept to reality while the rapid evolution of components & tech continues. As a gen 1 product, they have no clue if this is going the sell. They hope it will but they unfortunately needed to focus on concept first to test if they have a product that resonates with consumers. I expect a rapid improvement in a gen 2 model as well as potentially expanding their addressable market to gamers and developers. I'll hold off for gen 2 and enjoy my surface book with NEW DIAL for the next 12months and drool over those with this amazing device.

Water cooling adds in a level of complexity and expense for a Gen 1 product that's not very palatable. It's also got a short shelf life of around 2 years before many need replacing. You could get thermal wicking cooling but they require a lot of space that's just not available in this base, it's also the story with water cooling. This is why laptops still use fans and the case to cool themselves down. Bang for buck fans and hybrid coolers are still the best.

Because this product has been in development for years. Fitting a newer GPU would require them even more time to optimize it. And then there's always the next big thing round the corner.

Well that makes 50% sense. As you know when they develop phones they usually come out with best specs you can get. I think the screen was developed for years not the internals.

Little bit of both. They had goals to hit e.g. can't be louder than X db, can't cost more than X, base needs to be X in height so display can lay flat, etc. Lots of constraints. Timing was not ideal for 10xx series and for it to hit the market...plus it's more about the display than hitting a gamin-level GPU. Having said that I'd love to have a 1080 in there for gaming on the display.

Your link to the Microsoft Store has been hacked. Edit... It worked the second time. The first time it took me to Apple.

Saw that. It's adjusted again, should be better/faster.

Apple must be soooo envy :-)

apple has no answer for this device or the surface book. They are better at mobile but ms has their number for personal computing.

At $3500 I am sure it's nice but, I do work and games on mine, to play a modern game at Medium settings, I'll stick with a $700 monitor and a small box sitting below my desk, Same feel, lot more power... Still cool if you have the need for it with it's limits...

Definitely not recommend for AAA gaming, which is a bit of a shame since the display is the best thing ever.

The Display looks nice, no question. There are a lot of 3rd party ones that look almost as good. Still a disapointment that a $3500 PC of today cant play a modern game at full, I could understand a year from now but, a game that came out the same time as the PC... I would expect that from a $400 PC, not a $3500 one...(give or take $200) I love the down voting of my last post, It's true, it's cool looking no question and has a really nice display but, in the market, if you DONT mind a box under the desk, you can get very close the monitor and a LOT more power for a lot less money.

You seem to not understand the purpose of this device. It's designed for specific purposes, and gaming is not one of those.

Even with out gaming...You can get a touch screen monitor, or just a monitor that is flexable like that and a PC that has a TON more power for less money, gaming, desktop or graphic artist work... does not matter... I do understand what it's for, and I will say agai, if you shop around and DONT mind a box on the floor, you can get a LOT more for less money. Maybe when the 2nd or 3rd gen come out it might be diffeent, new model really expensive for what it is... You don't believe me ? Why dont you do a little homework and look up the gear avaiable that could compete side by side with this,.

I think the 'problem' is trying to understand how much is this specific monitor 'worth'. Some monitors cost $5000, and some can be had $199. Apart from pixel density, color accuracy might be worth exponentially more to some people (based on profession). The touch screen is an added bonus. I have no idea what the equivalent stand alone monitor is worth, but (and I would be guessing), I suspect that it will be > $2000. Look at the Samsung UD970 as that would be a starting point for comparison.

Microsoft told me the display by itself is well over $2k. That's where the magic and expense is.

If the screen was just touch with no Dial interface, the monitor cost wouldn't be more than $500.

The closest you can get to this monitor is the Wacom Cintiq 27", that retails for around 2,500. There's no other monitor on the market that comes close to what the Surface Studio is giving users. The display that MS is making for the Studio is unique at this present time when you regard it's full capabilities. When you consider professional monitors of this size usually sits around 1,000-2,000 then the actual PC component is a bonus. That's why there's been so many people asking for the monitor to be sold separately.

DavidinCT , I think you need to do the research. There is nothing that you can put together yourself that compares to this. It's not just about specs. Once again, that's gamer thinking.

I was somewhat thinking the same thing, but then realized that if the Scorpio is going to be 'all that', then I probably will not need a dedicated gaming rig, just need an HDMI in on this monitor and connect the Scorpio to it. What would be cool is if the Xbox OS will allow for touch screen input.

If it supported Thunderbolt, an external GPU enclosure might cure the gaming problem nicely.

Is there an hdmi input? If so, build a gaming box, or xbox and have the best of both worlds

I have pre-ordered an i7 model but I'm pondering if I should cancel it now. Two things start to bother me. One is the lack of support for the Netflix 4K content inside Edge since the 6th generation processor doesn't support the HEVC 10bit encoding while the 7th generation processor does. The second thing is the slow drive. It could probably be replaced with a faster drive, but it would add extra cost. It is shame that I couldn't watch Netflix 4K content on a gorgeous 4.5K screen. I'm sure that that next refresh of this Studio will use a 7th generation processor. But that could be a year wait. It is a tough decision.

The Intel Core i7 model has PCIe SSD instead of SATA III SSD.

keep it! Its too awesome to not have!

I got to play with one at a Microsoft demo where I work. The hinge is amazing and the screen is beautiful. The price tag is outside of what I am willing to pay and I can't find a real justification for owning one anyway.

Are you a designer or do art?

Can't even afford for data to play this video 😅

I'll be curious of your opinion about usage. Peter at Ars mentioned struggling with the device's dual use purposes without having to move the entire thing back and forth. It was either too close as a desktop, or too far away in the down position. I hope you can address that in your take. Also, I feel MS goofed by not making the base taller and putting more powerful hardware inside. This thing is heavy and stationary, so 65W parts could have been included and easily managed in a marginally taller base. Also, this thing has to have a better default storage option for the price point. Also, put some ports on the front, even if they must hide behind a flap or something. Rear-ports-only is what Apple gives you on all their desktops--an easy one-up opportunity missed. SS is still a great concept, but it definitely has room for improvement on revision 2, IMO.

If they had a taller base you couldn't lay down the display at that angle. Peter and I both talked to them about that. See my post above. I think as a 1st gen device, they went conservative and after a specific group who were more about the screen than the components; if it sells well/they see demand maybe they'll do more. They have to walk a fine line with this and not turn it into a gaming machine either.

Fair enough. I think the main point for me was the CPU, as a lot of additional performance can be gained going to something in the 65W area versus the laptop CPUs. I know a 200W+ GPU is asking a bit much.

Would love to see a cross section of the hinge to get an idea of how many wires are passing through it! Impressive.

Looking at that desktop image
First thing I do when unboxing Windows is change to /Combine taskbar buttons /When taskbar is full.
Can't stand taskbar without descriptions

Would love a screen like this at work, without the integrated PC hardware, instead paired with a Surface ultra mobile device/"phone". Perhaps in 3-5 years that may be a reality:-).

Nice device, but as far as desktop PCs go, I don't like the all-in-one. If the monitor breaks, you have to send the whole thing. Unless it's a laptop, I never go for all-in-one.
Just sell me a big touch-monitor with hinges that can make it lay down like this one and I'll hook it to my super-power-custom-made PC I've built.

This doesn't go as far as breaking the monitor unless you want to work this out in a space shuttle bound for Mars.

Very Nice Machine, I noticed that in the Video Danny said they were USB 2.0 but on the Spec Sheet it says USB 3.0, now the ports are not blue so I am assuming that they are 2.0 but was wondering which one it is. I'm not going to spend 3,000 for usb 2.0 :) Mabe USB 2.5 LOL

Thought I said 3.0...it's 3.0 though.

Surface achieved lotsa things in a short time span... It has become quite a brand, looking forward to get one of these.

Beautiful device - I would need a lottery win to get one though. How solid is the feel when tapping on the screen during normal use Daniel? Shaky or sturdy? Great video Btw - you made me jealous, and that's a good thing. :)

Thanks and very sturdy when tapping.

This is all I want for Christmas. But alas, it's too late since I already saw my unwrapped socks hiding in the 'secret gift closet' :-(

I have no need for this, but by God I want it.

Way, way, way, way, WAY too expensive. And I'll bet it's a pain in the rear to upgrade components.

Daniel, Would you replace the included internal SSD with the Samsung 950 Pro (or Samsung 960 Pro) ? I want to see how fast it can really go. ______________________________________________________________ Also, the recovery image for Surface Studio (for reinstalling Windows) is here: https://www.microsoft.com/surface/en-us/support/warranty-service-and-rec...

It's what we'll try to find out. I thought it may only be SATA III and not PCI-e NVME or whatever, so have to look into it.

I have been looking at the comments on iFixit and it seems that the M.2 socket might be both compatible with both SATA III and PCIe. https://www.ifixit.com/Answers/View/360930/Does+the+Surface+Studio+suppo...

I don't usually watch unboxing videos. That was excellent, Daniel!

WANT!! At the end of the video, I thought Daniel was going to say "pay attention in the coming weeks where you might just win THIS Microsoft Studio." I can tell he wanted to but he held back!

hah, well if we gave it away we couldn't do any more content/coverage around it ;) We'll see though if we can get a sponsor.

DAMN....WANT IS RIGHT! WOW. That thing is awesome. Dear apple, whats your imac-ian response to this. Your response to the surface book was a flop.

Daniel, Replying to what you said earlier, someone on iFixit claims that the Surface Studio with Intel Core i7 comes with 128GB Toshiba XG3 THNSN5128GPU7 M.2 2280 PCIe 3.0 x4 NVMe SSD. If this is true, then we know for sure that Surface Studio supports PCIe NVMe SSD.

Niiiice. Waiting for the full review.

Beautiful! But, Please tell me you are not going to keep that blue ethernet cord.... that would drive me insane!

I cant watch this right now. i burned too much buying xbox one s, surface pro's and windows 10 mobile.

What kills this device for me is that there's no input to use the monitor by itself. I would love to be able to plug my Surface Book or Surface Pro into it and use the screen itself when I don't want to use the full desktop or even have the ability to charge my other Surface devices.

This is model # 1 of the Surface Studio Microsoft will analize what people think about it and how they are using it. No doubt the next model may have a port to hook up their OWN Systen units up to it . then gamers would go Wild for this device. now that it is out you can bet your behind cheaper more affordable devices will appear at CES next month. i cant wait to see what Microsoft's Competitors will bring to the market place


So basically, you want a "target display mode".

I don't think Surface Book/Surface Pro has enough graphic power to drive such a high resolution display, but I do get your point. Microsoft should allow people to plug another computer into the Surface Studio and have the Surface Studio functions like a monitor. This is called "target display mode".

It's amazing that people said Macs had the best screens, yet I never once saw anyone want to hook devices up to it. Just shows how much better the Studio is over a Mac. Lol

That's not true. I have a 27" 4k monitor hooked up to my surface book right now.

Most of what Microsoft will make will always be extremely expensive. They are doing impressive proof of concepts that they know will be for a small percentage of the market. They will bring the software and hardware together just like Apple does. Unlike Apple, manufactures such as HP, Lenovo, Asus will benefit from the R&D and overall efforts of Microsoft and will seewhat consumers like and don't like. We will then get more cost effective alternatives from these companies. This will drive Microsoft forward and will kill Apple.

To be honest, I don't see this as being Microsoft's future. They've been usurped by both Apple and Google. Apple is the undisputed champion of premium hardware. They own something like 70% of the over $1000 laptop market. That's their shtick. Google has taken over people's "mind space" in terms of who-does-what. Microsoft provides the operating system that runs on cheap computers, but, that's being threatened by Google. Microsoft makes a mean office productivity suite, but, even that's being threatened by Google. Email dominance? Gone. Now Microsoft is trying to break into the premium hardware market? They have to because the non-Apple PC makers have ceded much of the high end market to Apple. But, I don't think it's going to help other PC makers because they have Apple as an inspiration. Copying Microsoft hardware isn't going to help Microsoft much. Microsoft won't want PC makers to be making "cost effective" alternatives to the Surface line. Apple found out the hard way in the mid 90's that a premium brand can't compete with low cost alternatives if those alternatives have full access to what makes the premium brand premium. Whatever. Microsoft is on its last legs. I do hope they stick around because their presence keeps Apple and Google honest.

I think you are bassing your statements in whishfull thinking! Apple has what, less than 10% world's PC market share? With no innovation but a Touchbar on their Macbook Pros? All being outdone by Surface Pro & Book! Let's get to the Tablet business; iPads losing sales YoY, and even Android Tablets losing sales to guess who? Windows Tablets! Even if some tec blogs cannot grasp that a Tablet can be a PC with a detachable keyboard! So what's left? iPhones, all Apple has is one line with 2 products that make them earn money! Imagine Apple without iPhones if their sales take a fall! What will Apple rely on? On the other hand Google obvously has Search, and a whole lot of services around it! And MS has over 15 business units making over a billion a year! So who is in its last legs? Also Apple is no inspiration to nobody this days, who do you think will copy the Touchbar? Only the cheapest OEMs that make an exact hardware copy and even a Logo with just a bit of a change! Now the real OEMs as MS 'partners' will come with a diversity of hardware designs around Surfaces!

Why is everyone immitating unexciting Apple packaging and marketing visual theme? It sucks.

Because it works. Apple is the marketing king! look at the MacBook and imac. Subpar hardware, last years internals and they sell tons of them because of their marketing. The imac is a kiddies toy compared to the surface studio.....ditto with the MacBook pro compared to the surface book.

I'm being stalked online. As soon as my online stalker stops stalking me I'll head down to the MS store to check this out.

Link that wallpaper please ..

Saw the Studio at the MSFT store many times. Such a great looking thing. Make my mouth water! Too bad, an impeccably designed machine is currently being let down by a half baked OS. Will wait until the next major update to reconsider investing further in the ecosystem.

Would have agreed with you a few months ago. But since the AU, win10 is quite awesome.

Great review as always. Is there a way to externalize the audio (other than the DisplayPort)? The margins on selling monitors alone make the cell phone business seem like a good business. The cost of the fancy cube and chair for a designer are probably higher for most companies than the cost of the Surface Studio.

Great! Is it worth $3000 for the most awesomest display/tablet ever and just an OK performing pc? I think the price needs to come down to $2K to get this in the hands of more folks. I'm guessing next Christmas, they will. I'm using the Surface Mouse and Dial with my Surface Book and they both work great there, too. I tested a SS out at my nearest Microsoft Store. I encourage everyone to go and ask to watch the GoPro video on it. The Studio is indeed beautiful! Q for Daniel: How hard is it to use ports on the back of the SS? Is it a big pain or are they pretty easy to get to? That seems to be my only complaint but curious about day to day use.

"...and, of course, the headphone jack."
Ha! That one made me laugh! "Of course."

Thanks Danny boy :) nice PC!
Windows Central Newsletter
Get the best of Windows Central in in your inbox, every day!
Thank you for signing up to Windows Central. You will receive a verification email shortly.
There was a problem. Please refresh the page and try again.