Surface Studio vs Apple iMac: Microsoft is the new king of the desktop
By Richard Devine last updated
Like it or not, Microsoft's Surface Studio will inevitably be compared to the stalwart of the all-in-one, the iMac.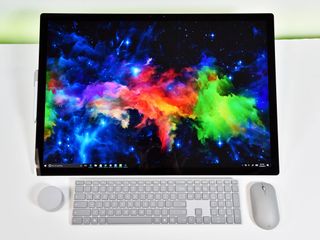 Lots of folks are saying Microsoft has out-Appled Apple, especially after the two company's most recent PC-focused launch events. In one corner, the Cupertino crew has long been known for pushing design boundaries on its products. In the other is team Redmond, known for Windows and Office.
It's the second of these two companies that arguably is delivering more "wow" factor in its hardware designs of late. The Surface Studio is Microsoft's first desktop PC, and it's an all-in-one no less. Its creative focus puts it firmly in the battleground with the iMac, the longest running all-in-one computer.
Updated Feb 7, 2017 We added some fresh new images, links and details for context.
See at Microsoft (opens in new tab)
Since Apple didn't refresh the iMac at its most recent hardware event, we'll be pitting the Surface Studio up against the latest models on sale in the Apple Store.
First, some specs.
Category
Surface Studio
Apple iMac
Display
28-inch PixelSense Display
10-point multitouch
21.5-inch or 27-inch IPS
Display Resolution
4500 x 3000 (192 ppi)
1920 x 1080 (21.5-inch only), 4K (21.5-inch only), 5K (27-inch only)
CPU
6th gen Intel Core i5 or i7
6th gen Intel Core i5 (dual-core or quad-core), Core i7
Graphics
NVIDIA GeForce GTX 965M 2GB or 980M 4GB
Up to AMD Radeon R9 M395 2GB
Memory
8GB, 16GB, or 32GB RAM
8GB, 16GB or 32GB RAM
Storage
1TB or 2TB hybrid drive
Up to 2TB Fusion Drive
Ports
4 x USB 3.0, SD card, Mini Displayport, 3.5mm headset
4 x USB 3.0, 2 x Thunderbolt 2, SD card, 3.5mm headset
Wireless
802.11ac Wi-Fi, Bluetooth 4.0, Xbox Wireless built-in
802.11ac Wi-Fi, Bluetooth 4.0
Cameras
Windows Hello face sign-in camera
5.0MP front-facing camera with 1080p HD video
FaceTime HD camera
Dimensions
Display: 25.09 x 17.27 x 0.44 in (637.35 x 438.9 x 11.4 mm)
Base: 9.84 x 8.66 x 1.26 in (250 x 220 x 32.2 mm)
20.3 x 25.6 x 8in (516 x 650 x 203 mm)
Weight
21.07 lbs max (9.56 kg)
21 lbs (9.54kg)
You can't compare the software directly because it's like comparing a train and a bus. Both will get you there, just in different ways. What is worth highlighting is the incredible focus Microsoft has put on creators in the Surface Studio and with the Surface Dial (opens in new tab). Creative pros have long been buying Macs, and Microsoft has done an incredible job at outdoing the competition.
Does the iMac have touch? Pen input? Does it fold down? OK, the last one is probably super-niche, but the Surface Studio certainly has some stand-out hardware features. In comparison, the iMac is like most of the standard Windows all-in-ones: A PC and a monitor in one box.
Apple does, however, cater to those looking for high-resolution displays, with both 4K and a whopping 5K available across the iMac range. The Surface Studio has that True Scale technology built in and sRGB colors, while the iMac goes beyond sRGB and into a P3 color gamut with 25 percent more colors.
Much of the rest of the hardware is comparable. Similar processors, similar RAM, similar storage options all pad out the various configurations. The high-end 980M GPU in the Surface Studio will be a better pick than the Radeon mobile graphics in the iMac, but it's also only available on the most expensive model.
Then there's the price. For once, Apple isn't the most expensive technology vendror. That's mostly down to Microsoft's 4500 x 3000 resolution, 28-inch touch display, which on its own makes up a good chunk of the asking price of the Surface Studio. Those working in creative industries will often throw in a Wacom Cintiq drawing and display tablet (starting at around $800, all the way up to around $2,000) to accompany an iMac, inflating the price. Microsoft offers similar functionality in a single package, on a single display, which could be a workflow improvement.
The 27-inch iMac starts at $1,799, almost half of the $2,999 asking price of the cheapest Surface Studio. Even adding the specs to the iMac doesn't bring up the price to that level.
But here's the thing: The Surface Studio isn't just an all-in-one PC, which is sort of what it makes the iMac look like. It's pretty, packing some nice hardware and perfectly capable, but Microsoft has gone far beyond that. It has transcended the all-in-one and created a unique PC product unlike anything else out there today. Yes, it's expensive, but it's almost incomparable right now.
Richard Devine is an Editor at Windows Central. A former Project Manager and long-term tech addict, he joined Mobile Nations in 2011 and has been found on Android Central and iMore as well as Windows Central. Currently you'll find him covering all manner of PC hardware and gaming, and you can follow him on Twitter and Instagram.
yea the surface studio is quiet expensive than iMac

Being a PC using graphic designer, I, for one, am happy to see this no matter the cost. Apple has been justifying their high prices because of so-called superior specs and quality for graphics and design; now Microsoft has entered into that niche space and threaten to upend Apple's strong hold that's existed for so long. Kudos to them!

Apple has lost this battle for Good, Apple go to bed

Apple have never had superior specs. And it's always been more expensive.

True but they always had the sleekness and looks, which helped make it looks more presentable next to the most powerful PC ...which they now don't

To be fair, at least in laptops, they've always had 28W CPUs while everyone even now still mostly use 15W CPUs. So faster CPUs and iGPUs than the competition.

MS did the price outright, which means, every single pennies that you spent on Surface Studio (or SS), will be much more of worth than iMacs, due to its 10-point multitouch screen, Surface Pen (included?), Surface Dial support, and True Scale. What's more, it even can be used for collaborative things (if you have watched some of SS videos on the internet), something that Apple's been missing for. Anyways, I have a bidding for this device, if there's a way, as I'm dying of needing it foe creative purposes :)

The superior specs and quality for graphics evaporated in the 90s. I've asked my design prof about this..at this point, the design industry's use of macs is purely tradition. I for one use a pc.

I find it odd that people are harping on the price difference when professionals have to fork over extra money for a Wacom drawing tablet with a Mac to get similar functionality.

To be fair people having issue with its price isn't the same people buying Wacom Cintiq+Mac. Though I also do find the value of Surface Studio and looking forward to have this, I do find it quite steep for its base model. I see why this price like this though, not just because of the hardware components, but also the R&D cost that has to be covered in this first-gen product.
This Surface Studio is really seems at least a 2 year development and they didn't have much time to manage having more later specs, especially when doing that will even make the cost even higher. It doesn't have Thunderbolt ports which is becoming standard to new PCs these days. For an expensive hardware that is been recently released, its rather odd not having more modern components. Hopefully that for next gen the overall cost would be lower and offer additional more affordable tier to the line-up, so more people can afford to get one. I also hope for specs to at least get an upgrade too to Pascal NVidia GPU since its not because of gaming, but that newer architecture brings way more performance for GPU-demanding task such as 3D modeling, video edition, effects, etc. What's great about new architecture isn't just the new performance but the efficiency which some gaming laptops even retain their dimensions. Newer CPU would improve any CPU-extensive task too. I'm hoping to at least have some Type-C Thunderbolt connections to replace two USB Type-A and Display Port, thus giving more flexibility and making the hardware more forward thinking approach as more and more hardware adopts Type-C.

No, it's been in development for several years. It's targeted at a niche market where high price peripherals are required to get work done, not for the average consumer or office worker.

It could be a great premium machine for the family. It can serve well for all age groups for education, art work, work, entertainment or general purposes. It provides a premium feel for all users. I have paid over $3,000 for a 8086 workstation in the early PC days. I pre-ordered an i7 model yesterday and can't wait for the delivery.

Yea its true but those features it has, iMac doesn't have it and that pushes the price up so don't complain....Niceeee**Pari**

Yea its true but those features it has, iMac doesn't have it and that pushes the price up so don't complain....Niceeee**Pari**

Truth is bitter but the surface studio is far more outstanding than the imac, Apple has to respond or be quiet

Because it has touch? Unless you really need an active digitizer then the Surface is way too expensive to compare favorably with the iMac. The Studio is a niche product, Microsoft won't sell too many of them. They need a $1500 version for normal people. I guess they are better off leaving that role for its OEM partners though. Posted via the Windows Central App for Android

Yes, you are right.
1) this is 'category defining' like other surfaces. Like 2-in-1, it started out as a niche. Only time will tell;
2) MS always think of their partners. Expecting Studio clones with cheaper price.

Exactly. This is the point of surface after all, I might pick up the hp come when it comes out.

More like Pen Input, Dial and Touch! You know this last one is the one that new Macbooks tried to mimic with their 90s idea called 'Touch Bar'! Again, do iMacs have dial? No! Pen Input? No! Fold down for painting and drawind purposes? No! So just with those features it worth more and the price is on par for the Surface! On the other hand, iMacs are way to expensive for what they offer, a lot of other OEMs could get you better specs than anything Apple at a lower price!

Truth be told, I like the TouchBar, but still hate Apple ;O)

I wouldn't mind a touch bar as long as they kept physical F keys. And you know, had a touch display as well. Otherwise its just pretty pointless addition, I mean sure its nice to have touch bar where the keys change to the context but for me it just isn't some great "innovation" and seems like they had years to work on a decent upgrade and instead stuck that on at the last minute.

I have to disagree. My design friends have shelled out massive amounts of money to own an iMac without even blinking an eye. Contrary to what many believe, graphic designers aren't rich. We are your "normal" people.

Graphic design is definitely a niche market. Posted via the Windows Central App for Android

Yea but they are also free advertisers for Microsoft. Those are the people you see out in the wild chillin at starbucks or something while working on their device. People will see them using cool microsoft products or whatever and that will help to change their perception. That's what good product design will do for you. I doubt the people who are in awe and compliment my Surface Book at school, While I'm converting to a tablet for math class, are bolting to apple to check out the same macbook from the last 5 years. BTW I see Surface everywhere at school and I RARELY ever go to starbucks or coffee shops but I see em there too. People are noticing and I think they'll pay for quality. I dunno about the studio though, It will be harder to bring that to peoples attention. Get it into Colleges and high schools first i suppose, for the new generation of creators to see. Place it in a kiosk at a mall in the main walkway and let it SHINE.

What school do you attend where you see a lot of surfaces?!

- removed - decided not to say, cant delete. Lets just say a lot of tech universities, especially CS programs now are littered with Macbooks, Surfaes, XPS13s, x360s, Zenbooks, and Gaming Laptops.

Architecture is *more* definitely niche market.

The surface studio isn't just aimed at graphic designers :P.


They would be the folks most likely to use the defining features of the Surface Studio. It doesn't really have any compelling features for commoners. It makes sense for Microsoft to leave that for is partners. The more I think about it, the more I want to see Microsoft really go full Apple. If they released a full line of premium computers starting at $500 what is HP and Dell going to do? Start pushing Chromebooks? Posted via the Windows Central App for Android

But they buy the tools they need to get the job done. The Surface Studio combines the UI, UX, and processing power in one uniquely designed package.

Also the display design. Much thinner and the bezels are pretty big on the iMac. Not sure if they ever would get rid of that big logo...

I disagree with you here. I *want* a $1500 option so I can adopt it at work, but I don't NEED this option and neither does Microsoft. For example, elsewhere in my work, I have 12 AutoCAD engineers with $7000 workstations that were purchased 5-6 years ago. They are Dell Precision workstations that at the time of purchase had the highest CPU, RAM, HDD, and Nvidia graphics you could buy at the time. Then they added on trackball mice and a WACOM pad and have used those ever since. Now, they have the option to cut the price down quite a bit and simplify their workflow and productivity and have nicer hardware. What's not to like about that? My office is only "a dozen" engineers, but I have about 100 such engineers across all our plants, and I'm a "small" potatoes kind of business compared to many other Windows-based design shops in the world. Maybe you think that iMacs rule the design world, but surprise-- they don't. An iMac is a small portion of the total Macs sold which is still a very small portion of PCs sold too. So at the end of the day, yeah, maybe MSFT sells a few thousand... or a few tens of thousands of these. Yep, that's pretty niche sounding, but $4000 x let's aim high at 30,000 of these sold. That's hmm, let's see, carry the one... multiply here... $120,000,000. I think that's a good incentive for MSFT to build these on its own, oh and then there's the mindshare that hey-- MSFT is doing awesome stuff... let me look at Surface Pro or Surface Book too... cha-ching, cha-ching, sales keep chugging along. Suddenly that niche product isn't so niche after all. Edit: PS-- Surface Dial isn't magically compatible with the display on SP4/SB today... but SP5/SB2 in spring? I'd bet on that plus some other mobility surprises.

All sounds very niche. Posted via the Windows Central App for Android

Your ideas are pretty niche.

Because it is. This is a product designed for creative professionals who generate revenue for their business ...and people with disposable income who must have the latest gadgets ;O)

The dial will be compatible through firmware update.

I don't remember seeing Quadro cards in the description, the shop I work at also uses expensive desktops with Quaddro cards. Not sure how efficient this setup would be in a manufacturing environment.

I would think of this for AutoCAD as well. Does the Surface Studio use Laptop/Mobile hardware or the more powerful desktop versions? I see the ali in one tiny base as something we can do (wow factor) not something we need to do. A blade (Pizza box) size base would be more affordable, allow upgrades and eminence, etc at a more economical price. I would really like to see a Surface Studio Monitor (more like a Critiq) and choose my own desktop, laptop, or desktop replacement style laptop.

I guess one question you can make against this hardware, versus your standard workstation, is that it isn't very serviceable, nor are you likely getting as much power here versus a traditional workstation. It is hard to tell what TDP CPUs these are limited to, but I would guess it's 65W or lower based on the enclosure size.

Normal people who you're referring to, they can buy an iMac. It's the poor man's option. That... Sounds.... Sweet!!! After all those years Windows was the poor man's.... S**k it, Apple!

Surface Studio/SS is *redefining* the AIO category, showing what AIOs are purposed for. If you have watched some videos of how SS being used for collaborative and creative purposes, I think it's getting worth of money, despite of being 'categorized' as a niche device, as what you said before.

You clearly don't understand the point of this. As with all Surface devices, MS helps to set the anchor, which their partners have been so unwilling to do for a VERY long time. I for one am extremely glad that MS has made the move into territories dominated by Apple, only because Apple is "the only choice" or "legacy choice". I have walked around many studios in Hollywood, watching artists use Apple and Wacom devices. They now truly have an alternative. And who's to say that HP or Dell or someone else are not developing similar products, at a smaller price-point, to help attack the all-in-one market? The existing devices HP, Dell and others have are crap products in general.

Well Apple didn't sell many of the imacs...

It's an outstanding product design for a niche market and priced accordingly.

A niche device for a niche market, but, like the Surface tablets, it could inspire partners to make similar devices with more wide appeal.

Apple has nothing to on this, they just cant say anything....Niceeee**Pari**

Apple responded with a touch strip!!!

yeah can be used to detect pregnancy, to determine ph values.. lol.. touch strip,!! and all the hive mind went berserk!!! pathetic

It's all very nice But I have to use the PC, not watch myself in a mirror

I work on the iMac they're coming to. If you are in a normal room (not one filled with bright lights) it is reflective, but totally manageable.

Yep, let's all judge working-condition reflectivity based on an image of it in a SHOWROOM with dozens of overhead lights. please.

No offence, but there is no contest here, the surface studio beats the imac hands down..

Everything sure looks like a win for MS, but let's see how well the production models do in terms of quality. MS has made some nice looking and innovative stuff in recent times, but the production bugs have been pretty severe on their product lines. That, IMO, is unacceptable considering the premium market they are targeting. They boasted about all those machined parts in the hinge mechanism, but that can be a liability as well if just one part isn't properly engineered. Superior on paper, but I'll reserve my judgment after production models start getting used for a while.

That reminds me of that, hopefully this tine it wont be riddled with issues for both OS and firmware. Those things what kinda ruin the Surface Pro 4 and Surface Book initially. Yes it didn't really make the brand worst but it did leave a bad mark. What's quite an irony though is that Microsoft seems better at making high-quality hardware while their software at times tends to have issues and showing some poor QA at launch. Surface issues wasn't on the hardware, it was on the software, the type of issue coming from a primary software company.

The vast majority of those problems were Intel driver issues that affected all Skylake based laptops. I suspect that is why they stuck with Skylake rather than go for a Kabylake CPUs.

1800 is not less than half of 3000

Common-core math zoom44. Get with the times. /s ;P

The Surface goes beyond sRGB colors just like the iMac, so there is a lot of 'value' in the Studio!

Indeed Screen: 28" PixelSense Display
Resolution: 4500 x 3000 (192 DPI)
Color settings: Adobe sRGB, DCI-P3 and Vivid Color Profiles, Individually color calibrated
Touch: 10-point multi-touch
Aspect Ratio: 3:2
Surface Pen
Zero Gravity Hinge

Yup. There should be a correction posted to the article. Surface Studio does support P3 color space.

That really pissed me off. The writer obviously didn't watch the event, because they made it VERY clear that the Studio goes way beyond sRGB and they have a setting to quickly switch between P3 and RGB.

Also, the Mac has a Radeon R9 m395x 4gb option. Not a huge difference, but if your going to write an article you might as well get all the facts right.

The 27-inch iMac starts at $1,799, less than half of the $2,999 asking price of the cheapest Surface Studio.

Might want to check the math there :o

Yeah, I was going to say that the Studio is a nice looking machine but in the end it still runs Windows. That will drag it down. I tried to watch the Microsoft Event on my Dell XPS while I did something usefull on my iMac. Ironically my Windows machine couldn't find my network adapter and I had to watch it on the Mac while I rebooted the Windows machine and let it install updates. By the time that was done the event was over. That never happens with my Mac.

The article says almost half, not less than half. You guys need to read properly before you comment.

Copy/paste, buddy... Do you think perhaps the author changed the wording after seeing our comments? ;-)

Author changed the article...without a disclosure :o

And that would be incorrect, too.

1.799,- isn't less than half of 2.999,-...
Edit: Damn, beat me to it! :-D
Edit 2: How about a price comparison for the different versions? You know, for the sake of us lazy b*stards, who can't be bothered doing the research ourselves... ;-)

Also on the price front, Apples' new 15"MacBook pro at the top spec with only 16gb of ram is $100 more than the top spec Surface Studio. That should end any talk of Studio being expensive.

That's like saying that because a Porsche 911 is cheaper than a Ferrari 458, we shouldn't refer to the Porsche as expensive. MS and Apple both target premium buyers, especially when you want the best model.

Yes but the Porche has 911 while the Ferarri only has 458. The Porsch is obviously 453 better and at a lower price.

Well, I'm not exactly gonna take a Studio in my bag, but I get your point

Too easy.... A 399$ Acer laptop beats a mac :)

The top-end Razer Blade Pro is cheaper

NOTE: Surface Studio has P3, so Mac is not ahead in color space. This article says that. Source: Microsoft website specs.

Is it quad core on Surface Studio and new Surface Book i7?

Q-core for Studio. Book is Laptop grade so no Q-core.

Then how can Macbook have quad-core?

That's 15-inch MacBook Pro. I hated to say 'cause that's a Mac' LOL~. Since Book is 13 inch, MS compared this one with 13" MacBook Pro, which has only 2-core i5. All in all, you are comparing 13-inch category with 15-inch category. MS does not have answer for 15-inch category yet.

MS does not have answer for 15-inch category yet.

I bet Surface Book 2 next year with Pascal GPU and 4K-ish screen will be 15" exactly because of this. Sincerely hope they'll manage heat, weight and price with such specs. It'll be the thing if they do.

I guess the comparison is valid, seeing as though they seek to appeal to the same market. It's difficult, however, to talk about "better" or "worse" when there is a $1000+ price difference. Obviously the Surface Studio will be better...it's newer, and crazy more expensive.

They are nt in the same market! Can you draw and paint in the iMac? No! Surface Studio is meant for artists to work on it! Having Pen Input, Dial and Touch! So even the $1000+ price difference​ is low compared to the overprices iMacs that do nothing good laptop can't!

Microsoft have been fighting back against Apple for a while and it's paying off. If only it could pay off in the mobile market, that is where it matters.

The only thing I'm bummed about is it not supporting any USB-C ports, not even one. I was confused when they didn't put any in the SP4, but not including any in this studio is a head-scratcher. Other than that, this comp is absolutely lovely. Would love to be able to afford one lol.

I agree. There needed to be at least one USB-C port. But having the USB ports means that I can connect my current peripherals without adapters. This is a plus for artist who are on a budget. Knowing that you don't have to put out extra for ports makes the $4000 more affordable.

The Studio is squarely aimed at the high end creative market, the imac isn't.

Well, the iMac was. It is the industry standard for so many people in the field of photography and graphic design. It was the best for its form factor. But, now we have a new form factor.

Exactly the reason I find it odd that people are harping on the price difference when those very professionals you mentioned have to fork over extra money for a Wacom drawing tablet with a Mac to get similar functionality.

That's what I was trying to explain to someone, an avid Mac user. People who the Surface Studio is targeted towards will either be spending the same amount of money or saving a bit. A 27" iMac with a 1TB Fusion Drive starts at $2000, it has 8GB of RAM, a similar GPU, and a similar CPU. Add another $1000 for a decent Wacom tablet (one in which you can actually see what you are drawing) and they both become the same price for the same things. The wedding photographer my wife and I used pre-ordered their Surface Studio and is looking forward to its release. She wants it for Photoshop and the fact that she can open up her pictures and get pixel-level pen editing is something she has wanted for a long time but always had to use a trackpad and/or a mouse to get it done.

Actually the Mac Pro is aimed at high end creative market.

The Surface Studio is Damn! Crazy and awesome but the price is something else, in due time the price will drop so that we can buy some....Niceeee**Pari**

Apple no longer cares for the people who largely established it's business as cool. Adobe's forums for example are littered with frustrated OSX users because Apple can't be bothered to address long standing issues that are really affecting their ability to work... and many are moving over to Windows PCs, and realising just how much they are on par with macs at much lower price points, with more features, and less issues. Also Microsoft is listening, which is an attractive quality... Apple is about doing stuff their way and not yours. This product may be niche, but so was Apples once! Wow the right people and you'll win over many, many more. People will still need PCs, mobile devices will never replace that... and Apple doesn't seem to care.

I for one am among those who spend almost zero time on mobile. It always amuses me when I hear of mobile (as in 5-7 inch screens) being the future of computing. I really only use my 950XL for making phone calls and sending the occasional SMS, and random stuff like going through airport security. Any other thing, I do on my multi-monitor desktop setup. Why restrict myself to the tiny screens when I don't have to?? Anyways, the Surface studio should not be compared to the iMac because they are not the 'same'. Pen input in canvas mode and the surface dial are essentially a new category on their own. This is apples to oranges imho.

Yeah, nothing like a "immobile" device, because a bigger screen, more comfortable keyboard,etc. I hope not to see no one carrying a mobile get hit by a car while they're trying to focus in a "small" screen :-)

In Microsoft website they gave Adobe sRGB, but you said it is sRGB . sRGB and Adobe RGB are different and Adobe RGB has more color gamut. And It also has DCI-P3 and Vivid Color Profiles and built in color calibration

Surface Studio is Out of Stock

Finally, an All in One makes a touch on it extremely useful. For so long all in one touchscreens were almost for aesthetics'. But it the surface studio, Artists, Game Developers, Architects, Structural engineers, the list goes can finally utilize the power of a touchscreen on an all in one kudos Microsoft.

By the way, 5K resolution is 4800 x 2700, which is not as "whopping" as it sounds. It's almost equivalent to Surface Studio's 4500 x 3000 resolution.

Actually, the surface studio sports more pixels on its screen.
45 x 30 is greater than 48 x 27.
Granted it is a larger screen (being 28 inches rather than 27), but in terms of sheer pixel count, it actually surpasses the so-called '5K'

No, it's a little less by a million pixels. But both have a lot.

Last time I checked, 4500X3000 > 4800X2700 (which is the same as 13,500,000 > 12,960,000) Yes, both have a lot of pixels packed in their respective displays but Microsoft's does in fact have more pixels. The 27" 5k iMac has 540,000 (a little over half a million) fewer pixels than the Surface Studio.

Actually Surface studio's resolution (4500 x 3000) is marginally better than 5K's 4800 x 2700

Apple has been ripping off its consumers forever. An IMAC was and still isn't worth its price. Microsoft are currently the ones leading the way the last few years. Surface Pro is a better designed product than the Ipad in every way. The Surface Book is a better designed product than Macbook Pro in every way. And now the Surface Studio makes IMAC just another ordinary high priced PC. With Iphones price has never mattered because all the consumers get them free on contract. Similar to Ipad alot were and are given free at phone stores. But macbooks and imac are high priced PCs. And as such have normally always been bought by companies, students and designers. The price points for MS new Surface products are not an issue. Because they are not being sold to a consumer expecting to get them free on contract.

Was virtually going to make the same comment. Other than the subsidized phones and tablets being the only economic way to buy in to the scam, growth would have been minimal at best. Not even sure Apple would have survived even with Microsoft's bailout. We work in a firm that has hundreds of thousands workstations that can be upgraded more often because Apple's offerings just can't match price/performance.

Uh, actually that's exactly how a lot of people in Australia will buy these Microsoft products, interest free loans, basically the same as a contact (in terms of how it's paid). It's the only possible way I could have gotten my SP3.

That's fine. You can do that if you wish. But my point is people upgrade their phones and tablets yearly. Free. As they are to continue paying a contract anyway. Completely different from loaning money to upgrade your Surface Pro every year. Hence why the phone market looks inflated. When in reality its a small market share in number in total OS usage.

Okay so an iMac with great specs isn't worth less than $3000 for a creative, but put a touchscreen on it and now it's worth $500 more? That's ridiculous. And you can say that people get the iPhones for free, but not any more. We have to pay monthly for phone + contract

What about audio? Do both have built in speaker?

iMac 2.0 stereo, Surface Studio 2.1 with Dolby Audio Premium

I wish the Studio could be used as "just" a monitor with pen, dial and touch inputs. I can afford it either way, but that'd be better than internals that can't be updated.

True the hardware may not be upgradeable, but if you're getting this, it's probably good for at least the next 4-5 years, maybe more. Even my 'cheap' old Dell Inspiron from 2011 still runs Win10 like a champ, the only 'upgrade' I made was to replace the original HDD with an SSD. Still sports the original RAM and processor, and it works just as fast as my 2015 Thinkpad. Same with my original Surface Pro from 2012 which still runs Win 10 very well, even with only 4GB of memory.
Windows has generally become very thin and light on modern processors especially if you have an SSD installed as the primary disk, that most times we just upgrade for a shiny new machine with a better screen and better power consumption, rather than because of real performance gains. Gaming is the only typical exception to this, but for the average producer/consumer, the Studio in its current configuration will easily last 4+ years.

No usb c/thunderbolt big omission for musicians

I'ts unlikely, though, that musicians are the targeted market

This. I would think musicians would be more interested in something more portable.

The real question. Does surface have audio jack?

You mean Microsoft didn't have the courage to remove it? Hehehe.

What about the storage? "Hybrid drive" doesn't sound impressive to me.
It just reminds med of hybrid HDD's with 8GB NAND memory (which I guess it's not) Does anyone know what is used in the Surface Studio?

It could be the same style of drive they use in the Elite Xbox One.

Surface Studio is the best AIO i have ever seen!!!! Stunning

Please correct the article: Surface Studio does indeed have DCI-P3 and so no Apple iMac does not have superior colour.

The Studio is far and away the better machine but I had really, really hope it would include Thunderbolt 3. That being said I wish Microsoft wouldn't be such ***** about resolution, just use a standard res for crying out loud.

It;s so unfair when MS releases a new product it's always compared to Apple product. What about Google produts? .....Wait a minute.......Android or ChromeOS....Never mind.

All Pre orders have sold out. Microsoft has a Winner product here and I do not doubt Microsofts OEM partners will make a cheaper version of the Surface Studio(SS) that consumers can buy. Folks at CES 2015 or 2016 there was a prototype All in One PC that had a screen that could go up or down flat like Microsoft's Surface Studio. Maybe the folks who made that prototype can make a Surface Studio like device that sells for hundreds of dollars less than the Microsoft Surface Studio. I hope that Microsoft makes a second line of products that are cheaper than their HIGH END Surface products. For instance Microsoft needs to make a another Tablet that has a cheaper price than 800 dollars. A Microsoft 24 inch All in One touch screen PC with a built in Haupauge ATSC HDTV tuner in it and bulit in voice control by Cortana sold for hundreds of dollars less than the Surface Studio would attract buyers especially if the screen could move like the Surface Studio's can. A good Online and physical Microsoft store should have lower priced items to sell to the Public so no one goes away from them emty handed

Every time I look at Surface Studio, I get the feeling that there is something unique about this device, something that is so simple, and yet no one tried this design before in the last 5 years. Not even the likes of Dell and Apple. So kudos to Microsoft!

Surface products are always expansive than Apple products . I can't be amazed if the Surface phone costed.$1400. Isaiah Heart

Surface products more expensive than Apple products? If anything it's similar. Look at the price of the iPad pro and compare it to a real 2-in-1 like the Surface pro 4 and tell me what you think?

Microsoft should compare themselves with google products as they are Beating the Apple. Also they should make people aware of the great products of MS more than 75% people are thinking that windows has still less features.

More than 75% of people can't afford the products. Issue with Windows was never features, but user experience and look and feel. It's still ugly and inconsistent. The hardware has improved dramatically over the past couple of years. Just make sure you're buying an Intel machine.

I haven't been following this product very much so my question is: in what is the Microsoft Surface Studio different from the Lenovo AIO 910 series that has been on the market for quite a few years now? I think it's already third generation, it has the same foldable design, hi-res touch screen.. maybe the pen input? I am a little baffled, because as i saw the photo I thought "here, they copied Lenovo".

When looking at the tech specs and overall design, there's not much of a difference. That being said, the Lenovo doesn't look sturdy enough to lean on, it has a 1" smaller display with a lower resolution, it lacks pen input, it won't full work with the Surface Dial, it isn't a pure Windows experience, it doesn't look like the screen rotates nearly as easily (i.e. the zero gravity feature), and the overall design of the Surface Studio is more elegant. The Lenovo doesn't look bad at all, it will ge the job done (aside from lacking pen input). Lenovo represents a minimal design of what an AIO PC can be while the Surface Studio represents a refinement and elegance of what an AIO PC can be.

When I have kids they will have something like this in thier room, something that makes it easy to create.

Tim Cook is the new Steve Ballmer.

Yep, just as Steve Ballmer said why would anyone want an iPhone....Tim Cook is saying why would anyone want a touchscreen on a computer....

Gen 1 looks so fantastic and perfect, by gen 2 Apple will be toast. This really is minority report level stuff. At the end of the surface studio video when you can see the buildings I almost thought they were holographic like in the movie "Pay Check". No doubt by gen 2 or 3 it will be holographic/3D or as Panay says "whatever".

The future of the Surface Studio is even more excited when you look at the patent for it: stackable, modular.

Because all creatives draw with a pen. The dial has poor app support and the iMac has Ethernet as well as the option for pure SSD storage up to a TB, IIRC. The surfaced is priced way out of the market of creatives willing to switch to Windows. The people buying $3,000 machines are likely too invested to bother switching. Some of them are probably using Apple creative software (Logic, Final Cut) or using Apple Accessory devices (iPhone, iPad, Watch, AppleTV, etc.) in their workflows. I feel like something is missing without a cheaper Surface tablet and a viable mobile platform. Also, killing the band was bad, IMO. It could have been so much more. Not sure I like the pricing these days. Prices seem to be going back to the $80s with things getting more expensive even though economies aren't really reflective of that. This PC is weak and severely overpriced for gaming. No gamer would ever touch this.

Why are you saying something not even released has poor app support? Adobe has been good at supporting MS tech through their partnership and that's the most important app support for creatives.

No gamer would touch it, Do you want to know why ?? because it wasn't marketed as a gaming pc it is marketed to artists and draftsman. your love for apple article is great but next time how about you look at the device from a nuteral ground ? its actually a very well made device for the creators. I personally wouldnt buy it for that price as im a terrible artist.

NO gamer will touch the surface just as no gamer would touch anything with an apple on it....Imac is WEAK, No touchscreen, pen, dial, low resolution screen on and on....

Wait, 5K is low resolution? And gamers need a pen, touch screen, and dial?

Cintiq is obsolete. Creatives are working in the Stone Age if they do not use a Studio

I dunno about that. I know plenty of creatives who like MacBook/iMacs a whole lot more than anything Microsoft has to offer

Adobe like MS more than Apple - support is coming don't you worry!

Microsoft is the new of desktops? Since when apple became king of desktops???

I missed the Year of the Apple Desktop waiting for the Year of the Linux Desktop.

I think they are talking about all-in-one desktops. IMacs have been around for a while.

Yes but.....you can put windows on a separate partition on a mac,but you can't put mac os on a separate partition on a Windows pc

And then there are people like us who don't care to put Mac OS on our desktops.

And then there are people like us who don't care to out Windows on our desktops.

you can run it as a virtual machine on a Windows PC

So why would anyone care about a lower specs iMac when at the end they will put Windows to work with and still pay for the licence!

The concept of the Surface Studio is great. And what is more:
This concept is overdue since at least 10 years. It's a shame for the complete industry
that the concept took so long to surface. -

Hi, quicky want to point out that there is a type in the following sentence: "For once, Apple isn't the most expensive technology vendror" :)

Hi, quicky want to point out that there is a typo in the following sentence: "For once, Apple isn't the most expensive technology vendror"

If money was no object, I'd get the Surface Studio in a heartbeat. I agree with the author's conclusion. The Surface Studio is incomparable to anything on the market right now.

It's a niche product. It's only worth buying if you need a large premium touch screen display for your work. The Surface Studio is pointless for the overwhelming majority of us. I'd like to see Microsoft scale it down and offer a consumer version, ideally not packed with a previous generation CPU, GPU etc...

When was the iMac holding the crown to begin with? The Surface Studio may be better, but it still needs lots of refinement, including its pen and specs.

All that and it is the first gen...so much more to come.

You still didn't fix the fricken article. What the hell. The Surface Studio DOES have P3 color!!!! Panos Panay spent three solid minutes during the presentation talking about that and how Action Center has an option to switch between P3 and sRGB color. Did the author even watch the event?!?!?! How come none of the Windows Central editors picked up on that. P3 color is very important for some people and you are stating false information that will lead them to ignore the Surface Studio as a potential device for them. I expected better writing from Windows Central.

Steve that is why windows on mobile is moving to RT for mobile. That means apps and functionality will be completely refreshed. Keep in mind that 2017 is all about mobile as far as Microsoft is concerned. I don't believe they will launch a surface line of phones with the current state of mobile right now. You'll see. Mobile has always been a thorn in Microsoft 's side.

Windows Phone is on life support and Surface Phone or not, the platform is more or less dead.

The Microsoft Surface Studio is very impressive and a beautiful machine. However,as a long time iMac user, I'd have to say that they aren't really comparable, especially on price. A loaded iMac just barely touches the price of a base Surface Studio. And the addition of high end input devices might bring them equal for capability if not approach. The question now is whether the market is ready for the Studio's new interface paradigm and, if so, will Apple respond and how.
Windows Central Newsletter
Get the best of Windows Central in in your inbox, every day!
Thank you for signing up to Windows Central. You will receive a verification email shortly.
There was a problem. Please refresh the page and try again.