TeamViewer for Windows Phone updated with modifier key support, Windows 8 gesture control and more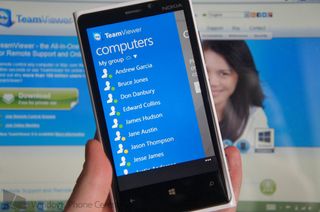 We last looked at TeamViewer for Windows Phone when the app launched last month, but already we're looking at an update for consumers. If you're not familiar with the name, the app enables you to take control of remote computers using your smartphone. It's a neat remote access solution.
As well as numerous bug fixes and minor improvements, version 8.0.2 includes the following:
Modifier key support added - You can now use all the modifier keys you know and love, including "ctrl", "alt" and "shift"
Built-in support for Windows 8 gestures - When connected to a computer running Windows 8 you can now call up commands from the app bar
Performance improvements for Phones with 512MB RAM
Remember last known mouse position and zoom level when switching between monitors
Improved app stability
You can download TeamViewer from the Windows Phone Store (Windows Phone 8 only) - Warning: please note that we've received reports that this update effectively breaks the app. It may well be worth holding off the update until a patch has been released. TeamViewer is also available for Windows 8 (opens in new tab). via: WindowsPhoneApps.es
Windows Central Newsletter
Get the best of Windows Central in your inbox, every day!
Rich Edmonds was formerly a Senior Editor of PC hardware at Windows Central, covering everything related to PC components and NAS. He's been involved in technology for more than a decade and knows a thing or two about the magic inside a PC chassis. You can follow him on Twitter at @RichEdmonds.
Use TeamViwer all the time to remote in to my BitMiner and home PCs. It is a welcome update and a great product!

Crashes as soon as I clicked on it.

Same here Lumia 810. And I was so excited as I missed the initial post about this. :(

same for me as well. L920

Updating article, thanks for the alert, folks!

Hey Rich! It just got updated and works fine now :D (UK)

I got exactly the same. Attempted unistall - reboot the phone - install, but still got the same :(

Same here! Lumia 920 Brazil.

Yeppers. Crash. Samsung Ativ s

Same 920 unlocked RUS, but reinstall works

You must uninstall and reinstall.

Awesome, hopefully logmein will take notice and catch up now.

WARNING! Major fail update. Everyone is reporting it crashes and won't update after install. If u rely on this app, do not install. Appears L920s and HTC8x are affected.

After this update the application failed to start
Nokia Lumia 620

Update force closes the app! Won't even let me open it!

Somebody confirm if this update messes up as warned above..?

Yeap... Wish i didn't install the update... Crashes when you tap to open it.. Don't update...Lucky you... I updated it a few hours

Woah..i clicked on 'update' and then came back here to read comments. Thanks to Patrick here that I cancelled download in time.

It's true. I haven't used it on my phone yet which is why I updated (no immediate use for it). App crashed in milliseconds after I tapped on it. In other words, it didn't even start.

Hello,
After update App goes crashing! i tried re-installing still fails!!

Any one having old version installation file ..

it crashes on my l520 tooo.. :(


You can download TeamViewer from the Windows Phone Store (Windows Phone 8 only)

It seems that the update has been pulled, I couldn't find it on my ATIV S!!!

Yes it has. The link in the article still gets you to it though.

True, but I'll wait until it's fixed before I install it.

I've been using ConnectMe. It seems to have more features...

WHAT ?! When did teamviewer become avaialable on WP8!?!

It's already available on WP8, but the latest update forces it to be pulled again until it has been fixed.

"Improved app stability" - except for completely breaking the app. lol!

I've said it before and I'll say it again. Microsoft should be catching this stuff during app certification. Sad.

Was working perfectly prior to the update, now the app crashes, i no longer see it on the app store. I have a ATIV S now without teamviewer.

Can't even open the app now. It closes as soon as I try and open it. Lumia 920 on AT&T

Also failing on my Lumia 920

Same on my Lumia 920 on Att

It broke it! Now it seems to be gone from the Store.

It's been removed from the store!!!

Let's wait for version 8.0.3

Same here, crashing at start. Lumia 620

Updated app, and crashes immediately when i try to open it. Lumia 920. :(

Can somebody tell me how microsoft missed this? The app wont even launch!
Dont big name apps have to pass certification like us mere mortals?
Methinks theres some double standards going on!

Higher profile apps get less scrutiny due to Microsoft's desperation for them.

Sucks, there is no way to revert to the old app.

I dont know what are all of you talking about?!? I updated teamviewer today and app start as usual, the only thing is it cannot connect?!?

That was fast, new update available, works again :)

Crashed when I started it but an uninstall and reinstall has worked. Good luck!

Uninstall/reinstall worked for me.

I tried that. Didn't work.

That's because it has now been fixed.

Uninstall the app and then reinstall....it works for me as I was experiencing the same issues.

This app convinced me to switch from logmein. Thank you

The update has been fixed. It's working now.