These are the best Windows 10 apps of April 2018
From previewing files to controlling your smart lights, these are the best Windows 10 apps I looked at in April 2018.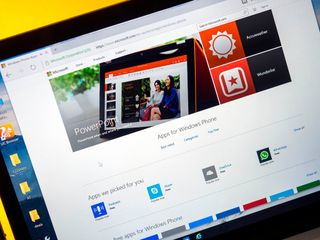 This month I reviewed apps that helped me set my smart lights to disco mode, and that let me listen to my favorite content wherever I am. Here are the best Windows 10 apps of April 2018.
Seer and Quicklook
This month I compared Seer and Quicklook, two similar pieces of software. They both aim to replicate the Seer feature from Mac computers, allowing you to preview images with a simple press of a key. In my testing, I found that both apps had strengths and weaknesses but ultimately differed very little. The one that you choose comes down to personal preference, but both of them allow you to easily preview content on your PC.
Both apps are available for Windows 10. Quicklook is free, and Seer has a free version, but to keep Seer up to date for life you'll have to pay $12.18.
Pocket Casts
Pocket Casts has been a big name in podcasts for years, and it made its way to Windows 10 recently. It covers the basics including a large podcast library and the ability to play content at various speeds but its biggest draw is in its cross platform syncing. You can start a podcast within any version of Pocket Casts, including iOS, Android, Windows 10, or the web, and then pick up right where you left off on any other version. Syncing works quickly and makes it a breeze to continuing listening to your favourite content.
Pockets Casts is in beta on Windows 10, but it's performed well for me nevertheless. Since reviewing Pocket Casts it has been by main podcast app and it's held up well.
To use Pocket Casts on Windows 10 right now you'll have to purchase a $9 web subscription for Pocket Casts. There is a free trial available but I couldn't access the beta Windows 10 app until I purchased a subscription.
See in Microsoft Store (opens in new tab)
hueDynamic
hueDynamic is a third-party controller for Phillips Hue smart lights. You can use it turn lights on and off, set scenes, change the colour of supported lights, and more. But where it stands out when compared to the well-made official Hue app is that hueDynamic adds features to your smart light setups.
You can use hueDynamic to program dimmer switches to perform multiple tasks from each button, and can sync your lights to your computer. I had a blast this month syncing my lights in disco mode to Spotify or my brother-in-law playing his guitar.
My full review earlier this month goes into more detail on how hueDynamic enhances your hardware. The app is available for $6.99 on Windows 10, Windows 10 Mobile, Xbox One, and Windows Mixed Reality.
Since I reviewed hueDynamic for Windows 10, the developer has also released it for iOS (opens in new tab) and Android (opens in new tab).
See in Microsoft Store (opens in new tab)
Snipaste
Snipaste is a quick way to grab a screenshot or snip a portion of your screen. It supports keyboard shortcuts and once you've made a selection, you can annotate them directly within the app. You can save images or just put them into your clipboard to pop them somewhere else on your PC. During my testing the most impressive aspect of the app was its speed.
Snipaste works incredibly well but the downside is that it only grabs still images. To record gifs or videos you'll have to look elsewhere. It's available for Windows 10 for free.
See in Microsoft Store (opens in new tab)
Edge for iPad
As usual, I'm cheating a bit and including a non-Windows 10 app this month. Microsoft Edge for the iPad is in beta, but I've enjoyed using it this month. It works similarly to Edge on Android in that it allows you to sync favorites and passwords to a Windows 10 PC inside of a familiar interface.
There are some features missing including a lack of support for split-screen view, but this could be added before the app rolls out to the public. To get Edge on your iPad you'll have to sign up on Microsoft's website (opens in new tab). Signing up for the beta is free and since every version of Microsoft Edge is also free, I think it's safe to assume the public release of Edge for iPad will be as well.
Over to you
What apps have you discovered recently? Which apps do you love that you feel deserve to be reviewed by us? Let us know in the comments below.
Windows Central Newsletter
Get the best of Windows Central in your inbox, every day!
News Writer and apps editor
Sean Endicott brings nearly a decade of experience covering Microsoft and Windows news to Windows Central. He joined our team in 2017 as an app reviewer and now heads up our day-to-day news coverage. If you have a news tip or an app to review, hit him up at sean.endicott@futurenet.com (opens in new tab).
Xodo PDF reader. It's not new, but it's still one of the best UWP I've ever used for pdf. It's by far the fastest and smoothest for scrolling and zooming and it has pen support with all the highlighting/commenting functions. Most importantly, it's free!

Agreed. Been using it for a long time.

I love using Easy Movie Maker I use it all the time to put videos together and also available for mobile still too.
I also like easy chat for FB Messenger a great FB messenger 3rd party App with a Dark Mode.
Please review these 2 Apps. The other App I use you guy's reviewed a couple of years ago, which is Grover Pro Podcast App. I love that one too, I like how you can use it delete a podcast once u fully listen to it.
I use it to listen to Daniel Rubino and Zac Bowden doing the windows Central Podcast every week.

I loved Grover Pro. It's a UWP app that syncs its state. I was blown away not only that I could install it on my phone, PC, and Xbox, but that I could listen to an episode on one device, stop, go to another device, and immediately pick up right where I left off. Unfortunately, I listen to podcasts mostly on my phone; so after finally jumping off the sinking WP ship, I no longer use Grover. 🙁

Cover. Best comic book reader out there.

SoundByte all day long!!! You should review this app sometime guys, it's amazing.

Hmm snipaste sounds interesting. Maybe I don't understand how it works but it requires permission to all system resources!? Does it need that to work? Do you consider permissions when reviewing apps? For me this is a no go. mH

What's really sad is the fact that the best apps from Microsoft--or, the best versions of Microsoft apps--seem to be on either iPhone or Android. Microsoft is just making itself less and less relevant at the end-user. Now that this lame brain Nadella has made it clear they don't really care about Windows itself anymore, their apps are going to follow suit. Increasingly, they have gone from "better on Windows" to WORST on Windows and, eventually, your average Android or iPhone user will see there's no actual point to using Microsoft's apps at all. I'm afraid at some point the most Microsoft will be known for is "oh, yeah, I think I read somewhere they have the servers for the cloud".

Wake me when PocketCasts adds automatic podcast downloads, like the Android version.

Sean, Do you notice that Edge does not scale properly for some websites on ipad? like the website is too big to fit the screen? Hopfully they fix that in an update.