These VR games do teleportation the right way
What games do teleportation the best?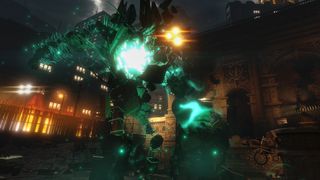 Moving around in VR requires, for many people, a different method than just pushing a joystick forward and having your character move. Why? Even with the smoothest movement, not having a reference point, like a car's dash or a spaceship's control panel, can cause serious motion sickness or instability for many people.
To remedy this VR problem, many Vive and Rift games use teleportation — you point where you want to go and, boom, you're there. Not all games do this properly, however, so we've rounded up the best titles for people who need teleportation in their games.
Robo Recall
Many first-person shooters use teleportation to keep players stable and grounded, but the directional teleportation found in Robo Recall is perfect for Rift users who don't have a room-scale setup.
When you teleport, you can choose which way you'll be facing by rotating the thumbstick, so you can always face the front of your room and your sensors while facing any direction in the game. You can get this title for about $30 (opens in new tab) on the Oculus Store!
Besides having a great teleportation system, Robo Recall is about as much fun as you can have in a VR game, and it's completely free for anyone with Oculus Touch.
See at Oculus | Oculus Rift (opens in new tab)
Raw Data
This one is about $40 (opens in new tab) on steam, Raw Data has a unique teleportation system in that it's sort of a mix between standard locomotion and instantly arriving at your destination. Known as a dash, you point your Vive wand at a spot in the world and you move nearly instantly. Your surroundings remain visible — albeit a little blurred — so you'll stay grounded in the game. Nothing worse than teleporting and not having any idea where you are, especially in a game as hectic as Raw Data.
Speaking of gameplay, Raw Data is one of the best first-person shooters out there for the HTC Vive. Use pistols, a shotgun, a sword, telekinetic powers, and more to hold off waves of angry robots as you infiltrate Eden Corp., where eternal life is a promise.
Damaged Core
Damaged Core takes the classic teleportation experience and gives it a unique twist. Instead of teleporting your own body around the map, taking care of business, you're an AI who teleports between enemies.
Anyone you see on the map can be controlled, so you can decide to wreak havoc with one large gun, or you can jump all over the map taking advantage of multiple weapons. If it's a Rift shooter you're looking for and you don't have Touch controllers, Damaged Core is a great option with a neat teleportation feature that sets it apart.
See at Oculus | Oculus Rift (opens in new tab)
Portal Stories: VR
If you played Portal 2 and the mod Portal Stories: Mel, you'll feel right at home in Portal Stories: VR. There are 10 puzzles to tackle, each one requiring you to use the 360-degree, room-scale Vive setup we all love.
Moving around the refinished — brand new textures and models are beautiful — Aperture Science facility is a breeze thanks to quick, seamless teleportation. If you love the Portal universe and already own Portal 2, grabbing this mod for about $20 is a no-brainer.
The Unspoken
Is there anything better than wielding magical powers with your bare (virtual) hands? How about battling against other wannabe mages in the streets of a city? That's what The Unspoken is all about, and it's a ton of fun.
Teleportation is used to get around, but you can't just go anywhere. Instead, for $29.99 (opens in new tab) there are platforms set up around the map from which you'll cast your spells. You must choose your movement carefully, as there is danger lurking around every corner, and teleportation can play a big part in your overall strategy.
See at Oculus | Oculus Rift (opens in new tab)
Vanishing Realms
It seems like most of the games in this roundup are shooters, but Vanishing Realms is here to answer your RPG cravings. Although it's still in Early Access, it already has a wide selection of weapons and a detailed world for you to explore.
There's nothing special about this game's teleportation, other than it works well and you almost forget that you're teleporting thanks to the overall immersiveness of the environment. You point and click where you want to go with your Vive wands, but you can also take advantage of the Vive's room-scale abilities for smaller movements. Want to experience an RPG in VR? Give Vanishing Realms a try for $19.99.
Rec Room
One part social experiment, one part exercise, and one part unbridled fun, Rec Room is a collection of minigames you can play with online friends. Get splattered in paintball, act out in 3D charades, duck, and dive in dodgeball, test your reflexes in paddle ball, and get a birdie in disk golf.
You teleport around the locker room where you can make friends before embarking — fist bumping a friendly player adds them to your party — and you can all play together in the game of your choosing. When you're playing a game in a wide open space, like paintball, teleporting is as easy as pointing a clicking with one of your controllers. Want to make some new friends without leaving your home? Give Rec Room a go for FREE.
SUPERHOT VR
Originally a game created for standard monitors, SUPERHOT was an obvious choice to be ported to VR. This first-person shooter is all about planning your attack before carrying it out. Nothing moves until you reach for your gun, so expect fast-paced action interspersed with strategic foresight.
In SUPERHOT VR, you don't actually control the teleportation, but that doesn't make it any less special. It works like this: once you've killed the enemies in your immediate vicinity, you can activate with sight — no buttons needed — a triangle that moves you to the next location. Many times it will be just over to the next room, and you can watch as the shattered bodies of enemies fall to the ground as you deal with a new group of lethal, living foes.
Want the insane pace of SUPERHOT but with the immersiveness of VR? Add this one to your Oculus library for only $25! (opens in new tab)
See at Oculus | Oculus Rift (opens in new tab)
Have you played any of these titles? Do you enjoy teleportation, or do you prefer smooth locomotion?
Windows Central Newsletter
Get the best of Windows Central in your inbox, every day!
Senior Editor, Laptop Reviews
Cale Hunt is formerly a Senior Editor at Windows Central. He focuses mainly on laptop reviews, news, and accessory coverage. He's been reviewing laptops and accessories full-time since 2016, with hundreds of reviews published for Windows Central. He is an avid PC gamer and multi-platform user, and spends most of his time either tinkering with or writing about tech.