5 things parents should avoid when buying their student a laptop
Avoid these common purchasing mishaps when buying a student a new laptop.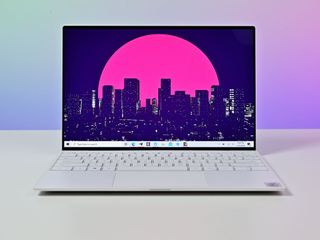 (Image credit: Daniel Rubino / Windows Central)
Laptops are ideal for students as they can carry these portable PCs between class in a backpack, allowing them to work on the same Windows 10 PC in class and back at their dorm. Notebooks come in a variety of sizes, configurations, and colors, making choosing one for your student a daunting task. We've gone through things you should consider, and now we run you over some things you shouldn't do when buying a student a new laptop.
1. Choosing the largest display size
There are a few different screen sizes to choose from when shopping around for a laptop. 11-inch laptops are the smallest, while 17-inch portable workstations are designed for those who prefer using their notebook on a desk. The sweet spot for most consumers — and students — are between 13 and 15 inches. This would also depend on what the student would prefer to use. You shouldn't buy the largest display size out there, believing it to be the best.
Smaller displays are better for portability and word documentation, while larger displays make it easier to be creative. As well as screen size, the resolution of the display is also essential. A 1080p (1920 x 1080) 15-inch display will constrict a budding student more than a 1440p (2560 x 1440p) 13-inch panel, allowing you to run more apps side-by-side or see more without having to reduce the size of text or scaling.
There's also the fact a larger laptop may not fit into your student's bag. To play it safe, go with a 13-inch laptop.
Small And Mighty
(opens in new tab)
One of the best-looking laptops

The Dell XPS 13 continues to be a class-leading Ultrabook, even without significant updates in recent years. It ticks almost every single box, and if you want to game with it, maybe throw on an eGPU.
2. Adding the most expensive SSD
It's not required to go for larger storage configurations to get one of the best Windows laptops. While a 1TB SSD would be nice to have for any student, especially one that works with media, it'll increase the price of the laptop considerably. Even a 128GB drive would be more than enough for most students, and you can always add an external drive, MicroSD card if there's a slot on the side, or replace the internal drive with a larger SSD at a later date. (You should try and buy an easily upgradeable laptop.)
There's also the consideration of Office 365 from Microsoft. Should your student gain access to the cloud suite through college or by subscribing to it themselves — some laptops even come with a subscription included — they will be able to access cloud-based storage through OneDrive. With 1TB of storage available with Office 365, there'll be more than enough space for all their files.
Depending on what the student will use the laptop for, it's better to go with a 250GB SSD or a 128GB drive if you can persuade them to use other forms of storage.
Compact Performance
(opens in new tab)
Gorgeous Windows 10-powered MacBook

The MateBook 13 is the perfect MacBook running Windows 10. The gorgeous design, display, keyboard, and fantastic performance is coupled with an attractive price tag. Just don't try and do intensive work on the laptop as the 8GB of RAM and relatively slow dedicated GPU will quickly become an issue.
3. Overlooking student discounts
Amazon and other storefronts may offer some enticing deals on laptops. Still, you shouldn't ignore Microsoft, HP, Dell, and other vendors who provide not only promotions of their own, but sometimes discounts for those in education. The student discount can knock a fair chunk off the price of even more premium laptops, allowing you to get more for your money.
There's also the used market to consider looking into for great deals and discounts on the original retail price. The Surface Pro 7 from Microsoft is a stunning 2-in-1 convertible tablet and notebook.
Powerful Comvertible
(opens in new tab)
Microsoft's successful 2-in-1 PC

While the Pro 7 is undoubtedly no gaming powerhouse, the decades of available classic Windows games makes this pint-sized PC a tremendous portable gaming tablet.
4. Battery draining configurations
Most students won't need an Intel Core i9 processor, 32GB of RAM, and 1TB of storage with a dedicated RTX 2080 GPU. These specifications sound great on paper, but you will need to pay out the big bucks for such performance, as well as a severe battery drain. A laptop with an Intel Core i5 or i7 processor and 8 to 16GB of RAM will be more than enough.
You'll only really need a dedicated NVIDIA GPU if your student plans to do photo and video editing. What specs you'll need to consider will be determined by what subject they will be studying, as covered in the point below. There's also the question: will they plan on playing PC games on the laptop?
Sleek Gaming Rig
(opens in new tab)
A fun, good looking and functional Ultrabook

The Blade Stealth adds Windows Hello IR, correctly lit function keys, and an NVIDIA GTX 1650 Ti to make it a compelling Ultrabook that gamers will love. The price is still higher than average, but between the excellent battery life, tactile keyboard, and matte full HD display, it's one of the most enjoyable laptops around. Just watch out for that coil whine.
5. Knowing what the student will do on the laptop
Depending on what your student will be studying, their needs and requirements for a laptop will alter. Should they be going into film development, editing, or some other PC-intensive task, you'll want to consider opting for better specifications than what you'd need for simple word processing and browsing the internet.
Other factors to consider would include how they will use the laptop and whether it's better to go for a more durable design. Where the student will take the device and whether battery life will be a crucial decider. Finally, what laptop do they prefer when it comes to color, design, keyboards, and other features. Do they require USB Type-C? Discuss these things with the student to get a better idea as to what they'll need.
Budget-friendly
(opens in new tab)
Affordable doesn't mean a terrible experience

The Inspiron 14 is a budget-friendly notebook from Dell, starting from under $450. For that price, you get a 10th Gen Intel Core i3-1005G1 processor, 4GB of RAM, and a 128GB NVMe SSD. If you need extra performance, it's possible to configure this laptop with up to an Intel Core i7 CPU.
Don't forget our laptop reviews and collections
Once you've compiled a list of laptops that would suit your student — we rounded up some of the best laptops for students — it's worth checking out reviews for each notebook. This will provide a better understanding of real-world usage and any potential issues the manufacturer may fail to mention, like sub-par battery life.
Windows Central Newsletter
Get the best of Windows Central in in your inbox, every day!
Rich Edmonds was formerly a Senior Editor of PC hardware at Windows Central, covering everything related to PC components and NAS. He's been involved in technology for more than a decade and knows a thing or two about the magic inside a PC chassis. You can follow him on Twitter at @RichEdmonds.
Is "under-buying" not a problem either? I think delving into the lower tiers on processors, memory and hard drives would be helpful. How little makes the dollar sign number look great, but makes the computer suck?

Going thru this process right now with my son. One thing to keep in mind is if you go with the smaller screen size you can always have an extra monitor for the dorm room desk so they get extended screen real estate when they are working in the room.

I agree with the 1st comment above. Parentabshould also not under buy to try and save a dollar or two today. Buy quality, buy performance today, otherwise you'll just make another purchase later.

For most students going with a Qualcomm SD 850 or 8cx or an Intel Core i5 should be more than enough and pair that with 8GB of RAM and 128/256GB storage.

Back in my day the first mistake when buying a laptop (we called them computers) for school was to have your parents pick out the right hardware. Of course my parents didn't know anything about computers because they never had them, but today I'm sure it's still true that the student knows more about what to buy then the parents. Just open the checkbook (ops, I mean open the pay portal) and get ready to bleed.

Yeah I remember getting my first computer a decade ago and it was a low powered AMD Turionx2 with 4GB RAM and 40GB Hard Drive. The laptop looked nice but it ran so slow and super hot.
.
Now a days I run a graphic design company so having all the bells and whistles is good but for students something low-powered Intel Core i3/i5 would be fine and with all the choices out there you can't go wrong. Something I recommend for newbies and young people these days is a Surface Pro or Surface Laptop. You can always upgrade to something else in the future but never downgrade :)

1. Not letting the student choose a laptop they feel is right for them. End of list. Your college age kid knows way more about what laptop they want than you do, set a budget, and let them choose one themselves.

Yeah most people should be fine with a laptop around $1000 and Surface Laptop will be more than enough for their needs. That is unless they are going to school specifcally for AutoCAD, graphic design/ film production, or even to be the next gamer 😄

@ tflash and clarinetjwd. I would recommend getting the kids reasoning for the choice you let them make. "I need this for gaming", probably isn't the criteria you want to hear when you are shelling out bucks for the laptop and college.

I think the most important parts of any laptop or computer buying are 1) budget and 2) what it will be used for. Most standard students would be just fine with a 300 dollar Chromebook. Anymore most things not related to school will happen on a smartphone. And I agree that buying better specs can help, but 1000 dollars is a lot of money for taking notes and writing papers. I mean they could have a cheaper laptop and a gaming console for 1k!
Windows Central Newsletter
Thank you for signing up to Windows Central. You will receive a verification email shortly.
There was a problem. Please refresh the page and try again.