Tip of the Week: Advanced "Note" Syncing w/Outlook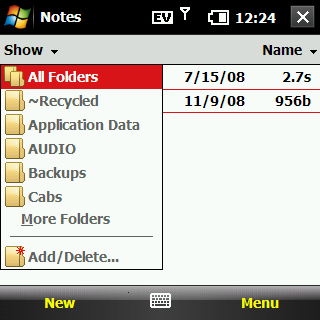 One group of questions we get a lot of around here deals with various types of syncing with Windows Mobile (see other guides: "How to sync with Google", "MediaCenter", "LiveMesh", "Calendar/Live Mail") . Often we know a solution but every once in awhile, one of our readers has a unique trick up their sleeve like that cool ActiveSync "Gues Mode" hack.
In this case, rc46 is a big "Notes" user on his phone and computer (Outlook), but he found the lack of syncing options to be...lacking.
Specifically, WM Notes does not support categories, offer a way to organize and is even "off" by default (yeah, you need to turn it on). Luckily with some elbow grease he figured out a way around these limitations and greatly enhanced his Notes use.
Care to know how he did it?
Read on for details. (And if you have a cool trick that only you know about, share it with us!)
There look to many steps here, but in reality, most of these are straight forward, so don't be alarmed.
Part I: Enable Notes in ActiveSync
Perform an ActiveSync and leave WM device connected to PC.
On PC in Active Sync go Menu -> Tools -> Options
Now check the box that says notes and wait for the sync to complete.
Now disconnect WM device from the computer
Part II: Organize Your Notes
On the WM Device make a folder inside My Documents called "Notes"
Move all the notes that are currently in My Documents into that new "Notes" folder
Next inside the "Notes" folder make sub-folders for categories such as "Personal" "Business" and so on.
Now on the WM Device move the appropriate notes into these folders.
Part III: Time to Sync Again
After you sync look in Outlook on the desktop and you will see all the notes are automatically renamed with the folder structure as part of the name.
One downside: rc46 mentions is that the "Notes" application on WM won't show this new structure, so he recommends browings your notes and opening directly via File Explorer/Resco Explorer
Part IV: Adding New Notes
Open Notes and write away
New notes will then be saved to the folder "Device\My Documents\Notes\"
Open File Explorer and move new Note to appropriate sub-category created earlier
Part V: Creating/Modifying Notes on the PC
Create new Note as usual
Save as usual (do not attempt to add to sub categories)
Sync with your device --> Note synced to "Device\My Documents\Notes\"
Later, move Note on device to appropriate sub-category
Finally, rc46 has some closing advice:
So there you have it folks: the best way to sync and organize all your notes, with believe it or not, very little effort.
Thanks rc46 for the great tip!
Windows Central Newsletter
Get the best of Windows Central in your inbox, every day!
Just wanted to take a second to thank rc46 for this tip. He provided this tip to me several weeks ago when I first go my HTC Touch Pro from Sprint. Not only did it help me categorize my notes, it also fixed problems I was having synchronizing notes in general. Prior to making these changes, Active Sync was unable to send/receive modified notes without throwing unresolvable conflicts. Good tip rc46, still working great!

I have a Samsung Epix and all I can say is that mine doesn't work that way. In Part I, line 3, while Notes was listed as a category of items to sync, there was no box next to "Notes" and, accordingly, it could not be selected. After the "line 3 sync" the list of PC categories which has been sync'd did not include Notes, only Favorites. I have posted inquiries on a number of different forums about this issue and no seems to know whether there is a way to do this or if there is any 3rd party software which would enable the sync'g of Notes from my desktop PC to my Samsung Epix. Thanks for any help.

Too bad it didn't mention how to get active sync to sync my notes without deleting them every time.

I also have an Epix, and I've selected "notes" to sync in WMDC (I'm running Vista - am I SUPPOSED to use WMDC instead of Activesync?), but they don't appear on the device.
Has anyone managed to get Notes syncing on an Epix in Vista?

Excellent tip. I was looking for this answer for long time. I started using smartphones since 3 years ago. My first one was Treo 650, then I switched to Treo 750 and now I have a HTC TyTN II. I have a lot of notes in my device and I didn't like the way to keep all together in "Device\My Documents" folder. This tip really works.