Titanfall Deluxe Edition to be released digitally for Xbox One Nov. 25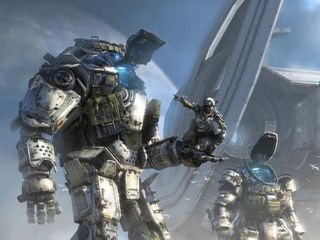 If you have yet to play Titanfall for the Xbox One, the teams at developer Respawn and publisher Electronic Arts have just announced an easy way to get into their game. They will be offering a deluxe edition of the sci-fi first person shooter for Microsoft's latest game console. It will be released as a digital download exclusively on Tuesday, November 25 for $50.
For that price, the Titanfall Deluxe Edition will include the main game, which was first released in March, plus all three paid DLC packs (Expedition, Frontier's Edge and IMC Rising) which added 12 maps to the game. Now all that content can be bought in one download. There's no word if this new edition will be sold in retail stores.
Respawn has continued to update Titanfall with free updates that have added features such as Ranked Play. Are you still playing the game?
Source: Titanfall website
It was cheaper on games for hold sale I sure.

Without all the expansion content, however.

No, the Season Pass (which gives you all expansion packs) was discounted as well.

It cost only $31.35 ($25 game + $6.25 season pass) when it was included in Deals with Gold.

Yeah I still play. Currently taking a break because of Halo and CoD:AW, but overall I am liking titanfall a lot

Oyeah me to taking a break, I've been playing COD & Battlefield, but still play Titan Fall. Add me. GT: Montpbm777

You forgot to add "in my opinion"

Meh, dont like it. And dont have a One and wont for several months if not years. Didn't get a 360 till 2010 soo...

If your standard reply is "don't have a One and won't for several months if not years", why do you even bother commenting on these articles. I've seen this reply several times from you.

It's a fun game. I play it when none of my friends are online

I'm not playing it. It's just so bland. I go back every few months, but I'm just beating my head against the failure known as CoD until Halo becomes playable.

What a rip off. Season pass was just$6 and digital titanfall was on sale for$20.

Emphasis on sale. This is the listed retail price.

I'm still playing it. It's my favorite shooter. It actually has made me a better COD player since COD has similar but slower movement.

I actually play this more than destiny. Its a great pick up and play. And I swear AI got incredibly smarter from launch.

I noticed that ai has improved dramatically, I like to think that I'm good at Titanfall but for the first time a week ago I got killed by a spectre. I tried to run through a door filled with spectres lol

Occasionally play it on PC. Still the most fast paced game I've ever played, though I don't play much games in general.

I still playing it and love it. even when i play MCC i come back to titanfall for a break :D

So the game is $20 right now and the three dlc were $10 a piece. That's $50 already just for PC.

I like the game, I do wish it had a true story mode though

I agree. A true campaign mode with a story would be awesome.

That's the reason I didn't buy it.

I think the authors should answer their own questions that they leave at the bottom of their articles.

Isnt that what the season pass was for?

Meh. I got it for $17 from gamefly and the season pass for $6.25 on Xbox Live weeks ago. No reason in the world I'd pay $50 for this. I'm actually kind of ashamed I paid $23 for it. It's mediocrity incarnate.

I try to play when I can. My username is my gamertag

I have been playing it alot recently. I love the multiplayer. In fact, I think its the best multiplayer out right now. Its better than MCC (I haven't been able to get a game in yet), COD:AW, and Destiny.

I play it just about every night! I can't get enough of this game!
Windows Central Newsletter
Thank you for signing up to Windows Central. You will receive a verification email shortly.
There was a problem. Please refresh the page and try again.