Top 15 Windows PC games coming in 2020
There are hundreds of great games coming to PC this year (like every year, tbh), but these are some of the ones we're most excited for.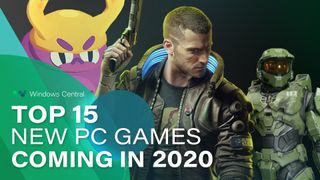 (Image credit: Top 15 PC games 2020)
Even with a bunch of game delays, 2020 is still shaping up to be a pretty stacked year for gaming, especially for PC players. We thought we'd do a rundown of the top 15 PC games on our radar for 2020, so far.
DOOM Eternal (March 20, 2020)
The DOOM Slayer is back and more badass than ever. With a brand-new arsenal of demon-disposal tools, some seriously increased mobility, and of course a slamming industrial metal soundtrack, slaughtering the spawn of hell is going to be way more intense this time around – and that's really saying something.
With DOOM Eternal, prepare your eyes and ears for one of the most extreme video game experiences of the year.
Bleeding Edge (March 24, 2020)
Bleeding Edge is what happens when you combine the frantic action of Devil May Cry with the strategy of Dota 2 or Smite. Imagine an objective-based PVP game in the vein of Overwatch, but with the twist of 3rd-person, melee-focused combat.
Ninja Theory has proven to be one of the best in the biz when it comes to delivering satisfying melee combat, so Bleeding Edge is one to watch for players looking to jump online and smash with the squad.
Chivalry 2 (2020)
When Chivalry launched back in 2012, it completely redefined what Medieval warfare could be in a video game. Chivalry 2 aims to take what fans loved about the original and increase the scope, scale, and production.
With massive 64-player battles and an increased emphasis on "cinematic experiences," it looks like this franchise might once again raise the bar for medieval video game combat.
Resident Evil 3 (April 3, 2020)
Capcom has been on an absolute hot streak since the launch of Resident Evil 7 in 2017. Since then we've gotten incredible releases like Monster Hunter: World, Devil May Cry 5, and of course, the Resident Evil 2 remake.
Resident Evil 3 throws players back into the chaos of Raccoon City during a zombie outbreak, this time as Jill Valentine. With the addition of a new asymmetric multiplayer mode, it's looking like Capcom is packing in even more content this time around.
Minecraft Dungeons (April, 2020)
Have you ever wanted a little Diablo in your Minecraft? Well, that's essentially what the team at Mojang set out to achieve with Minecraft Dungeons.
Scrapping the focus on building and shifting the focus to destruction, this isometric dungeon-crawler adds some deep RPG mechanics and tasks players with defeating hordes of classic Minecraft enemies. It's a fresh change of pace for the franchise that many long-time fans are very excited about.
Cyberpunk 2077 (September, 2020)
It's safe to say that Cyberpunk 2077 is one of the most anticipated releases of all time. CD Projekt Red crafted what many considered to the best game of the decade with The Witcher 3: Wild Hunt and this is the follow-up to that massive hit.
With a lengthy development cycle and the hype of Keanu Reeves as a character, Cyberpunk 2077 is absolutely one of the must-plays of 2020 for open-world RPG fans.
Gears Tactics (April 28, 2020)
Gears Tactics is essentially what you get when you combine the 3rd-person action of Gears of War with the strategy and pacing of XCOM. This turn-based isometric shooter plays much differently than the 3rd person blockbusters we've grown accustomed to over the years.
With a focus on an engaging story, deeper RPG elements, and a campaign that is estimated to take 40 hours to complete, this is looking like a welcomed addition to the series.
Wasteland 3 (May 19, 2020)
The Wasteland franchise made quite the comeback in 2014 with the release of Wasteland 2, which was the sequel to the 1988 cult hit. With a fanbase ravenous to dive back into this post-apocalyptic world, the announcement of Wasteland 3 was met with massive support.
As the development team is now a part of Xbox Game Studios, Wasteland 3 promises better production, more content, and drastically improved visuals.
Empire of Sin (Q3 2020)
Empire of Sin from Romero Games is an isometric tactics game set in 1920's Chicago during the golden-age of Mafia activity. This turn-based title is basically what happens when you combine the combat and strategy of XCOM with the gripping crime drama of Grand Theft Auto.
With a focus on resource and relationship management, in addition to appearances from legendary figures like Al Capone, Empire of Sin looks to offer a genuinely unique simulation strategy experience.
Rainbow Six Quarantine (2020)
What's the best way to capitalize on the success of Rainbow Six: Siege and draw in a fresh, new audience? Add aliens, of course! Rainbow Six Quarantine ditches the PVP focused efforts of its predecessor to offer a Left 4 Dead-esque experience to players, pitting 3 players against horrifying environments and an alien outbreak.
With a splash of survival-horror and a focus on co-op, this is one to try if you're tired of getting steamrolled in Siege.
World of Warcraft: Shadowlands (2020)
The biggest MMO of all time just keeps getting bigger with the upcoming release of the next World of Warcraft expansion – Shadowlands. While many were excited by the rollout of Battle for Azeroth, some felt the end-game systems introduced didn't fully deliver.
This new expansion will add five new zones to explore, a large soloable dungeon with roguelike elements, a new covenant system with unique rewards, while also redesigning the leveling system for new players, along with new raids and dungeons.
Iron Harvest (2020)
Set in the alternate reality of the 1920s after the end of 'The Great War', Iron Harvest promises to deliver a real-time-strategy game for hardcore RTS fans. Giant steam engines dominate the battlefield and can turn the tides of war in your favor.
With dozens of unit types and unique hero characters, Iron Harvest offers a serious amount of strategy and customization.
Ooblets (2020)
Ooblets looks absolutely adorable. This upcoming indie darling is an amalgamation of everyone's favorite wholesome video game franchises.
With a sprinkle of Pokemon, a dash of Harvest Moon, and a pinch of Animal Crossing, the Ooblets recipe is one oozing with charm and chill. So far, we don't have an official release date, but we can't wait to get our hands on this beautiful creature sim sometime in 2020.
Microsoft Flight Simulator (2020)
Microsoft Flight Simulator has been a staple PC gaming experience for over 30 years now, but it's been over 13 years since we've had a proper release.
The upcoming version of Microsoft Flight Simulator looks to completely redefine the experience. With absurdly realistic graphics courtesy of Microsoft Azure, this game is going to be absolute eye-candy. We are totally hyped about the possibility of taking a beautiful vacation from the comfort of our gaming chairs.
Halo Infinite (Holiday 2020)
Last, but certainly, not least is the upcoming 'spiritual reboot' of one the most iconic fps franchises of all time – Halo: Infinite. This release marks a historic moment for the series as this will be the first time a Halo game has launched day and date on both PC and console.
After the somewhat lukewarm response to Halo 5: Guardians, fans are really hoping 343 Industries delivers with the next entry. Let's tear down those PC/console walls and share in celebrating the glory of Master Chief this holiday season.
What say you?
Overall, this is going to be a pretty rad year for gaming. There are so many amazing games on the horizon for PC players to look forward to. If there's anything on this list you're particularly excited about or anything we missed, be sure to let us know in the comment section below.
Get the Windows Central Newsletter
All the latest news, reviews, and guides for Windows and Xbox diehards.
Miles Dompier is a Freelance Video Producer for Windows Central, focusing on video content for Windows Central Gaming. In addition to writing or producing news, reviews, and gaming guides, Miles delivers fun, community-focused videos for the Windows Central Gaming YouTube channel. Miles also hosts Xbox Chaturdays every Saturday, which serves as the Windows Central Gaming weekly podcast.