Top 5 announcements from the first day of Build 2017
Microsoft kicked off the first day of its Build 2017 developer conference in usual style with a lengthy keynote.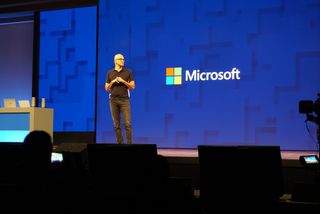 And while this year's day one keynote was a little less flashy than in years past, there were still a number of notable announcements, ranging from the latest Windows 10 user numbers to a new Azure mobile app and a more capable Cortana. Here are some of the top announcements from Build 2017 day one. (Note: We didn't include too much of the heavy developer-focused stuff.)
Cortana's got mad 'Skills'
After months of private testing, Microsoft finally launched the Cortana Skills Kit in public preview. Now more developers can build unique "skills" that let Cortana do cool new things, much like the skills that Amazon Echo's Alexa has been amassing over the past couple of years. And as it turns out, many developers are already on board, with a total of 46 skills to check out from companies including Domino's Pizza and Food Network.
A whole lot of people use Cortana every month
Those new mad skills would be useless if Cortana didn't have an audience to check them out. Fortunately, that's not the case: Microsoft says that more than 141 million people now use the digital assistant every month. Microsoft counts any interaction as part of this number, so it's not clear how many people actually speak to Cortana. Still, that's a sizable figure.
Even more people (half a billion!) use Windows 10
We also got our first official word on Windows 10 install numbers since September, with Microsoft revealing there are now 500 million Windows 10 devices in the wild. Of course, devices is the key word there, as Microsoft counts PCs, tablets, Xbox, HoloLens and Windows 10 Mobile in that figure. Still, that's up by 100 million since last we heard, which is solid growth.
Azure on the go
Developers on the go were also thrown a bone today with the launch of the Azure mobile app. Available for iOS and Android today, with a Windows 10 UWP app in the works, the Azure mobile app lets you easily keep an eye on your virtual machines and web apps on the go. There's even a command line built in, letting you run Azure CLI commands with PowerShell coming soon.
Visual Studio 2017 for Mac
Lastly, Microsoft bolstered its multi-platform development cred with the general availability of Visual Studio 2017 for Mac. The latest version of Microsoft's integrated development environment (IDE) includes all of the development tools necessary to code for multiple platforms in one environment, now on Mac.
This year's day one keynote was focused on the intricacies of developer tools — something usually seen on the second day of the event. However, we're expecting to hear much more on Windows 10 and mixed reality tomorrow, so bookmark our live blog page now before you forget!
Your thoughts?
What are your impressions of the first day of Build? Did we skip an announcement we should have included? Are you psyched for tomorrow? Let us know below.
Dan Thorp-Lancaster is the Editor in Chief for Windows Central. He began working with Windows Central as a news writer in 2014 and is obsessed with tech of all sorts. You can follow Dan on Twitter @DthorpL and Instagram @heyitsdtl. Got a hot tip? Send it to daniel.thorp-lancaster@futurenet.com.
Deploying 1000 VM's in literally seconds. BRB, face melted off.

Also Azure Cosmos DB, NoSQL DB
- evolution of DocumentDB
- globally distributed DB
- horozontal scaleout
- multi-model
- multi API
- comprehensive SLAs

This'll be a very boring build.

Maybe for anybody who isn't a developer....for those of us who are though its got some really awesome stuff

That's what every developer says. But then nothing gets developed for Windows 10 Store... Real shame.

Things should be like, Azure available as an app on UWP, Android and IOS app in works... Not the opposite!

Yes, it sucks, but they have to aim for the center of mass. All we can do it show our support, and hope they can learn to walk sometime.

Why would they develop for the smallest market first?

Because it's *their* market?

Android and IOS are also their markets. They're a software company, not just an OS company.

And that's why its an OS duopoly.

Plus they focus Windows Mobile on high end enterprise devices.

How many people in this thread will actually use the app to manage their Azure machines in a real work environment....I have a feeling most of the people complaining aren't even the target market and are just WP fans

Why should it? the mobile app will be used by MILLIONS of people using IOS and android devices, compared to TENS of people using microsoft mobile phones....come on get real.!

Same argument made years ago when Microsoft was also concentrating on ios and android, thats done wonders for Microsoft's mobile platform, hasnt it? And for the record, W10M doesnt have to be first in anything, as a Microsoft property it should be at least on an equal footing with other mobile platforms but to completely ignore it says only one thng, its dead.

You would expect Microsoft employs the best programmers for UWP. They should be able to write the app in days. If Microsoft can not write a UWP faster and better than any other developer, then maybe they dont know what they are doing.

There are literally Dozens of us!

Very easy: Because it's their customers who bought WM10 phones. They should be loyal to their customers, the same way as their customers are loyal to them. And their customers already hat do deal with WP7 -> WP8 and then WP8 -> WM10 transitions (or resets).

Most people complaining aren't even the target market for the app. I don't use iOS but I spend a lot in Azure personally but the companies I do work for spend thousands every year (or month in some cases)

The day is over already????

not so hot this year.... not impress

Plenty to impress. It's a developer conference, not a product launch.

The past two years had a ton more exciting news and that is just a fact. I usually watch the whole Build events because of how excited I am, but I'm not going to watch any of it after reading this article.

All the cool stuff will be announced in Day 2. For whatever reason, they started Build with stuff for developers first.

It wasn't interesting for developers either...

"Cortana's got mad 'Skills'" Remember just a day or two ago, people here in the comments was claiming that Microsoft was going to lock down Cortana while the competition would be compely open. Once again the trolls here are proven wrong. Google still does not have an SDK except for a small handful of companies they personally approve, Apple has a neutered product, and Amazon maintains complete control over their offering. Meanwhile Microsoft puts out a SDK that anyone can use.

Too bad Cortana is still available only in a handful of countries...

and 90% of the functionality is still US only!!!!!

I've never really understood why so many Cortana features aren't available in other English speaking countries like the UK, Australia and New Zealand where culture and software are almost identical.

One main thing they need to sort is how Cortana responds in non-US regions. Ask who is the president of the united states and Cortana will show you the answer on screen but say "Here's what I've found" which is obviously useless without a screen. Cortana will still Maintain context, right afterwards ask "Who is his wife" or "How old is he" and you'll get the correct answer again but Cortana once again says "Here's what I've found". It's the biggest barrier to Cortana in non-US regions

How many countries is Amazon's or Google's digital assistant is operational?

The fact that Quiet Mode relies on Cortana is mildly insane. Or did that get unfucked at some point?

lol with most of it's functionality in US only...and what devs will use this cortana SDK? :)) those devs that avoid UWP and Microsoon? :))) oh, what about those that are gonna bring hundreds of apps to the store once the delusional surface phone arrives :)))

You can port an Alexa skill really easily. That brings your services to Windows 10 (and Mobile) without having to build and release an entire app. For a lot of things I don't even need/want an app if I can get it done quicker with Cortana

The article photo is pure gold... Mr CEO himself... happy to bring you to the CLOUD!

That's not the ceo. It's probably a maintenance guy checking the audio.

I'm sure hoping they've switched things around, and the more exciting news will come tomorrow.

Kinda looks like they are doing that this year.... Boy do I hope.

Yeah they said tomorrow its all about Windows

HEY! WAKE UP! If you cant keep from snoring, then please leave so that the rest of us can hear without your rude noises. You are always complaining about how Microsoft isn't doing what the competition do, so now they offer us real developers tools to make truly great apps, and now you need to be ignorant. Are all Norwegians like you? I will need to scratch that off my list of places to visit if they are.

I don't know any Norwegians. I live in The Netherlands.

Holland never was on my list since it is so insignificant. But it is nice to know that the people there are the rude and ignorant ones, not those from Norway.

It's The Netherlands, not Holland. So, now you know. Please stay away from The Netherlands. We don't need your visit.

The Netherlands is more correct, technically Holland is only a small part of the country.

@Gerard " The Netherlands, not Holland" tomato, tomatoe

@ Gerard Corbier I'm going to ignore the entire exchange between you and the xenophobe. But I'd just like to point our that in many languages "Holland" is the name to refer to the Nederlands (a reminescent of the time of the Kingdom of Holland etc). Even in English it's common practice to say "Holland" when refering to the Nederlands. Yeah, it's not accurate, but then again neither is calling "America" to the United States. Yet, it is how it is.

I think most Dutch people use the name The US(A) instead of America. But it was your new president, mister Trump telling the world: 'America First, America First'. I think the Dutch understood he meant the USA and not the countries in central and south America. But, like Remy_s explained. Holland is a small part/area inside The Netherlands.

America first... The Netherlands second?

Isn't America a continent? Or maybe two continents? Sooooo ... Trump is saying Mexico, Canada and the United States of America (and more South American countries than I can remember) First? For a global company Microsoft probably could do with more local events and local initiatives. A lot of what we're seeing is very US centric. Particularly premium devices like the Surface. They aren't really doing as much as they could to build market share outside of the US. Particularly in markets with differing needs from the US.

Maybe it's time to start calling them Southern Canadians? Or North Mexicans? I think that I have yet to encounter a big Microsoft even that I didn't consider to be dull. We usually see a lot of software packages with a few innovative features but the packages themselves are just newer iterations of things that already exist, and the presentations themselves are either extremely dry or they try to hard and come across as being hipsters playing catchup with Apple and Google. I'm pretty sure that most of us here aren't the main target audience for these events.

Never mind, at least I'm sure that they are vaguely aware of the Netherland's approximate location on a map of the world. Well ... maybe. I think that the fact that you're not British, Mexican or Canadian threw them for a bit of a loop.

Do you always judge everyone in a country from one persons saying?
If I should mention USA, should I use Trump as an example, and consider that every American are just the same...?
Btw. I am from Norway... 😉

Me too, but I'm officially Dutch.....wonder what that says about both countries?:-)

Everything that's touristy and international courts are in hollands.

Gerard is always personally attacking other people. And if you turn around his attacks back to him, he then starts whining and complaining about how you are not allowed to question him. No, I have nothing bad to say about anyone from Norway, Holland, or any other country - except for Gerard. And I will always be happy to throw back at him his attacks on other people.

I just said Zzzzz. That's all. Nothing more. That's NOT attacking other people but how I felt following this build this day. To me it was boring.

Pretty sure he's mentioning your earlier post in another thread. The one where you got down-voted to hell. Yeah. Yeah, that one.

Do you have a link? Because I see my Avatar everywhere but it's not me.

Like most readers I thought you were referring to genocide. Happy to read your real intentions are harmless.

Ouch. Bite your tongue. But good point.

Look, during the livestream from YouTube I can see from the chat that so many people are complaining that its "boring", "useless", "we want SP5", "Where's WP?"...all these comments really kinda make me puked. First and foremost, this is BUILD, and its target are DEVELOPERS, not normal consumers. And this BUILD Ms talked about Azure, SQL server, VS for Mac...all these seems uninteresting to general consumers, other than developers. So here's my thought, if you find these boring, skip this. Leave the livestream, and go chill at somewhere else, because clearly this conference is clearly not meant for you, and please stop complaining.

I'm glad you're here telling this!!!

May 23rd is when they are going to announce more hardware developments. A coupel of more weeks. Seeing how I bought my new i7-7500, 15.6", 8 gb ram, 256 gb SSD laptop from HP last November for $750, I would expect an SP% to arrive soon. I also was impressed with the level of design and engineering in the Surface Laptop. I would not think MSFT would spend that much time on a laptop and not apply those lessons on the next SP5.

Great point , five points. Best wishes for MS 🌹

As a data developer, really interesting.

The biggest announcement in my opinion was 'the emma' band.....wish they had shown such a prototype before and brought it for the consumers.....would have bought it irrespective of the price for my grandmother who had to suffer parkinsons before her death....but i really hope they bring it to the consumer market....at the earliest

I agree! That one gave me hope for technology to help others. My son has intention tremors which have some similar behaviors to Parkinsons. Its hard for him to write his name and has had to wear weighted gloves and other things to keep his hands still. I would be willing to try it out on him to see if it helps!

Wish him good luck for his life....hope this really helps....but this needs a little bit more fine tuning.....before it can be released.....and hope they jus dont make it us centric and market well....this has a real potential....

Your period key seems to be sticking.

so is your major ******* button!!!!!!!

You seem to have some anger issues. Do your mommy & daddy know you're playing on the internet? Imagine a winky smiley 😉 after each of my comments and you'll be okay. Better yet, don't read them.

Something about pots and kettles..

This is obviously a Medical Device and as such susceptible to FDA oversight (at least here in the US) as such it could be years before it passes the required testing and certification.

That could happen to a lot of devices and meds, but not all the time happens like you said. Fortunately, there exists the accelerated process that some AIDS and cancer meds do use for be available to the consumer market 3-4 years before. Disability devices are much needed and developers must concentrate in those devices because as with war machinery, innovation comes first by the hand of special needs. :)

I didn't go to this BUILD because last year was way more of a bigger event with Xamarin acquisition and launching it as free. Next year should be a bigger BUILD as a lot of technologies come together with new versions and improvements. Especially Xamarin and .NET Core 2.0 launch. I also expect that a new version of HoloLens to come out.

I think it's worrying. I think they are bold statements but its susceptible to interpretation. Cortana may have wicked skills, but today after more than three years sorely lacks language support. For daily use Cortana in my experience is only of value if can interact with the regional or local market.language. Without push of language support I think they're missing out on a huge potential. To me the number of users seems highly inflated. I would like to see real world regular use numbers. Microsoft is trying, but in my view they could do a far different roadmap and easily push numbers of user adoption of Cortana by more language support. Possibly even surpass Alexa.

It is a bunch of tradeoffs. Cortana is more of a personal assistant, where it does language recognition to do things for you. While I have not had too much experience with Google Home, I have used Alexa and Siri quite a bit, and they are glorified front ends to search engines. People like to claim that Alexa is bad because it uses Bing, but unless you follow a few commands it knows, it is relatively dumb and just does searches. For Siri, if you were to go to a Apple focused site like this one, all you will read from comments (and hard core Apple fans) is how all Siri knows how to do is to transcribe words to enter into a search engine. Anyone with a speech recognizer can do what the others do, knowing what to do with your words is what Microsoft is doing. Being able to know how to use the words is harder than just entering them into a search engine. However, it is not that hard that they could not do it for a company as big as MS.

I am starting to see Cortana push into things more than responding to my voice. I now know if I send an email saying, I will do "X" tomorrow, Cortana will prompt me tomorrow if I completed the task. I would expect more andmore people working in the enterprise will see the power of Cortana before many consumers.

People outside the US are telling this for years now. But Cortana is not just language. Bing or Google translate are horrible. And that's just languages. Just a example. In English you say: twenty two. In Europe we say two(and) twenty. Microsoft allready said about our language: Its'a very difficult language to translate for us. And we want to deliver the best and nothing else. But we won't invest resources in the Dutch language. And i assume they said that to many countries and that's why Cortana is basicly useless. It has has no future outside the US.

This is exactly why those "mad skills" that Cortana has will never, ever see the light of day outside the US. Same goes for the Invoke Speaker as well.

Spin. Spin. Spin. Spin all this bad news into good news. Amazing...

Shatya Nutella just goes up on stage and talks a load of sh!te about how cloud this and cloud that, while promoting competitor's products. Can't wait til the Azure revenue levels off and MS is left scrambling for new revenue streams, and they realize no one wants to buy their products anymore.

Maybe it's just me but Nadella sounds to me like a robot when he talkes.

Where did he promote competitiors?

I was hoping they would talk about the upcoming NEON... oh well, but the home hub and Cortana Skills were pretty cool at least... *crosses fingers that they will announce the NEON UI for day two, even though the chances are slim...*

Tomorrow (Thursday) morning is the talk you're interested in, then. According to the first comments on the live blog, tomorrow's event is about Windows.

It amazes me how many people here must not read the finance pages. MS makes a huge majority of its revenue from Azure, Office 365, and other cloud dev products. Why is it surprising the focus of the first day of a "developers" conference would be on the products that make MS money and life easier for devs.

Stop making sense. You'll give the stemhead trolls a rash.

".....oh, yeah, and Windows will have something, too."

Seeing other Build events i found it to be pretty bad actually. Now granted, we haven't had any W10, Xbox and Office announcements since that will be tomorrow (hopefully) but other than that it was pretty marginal too. Sure they showed some cool stuff, but for most of the cloud or AI stuff i found it to be a bit boring. Its nice that they can do that, but i feel that in the previous years a lot of the stuff would be in specific sessions, not the main stage. And i also got annoyed by the amount of partner PR (and PR clips) they showed. We get it, you partner with others to do stuff. I wonder how much we'll get tomorrow. But seeing how AI and Cloud now took the stage and the direction MS is taking, i doubt it will be so entertaining and impressive. Somehow i get the feeling that Satya isn't doing any big investments in those area's anymore. In the previous years the first keynote always held some items that would make it to (our) national news. Now i don't see it happening. And i doubt tomorrow will bring any big announcements either. Compared to how amazing the previous years were (my personal favorites were 2 and 3 years ago) i found it to be pretty bad and i think it only shows how much MS changed their focus because their appstore and grip on the OS market simply isn't big anymore. Also: what was up with all those iPhones during the presentation. Its like they aren't even hiding it anymore that W10M is dead.

There is no reason for iPhone users to use Microsoft apps and services on their devices. I guess iTunes has plenty of high quality apps. Never used any Apple products but I am quite familiar with their apps.

Oh boy, Cortana does stuff. Can she even tell me when sunset is yet? Last time I had a windows phone all she could do was barf up a webpage in response.

How long ago did you use a windows Phone? I still use my Lumia 950. Good Phone. Cotrana gets beter and better. Cortana almost never fails to accurately recognize my voice. I believe it was late last year that Microsoft released a speech recognition algorithm that was almost as accurate as a human. About the same time I noticed a huge jump in Cortana's recognition skills. I used to speak in 4 word sentancies. Now I can talk more naturally and Cortana gets it correct. Do I speak to cortana in complex sentances? No. But I see myself more and more comfortable speaking naturally and Cortana not missing a beat.

This day was aimed at developers, so it's only natural non-developers were getting bored out of their minds. So was I. But that project Emma for patients with Parkinson's was amazing. Like, yeah, I'm sure all that other stuff is great and useful, but this was the highlight of the day.

I thought there was there some pretty cool stuff like last year in the cognitive services field, but it can be a bit on the creepy side. As far as OS's go, most of the focus was on non-server, unix shell, mac,iOS and Andriod. They seemed to treat Windows as if it were a competing product and mostly stepped around it. There is far too much focus on the cloud, Microsoft used to be multifacitive. Now its just buy our server time with fancy web panel charts. The production state debugging was cool if it will work on all Windows servers, and not just Azure.

Windows is coming tomorrow!

I thought that workplace tech with the cameras was pretty awesome. Alerts you when someone is doing something they shouldn't, or if something's gone wrong (spills, breakdowns). I think if implemented correctly that tech could be amazing. I'd love to see it in home security.

So when does this Cortana stuff arrive??? I can't even get my Lumia 950 to recognise my voice, nevermind do anything useful

Then I dont know what is wrong with your 950. My 950 and cortana recognizes my voice easily, even when I am driving in my 20 year old work truck, radio on (low), with all the stuff baganing around. Try to have Cortana relearn your voice. Now I leave in the south but I dont think I have anoticable accent. Maybe your accent is difficult to recognize.

yup, tried all that...again and again and again. Over the past 18 months I've tried the "learn my voice" feature a couple of hundred times. I get as far as the third statement and it just stops listening and says "sorry, I didn't get that." I've even hard reset my way phone half a dozen times but nothing works. I have a plain old English accent and my surface pro 4 and Xbox have no problem picking up my instructions. Which leaves only one possibility.....the Lumia 950 is crap

Considering Cortana is the search on computers and phones that number is pathetic.

Looking forward to Azure Cosmos DB 👌

A genuine question. Even MS builds Windows 10 UWP app last but release android and iOS early. Is it because UWP development is complex in nature compared to mobile-only app? or simply a decision based on user base that even MS doesn't prioritize?

They're simply prioritizing the areas where most of the users are. It's not complicated.

what's the use if users are not gettin anything back? I started with the 530, bought a 2520 the a 625, an Icon and finally the 950 searching for the wonders of MS as a superior company compared to iOS and Android and what do we have so far? Lagging at every step. No catch up. Even MS services are superior on iOS and Android. Not even the news are decent on W10 mobile. where are the brilliant developers? At the other side of the river. Android has free CRM already for several years and then we get customer manager with whistles and bells and what do you get? An eunuch add on. Nothing interesting for us loyals on the OS. I give up. I will move up the ladder and get me an Android more efficient phone. I will use my Wphones as car cameras or sell them. Not much use for them.

I'm not L337 enough to appreciate what happend today. But it all sounded great to me.

I wonder if Intuit will include Cortana into Quickbooks.

Cortana Skill yuuuusss! These will be great on windows 10 mobile.

Don't forget that the skills api includes Microsoft bot framework, which is easier to code.

Also really like their idea of mixing cloud and local. Hope they go further with that over time. Local is faster, and its my preference.

If they aren't announcing Nadella's firing, what's the difference?

MS has now become the most boring and uninspiring company. Balmer should pull a Steve Jobs, come back to resurrect the company with Elop and Team taking back mobile. Bring WP 7 and 8 and trash 10!

At last, PostgreSQL in Azure!

Microsoft says that more than 141 million people now use the digital assistant every month.

Considering virtually none of those are W10M users, that IS impressive.... I'd be interested in the breakdown of W10 vs iOS vs Android users, but I doubt they will let us see that....

Also, most those people are in US and Canada because Cortana is pretty much non-existent in most European countries

I thought the camera tech was amazing. That definitely has consumer uses - from the atmospheric - auto cue lower temperatures when working out, chill music when you bathe, change lighting when you eat dinner, put on nature docos when you get home from work.
To the safety oriented - detect suspscious behaviour on your properly, protect children, alert authorities in medical emergencies. That could be a technology that changes the very fabric of society.

'Cortana's got mad 'Skills''
Happy to hear that. Can we now get Cortana in Eastern Europe or we still a non existent market for MS?

Well, companies always focus on country and market they're situated in. But I know what you mean, I live in Poland and I really would like to try out these "Mad skills"

No mobile talk at all? Bummer!!!