Top Rated Racing Games for Windows Phone
Windows Phone Central Game Roundup: Top Rated Racing Games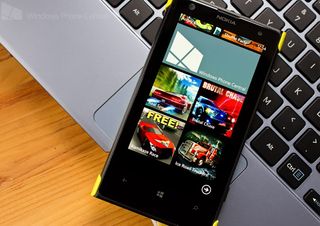 Windows Phone racing games are a great way to pass the time with. These games have outstanding graphics, challenging game play and overall an entertaining venture. Games such as Asphalt 8, Dhoom:3 The Game, and even Angry Birds Go! are top choices in the Windows Phone Store.
For this week's Windows Phone Central roundup, we turn our sites on four racing titles that have not received much exposure. They all are rated with four stars or higher and in tinkering with the games over the week, they each have their own level of appeal. A few of the games could stand for a little fine-tuning and bug fixes but overall, we can see why they are highly rated.
Ice Road Truckers (no trial/$.99)
We briefly touched on Ice Road Truckers back when the History Channel first released this Windows Phone 8 game. The game is loosely based on the History Channel's television series that bears the same name and follows a group of truckers who haul their loads across the frozen roads of the Alaskan and Canadian Artic territories.
The game plays more like an endless runner than a racing game in that you are called upon to drive your big rig across frozen roads to see how far you can travel before driving into a frozen pond, crash into a patch of trees or generally lose control of your truck and crash.
Ice Road Truckers Game Screen
Along the way, you can collect coins that are scattered along the road that can be used in the game's store to buy power-ups, boosts and unlock some of the Ice Road Truckers who have varying abilities.
Controlling the big rig is simple. Tap the right corner of the screen to steer right, tap the left corner to go left. When you need a boost of speed, press and hold both corners at the same time.
Ice Road Truckers Scoring Summary
Graphics are well done, game play mildly challenging but the game has a few graphics bugs that really kill the entertainment value of the game. Once you crash and burn, a scoring summary screen will appear where you can try the game again or visit the game's store. If you go to the Store, the map overlay from the scoring screen will not go away and will require you to re-launch the game to set things right. If this bug can be fixed, Ice Road Truckers would be a great racing game for Windows Phone 8. As is, you will need a little patience or avoid visiting the game's store.
There is not a trial version (don't blame us) available for Ice Road Truckers. The game is available for Windows Phone 8, currently priced at $.99 and you can find Ice Road Truckers here in the Windows Phone Store.
3D Brutal Chase (free)
3D Brutal Chase has been around for some time now and remains one of the higher rated racing games in the Windows Phone Store. The game puts you behind the wheel of a police cruiser where you are tasked with chasing down the bad guys and smashing into their car.
Game play spans nine cities and as you catch the bad guys, you'll earn revenue that can be used to purchase new cruisers or upgrade your current fleet.
3D Brutal Chase Controls
You control your police cruiser's steering with the tilt sensors in your Windows Phone or on-screen steering controls. You also have on-screen controls for the cruiser's brakes and turbo boost. Each of the nine cities with 3D Brutal Chase has multiple levels that are progressively more challenging.
Game play is simple, smash into the bad guys' cars. A damage meter will appear above their cars and you continue to smash their cars until they are disabled. You will need to take out all the bad guy's cars before the timer strikes zero (displayed in the upper right corner of the game screen). The quicker you take down the criminals, the more revenue you earn that can be spent in the store.
3D Brutal Chase Garage
3D Brutal Chase is an ad-supported game but with any in-app purchase of revenue credit ($.99 - $5.99) the banners will be removed. Which is a good thing because while the ad banners are in place, the game has a cluttered feel to it.
Game play is challenging enough to keep the game from getting stale and overall, I can see why 3D Brutal Chase is rated so high. The game is available for both Windows Phone 7.x and 8 devices and is a free ad-supported title. You can find 3D Brutal Chase here in the Windows Phone Store.
Kamikaze Race (free)
Kamikaze Race is another endless racer but from a different point of view. Instead of racing from behind the wheel or from a behind the vehicle approach, Kamikaze Race puts you above the racetrack.
You are tasked with seeing how far you can race down the highway while ducking in and out of traffic. The further you go, the higher the score and the more coins you earn that can be spent in the game's store to buy new cars to race.
Kamikaze Race Menus and Store
Kamikaze Race's gaming controls have you tapping the left side of the screen to change lanes to the left and tapping the right side of the screen to move right. The further you survive traffic, the faster your car goes. If another car hits you, the game ends.
To keep things challenging, you will lose sight of your car from time to time while driving beneath overpasses or have a friendly airplane fly across the screen. You will need to predict traffic flow during these blackout periods and move accordingly or stay in your lane and cross your fingers that you come back into view before smashing into a car.
Kamikaze Race Missions, Game Screen and Scoring Summary
Kamikaze Race is a simple game for our Windows Phone but challenging enough to keep you interested. I'm not sure if it could hold up to longer gaming sessions but for short bits of time, it is a nice time waster of a game.
Kamikaze Race is available for both Windows Phone 8 and 7.x devices. It is a free, ad-supported game with a few in-app purchases to boost your in-game bank account. You can find your copy of Kamikaze Race here in the Windows Phone Store.
Real Speed: Need for Asphalt Racing (free)
Real Speed: Need for Asphalt Racing is a road course styled racing game with appealing graphics and challenging game play. The game includes six different sports cars that are progressively unlocked as you advance through the game. Races are held on four different road tracks that are also progressively unlocked.
Real Speed: Need for Asphalt Gaming Screen
Real Speed offers two steering control methods. You have an on-screen steering wheel or you can opt to use your Windows Phone tilt sensors to guide the car down the track. On-screen pedals are present to control acceleration and braking (you also have a hand brake for drifting).
Game play follows suit with your typical race. You have a set number of laps to complete in the best time possible. Real Speed does include a few racecars to compete against but you cannot smash into them (you simply float through them like a ghost).
Real Speed: Need for Asphalt Racing Garage
I really wanted to like Real Speed: Need for Asphalt Racing but found the steering controls to be extremely sensitive. It was hard to get a feel for controlling your car through the "S" curves of the track, let alone the single curves. I would have liked to have seen a sensitivity control for the tilt sensor to prevent the over steering. Fine tune the steering controls and Real Speed will shine a lot brighter.
Real Speed: Need for Asphalt Racing is a free, ad-supported game that is available for Windows Phone 8 devices (including the low-memory models). You can find Real Speed: Need for Asphalt Racing here in the Windows Phone Store.
Any Stand-outs?
Each of the racing games in this week's roundup pulls in a four-star rating in the Windows Phone Store and the more I played each game, the more they grew on me.
I cannot say that one game is necessarily better than the others. I do think Real Speed has the nicest graphics but the more challenging controls. Ice Road Truckers has potential but I expected more than just an endless trucking game and the graphics bugs can be frustrating. Kamikaze Race has the simplest graphics but holds its own with regards to being a challenging game to play. 3D Brutal Chase is a fun game but unless you get rid of the ads, the game has a cluttered feel making it hard to enjoy.
If I had to pick just one of the four games to keep installed on my Windows Phone, it would be Kamikaze Race. While you lack the graphic impact the other games have, Kamikaze Race is a fun and challenging racing game. It is well suited for short bits of time and can last a little longer if needed.
We have only scratched the surface on all the racing games available in the Windows Phone Store. If we have missed your favorite racing game (it wasn't on purpose) feel free to sound off in the comments.
Get the Windows Central Newsletter
All the latest news, reviews, and guides for Windows and Xbox diehards.
George is the Reviews Editor at Windows Central, concentrating on Windows 10 PC and Mobile apps. He's been a supporter of the platform since the days of Windows CE and uses his current Windows 10 Mobile phone daily to keep up with life and enjoy a game during down time.