Top Rated Racing Games for Windows Phone
Windows Phone Central Game Roundup: Top Rated Racing Games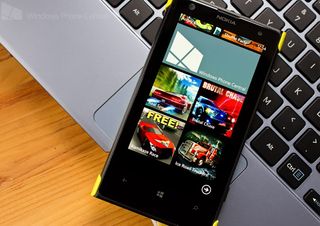 Windows Phone racing games are a great way to pass the time with. These games have outstanding graphics, challenging game play and overall an entertaining venture. Games such as Asphalt 8, Dhoom:3 The Game, and even Angry Birds Go! are top choices in the Windows Phone Store.
For this week's Windows Phone Central roundup, we turn our sites on four racing titles that have not received much exposure. They all are rated with four stars or higher and in tinkering with the games over the week, they each have their own level of appeal. A few of the games could stand for a little fine-tuning and bug fixes but overall, we can see why they are highly rated.
Ice Road Truckers (no trial/$.99)
We briefly touched on Ice Road Truckers back when the History Channel first released this Windows Phone 8 game. The game is loosely based on the History Channel's television series that bears the same name and follows a group of truckers who haul their loads across the frozen roads of the Alaskan and Canadian Artic territories.
The game plays more like an endless runner than a racing game in that you are called upon to drive your big rig across frozen roads to see how far you can travel before driving into a frozen pond, crash into a patch of trees or generally lose control of your truck and crash.
Ice Road Truckers Game Screen
Along the way, you can collect coins that are scattered along the road that can be used in the game's store to buy power-ups, boosts and unlock some of the Ice Road Truckers who have varying abilities.
Controlling the big rig is simple. Tap the right corner of the screen to steer right, tap the left corner to go left. When you need a boost of speed, press and hold both corners at the same time.
Ice Road Truckers Scoring Summary
Graphics are well done, game play mildly challenging but the game has a few graphics bugs that really kill the entertainment value of the game. Once you crash and burn, a scoring summary screen will appear where you can try the game again or visit the game's store. If you go to the Store, the map overlay from the scoring screen will not go away and will require you to re-launch the game to set things right. If this bug can be fixed, Ice Road Truckers would be a great racing game for Windows Phone 8. As is, you will need a little patience or avoid visiting the game's store.
There is not a trial version (don't blame us) available for Ice Road Truckers. The game is available for Windows Phone 8, currently priced at $.99 and you can find Ice Road Truckers here (opens in new tab) in the Windows Phone Store.
3D Brutal Chase (free)
3D Brutal Chase has been around for some time now and remains one of the higher rated racing games in the Windows Phone Store. The game puts you behind the wheel of a police cruiser where you are tasked with chasing down the bad guys and smashing into their car.
Game play spans nine cities and as you catch the bad guys, you'll earn revenue that can be used to purchase new cruisers or upgrade your current fleet.
3D Brutal Chase Controls
You control your police cruiser's steering with the tilt sensors in your Windows Phone or on-screen steering controls. You also have on-screen controls for the cruiser's brakes and turbo boost. Each of the nine cities with 3D Brutal Chase has multiple levels that are progressively more challenging.
Game play is simple, smash into the bad guys' cars. A damage meter will appear above their cars and you continue to smash their cars until they are disabled. You will need to take out all the bad guy's cars before the timer strikes zero (displayed in the upper right corner of the game screen). The quicker you take down the criminals, the more revenue you earn that can be spent in the store.
3D Brutal Chase Garage
3D Brutal Chase is an ad-supported game but with any in-app purchase of revenue credit ($.99 - $5.99) the banners will be removed. Which is a good thing because while the ad banners are in place, the game has a cluttered feel to it.
Game play is challenging enough to keep the game from getting stale and overall, I can see why 3D Brutal Chase is rated so high. The game is available for both Windows Phone 7.x and 8 devices and is a free ad-supported title. You can find 3D Brutal Chase here (opens in new tab) in the Windows Phone Store.
Kamikaze Race (free)
Kamikaze Race is another endless racer but from a different point of view. Instead of racing from behind the wheel or from a behind the vehicle approach, Kamikaze Race puts you above the racetrack.
You are tasked with seeing how far you can race down the highway while ducking in and out of traffic. The further you go, the higher the score and the more coins you earn that can be spent in the game's store to buy new cars to race.
Kamikaze Race Menus and Store
Kamikaze Race's gaming controls have you tapping the left side of the screen to change lanes to the left and tapping the right side of the screen to move right. The further you survive traffic, the faster your car goes. If another car hits you, the game ends.
To keep things challenging, you will lose sight of your car from time to time while driving beneath overpasses or have a friendly airplane fly across the screen. You will need to predict traffic flow during these blackout periods and move accordingly or stay in your lane and cross your fingers that you come back into view before smashing into a car.
Kamikaze Race Missions, Game Screen and Scoring Summary
Kamikaze Race is a simple game for our Windows Phone but challenging enough to keep you interested. I'm not sure if it could hold up to longer gaming sessions but for short bits of time, it is a nice time waster of a game.
Kamikaze Race is available for both Windows Phone 8 and 7.x devices. It is a free, ad-supported game with a few in-app purchases to boost your in-game bank account. You can find your copy of Kamikaze Race here (opens in new tab) in the Windows Phone Store.
Real Speed: Need for Asphalt Racing (free)
Real Speed: Need for Asphalt Racing is a road course styled racing game with appealing graphics and challenging game play. The game includes six different sports cars that are progressively unlocked as you advance through the game. Races are held on four different road tracks that are also progressively unlocked.
Real Speed: Need for Asphalt Gaming Screen
Real Speed offers two steering control methods. You have an on-screen steering wheel or you can opt to use your Windows Phone tilt sensors to guide the car down the track. On-screen pedals are present to control acceleration and braking (you also have a hand brake for drifting).
Game play follows suit with your typical race. You have a set number of laps to complete in the best time possible. Real Speed does include a few racecars to compete against but you cannot smash into them (you simply float through them like a ghost).
Real Speed: Need for Asphalt Racing Garage
I really wanted to like Real Speed: Need for Asphalt Racing but found the steering controls to be extremely sensitive. It was hard to get a feel for controlling your car through the "S" curves of the track, let alone the single curves. I would have liked to have seen a sensitivity control for the tilt sensor to prevent the over steering. Fine tune the steering controls and Real Speed will shine a lot brighter.
Real Speed: Need for Asphalt Racing is a free, ad-supported game that is available for Windows Phone 8 devices (including the low-memory models). You can find Real Speed: Need for Asphalt Racing here (opens in new tab) in the Windows Phone Store.
Any Stand-outs?
Each of the racing games in this week's roundup pulls in a four-star rating in the Windows Phone Store and the more I played each game, the more they grew on me.
I cannot say that one game is necessarily better than the others. I do think Real Speed has the nicest graphics but the more challenging controls. Ice Road Truckers has potential but I expected more than just an endless trucking game and the graphics bugs can be frustrating. Kamikaze Race has the simplest graphics but holds its own with regards to being a challenging game to play. 3D Brutal Chase is a fun game but unless you get rid of the ads, the game has a cluttered feel making it hard to enjoy.
If I had to pick just one of the four games to keep installed on my Windows Phone, it would be Kamikaze Race. While you lack the graphic impact the other games have, Kamikaze Race is a fun and challenging racing game. It is well suited for short bits of time and can last a little longer if needed.
We have only scratched the surface on all the racing games available in the Windows Phone Store. If we have missed your favorite racing game (it wasn't on purpose) feel free to sound off in the comments.
Windows Central Newsletter
Get the best of Windows Central in your inbox, every day!
George is the Reviews Editor at Windows Central, concentrating on Windows 10 PC and Mobile apps. He's been a supporter of the platform since the days of Windows CE and uses his current Windows 10 Mobile phone daily to keep up with life and enjoy a game during down time.
I consider Brutal car chase the best,havent tried out Trucker one though.

Better try Asphalt 7 and 8...

There's only 3 best racing games
Asphalt 8
Asphalt 8
Asphalt 8

"For this week's Windows Phone Central roundup, we turn our sites on four racing titles that have not received much exposure. -_- "

because Asphalt 8 play smooth only for 1gb ram

"For this week's Windows Phone Central roundup, we turn our sites on four racing titles that have not received much exposure." -_-

Lol clever and humorous game title : "real speed : need for asphalt racing". I mean, 3 racing titles in one, so why not :D:D

Lol, that's just what I was thinking!

Asphalt 8....?? Best one is Asphalt 8

Besides the awful layout of the menu and the horrible amount of time you have to play to earn enough money to buy cars and upgrades. It's pushing user to pay for stuff inside the game, and that's so annoying it ruins the game. 7 was WAY better, and still is.

Indeed. I do feel the same, the game has been built a way too hard and can actually require hours and days or months or forever to unlock new seasons depending on how much your phone gives battery backup without heating up. I also believe A8 is the bast arcade racing game with stunts and built-in premium music out there in WP store currently but those in-game purchases are unaffordable. I would rather save to buy a PS4 or XBox One than paying INR 5,000 for 7 S-Series cars + INR 3,000 for C-Series cars + INR 7,400 combined for seasons and cash = INR 15,400 = $250!!!!!!

"For this week's Windows Phone Central roundup, we turn our sites on four racing titles that have not received much exposure." -_-

There are all just.. terrible games.

Agreed so much. Endless runners with cars aren't racing games. Where's Real Racing 2 and TrackRacing Online? =/

I find asphalt 7 better than 8 in the game play.

Played both. Completed Asphalt 7 in 3 days. Its over a month now since I downloaded Asphalt 8. "Season 8" is still locked. Maybe I'm a bad player but I highly doubt why the in-app purchases in Asphalt 8 are raised so high but not in Asphalt 7. Can you reason?

We have good racing games on WP. Now we need assassins creed pirates,infinity blade 3, injustice gods among us on wp now.

Assasing Creed pirates is lttle more than aim your ship gun to another ship... get's boring real fast... infinity blade 3 has awesome graphics but gameplay feels like scaled down version of fruit ninja... So really I'm not missing either... As for injustice gods I didn't try in on android yet so I can't comment...

I'd love the dead space game on ios and android

Dead Space on android was by far the best first person shooter experience on mobile period. To this date I haven't seen better executed FPS gameplay anywhere on mobile... And this comming from a guy who played just about every first person shooter out there that's avaliable. Game is just that good... And if you haven't tried playing this at night while alone in the house with headphones volume cracked up you haven't lived. It will scare living daylight out of you... EDIT: You enter the room. Gut feeling tell's you that bad guys are comming even thou you can't be sure since their attacks are anything but predictable. Than a light goes read and room goes into "lock down mode"... sounds from headphone are just making "trylly horrified" feeling worst than it should be.. you instinctively move making sure that wall is behind you... than they start comming and you're only hope is that your trusty cutter and suit will hold up untill lights returns to normal and lockdown is lifted... AMAZING GAME!

I don't mean to be a douche but none of these games get me excited after having played Asphalt 8

Its like the special needs list of racing games. Where is Asphalt and Real Racing?

Real Racing 2 is sadly missing from the list. Also, does anyone know what's up with GTA? There were some facebook posts claiming it's comming Jan 23... but still sadly ... nada...

Best racing game for WP. I hope that RR3 comes to Windows Phone.


Played it on android... it's awesome but freemium portion is killing it for me... (it's actually worst than Doungeon Hunter 4 beleve it or not)

Yep, Real Racing 2 seems to get forgotten about by most racing game article writers - and I can't work out why, since it's the best by quite a large margin. 8-(

Couldnt send off my phone. For those saying Asphalt 8: "For this week's Windows Phone Central roundup, we turn our sites on four racing titles that have not received much exposure." Second paragraph :)

Kinda shocking how many people here comment before reading the actual article.

It's editors fault... When the article title is the way it is it's hard to expect anything different...

tbh i dont even play games on my phone, and everytime I read posts on this page is about new game releases and weird official apps, its okay for the store to grow and all but why not fix the apps that have been there as well? like twitter, i can get 3465 replies and it still gonna show me 1 number in the life tile, the notifications sometimes are off time in other apps and so on, there are lots of apps but not of good quality with the exception of SOME of them...lately i havent been satisfied with the way wp is, the other day i saw a friend with his iphone send a pic by fb and i shed a tear just watching how fluid and non-laggy it was....im just being patient, if wp 8.1 doesnt fix all this junk ima switch to other OS (yeah, yall dont give a fuck about it but it feels good to let it out here) , and now feel free to crucify me and call me stupid moron for saying it.

I feel ya... I get anoyed with e-mail only showing "who sent you last e-mail" and only on wide tile... sms is the same way... we need to be able to configure this the way we want... for example if I don't want to read all received e-mails I should be able to set if I want to keeo seeing number of unread messages on a live tile ot not... There is more that this is OS that I'd like to see ... like ability to configure automatic scrooling trough unread messages on a live tile... Or ability to select what apps are allowed to run in the background. For example, why can't I set music to run in the background if I'm , say , playing a game? Or why can't I set pebble to run in the background so I can actually use it? We have limited ability to control what does and does not run in the bacground. This needs to be expanded with options or the entire plarform will feel more and more limiting... List goes on and on... Sad part is that we haven't heard anything usefull comming wia Win Phone 8.1 other than new tile callled "notification center" and cortana... Anyhow, I hear ya... but I'm not switching back to Android. My worst fear is that many current owners of Windows Phone might start abandoning the platform if MS keeps not giving us a reason to stay... (and it really feels like we'll get no valid reason to either stay or upgrade this year)

Why would you not go back to Android? Im tempted by the Note 3, but i havent used an android phone. I dont like google but if i can have as little to do with them as possible while using android i would go for it. (How much "google" do i need to be involved with while using android?)

exactly! lots of things are missing on wp...sometimes i feel like im in a cage while using the phone..so limited to do things sometimes, the music player is missing so much stuff compared to others OS's...i've been thinking about switching to android cuz iphones are too expensive, but whatever im gonna do i gotta do it fast cuz i own a 920 and everyday that passes by its price decreases.. MS is not giving the users the satisfaction they are looking for in a OS, i feel like nokia is moving faster than MS with that topic... i hope wp 8.1 gives us lots of cool stuff and options with our phones or ima have to switch back to android, or stick to an iphone where all apps just WORK

Care to elaborate "music player is missing"? If Music+Videos hub doesn't satisfy you, try CMPlayer Pro for music and Moliplayer for videos... Certainly there is much room for developement. The list may go on an on and on but remember WP8 is just like a beta version of a software. Wait for WP8.1 there'd be lots of things to surprise "switching to android cuz iphones are too expensive" ? Forget 'bout using a better android at the cost of a cheap windows phone.Cheap WPs are far better than those cheap droids sh*t... Have tried both. Now content with L925 and L520.

Sure hope you're right because I'm getting a little ticked off that I'm beta testing for last 2 years... Anyhow. I'm sticking to my 920. Regardless of short commings there are way too many things that I like about Win 8 mobile than I dislike. I went from iOS to Android to Win Phone. I grin about missing features just like anyone here but I'm not going back... I quite like it even if it's "beta".

Well you know, we all know, MS is a tortoise when it's about talking about new features but WP 8.1 really seem to have the good points we were waiting for so "intelligency" lies in remaining intact to WP. I understand what you like about WP and what not and have almost the same feeling. I've never used an iPhone but used an Android (Xperia L) and I found it laggy like hell after few months of using. Now my L520 is almost a year old and L925 just 2 months but both work like they are bought today that's what I like about WP and makes me to wait till April... And yes, more features are comming via WP 8.1 other than Cortana and Notification Center- -"Ability to store games and apps to SD card" (That's what I'm waiting for in fact), -"Ability to download e-mail attachments and files directly to SD card" -Xbox Music hub and Xbox Videos hub will be two separate apps (not core WP8.1 anymore) so that they can receive regular updates as per user reviews. Eg, many people fail to create a playlist (Even I myself did untill I figured it out through a forum) -Separate volume controls for ringtone volume and media playback -VPN support -Bing smart search results -Deeper integration of People hub and many more fixes and improvements. Ain't those good enough?

Asphalt 7: Heat is $5 now! O_O

That's really surprising... Asphalt 8 become free (though no xbox), more people were requesting for making Asphalt 7 free and they ended up raising the price... Glad I downloaded it when it was $0.99

Missed asphalt 8 as it is free too

I love Pocket Rally. It's simple but exciting.

why do these type of games for WP always look so crappy. I'm not buying any of these games until I get graphics that look good.