The Toshiba dynaPad tablet will be a 'digital notebook' with its high-end stylus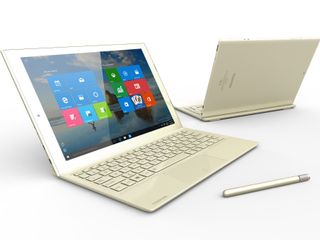 Microsoft continued its "tour" of its high-end PC hardware partners today to help them introduce new Windows 10 products. This time, it's Toshiba's turn as they revealed the Toshiba dynaPad tablet, a 12-inch 2-in-1 device that's been made specifically for writing. Microsoft briefly showed off the same product at IFA in Berlin in September, with few details.
Microsoft labeled the tablet today as a "digital notebook". It added:
The dynaPad's WUXGA+ display will have a resolution of 1920×1280 and will include a thin hardware keyboard dock in addition to the pen. Toshiba claims the tablet part of the dynaPad is the thinnest such 12-inch tablet ever made, at only 6.6 mm. Inside, there's an Intel Atom processor running at 1.44 GHz and 4GB of RAM.
The Toshiba dynaPad will go on sale first in Japan in December for the price of ¥130,000 (about $1,080). It will be launched in the US and Europe sometime in early 2016.
Yeah guess it's good for students. Too expensive for its specs though... Posted via the Windows Central App for Android

Its not even close to Surface Pro 4

But it costs just as much as the lower end model, so what's the point?

$1300 for an Intel Atom? Hmm... Can see that flopping in America and Europe.

Toshiba is trying to take Sony's place.

Nothings close to Surface Pro 4 except price

That price for atom, wow, hubris. Why do more and more manufacturers embrace the fixed angle design? It is just lazy engineering. It is only suitable to pygmies.

You're so full of prejudice. I am sure that as short as I am, I am longer than you are. Pigmies have lofty Thing too.

Is this the only product toshiba launched today ? Posted via the Windows Central App for Android

Oooo! I was interested until I saw the price!

UGH please make a core-i version. This isn't exactly a high-end PC. You would think that because of the Surface Pro line companies would start making thin and light 2-in-1 laptops with a stylus and a core-i processor. But nooooooooooooooo they stick with Atom and Core M, or opt out of the stylus altogether..

Atom processor for $1,080? I doubt even apple can do this.

That's about how much an iPhone plus costs full price.

Japanese market only I guess.

"thinnest tablet ever" doesn't mean anything anymore, especially when it means the exclusion of a USB port.
Windows Central Newsletter
Thank you for signing up to Windows Central. You will receive a verification email shortly.
There was a problem. Please refresh the page and try again.