Treat yourself to a refurbished 256GB Surface Pro 3 for just $430
Our friends at Thrifter are back again, this time scoring you a sweet deal on a refurbished Surface Pro 3!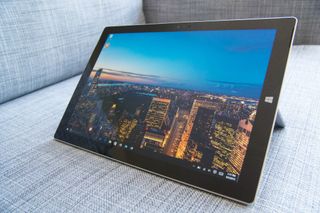 (Image credit: Windows Central)
Update: There are a few more deals available right now, so be sure to check those out below.
Right now you can grab a certified refurbished Surface Pro 3 for just $429.99 (opens in new tab) at Amazon. The Surface Pro 3 comes equipped with an Intel Core i5 processor, 256GB SSD, 8GB of RAM and more which power the 12-inch display. Microsoft has already released a newer variant of the tablet, the Surface Pro 4, but buying a refurbished Surface is the way to go for a great deal, and that the Surface Pro 3 still holds its own in 2017.
The other deals include:
The item is sold by a trusted seller (DealFisher (opens in new tab) and is certified to look and work like new, with a 90-day warranty. Comparing the price of the refurbished model in this deal and at Microsoft (opens in new tab), you get double the storage and a faster processor for $70 less.
There are a few other configurations available as well, so be sure to check them all out now! Sams Club also has a few great deals on the Surface Pro 4 (opens in new tab) right now if you are looking for the latest generation hardware.
See at Amazon (opens in new tab)
For more great deals on tech, gadgets, home goods and more, be sure to check out our friends at Thrifter right now!
Windows Central Newsletter
Get the best of Windows Central in your inbox, every day!
Jared started off writing about mobile phones back when BlackBerry ruled the market, and Windows Mobile was kinda cool. Now, with a family, mortgage and other responsibilities he has no choice but to look for the best deals, and he's here to share them with you.
This looks like a great deal. Looking at Amazon and reading reviews if you buy one you may be playing the lottery. Seller only has a 3.5 star rating. Quite a few people complaining of units not working properly, dirty, and/or scratched. As for "certified" the seller does not specified by who so I take that with a grain of salt.
I also looked and someone asked a question about who certified it and the question was never answered. I'd personally rather go with Microsoft directly and be assured it was refurbished properly.

Thanks for the heads up man. I was almost ready to shell out the cash like 10 seconds ago lol. Good thing I decided to read the comments section. Guess I'll have to check it out, and compare prices.

Thanks for the heads up man. I was almost ready to shell out the cash like 10 seconds ago lol. Good thing I decided to read the comments section. Guess I'll have to check it out, and compare prices.

Just check if they accept returns and if so give it a try!

I am also, particularly concerned about this being a 3yr old hardware with a 90 warranty and not from Microsoft directly... what happens if it breaks down after 90 days..?

If it breaks after the warranty, Microsoft will still fix it for you, they just won't do it for free.

..And what will that cost? maybe better off to buy a new CoreM Surface Pro4 then...

I just got mine on EBAY a great deal with the type cover for $475! Run smooth for video and photo editing and drawing. No issues at all. Very happy!

Those vendor specific reviews for this "refurb" SP3 don't look good. This advertisement should be removed to not harm potential customers.

Unless they guarantee the battery has been replaced I would stay far away.

I bought a refurbed Icon from DealFisher on eBay about 6 months after the phone came out. Only paid like $300 for it and it was in perfect condition, never had any issues with it, don't use it any more but ive been putting insider builds on it and it's still going strong. Thinking of giving it to my dad so he can upgrade to a smartphone on their Verizon plan.

I bought a used Surface Pro 3 on eBay recently with the pen and keyboard for $500! I absolutely love this machine, so much fun and personality.

I just bought a similar 2-in-1, HP X2 12" for just over $300 at Office Depot (not a refurb). It has the M3 and 4GB RAM with 128GB storage. And it comes with a full sized keyboard. It's my Surface stand-in.

Fantastic deal! Infinitely more capable than ANY iOS/Android tablet for less than $500. If my tax refund wasn't going for other things, I'd buy this immediately.

How would this compare to the SP4 M3? Just curious as the i5 is a more powerful processor?

You would get more performance from the I5 even though it is still a generation behind, but you get more features from the SP4 to consider. A better pen and pen input as well as screen is higher resolution. It is a bit of a toss up and a tough decision.

Would this be an upgrade from a surface 3

depends on what you want. I went with the surface 3 over the pro for portability. so, thats a downside, but having the extra storage and power would be nice.

This is more than 50% off. Wow. Tempting as a second tablet.

I was wondering if someone could give me some good advise. I currently have a Dell Venue 11 Pro 7140 but this deal seems worth going for. Just wondeirng if it would be worth going to the MS SP3 or wait for the SP5 and go all out?

Meh, even at that price, still not compelling enough for me to upgrade my 512 GB Surface Pro 2. I seriously want a thunderbolt 3 port on my next Surface Pro. Every other improvement is just icing on the cake.

I now have a Surface Book...I guess the Surface Pro is now meaningless at this point. :)

Still too expensive with the ARM device around the corner.