Two more Gears of War 4 Xbox One S bundles revealed, in 500GB 'deep blue' and 1TB verisons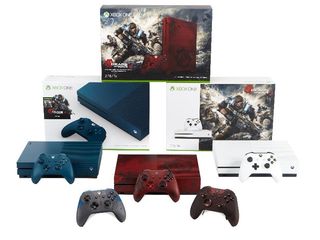 Microsoft has announced two more Xbox One S bundles with free copies of its upcoming sci-fi shooter Gears of War 4. One is the regular 1TB white console for $349, and the other is a 500GB "deep blue" color version for $299.
The two new bundles join the previously announced 2TB red version of the Xbox One S with Gears of War 4: Ultimate Edition, priced at $449 and due to begin shipping on October 7. Xbox Wire (opens in new tab) says the 1TB white bundle will start shipping worldwide on October 11, but the 500GB deep blue edition won't begin shipping until November 1. The latter console bundle will also only be available at GameStop and Microsoft Stores in the US, and EB Games and Microsoft Stores in Australia.
Pre-orders for all three Xbox One S Gears of War 4 bundles are currently live at the Microsoft Store:
See at Microsoft Store (opens in new tab)
Windows Central Newsletter
Get the best of Windows Central in your inbox, every day!
Blue one is same like my Xbox one forza edition :D

Oh nice! Wonder if the blue one will come to the UK. I looked into the Gears Elite Controller but don't think it's worth paying the extra yet as they didn't add Bluetooth.

They should have released the blue one with 1tb hdd Posted via the Windows Central App for Android

They are hyping this game so much. I preordered the ultimate edition, but I'm just hoping it doesn't flop given the extensive promotion.

At this point Microsoft must be just f*cking with the fans.
They're releasing the console in every colour available under the sun EXCEPT in the only colour everyone's has been asking for: black. The blue one looks amazing but we want a bloody black one, Jesus Christ... Posted via the Windows Central App for Android

Even though the blue looks good it doesnt make sense with the game if I only see the console I wont be able to tell is a GOW special edition. the white is just a regular Xbox one S bundle with the game. A black console? I don´t think MS will relase a black xbox one S black for a year or so to no make confusion with the standar xbox one. maybe a metallic painting that resemble the lancer

Dammit, stop using adware in your links to stuff, Windows Central. HOSTS files catch that sort of thing and you are doing it more and more.

They've gots to makes their monies somewhere, folks just ain't buying them there accessories for Windows Phones anymore, nosiree.

I'm buying the Gears custom console but that deep blue one looks dope! I really like the color!

Black one s please. I'm fine waiting til black Friday

Can anyone tell me when is Xbox one s gonna launch in India.

Bundles bundles everywhere. You get a bundle, you get a bundle, you get a bundle. Oh you wanted a black Xbox One S? No bundle for you.

There's a smoke grey one coming November 1st it almost looks black

Which, in typical Microsoft-style, is US-only.

That blue one looks rather lovely.

Everybody complaining and wanting a black one, just wait til November 1st and get the smoke grey edition with Battlefield 1 bundled!

Unless you live outside the USA. In which case, f*ck you! No dark grey for you! Also, black ≠ smoke grey. If consumers want black, unless Microsoft offer the console, "smoke grey" isn't an alternative.

Am i really the first one here to notice that the headline says 'verisons' instead of 'versions' ?