Ubisoft delays release of Skull & Bones to 2022-2023
The pandemic drove the publisher to record earnings and player count.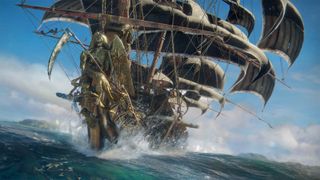 (Image credit: Ubisoft)
What you need to know
Skull & Bones was first announced at Ubisoft's E3 2017 showcase.
The game is based on the ship battles of Assassin's Creed 4: Black Flag.
Ubisoft announced that the release has been delayed to 2022 or 2023.
After announcing during its Q4 2020 financial report that the pirate ship battling game Skull & Bones wouldn't be released before March 2021, Ubisoft revealed during its 2020-2021 full year earnings report that the launch would be bumped to 2022 or 2023.
Ubisoft will still have a solid release schedule for the rest of 2021, launching Far Cry 6, Rainbow Six Quarantine, Riders Republic, The Division Heartland, and Roller Champions. The publisher is predicting an increase in earnings due to the stronger release slate compared to last year, even though interest in video games may decrease overall as COVID-19 lockdowns end. Players of Ubisoft games on PC and consoles are at an all time high, increasing 20% during the fiscal year to 141 million.
Ubisoft also provided updates on the status of some of its existing titles. The release of Assassin's Creed Valhalla contributed to a 50% increase in the franchise's annual revenue, breaking the record set when Assassin's Creed III was released in 2012. Rainbow Six experienced double-digit growth in his player count and record esports viewership and Ubisoft is expecting the audience to expand even further with the release of Rainbow Six Quarantine.
Restful vacation
(opens in new tab)
Burn it all down

Far Cry 6 features the largest world of any Far Cry game ever. Using molotov cocktails and a variety of weapons, you'll need to fight tooth and nail to bring down the regime of Anton Castillo.
I truly hope this game is just an inside joke at Ubisoft and they have no intentions of releasing it.

I agree, we already got Sea of Thieves

This. This weird game was a SoT ripoff in the first place, but SoT is still peaking. Whenever the miracle happens and they launch their "me too", it will be too late. And I'm sure it would lack the simple brilliance and the vision of the Rare developers.

It's not ever happening. It will always be too late.
Windows Central Newsletter
Thank you for signing up to Windows Central. You will receive a verification email shortly.
There was a problem. Please refresh the page and try again.