UK Microsoft Band 2 buyers can trade-in the original Band to get £70 back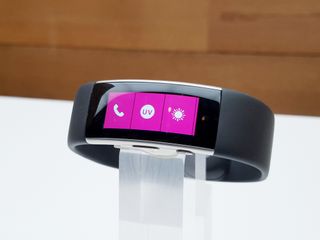 If you live in the UK, you might be able to get £70 back if you own the original Microsoft Band and plan to purchase the upcoming Microsoft Band 2. The company has launched a promotion where people can get that money back after they receive the Microsoft Band 2 and then trade-in the original Band.
The promotion also offers a £50 trade-in for people who bought a Fitbit device that was priced at £99 or above when purchased, or £40 back when trading in any other fitness wearable or smartwatch that had an original price of £89 or above when purchased. People who pre-order the Microsoft Band have 14 days to fill out an online form after they receive the fitness wearable If their claim is approved, they can then package up and send back the original Band or their other fitness wearable or smartwatch. The money will be sent back 28 days later.
Thanks to everyone for the tips!
Pre-order Microsoft Band 2 at Microsoft Store UK for £199.99 (opens in new tab)
Source: Microsoft
Windows Central Newsletter
Get the best of Windows Central in your inbox, every day!
Do I really have to live in UK or is it enough that I ordered my og Band from UK's Amazon to Finland?

From what I read the only thing is that you bought your Band in the UK.

He/She bought their band off a UK website and had it shipped to Finland. I guess they are wondering if that counts. It probably should though!

Bought mine via eBay so that's a no go probably...

When in US? :-) Microsoft is awesome for even considering this an option...

Last week when I inquired at my nearby Microsoft Store in Southern California I was quoted a trade-in value of $16 and change... That was the maximum! I can get 3x that from Amazon.

They better do this in the U.S.

The real question is when you get the rebate in the mail, will it come with a zombie apocalypse?

Zombie Apocalypses only come in cereal boxes. YAY! A prize!

That's a decent thing to do. Not many companies would do the same.

Yes, I totally agree.. Few companies will even consider an exchange

Agree. Yet we were basically Microsoft's guinea pigs to beta test the band for them though. Showing some appreciation for early adopter is always welcome.

Yeah that is are nice move from MS

Its nice, but you really shouldn't expect it or say you're guinea pigs.
First of all, you purchased it... nobody forced you.
Second, you have benefited from it for the whole time you've had it. Everyone expects something for nothing. You're lucky they do anything for you... they didn't have to.

That comment follows Steve Balmers arrogant middle-finger-to-the-consumer model to a T. Luckily for Microsoft, Nadella has realized that consumers arent that stupid (anymore) and will opt for companies that are purpose-driven over profit-driven every day of the week. Consumers have more power than ever to backlash/boycott/buycott when companies don't act responsibly. Don't kid yourself. Microsoft knew exactly what they were doing with this product. Create a low-cost, cross-platform, wearable tech on limited release to limit the noise when the (inevitable) backlash occurs from it's flawed design/battery/UX. So yeah, they kind of did have to do something. Turns out they wisely have.

Excellent deal and great incentive to jump into the platform. My band is getting traded stat!

Hoping that MS will launch a similar promotion to get rid of my Surface 2.

They should have done this with the Surface 2 ---> Surface 3.

Why? They don't "have" to do this for every product.

Cause it's a RT to Win10 change, users feel abandoned somehow.

They DID have it for the Surface 3. It's usually for a limited time only. http://www.pcmag.com/article2/0,2817,2483711,00.asp

So much for all the people holding out on replacing their band 1 with a band 2 under warranty.

Anyone in the UK managed to sell one recently for more? Mine is a brand new replacement as of last month, was hoping I'd get £80 or so resale but may just use this.

I've asked before but I am still unclear if WhatsApp messages can be read and replied to on the band?

no its not at the moment. its up to developers to write an app for the band

You get notifications from WhatsApp so will be able to read whatever comes in the notification. Obviously won't be able to read the long ones. Replying not supported yet.

If Microsoft US offered a trade in like this ($100 at current exchange rates), I would probably upgrade to the neẃ Band. I do find $100 a year a little expensive, but considering my current Band is on the verge of falling apart, among other issues, I would at most be turning in my current band for a replacement and probably get another year or two out of it still netting $100. Hopefully Microsoft US does this and the build quality of the new Band is better than the original.

There is a major difference between the two. Big improvements, especially in the strap. The battery covers on original Band are on the sides and start pulling off work time. No such problem in Band 2. Also the material started to bubble up on those covers. That issue is gone as well. The front screen and the area around it was easily damaged before. It's all Corning Gorilla glass now. So yeah, big improvements.

Definitely agree that it looks like there are a lot of improvements between the Band and new Band so assuming one could put down $250 after having put $200 for an original band after only a year has passed it would be a good upgrade. For me I would like my Band to last longer than 1 year as $200 a year for an accessory is a little steep, but I would buy a new Band for $150 if there was a trade in and hope that the new Band lasts longer than 1 year. It would probably be in Microsoft's best interest to allow trade in since a) it will increase their numbers, b) I would hope most people bought the complete care for their Band and I think many are in the condition mine is in or will be by the time their warranty is up so rather than giving me a new band at whatever it costs them they would instead get $150 from me c) I would feel happier about the product because as it stands right now I can't even really show off my Band to people because it's in such poor condition most people would cringe from seeing it instead of being awed by it... and this is just from wearing it all the time except when charging.

True. A barometer doesn't worth that much... But I was counting, if I change it now, that means I used it for the last year for $130, or about $10/month, I have to use over 20months to get to the same level... Will it last that long (I replaced once back in June.) actually $250 is not an easy sell for me though.. But I will probably do it if I can exchange it in the states.

They really can't offer more than $100 for the first band because some retailers have been marking it down to $99 of late.

I was just using near pure exchange rate... £70 ~ $106, most likely MS would not go up to $110 when $100 is a nice round number so used that. That being said I think they would offer a trade in of $100, even though some retailers are selling it for $99 because I think they know there is a problem with the quality of the original Band, that most owners of the Band would probably take them up on the offer, realize that they actually got into the market at the right time, and that it would look bad for everyone to be running around with Bands that are falling apart a year after they were bought.

Anyone know how long the offer is valid for (not the trade within 14 days of purchase bit)? Can't seem to find that info

"Your new product must be pre-ordered from Microsoft Store between 6th October 2015 and 19th November 2015 and have a minimum purchase price of £199.99."

Your new product must be pre-ordered from Microsoft Store between 6th October 2015 and 19th November 2015 and have a minimum purchase price of £199.99.

https://storetradeup.com/gb/en/pages/tradeup/qualifying So it is only on pre-orders, not post-launch. I am pleased to see this offer, although a little more would have gotten me to bite. I'll be pretty irate if this is offered in the US as the Band was available for over a year. Those of us in the UK, even buying on Day 1, have had the band for less than 6 months at this point. 7 months 4 days by Band 2 release, which would have been an absolute joke without the trade in promotion.

That's an issue you will have with any product that goes through yearly refreshes. Someone can walk into a store 2 months from the latest launch and feel like they've been screwed when the next model comes out. Microsoft did not have to offer this tradein program. It's pretty cool of them to offer it.

I wonder if it'll be worth the savings to cover shipping to the US if I order one from the UK. :) Posted via the Windows Central App for Android

What are the possibilities that they wont accept the trade? Mine is still under warranty and in almost perfect condition btw. Just curious.

Now we can understand those guys from India.

If they do this in the U.S., then I'm definitely up for trading in my old, falling apart Band.

I'll give you £71 for your Band, mate.....deal?

Offer is available only to UK and northern Ireland. Must be UK purchased band. Must be working and undamaged full terms. https://storetradeup.com/gb/en/pages/tradeup/terms

Come on U.S., do it. DO IT. I'll be first in line if they offer something like this in the states. :)

So noticed that the GB site is storetradeup.com. Bing has been telling me everyday about the "Windows 10 Device Days" which ranges from October 7th through October 19th. October 15th is marked in orange and unlike the other days actually lets you see what they're doing on it before the day arrives. October 15th is "Trade Up to Windows 10 and Save Big" day. The link on it that takes you to easytradeup.com (run by the same people doing storetradeup.com)... but US is not listed as a participating country yet... if we're lucky, on October 15th we'll be able to access that and Microsoft Band will be listed as a product. Wishful thinking, but keeping fingers crossed.

Bummer, live in UK but bought my band from the USA before they were sold here. Too risky for me if they decline cash back!

This might be because it's only launched in April in the UK so it's not been out as longas the US

I'm tempted but trying to find a good picture of the clasp. Just want to get a good quality close up photo of that as it is on show a lot. Very tempted to trade up for the better materials. I've enjoyed and made loads of use of the Band 1 since UK launch, but v2 could be the one to keep for a couple of years.

Now that's cool! Hope they do this in the USA as well. Posted via the Windows Central App for Android

Is anyone having problem placing pre-order through UK site today? I tried half a dozen time, but every time I click final "Buy Now" button on the review and place order now page. It refreshes and brings me back to the same page again...order just wouldn't proceed further :(

Utter BS. You have to have kept the box, you have to have kept the reciept. If you have sent you band back for a repair and they deem it "damaged", i.e. you wore the damn thing they will refuse to accept it. "You will not be able to trade in a band which has damage flags on it, so if you were to find your receipt, the band would need to be repaired first before being traded in. I know this is not ideal Richard, I am just stating the options left for you." MS really do specialize in customer dis-service.