Unigram is a Telegram client jam packed with Windows 10 features
Telegram has apps on multiple Windows devices, but if you want a full set of Windows 10 features combined with a native UWP design, Unigram is an excellent choice.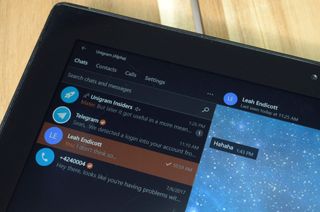 (Image credit: Windows Central)
Unigram is a well-designed Telegram client available for free on Windows 10, Windows 10 Mobile, Xbox One, and HoloLens. The app is in preview so there are some bugs and missing features but even in its current state, Unigram is worth checking out.
Before we dive into reviewing Unigram, it's worth talking about the service it is a client for.
Telegram is a messaging service that works across multiple devices. In many ways, it looks and acts similarly to WhatsApp. It connects an account to your phone number to identify you, it lets you send messages through the power of the web, and it has an emphasis on privacy. But there are some key differences.
First, your messages sync across multiple devices, even if your phone is off. This means that you don't need to rely on a web client and keeping your phone switched on to message from your PC or other devices. Telegram supports secret chats that are stored locally on a specific device instead of a cloud but notably, Unigram does not support this feature.
Second, Telegram supports open APIs and protocols. They provide them to developers free of charge. This means that while Telegram has official clients on Windows devices, they're okay with, and encourage, third-party apps like Unigram. And Unigram does a good job of taking Telegram and making it feel right at home on Windows 10 devices.
See in the Windows Store (opens in new tab)
Windows 10 design and features galore
The developers of Unigram threw everything but the kitchen sink into Unigram when it comes to supporting Windows 10 features. Unigram has quick replies in the notification center, Continuum support, Live Tile support, and even supports the People Bar that is coming with the Fall Creator's Update.
The app is available on just about every Windows 10 device, everything but the Surface Hub, and the app fits in well on each of them.
Design wise, Unigram looks a lot like the Messaging app on Windows 10, albeit more customizable. You have a list of all your chats on the left and the chats themselves on the right. It's a minimalistic design but for a messaging app that isn't a bad thing.
The app doesn't have any Fluent design elements at the moment but there are plans to add them in the future.
Telegram features are there mostly, but not entirely
Unigram is best used as a messaging client. It supports group chats, "@ing" (mentioning) people, stickers, sending gifs, sending voice messages, group chats, and of course, messaging.
While Unigram has many features from Telegram, it does not support all of them. Two notable missing features are receiving voice calls on mobile devices and secret chat support.
You can make voice calls on the desktop and mobile versions of the app and receive calls on the desktop but at this time you can't receive calls on mobile devices, which is a big feature to miss on phones.
Additionally, some features are only available on some versions of the app, for example, the Xbox One version doesn't support voice calls.
While some of this isn't the developer of Unigram's fault — the Xbox One doesn't currently support VoIP APIs for UWP apps — the reality is that there are features missing at this time. Again, Unigram is in preview so it's understandable when things are missing but it is worth noting.
The developers have a wiki page with a full list of features that are available as well as those that are not. It also breaks down those features based on the specific versions of the app so you can tell which features are on each specific platform.
Drawbacks
Unigram has two main drawbacks. The lack of features available on Telegram's first party clients, and the fact that you have to have friends using Telegram to message them.
Admittedly, this has nothing to do with Unigram's developers, or even Telegram who has made a great service that many would argue is better than the ubiquitous WhatsApp. This is just a fact of life that you have to deal with. Even if a service is better for your personal usage, you need other people you know to be on the same service to actually use it.
This is the in a way the same problem that Xbox One users run into when it comes to popular third party titles. Many consumers purchase consoles based on what their friends use. If all of your friends are on PlayStation 4, you're more likely to buy a PS4. If all of your friends are on WhatsApp, or Facebook Messenger, or just SMS texting, you might not be able to get them to switch.
Telegram's userbase is by no means small, but if your circle of contacts aren't on it already, they may be hesitant to download yet another messaging app.
Meet Clatter, your new favorite all-in-one Windows 10 messaging app
Summing things up
Unigram is an attractive Telegram Client for users on Windows 10 devices, both in looks and feature set. While Telegram has good first party options on Windows 10 and Windows 10 Mobile, Unigram dives in when it comes to supporting Windows specific features such as the People Bar, quick replies, and Continuum on Windows 10 Mobile devices. All these combined make it easier to message people quickly.
The app has setbacks such as certain features being unavailable and the fact that you may have to convert your friends to make it useful but Unigram is a solid addition to the Windows Store and gives users a messaging option that takes advantage of Windows 10 and the Universal Windows Platform.
See in the Windows Store (opens in new tab)
News Writer and apps editor
Sean Endicott brings nearly a decade of experience covering Microsoft and Windows news to Windows Central. He joined our team in 2017 as an app reviewer and now heads up our day-to-day news coverage. If you have a news tip or an app to review, hit him up at sean.endicott@futurenet.com (opens in new tab).
Unfortunately, notifications are horribly unreliable most of the time, making it impossible for me to use. If it weren't for that, I'd probably use it instead of the first-party client.

Another messaging app? There are SO many out there. What good is any of this if people can't simply settle one ONE? It is just ridiculous to me to have 15 different messaging apps because we can't seem to reach a concensus. I don't necessarily care about the apps themselves as long as they all can talk to each other. 99% of my contacts use regular SMS texting. I know I can always communicate with them that way. I only know one person who uses WhatsApp, and that's only because he spends a lot of time in Mexico and can't afford the txt cost. I don't know anyone who uses Telegram (or has even heard of it). When it comes to video communication, by far the winner is FaceTime, since most of my contacts have an iPhone. I know nobody who uses Skype.

Well, Telegram does have between 100 million and 500 million downloads on Telegram so it's not another tiny messenger nobody uses. However, from my experience, the users are often in certain demographics. I work in software development and study computer science. We (a rather small office, though) use Telegram at work for much of the internal communication. And in my university, a majority of computer science students use Telegram - in fact, almost all my contacts and communications happen via Telegram these days. I've met very few people outside those circles who use or know Telegram, though.

I'm not saying nobody uses it. I'm saying I'd not heard of it until recently and nobody in my contacts uses it. The main question is why would anyone use this instead of texting or WhatsApp or whatever?

I heard that it is more secure than WhatsApp, in my opinion it is UWP and prettier than ugly non-UWP WhatsApp. Also Viber uwp not getting any update since February.

I got everybody I know to switch from WhatsApp to Telegram. Mainly for the encryption, group texting smoothness (technical term. Lol), being able to msg/call from a PC & the ability to hide your phone number from msg recipients (unlike WhatsApp). Its also a non-profit with a very strong attitude towards privacy.

And don't forget it's the best app where you can use any .gif files no matter the size in chats

As far as I'm concerned, the #1 advantage of Telegram is the existence of a proper desktop client, which means not only can you write long messages with a blazing fast client (it's really fast in every way) but you can also do voice calls from your PC. Before WhatsApp introduced E2E encryption, Telegram's "secret chat" feature was also often touted as an advantage but I think it's lost signficance since.

You're right about the E2E, not everybody's that concerned with it & Telegram is the best option I've found that gives u the best of both worlds.

As he correctly mentioned, it has its own market in certain demographics, mainly in Asia and Middle East. I live in Iran and I don't know a single person who does not use Telegram. As for why this is, there are plenty of reasons, but I think it's mainly cultural. People in different areas have different expectations from a messenger because the types of interactions they look for differs. So for us here, Telegram is great for its sharing capabilities and group features, and of course stickers and gifs! You can't imagine how many sticker packs Iranians actually create and upload to Telegram. On the other hand, the privacy concerns are not that much important, because you are kind of stuck with certain messengers as the government blocks or filters some popular messengers and people have to find an alternative until that one is also blocked and they have to move to the next best thing!

That's why it's a drawback sadly. I think Telegram is better than WhatsApp in almost every way for how I want to use it but my family in another country and my family here use WhatsApp, as does somewhere I work. That means I have to stick with WhatsApp.

I personally wouldn't trust a third-party client app for an encrypted messaging service though.

Being open-source is a lil more comforting. I totally agree with all the other points u make too. I personally don't see any reason to switch from the official app. I also like everything I've seen about Pavel Durov (Telegram's Funder), I trust his servers a lil more than Facebook's. Lol

I'm a big Telegram fan, but sadly no one I talk to uses it. I think it's great that Telegram is so open with their APIs and that Unigram is open source. That shows me they're still focused on security because Telegram must be confident in their security to encourage third party applications.

Yeah, they are very confident. In fact so much they invite people to intercept the founder's secret chat and reward them, if they can prove it. At least that used to be the case, I do not know if it still is an offer:)
Windows Central Newsletter
Get the best of Windows Central in in your inbox, every day!
Thank you for signing up to Windows Central. You will receive a verification email shortly.
There was a problem. Please refresh the page and try again.