Updates for Nokia's App Social and HERE Transit now live in the Windows Phone Store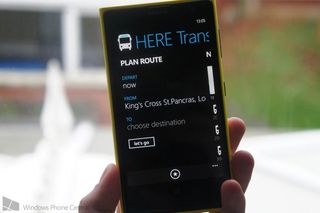 Nokia's been busy today.
We've seen updates rolling out for a variety of their handsets and apps. Now we've got two app updates for HERE Transit and App Social. Let's check out what's new in both apps below.
App Social
App Social is Nokia's new way to discovery great apps on Windows Phone. It's a mix between a social network and app store, it's also pretty cool. If you head to the Windows Phone Store you'll see the app at version 3.7.0.380.
We're waiting to hear back from Nokia on what's new in this latest version, but we'll let you guys have the complete change log when we get it. If you're running the App Social Beta you'll be familiar with the features in this update.
HERE Transit
Nokia's HERE Transit app is a life savior if you ever need to figure out the best way to get to a location via bus, train, or subway. The app is now at version 5.0.2231.0 in the Windows Phone Store and features the following changes:
Customize your walking speed, preferred walking distance, number of changes and transport modes for better personalization
Spot nearby stations with LiveSight for better orientation
Get built-in, turn-by-turn walk directions in map and list view for door-to-door guidance
See your favorites with one tap. Add and edit them with other HERE apps and on here.com
Long-tap on a station on the 'Nearby' screen to start journey directions
The update for HERE Transit is pretty cool too. It's nice that you can customize your preferred walking speed so HERE Transit can take that in to account when helping you plan your route. Having your favorite locations one tap away is also an appreciated addition to the app.
Want to grab these apps? Use the QR codes below or swipe to the right in our app. There's also links to the Windows Phone Store below.
App Social – Windows Phone Store
HERE Transit – Windows Phone Store
Thanks for the tips everyone!
Windows Central Newsletter
Get the best of Windows Central in in your inbox, every day!
There's so much love lately

Yup. So much love.. "Bing it on". I can't wait for more.. Especially black update.

Didn't they say they would roll it out 2014? Or did that mean that ALL Lumia's (except probably the 810) till the last one end in 2014? Anyways, excited for black to come to my 920!

Well you know what they say waiting is da hardest part but 2014 is just around da corner

Yea that reminds me of that good old siong " Love is in the Air"

I live on a small island, connected to the mainland with a tunnel in which it is prohibited to walk. The previous version of Transit suggested routes that required me to swim and climb mountains, now that's fixed.

I think that's pretty funny.

App social is consuming very large data....

Uninstall, and reinstall to get more space. Seems archaic. Apps socl was better before beta!

I'd love to hear why feel free to contact me here https://twitter.com/vincebelpiede

Where the heck is Update 3?! I need rotationlock nao.

I need here for my ativ s :(

Its so expensive, I wish I bought a Nokia instead, much more complete experience

I use the Transit every day.

Here transit is the most beautiful bus app, but sadly a few months ago after an update it doesn't work the same anymore.. Hope it gets fixed as it didn't this time.

Guys, Vote for Lumia 520 in the Smartphone Champions League: http://blog.gsmarena.com/smartphones-champions-league-matchday-2/

Love Lumia, especially my Lumia 1020 :)

HERE Transit did not get all these features, it had them before, http://www.wpcentral.com/nokia-releases-new-versions-here-maps-and-here-... This seems more like the a "Bug fixes and stability improvements" update that HERE Drive got.

When I got my Lumia 520 i was stoked to get HERE Transit. It has been a pretty big disapointment though. No support for my city(Ottawa, Canada). The interface is beautiful but it produces junk routes from schedules and cannot acess live GPS data. I've been considering trying to make my own app to acess GPS data but... Pro tip for Nokia: Don't release apps in localities you don't support!!

Not sure they can restrict app access by city. And wouldn't it be nice to have if you happen to travel to other cities where Nokia does have transit data?

Fair point for using it in other cities. Right now it's broken as far as i am concerned though.

For some reason, after the update, Here Transit keeps saying "there are no departures scheduled" no matter where I am.

Still no timetables for my bus system on Here Transit. Nokia needs to keep all the systems they say they support up to date! Grrrr....
Windows Central Newsletter
Thank you for signing up to Windows Central. You will receive a verification email shortly.
There was a problem. Please refresh the page and try again.