Here's how to use Microsoft's new 3-D Maps and Aerial view in Windows Phone 8.1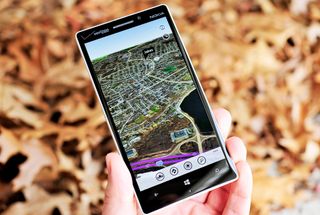 You may not know this, but Microsoft has actually overhauled their Maps app for Windows Phone with the 8.1 release. The reason you may not be aware is due to the majority of you using Lumias. Nokia has their HERE Maps application, which prioritizes over Microsoft's Maps. But with the Preview being available, Microsoft's Maps app is once again back on the Apps list (if not, you can use third-party apps to re-create the shortcut).
So what's new in Maps for 8.1? There are quite a few features, which we'll discuss below, including how best to use them!
3-D Maps
Instead of the static, top-down map view, why not see the world in 3-D? Microsoft has brought their 3-D map view to Windows Phone 8.1, and it's worth checking out. In fact, it's the same technology that's in their Bing Maps preview app for Windows 8.1, and it's quite impressive.
To enable, launch the Maps app from your Apps List. Tap the icon in the upper right corner. That will dynamically switch between 2-D and 3-D views. Use one-finger to pan and scan, and two fingers to pinch-to-zoom. Finally, use two fingers placed down to rotate the screen around or use two-fingers to slide up and down to change the viewing angle. Try it!
Compass settings
Tap the Compass icon in the upper right corner to switch between dynamic compass (using the phone) or True North setting where the compass rotates (instead of the whole screen).
Enable Aerial view
Head into the menu ('…') and select 'view options' to get to the new 'aerial view' selection, which works in both 2-D and 3-D views. Aerial view uses satellite imagery to give you a bird's eye view of your environment. Great for "seeing" what's around you.
Show nearby Wi-Fi Hotspots
You can also select 'show nearby Wi-Fi' under the previously mentioned 'view options'. Combined with an aerial view and 3-D maps, you can visualize where there is free Wi-Fi is in your area!
Local Scout is here too
For those using Cortana, you no longer have a Bing Search app, which also means you no longer have Local Scout. Luckily, Microsoft did not kill off the activity finder, but instead they have moved it to their Maps app. Want to use it more often? Just launch it and use the 'Pin to Start' function for 1-touch access anytime!
It'll be interesting to see what happens with HERE Maps and Microsoft Maps going forward. While HERE Maps tends to take priority on official releases (the new firmware often hides Microsoft Maps), it's clear Microsoft is still keen on building out their Maps app, especially for those with Samsung, HTC or Huawei phones.
If you ever lose Maps due to Nokia hiding it, you can always use a free, third-party shortcut app to bring it back. Just download this one here in the Store, as an example.
Which mapping app do you prefer and why? Let us know in comments!
Related Reading
Windows Phone 8.1 Tips and Tricks
Daniel Rubino is the Executive Editor of Windows Central, head reviewer, podcast co-host, and analyst. He has been covering Microsoft here since 2007, back when this site was called WMExperts (and later Windows Phone Central). His interests include Windows, Microsoft Surface, laptops, next-gen computing, and arguing with people on the internet.
Been using it for a while now and it is just perfect. The compass works smoothly for an overall awesome experience. The offline support won my IOS and Android friends over. :D

Yup +1020 now Nokia here maps needs to step it up

I prefer (Microsoft) Maps to HERE for some reason. Something about its simplicity.

In my experience Microsoft/Bing Maps is more reliable in finding the correct address on the first try. Definitely a great update to their mapping app and makes this a clear winner for me.

Maps is more smoother and simple. But, I don't know if I'm doing it right, the search for POI seems case sensitive. For example, it can't find "amcorp" for a place called "AmCorp". Maybe I'll give it more test after my 1020 comes back from service.

No one does POIs better in the US than Google. Overseas Nokia/HERE might take it if Google doesn't... Honestly Google has the best data for POIs in my experience.

Actually Google has volunteered information because people think its cool they're on Google Maps and as such many POIs are added because people love Google Maps (which is one of the oldest free colobrative online maps out there.)

Yeah, don't know why. I think it just runs smoother too. Even when I had a Lumia I looked for these at the store. Someone had made an app to enable them back on.

same, i feel it's faster for some reason. The compass works better also, i'm pretty sure i'm not imagining things

I love it for the speed. I think it's to do with it being native.

Its a shame that Microsoft only purchased the Nokia hardware division in a way, otherwise they could have merged HERE and the MS maps developers together for an even better experience

Agreed. Never was very fond of the UI for HERE Maps.

Link to app is wrong. Points to an app not made by Microsoft. Search well and you'll find the Microsoft version.

False. The link to app is exactly what I intended: a third party app that re-creates the link to Maps, killed by Nokia.

which still uses Here data, which is exactly why it still sucks. Bing Maps from the browser of W7 and W8 is still better. No Japan support, terrible POI in the states. It really pisses me off. (not that i'd head to an android phone just for native maps)

Ooopps, my bad. Sorry then Daniel, hope I'm forgiven:)

There is no such option to switch between 2D and 3D on my Lumia 625..
May be its not available in India, just like any of the other Bing-Services.. We don't even have Music-ID service here, hoping for 3D Maps from Microsoft would be too much :P Nokia HERE Maps have 3D Views, so they are the better option for me anyway.. :)

There should be, try dragging two fingers down the screen.

No it is just not there, just like even in windows phone 8.1, it is just music, not xbox music, it is videos, not xbox videos, i know, microsoft will not have 3D for India, even when Nokia has... India doesn't have access to XBOX Music, XBOX Video, Local Scout, Bing Music-ID Search, India doesn't even have Microsoft's "Ring, Lock or Erase My Phone Service', I wonder how do we have XBOX Live here. Bing Search still works by single tap on Search key, and its long press brings in the Microsoft-tell Me Service, which can still do only basic functions like, open an app or call a person and a few apps that integrate their voice commands into it. We do not even have provisions enough that we could dictate a text or ask Tell-Me to save a note to one note by voice command. Changing speech language to English (UK) brings in voice command additions to Tell-Me but nothing a lot.

The Xbox services are currently available for the U.S region. Same goes with Cortana. Although these services will be available in India after the official launch of WP 8.1 in June this year. Go ahead and change the region settings on your phone to United States to enjoy all of these now. I have and it works absolutely well. This doesn't change the way the phone works. I'm enjoying these features thoroughly. Give it a try.

Just be glad you dont have to put up with the Xbox Music app. Its damn awful

Oh no no.. I'm priviledged enough to get to use that crappy xbox music app too.. It is just that it lacks xbox music online services.. I get to use the same horrible app that cannot swipe between apps, show next tracks and all such.. :)

I have a Lumia 929 upgraded to WP8.1. I can see the option to switch between 2d and 3d in the mails app.

Turn on location and then you'll se the3D icon

Before the last update to the maps, the one that just came after WP8.1 Dev Prev was released, I could use all my offline maps just fine without internet. The images were all there. Buildings, fences, streets, trees. All of it. Now whenever I want to see the elements I cited before I must have internet in order to download them. So, what's the point in downloading those maps to use them offline? Or is it because I updated them? I'm lost now. Maybe it is something that I'm missing. Could anybody help me?

It looks like crap! Now Way better that HERE Maps ;) HERE has live sight, Compilations of your own POIs! They are synced too. you can handle it with one hand easily and it is much smoother i think. and don't forget inDoor Navigation/Maps of Airports and such things. Also the Metro and trains are much better integrated.

To each his own. I'm the opposite and prefer Maps over HERE. None of what you listed is interesting to my needs. I'd rather people had a choice, instead of force-feeding a one-size for all approach.

Agreed. Though I'm mostly using HERE Drive+ since I'm driving most of the time but next time I'm on foot and I need directions, I'll try Maps. Certainly a good thing that we have it, didn't even notice it was there.

I did not said the App is crap, i looks just like it for me ;) it is simple and fast but for me it misses a lot of Features! (sorry for my bad English, i am from Germany)

I do like it and will use it. But, Here City Lens shows more places and is more up to date. Here in the UK anyway.

Easy easy, Dan. Always nice to have decent alternatives, right?

Correct me if I'm wrong, I'm the one who is pointing out those alternatives, no? How is not having Maps on a Lumia phone (hidden by Nokia) choice?

Haha, you are right. One good thing upgrading to WP8.1 DP is that I finally got the maps app back. And now with Cortana, I can set nicknames of POIs and ask Cortana to navigate me there! I've been enjoy reading your articles, great jobs you've been doing! Thank you, Dan!

Sorry... I like turn-by-turn directions... You know, like it was in 6.5 befooe they ripped it out in 7. I love my new Nokia 1520, Win 8.1 and Here Maps is great. No turn-by-turn is a deal breaker!

Nikolaus, absolutely agree with you! HERE all the way! I'm a hardcore fan! Amazing integration with the rest, great look and feel, better precision than google maps, has found me some streets on the map that Google doesn't find, and a lot more! (plus the Bing Maps app is right there, never missed it) Additionally, I simply love Transit, (the best public transportation app by far on any platform) and City Lens is simply kickass!

Would be good if they could merge the two, as now we have favorites in Here maps and Bing that don't sync which means managing two separate lists.

Yeah, same with Xbox Music and MixRadio or Microsoft Camera vs Nokia Camera. Lots of potential in merging of tech.

Daniel, did Microsoft purchase the MixRadio from Nokia?

I sure hope not. That's my goto app for all the music i have on my phone and I don't want to see Microsoft screw that one up too. Just leave it be ffs.

i really don't like MixRadio... i tried to like it, but Music is king!

I was wishing the same... but, since the aquisition of Nokia's handsets/phones division by Microsoft didn't include Nokia's HERE mapping services, I guess it'll never happen. Though, I do wonder what mapping technology MS/Bing is "borrowing" for their "Maps" applications. Another weird (but cool!) thing is having the Nokia HERE maps app on my Surface 2 (WinRT).

Correct me if I'm wrong but, the 3D view is not available in India right? I mean I can't see it at the top right corner.

Welp, you're the one in India and not I, so you're probably correct if that's the case.

Hardly surprising. What surprises me is that lots of people (Americans) think we're just badmouthing Microsoft when we say they're services suck balls outside the US, i.e. Bing, Xbox live, Xbox video, Xbox music, maps, Cortana, swipe keyboard...

So what you mean is that their services DO suck balls outside US. I mean, in India it's just so-so.... Not the best but not so bad that I would switch from WP.

Agree. But the truth is every developer, maker, or company's first priority is always the US and you know why.

I live outside of the US in México and I love Xbox live, and absolutly love the new swipe keyboard, the other services I dont know, I use Netflix and Nokia MixRadio... Cortana I really dont think I'll use... I would love quiet hours hehehe.

if you don't like talking to your phone/ do it in public i really advise you to write to cortana, it's flawless. i use it constantly :3 i'm from Chile btw.

I think he is correct since neither can I see that icon... (India)

It doesn't work in the UK either. Another U.S. only option seemingly.

I don't see those icons either and I'm in the US... Edit: Checked compass in Jack of Tools and it says "Compass not functioning" so there may be a larger problem here...

Which device do you have? Some entry level devices are missing certain sensors so for instance, Here CityLens does not work on these devices.

Does so work in the UK. Just tried it!

So should for you? I'm using Lumia 920 on 8.1 on USA region. Hope it works for you.

3D maps is available in the UK, drag two fingers down the screen.

Dragging fingers is Here maps' gesture...and nothing is 3D with aerial view.

i can see it but probably coz i have changed my region to us

Hey I'm in India and the 3D map view is very much there

The 3D view icon is absent from my version of Maps too and at first I thought it was because I was using an entry level device, hence the lack of certain sensors. However, dragging down on the map with two fingers tilts the 2D map into 3D view. Swiping up with both fingers reverses this.
Weird why the icon is absent but as long as the gesture works, I am good.
Ps: I am not in the US but I have my region set to there. Don't know if that helps...

I thought the 3D view had been available for a while. Certainly an app I used before did, I think it was the GMaps+. I believe it uses the Bing Maps data with Google POI. Definitely had the Bing 3D models of various buildings in London.

Aerial view and map Wi-Fi were in the previous version. 3-D is new (I'm comparing to my ATIV SE, which has the Update 3 Maps app).

What I actually meant is that the data has been available for a while. Here is the app I was talking about: http://www.windowsphone.com/en-gb/store/app/gmaps/519ed211-d69d-497c-8b1... You can see the Bing 3D view in the screenshots.

Where does it say that it's using Bing Maps? I would say that something calling itself "Gmaps+" uses Google Maps instead!!!

Feel free to try it and go in to the settings. It has options for the map source :)

http://imgur.com/X2t3W6x In fact, have a screenshot to prove my point. This app has used Bing Map data and the 3D models for a while. Sorry :)

Aha, thnx for the tip. Been looking for this one.

What appears interesting to meet is, once a map's been downloaded in HERE maps, it can be used in HERE Maps, HERE Drive+ and Microsoft Maps. Feels like cross platform compatibility.

Correct. The mapping data between the two apps are the same.

However it seems POIs are different.

The only downside to HERE maps is that there is no option to show nearby Wi-Fi. Rest everything is much better compared to Bing maps I would say.

Even if it had, would I really be using it? I never get a "free" Wi-Fi in my location so I use my personal one obviously. Moreover, there's no practical use of Wi-Fi if I'm on a drive. So it's not really a downside to me. But yes, I feel Microsoft maps are a bit cleaner and smoother than HERE maps.

Options. That's all I'm saying.

For the moment I still prefer the here UI but I'm starting to like the feature set from bing more which I think will be the difference maker in the long run, particularly since bing uses the here data plus other services while here only uses its own.

Improvements are good but if we had an official Google Maps client on here I'm pretty sure almost everyone would use it instead of Bing.

I wouldnt, no need to with Navigon and Here +. No google here, thanks.

I wouldn't. I'm not giving a spyware company a foothold in my ecosystem.

Sadly,Google maps have better image quality than here maps or Microsoft default maps.

But Here has more accuracy

Agree. Speaking from my experience, I was a fan of Google maps once (used in my Xperia C) but after using HERE Drive, I totally forgot it. Google maps is no match for HERE maps / Microsoft maps with features like Offline navigation, Cleaner UI, Voice navigation etc etc... Only thing I hate about HERE maps/drive+ is the menu layout, looks androidy to me.

You must be joking, right?!! Google Maps and Navigation just blows ANYTHING available on Windows Phone away! There's just no comparison at all!

No I'm not joking. Although different maps work differently in different regions, for example, I find HERE maps easier to use as compared to GMaps here in India. While HERE maps don't work at all in Japan, GMaps does. Same goes for you! Furthermore, HERE maps gives me option to download whole countries maps unlike GMaps which only delivers options to download "selected regions" to "Make available offline" , that too upto 6 zones only. So HERE maps definitely is the winner here. AFA regions compatibility is an issue, its a matter of time. HERE maps will soon be out to support more countries and it'll soon be mature as well. P.S: Have GMaps in Xperia C, HERE Maps in Lumia 720 and 520. And I think HERE maps is a way better.

That depends on the place you want to view. Usually google is better in the US and here is better in Europe but of course there are a few exceptions like Madeira island where Here maps has a road that never existed right smack in the middle of a piece of land that belongs to my father, and they even named it too:-) go figure.

LOL! That's interesting! Huge software, be in cloud or in platform cannot be 100% bug/error free. I remember once i was using Google earth to see 3D street views of Japan's local roads and from nowhere appeared an image of a pink teddy bear that was upside down (extremely enlarged) I guessed it must be some picture taken by a store/shop to show as a sample in Google Maps but what the hell it had to do hanging down at the middle of the road, legs attached to the clouds?! It surely was Google cache incidental memory allocation.

I like what dan likes. I try to emulate dan in every aspect of my life except for the hair of course.

LOL!
Think his haircut ain't bad, If there is someone saloon is desperately waiting for, it's Joe Belfiore.

Wasn't there a talk about being able to remove system apps like Games, Maps, Music etc? I want to get rid of Maps in favour of HERE Maps

Nope, the plan were to make the hubs into separate apps, so that they can be updated through the store. If that's what you were referring to.

Thought apps were then uninstallable. I am sure WPC wrote something about it.

My understanding is that those system apps are un-un-installable. In other words you can not remove them. It makes sense that you wouldn't be able to since Microsoft needs to know that they can count on certain apps to be there to provide certain basic functionality.

Dang! I thought it was like Birds Eye View mode on Bing.com where buildings look 3D. This isnt really "3D", its just the map, angled.

Not completely. Turn aerial off and head to NYC or Boston and zoom in, you'll see wire frames of buildings, etc.

Yeah, that works. Still, Birds Eye 3D would have been cooler, and much more resource intensive I guess...

Exactly what I was thinking. Edit: Ah I see what your saying Daniel. This is what I was looking for. Thanks for the info.

I just want my POI to be synced across both apps, since now they are more or less merged.

Wow..that is really nice. Works in Ontario, Canada BTW. This is the first map app I've seen that actually turned as I rotated the phone on the Y-axis.

HERE Maps and Drive+Bing Maps features in one app=Awesomeness!

Should I be ashamed to say I never used the Maps app in my 8X ... I don't even know what the app looks like lol .... Well obviously I do now since Daniel posted screen shots of it lol :p

Well, at least in the maps department Microsoft is on par with google and here maps. I had a swimming pool built in my house almost seven years ago and none of the maps services shows it. Thank god or the IRS would be knocking on my door to collect increased taxes.
Edit: Microsoft maps has the exact same image with the same imaginary road worth the same name also. Here and Microsoft maps are the same thing with a different UI.

They get their imaging from the same satellite and aerial photography companies.

Google map is still the king.

joKING?
Quality V/S Quantity you know?

Think b4 you say they have your data with that they are screwing your life.

Sorry guys but it's my personal opinion which has to be respected. I find it better.

It isn't for you but it is for me.

Well, No worry! We all have different needs for our tastes that's why we have so many choices!

I need more Windows Phone news!! I need something more exciting.. I feel kinda lost since 8.1 is out.. Leading up to the preview,I was glued to my phone checking for new and exciting news! lol Bring on the Gold Finger leaks or something lol.. Thanks for the continuing updates on the new 8.1 features though..

Xbox music update is coming. Today

why my nokia 521 doesn't show up the icons on the right side of the screen

A wild guess would be because you're outside the only country in the world, read US.

LOL! Sadly its the truth.

But I'm in the US and I'm gu using Nokia 521 . It just doesn't appear on my map

As a Lumia User i would love to try the Bing Maps, but i don't want to loose all of the favorites i have saved under the HERE MAPS - Since Microsoft is licensing the HERE Maps from NOKIA, they should come up with a way to transfer the data and infromation i have saved under my HERE account into the BING MAPS / CORTANA

Same here. They should come up with some standard format of POIs lists that can be import or export even with Google map or iOS map!

Don't think it'll be possible anytime soon for Google maps / iOS maps but yes possibilities are there for microsoft/bing Maps.

Microsoft's Maps app now supports transit directions. This puts it ahead of HERE maps IMHO.

HERE has HERE Transit as well. Its not just deeply integrated in HERE Maps. An integration would make it perfect.

Does Microsoft maps have traffic like Nokia Here? No.... So stayin with Nokia maps services

MS Maps does have traffic though.

Konext technology In goldfinger will be nokias new goldfinger Lumia. They have have pateneted many imp things which can esiky kill google in features but the marketing is required to be done seriously outside United States.

I just found an amazing feature in the maps. You can pick a bus stop and pin the stop to your start screen. The transit card shows times for the stop as well as estimated times (for GPS tracked buses, which Seattle has). I don't know if this was apart of WP8 but I love it.

Bing maps in Brazil is terrible. Unable to recognize cities and names of many streets. The cortana has this negative point here in Brazil

I love the compass and rotating with 2 fingers, also this bird-view when dragging your fingers up and down, but there is no 3D view like in the Bing Maps Preview app for Windows 8 with 3D buildings, which disappoints me.

There is in NYC and Boston.

Well in the app for windows 8 my town is one of the few that have 3D for the preview (Bremen, north Germany). In the WP app I get no 3D buildings at all, not in NYC or Boston.

I was supprised that there is no 3D building support. I remember that my old nokia e6 have 3D features.

Heehee I showed the map to my kids and then told them to go outside and wave their hands so I could see them on the map. Too funny. Even funnier with a grandparent who thinks this shit is live. I'm such an asshole sometimes. Lol.

It will be live on day, I'd put money on it

What's the difference btw Bing maps and local scout its the Bing maps in local scout

Can somebody tell my, how is that possible??? I mean blue selection. I have never seen such a small icons in AppBar and StatusBar. It looks as there was a place for six icons! Is that a FullHD screenshot? or some special/hidden option? Is there anyone able to explain this?

Bing needs some in car navigation to even the playing field for non Nokia hardware to help all their new partners, or do other deals with other divisions of Nokia.

As an Aussie expat in Hong Kong I noticed something about 3D making information. AUSTRALIA: Seems to have full 3D making information, looked looking at the area of the home there. HONG KONG: Nup, nothing and I'm sure our friends from India are also lacking 3D mapping information within Bing's mapping information.

Not seeing the 3D top right icon, but 3 fingers pulling down tilts the map into almost 3D

What are the Pros and Cons of Here Maps and WP 8.1 Maps?

Isn't 3D maps available in Nokia Lumia 520?

I kind of don't like the one extra step to get aerial view. Can we have a standalone button on the map so i dont have to click the bottom three Dots?

If you want quick access to Local Scout but don't want to pin it to your Start Screen you can also just tell Cortana to "open Local Scout" and she does. For those of us who don't like to have too many apps pinned to the Start but want fast access to Local Scout it's a pretty nifty solution.

Now I use both here map and Microsoft map. The former can show every bus stop on the map while the latter can find any place what I input. How I wish they can combine together to be more powerful!

Looks like the maps API in the backend is still HERE, the very fact that you can download maps seems to indicate this?

For some reason, the 3-D View button just want there! Idk, it may be because I'm on Lumia 521... But I don't know.
Aerial View works fine tho!

Maps in my Lumia doesn't open. When I open Maps, it says "Maps are not available on this phone". Any ideas..???

Have you downloaded maps? I don't mean the app "Maps" (its preinstalled) but actual maps?

In settings, there is no Maps options where I can download them. I did not noticed that until now. I am not sure if Black Update or 8.1 update removed that option from my Phone.

Once in settings, swipe to applications. Maps should be listed, download there.

There are no Maps options in Applications.

That's weird. It must be there. What version of Windows Phone are you using? I mean in "settings" -> "about" option, what's written after "OS version:" exactly? What country do you belong?

I have Lumia 520 with Windows Phone 8.1 Dev Preview. I am from Pakistan.

That should work fine! It's working fine in my 520 (India). Is maps working for anyone else in Pakistan? If not, then it maybe a regional problem. You can try changing your region to India or US to check if our works :)

My Region is already set to USA, so that I can use Cortana. :) But I badly need Maps and Here Maps to work.

hello i want to buy a windows phone 8 if it avaible for sell contact me rodolphhienrich@gmail.com

Hey Daniel Rubino, I was going to email you but I couldn't find your email anyways I notice that you have been seriously busy trying to strengthen your relationship with Cortana I know she's cute and all, but is there any chance of you going over "project my screen" feature. I feel like it is on of those best features, that we are not talking about. No pressure, Cortana is cute but you don't wanna be like Cnn with the missing airplane story. ( sorry If there's any misspelling )

I was so happy when I saw the old maps app come back because I hate nokia here. it isn't a bad service but I prefer the UI from bing. Too bad bing has basically no useful data and here is much better at actually finding stuff. If only MSFT cared to make a competitive platform to google maps....they have the services, they have the UI, they just lack the data. Part of the problem is that MSFT, as usual, doesn't believe in crowdsourcing so even when I'm staring that the place they lack, there is no easy way for me to add it, unlike with google. Another example of MSFT stupid management making their products and services inferior.

I didn't realize Microsoft Maps was even still an option for Windows Phone any longer! You just made my day! I like HERE Transit, but the built-in GPS was enough for what I needed. Changing this.... immediately!

Why is it my scout in maps app can't search anything like eat +drink, shop. It stated that they couldn't find any places nearby in this category. I'm from Philippines
Windows Central Newsletter
Get the best of Windows Central in in your inbox, every day!
Thank you for signing up to Windows Central. You will receive a verification email shortly.
There was a problem. Please refresh the page and try again.