VEGAS Pro 15 for Windows 10 is an excellent video editor worth the hefty price tag
VEGAS Pro 15 has one of the highest price tags in the Microsoft Store, but with that, you get a great professional video editing app.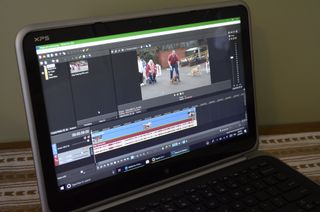 There are a plethora of video editors available in the Microsoft Store, but to honest, most of them aren't very good. VEGAS Pro 15 is well above the quality of casual editors and pushes into the boundaries of prosumer to professional levels of editing. It has a wide feature set, is optimized to take advantage of higher-end machines, and competes for the spot of best video editor that's available through the Microsoft Store.
The app is available for $399.99 on Windows 10. As far as I can see, you can't get a free trial of the Microsoft Store version, but you can get one through the Vegas website (opens in new tab). I highly recommend trying out a free trial on a product with this high of a price tag.
While that price tag is very high, Vegas Pro 15 is lined up against high-powered competition like Adobe Premiere Pro which costs over $20 per month (opens in new tab).
See in Microsoft Store (opens in new tab)
Powerful editing
VEGAS Pro 15 has an extensive feature list that gives you options for all sorts of projects. The website (opens in new tab) has a full feature list but some notable ones are multicamera editing, 4K support, audio editing, and various color correction tools. The website is also useful to tell the difference between VEGAS Pro 15 and other Vegas products that all have similar names.
The interface of VEGAS Pro 15 feels a bit dated, despite the company calling it modern, but it will be familiar to anyone who uses profesional video editing apps. You can customize the layout of the various panels within the app to fit how you edit which makes a big difference during long editing sessions.
You can also enhance VEGAS Pro 15 with plugins to improve its feature set for specific cases.
A solid competitor
When it comes to video editors, the industry standards are Adobe's Premiere Pro, and Final Cut Pro if you're on Mac. These dominate the professional workspace of video editors but VEGAS Pro 15 has a good reputation and is one of the first apps that people look at when it comes to Premiere Pro alternatives.
VEGAS Pro 15 is a professional video editor with support for color correction, chorma keying, subtitles, multi-cam editing and more. It might not have every single feature that Premiere Pro has, but for a large number of users, it will get the job done. It's also leaps and bounds above the competition that's within the Microsoft Store, which generally speaking doesn't even approach professional video editing.
Even if you're planning on editing your own videos from start to finish within VEGAS Pro 15, it's nice that it supports Premiere Pro project files as well as other industry standard file formats and project types. This makes it so that you don't wall yourself into a Vegas ecosystem when many other creators will likely be using other programs.
Workflows take time to develop and are hard to change, so if you're used to being on another video editing program, switching to VEGAS Pro 15 can seem awkward. I've used Premiere Pro for years and I admit that using any program, no matter how good it is, seems very foreign at first. But just because Vegas Pro 15 is different doesn't mean it's bad. It has a great feature set, and performs some tasks very easily such picture-in-picture editing.
Overall thoughts
I've been on a quest for an excellent video editor that's available in the Microsoft Store and VEGAS Pro 15 has bumped out any competition for that top spot. It has powerful features, a relatively low learning curve if you've used professional video editing apps, and it works with popular file formats and project file types. The interface isn't fresh or modern but is very functional and customizable; allowing you to create a comfortable workspace to get work done according to your preferences.
The $399.99 price tag is hefty, but depending on what you use VEGAS Pro 15 for could be justified. Its initial cost is high but competitor's subscription costs can add up over time and surpass VEGAS Pro 15's price in a couple of years.
If you're looking to try out a new video editor or are considering getting into video editing, I highly recommend trying out VEGAS Pro 15, though remember that if you want a free trial, you'll have to go through Vegas' website (opens in new tab).
Pros
Has powerful video editing features.
Works with popular file formats and project files.
Doesn't require a subscription.
Cons
Has a dated interface.
Comes at a high price.
See in Microsoft Store (opens in new tab)
Windows Central Newsletter
Get the best of Windows Central in in your inbox, every day!
News Writer and apps editor
Sean Endicott brings nearly a decade of experience covering Microsoft and Windows news to Windows Central. He joined our team in 2017 as an app reviewer and now heads up our day-to-day news coverage. If you have a news tip or an app to review, hit him up at sean.endicott@futurenet.com (opens in new tab).
i have Vegas pro 12, and it is a great video editor and yes the price is high, but you get a very fast video editor that use less resources than others. The GUI is out of date, which is maybe why it take less resources. There is the cheaper Vegas studio. While I do not use Vegas as often as i used to, I now use hitfilm, I still think it is a great bit of software, but is a bit limited on effects, which is why I use hitfilm. I am not sure what Magix will do with Vegas, maybe they will make it even better, I think Sony was starting to run out of ideas. Not that i would ever purchase a video editor from MS store, come to think of it
, I would not purchase anything from the store, I prefer to install software the normal way.

Same here! HitFilm for my money because it's both and Editor AND a Compositor.

I have Vegas Pro 11 and it crashes often rendering MP4. Typically ended up rendering as raw format (YUV) instead and use another tool. Not sure if those instabilities are fixed now. Using now Cyberlink Power Director. Less options but cheaper and more stable for me.

Wow, I haven't seen pro 11 in a long time... is it up to date patch wise? Also, 11 was when it was "Sony" Vegas. Vegas was sold off to another company. I use Vegas 14 ($20 on Humble Bundle a while ago) with 0 issues. Used 12 before that with no issue using 3 dslr video streams and 4 audio streams into MP4 with no issues as well.

Vegas is pretty light weight for a video editor, which is one reason I like it, it copes with AVCHD better than other editors, even better than Hitfilm. Premier I would not give the time of day as it is very resource hungry before a clip is even imported.

Premiere Pro doesn't use that much resources, though of course you will use more as your project grows. The difference between Premiere and VEGAS is that Premiere makes better use off your hardware. It has well-implemented GPU Acceleration for Playback and Rendering (for both Intel iGPUs and Discrete Nvidia/AMD GPUs); while VEGAS has almost none (only NVENC/QSV support for H.264/HEVC Encoding). VEGAS 15 isn't much different from 14, which isn't really a huge difference from VEGAS 8. Most people don't edit MP4 on the timeline. It's an awful format. That's only a thing in Consumer and Prosumer editors. Professionals will transcode or conform that town Intermediate CODEC which works much better on the timeline. MP4 will kill your CPU, unless your CPU is an absolute beast. If you think Premiere Pro is resource hungry, then you probably have not used any other Professional NLE (Avid, Resolve, etc.). Video Editing isn't for potato computers. The only NLEs that aren't "resource hungry" are lower end Consumer/Prosumer NLEs - like VideoStudio, PowerDirector, Pinnacle Studio, and VEGAS Pro. And I don't see a point in getting HitFilm [Pro] over Resolve [Studio] at the same price point unless your PC is rather weak. The latter in better in almost every way, especially its support for media CODECs. Free Resolve is better than the paid version of HitFilm. I am not sure what niche VEGAS is trying to aim at. There's a reason why Sony developed Catalyst Suite and got rid of it. Gamers have largely moved on, except those very poor low-end players who got VEGAS 14 from Humble Bundle. Professionals largely don't use VEGAS, and it has never really caught on there. The price is way too high for something that simply doesn't live up to that price tag. The entire market for Non-Linear Video Editors has changed. These days you can get Premiere Pro or Avid for $20/mo., buy Resolve Studio or HitFilm [Pro] for $299, or use Free versions of those products which - in Resolve's Case - offers more out of the box than the VEGAS developers will be able to develop in the next 10 years (at their pace).

I've started using Hitfilm for most of my editing needs. The Express version is free and does a surprising amount of stuff for the price, even if it does require a higher spec machine. The latest version should have the ability to do text overlays without the crazy composite editor that was needed in prior versions (powerful for other things, but a bit annoying if you just wanted to drop some text over a part of the scene :) ).

I use the express version, I did pay for the premium starter pack as my old camera use AVCHD and Hitfilm express do not support it, my new camera uses MP4 as well as AVCHD. But yes hitfilm express offers a lot.
The composite editor does get a bit of getting used to, but ok once the basics are learnt.

Resolve is for the win. And you "should" be using an Intermediate File format (ProRes, DNxHD/R, Cineform, HQ[X]) to edit that video, unless your CPU is a beast. ACVHD and H.264 are CPU hogs and destroy NLE performance when edited on the timeline. Hitfilm is also not known for great playback performance. The NLE is weaker than Resolve's, and the compositor is weaker than the Fusion implementation in Resolve. Unless you have a weak[er] PC, there is no point in using it (IMHO).

I wouldn't trust anything related to Magix. I had Pro 15, and they installed adware to my desktop which pops up once a month it seemed. Eventually I uninstalled and stuck with Premiere Pro and Media Composer. Still miffed that Sony handed Vegas over to them. Terrible decision.

So you installed the demo version, did you check the settings when you installed it? Something do not add up here, the trial is only for a month, so the pop up would be for reminding you that the trial is over if you are used it for a month. Since you now use a different editor i can not see that you paid for Vegas and then decided not to use it.
so you paying every month for premier pro? I was not pleased to see Magix grabbing hold of Vegas either, because Magix software is normally cheap tacky stuff. My mate is more unhappy than I am because they have also got sound forge.

It's not just the demo. The paid products do this as well. This is a trend with companies that sell consumer/prosumer software. The software often acts like AdWare on your PC. They install Services that will advertise deals to your on your Desktop (MAGIX Connect, Corel Tray Notifications) and you get pop-ups about Deals and Upgrades in the form of Modal Dialogs when you Open and/or Close the application. This kind of stuff seems to be trending. Some companies release old versions of their product for free, and use this tactic in an attempt to upscale you to their new products (i.e. On1). The biggest benefit of an App Store with verification is that companies (like Apple, Microsoft) can reject apps that attempt to do this to users. It's especially awful when your $399-799 video editor installs adware on your PC, and acts like an advertising platform. It's easy to remove and shut off, but this shouldn't be a thing. These products are acting like unlicensed Shareware... AFTER you pay for them.

MAGIX Connect can be uninstalled in literally 3 seconds. Go to "Uninstall a Program," press 'C', select "Connect" and uninstall. This has been fairly widespread knowledge for anyone who uses their products for a while, now. Then go in Settings on the General Tab and turn off "Use Newsfeed" (or however it's worded).

That is great article, Never read this type of really informative details.. Thanks admin.
And i am also suggest vegas 15 and filmora 8 that is video editing software., You can get vegas 15 latest build with license software for free from (https://www.getpcsofts.net/magix-vegas-pro-crack-full-download/) and many other video editors with license... I'm also using from there these software that is working.

Why would anyone bother to crack/pirate this awful NLE, when they can get Resolve for free and it does 500% more out of the box? The thing about software pirates... They're so desperate, that it drives them stupid. And Filmora? No one takes that software seriously, as it's worse than the cheap consumer editors available for Windows, which often come with Pro-Level Plug-In Bundles (Titler Pro, NewBlueFX Boris FX and proDAD Plug-Ins, etc.) and integrate with a sister product or three. I'm not sure why Filmora seems to pop up in every thread about video editors. I do know the company is gaming the Search Engines by mentioning every other NLE in pages on their website where they advertise their product on top of "comparisons" between virtually everything out there (so that people who search "Premiere Pro vs. Final Cut Pro X" will see their site (and therefore their product) when making such a query pretty high on Google's ranking. They also did a lot of paid sponsorships to get YouTubes and bloggers to act like their product is actually good to drive users to them.

Vegas is awful compared to a lot of other NLEs. No point paying the ridiculous price for this barely maintained product.
Windows Central Newsletter
Thank you for signing up to Windows Central. You will receive a verification email shortly.
There was a problem. Please refresh the page and try again.