Here is the new one-handed keyboard for Windows 10 on phablets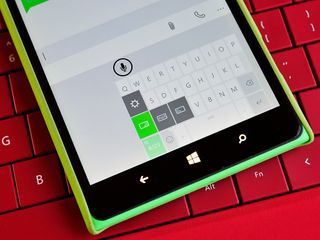 Although Microsoft rattled off numerous new apps found in Windows 10 Technical Preview for Phone build 10051, one feature we previously did not know about slipped by us: one-handed thumb keyboard for large screen phones.
Evidently, Microsoft is giving users an option to have the full-sized keyboard, or a smaller 'squished' one that justifies left or right, depending on your preferred hand usage.
The feature is only found in large screen phones, which for so far is the 6-inch Lumia 1520 (we have not tested this on other devices). For instance, our Lumia 635 does not have this option, which presumably makes sense since that phone has a smaller 4.5-inch display.
To access the option, just do this:
One-handed Keyboard in Windows 10 for Phone
Open the keyboard in any app
Press and hold the '&123' key on the left side
Choose the keyboard icon
Select which option you want: full, left, or right
Alternate Method (easier, quicker)
Swipe left or right on the space bar key
When justified right, the keyboard can be used one-handed in your right handed, and vice versa for left justified. It is a neat little change.
Interestingly, even the full keyboard is indented from the sides on the Lumia 1520. This change improves our typing as it naturally fits our grip on the phone better than the current one in Windows Phone 8.1.
Considering the controversy over hamburger menus, which seemingly veers from one-handed usage, it is interesting to see Microsoft give one-handed typists a nod with this new feature. Evidently focusing on one-handed use is not dead at Microsoft. Now we are curious to see what else they can do.
Watch the video above to see it all in action! Jump into our Windows 10 for phone forums to discuss any issues, problems, or tricks with the new OS.
Missed our video tour of the new build? Just hit this link to get all the details.
Daniel Rubino is the Editor-in-chief of Windows Central, head reviewer, podcast co-host, and analyst. He has been here covering Microsoft since 2007 when this site was called WMExperts (and later Windows Phone Central). His interests include Windows, Microsoft Surface, laptops, next-gen computing, and for some reason, watches. Before all this tech stuff, he worked on a Ph.D. in linguistics and ran the projectors at movie theaters, which has done absolutely nothing for his career.
I found this by accident and had no idea it was a new feature in Windows 10. Thought it was pretty cool! I have to admit, it is easier to use the Windows 10 on phone with the Lumia 1520 due to the extra speed. Also, a fresh hard-reset also helps improve things.

Still there are a lot of things to be discovered. Does it lag in your 1520 too..? I mean, the resuming things and all.

Yes, Aman, Lumia 1520 is pretty bad with the lag, im not used to being on lower end phones but it is a noticeable decrease in performance with Windows 10

Glad I didn't install 10.

I have to respectfully disagree about the lag - at least on my end.
I have two 1520s, one running perfectly on 8.1 denim (daily driver), and the other with W10M fast ring. Granted fast ring is not anywhere near ready, it is, in many ways, the obvious successor. I have spent much free time over the last few days mimicking motions and responses from 8.1d against W10M, and find that, in my situation, W10M is notably faster in almost every motion.
That said, folks, were have been given something that is really unprecedented in the history of modern mobile computing - the ability to active participate in the development of a globally offered product. I, for one (as a retired dev&beta tester), am happy to play and break this - and report it - in hopes that the next generation of mobile OS's is as robust, scalable, and useful as possible. I respect MS for giving us the option to do this.
/0.02¢

Just 0.02c? Your opinion must not be worth much at all ;)

If you are experiencing lag I am worried maybe your phone is broken, I found windows 10 operationally is faster than 8.1, yes there is bugs, Power saving (no apps shown) data bug (uses 3g more than wifi) hey cortana (gone but app there) I would of used this as daily driver no worries as the o/s is fluid

....because it is alpha software, maybe? You are comparing performance on alpha with complete product. Not valid. Compare 10136 with 10080 or 10051.

8.1 lags on my 1520 when typing. Normal? Supposed to be a new phone. Barely used.

That actually have been reported on many sites. But for me personally, I haven't experienced any of that

Yes, very much so! I replied my 1520 back to 8.1. I can't believe they even released TP this bad. I would love to give feedback, but my phone was just unusable

It would lag on my 1520, and I couldn't even unlock the phone when the screen timed out. I would have to end up force resetting the phone in order to get it to come back on. I just ended up reverting back to WP 8.1 until a more stable and reliable build is produced

I thought it was reported here sometime ago?. I could've seen it somewhere too.

Yes, iirc Joe used it at 21/1

Hey uh, what does iirc mean? I see it commonly but I've never figured it out

You probably saw it on wmpoweruser the day before. Thats when I did.

Yes it was demoed on stage by Joe at the announcement of Windows 10.

Hey Daniel, unrelated question but how do I get windows central to email me everytime someone replies to my comment? I disabled it because I got annoyed but now I feel like im missing out...

If in the app, search in the settings.

What I'm trying to figure out is where are those extra large tiles on the start screen❓ Is there a trick, or are they not in this build❓

Id assume they arent in this build, cant get neither my 1520 not 925 to show it

In settings preference option

Hi Daniel, this feature have been on 1520 since the first preview for anyone who have hacked their way to updating. There's an easier way to get the keyboard out. Just hold on the Space button and drag left/right or you can even drag the entire keyboard to any part of your screen!

Also if you have another language it'll show up in the same menu , try it daniel
And hold the space bar and you can move the keyboard up or down as you want

You can also press and hold the space bar to move the keyboard up and down, left and right. It's kinda cool! :)

Can't wait to use it on my 1520 when a usable build is released. My daily driver. Can't wait!!!!!!!!

This is the same thing as holding and swiping the space bar left and right. But cool there is a keyboard shortcut...

But it was demonstrated by Joe Belfiore at the Jan 21st event. Weren't you sitting right there?

And Daniel you can add the language button again after its removed from keyboard settings

Looks like you didn't notice but if you hold the space bar you can drag It to sides as well as up and down ;)

You can also press and hold the space bar and move the keyboard to whichever direction you wish and native app text boxes respond accordingly. Doesn't work on installed apps like messnger. At first I had misgivings about the keyboard not being full screen even in portrait, but I've noted it improves typing considerably. However on my 1520, it shows evidently that this is just a technical preview: the back key does not take you to homescreen from app list or to the top of the homescreen when you're at the bottom; navigation is not that smooth; in Outlook email and other apps, auto-capitalisation in the keyboard doesn't work, nor does spell-check; I can't use built-in wallpapers for backgrounds and lockscreen wallpapers; some custom wallpapers have no panorama effect, as a result it shows black at the edges. Just to mention a few. I'll roll back to 8.1, but I'm encourage by the progress made this far. I hope the next build will be more stable.

The back key doesn't do either of those things in 8.1 either....

Hey Daniel do u know about moving Keyboard in 1520 if you just swype on Space key you can move whole keyboard in Page... it is amazing...

I thought the feature was pretty awesome when I coke across it. Daniel, do you notice the tiles go all crappy looking if you use the folders on your home screen? The icons are huge going off the tile and same with numbers/notifications on tiles.

Yeah I have that issue on my 1520 and 830, hope they fix that next build.

@Daniel Hold the space bar to move the keyboard anywhere, on my 1520, it won't review calls so I rolled back

I've never designed an app in my life. I don't have money to hire a developer so I should learn how to program and build something rudimentary. What programing language should I learn in order to design a system level keyboard app for use on Windows 10 touchscreen desktop and tablets? Thank you for all your kind responses.

I'd get in to the forums fella, there is a healthy crowd in most areas. I'm not a dev myself, but I know there is a dev section. I'm sure there are some Tha will wade in with some assistance.

You missed a couple of the new features ... Here's what I found ..
You can adjust how much the keyboard is away from the size by adjusting the "keyboard size" in the settings.
Also you can hold the space bar and move the keyboard anywhere on the screen (moving it to the sides switch's from the normal to right handed etc... And the emoticons have been slightly changed and new ones have been added.

Please What is the name of the program in the video ?

Mr. Daniel, why didn't you talk about the smart dialing feature?

I though Microsoft demoed this at their January announcement? Unless you're talking specifically about this build. Then I'll just quietly walk away... :)

I don't know, I just think splitting the keyboard is the best idea, one handed typing would be slow... Other than that pretty cool feature...

I've got Equaliser on GDR2 and I'm gonna stay with it till the next TP.

This feature is the one I suggested in user feedback. I don't know if I had a hand in this getting built out not. Glad it's in anyway.

Hard reset helps to disable the data connection and more imporatnt when I connected my lumia to computer with USB suddenly data connection begin active then I tried this Setttings > USB > Turn ON "Ask me before using USB data connection" TG this saved my life.

Need a demonstration for how to use this. So many missing keys.

Nevermind, just watched the video. The picture on the article had keys missing do I figured that was the normal setup.

I want to know double height tile available or not ?? In this build

Just tried it and won't work on my 920.

Good I have been looking for that

Mr. Daniel, why is no one talking about the much awaited smart dialer?

There's an easier way to do it, keep holding the spacebar and drag the keyboard either to the right or to the left, you could also drag it up. This feature has been there since the previous build.

I hope it will be supported on Lumia 625 as well, I find it so hard to use sometimes :)

Yeah, I could use this even on my 1020. Not sure why they would limit this feature to only certain sizes of screens. Let the user decide!

I have normal sized hands but I can reach all of the keyboard on my 1020 so I don't see a need for this feature. However I agree that they should just add it as an option for people with smaller hands. :)

one handed or one thumbed ?? :P :P

Can there be two thumbs on one hand? :D

Yes if you are mutated. But good luck finding a pair of gloves

Is the justification of the keyboard saved, or does it automatically return to its full size after closing the app or turning off the phone?

One handed keyboard is great, but the standard one not being full width is awful. Typo central. Plus if you tap the dead space on either side, the keyboard disappears - so I've sent about a dozen half finished texts since the send button is where backspace is.

That sounds bad :/ hope they fix it

You can change the width of the keyboard in the settings "keyboard size" just choose large and it will go as big as the old one ;)

On the 1520 even on large setting it does not go edge to edge

I hate those dead spaces.

Also if you have another language it'll show up in the same menu , try it daniel
And hold the space bar and you can move the keyboard up or down as you want

I hope this means that there is a new flagship phablet coming soon to replace the 1520 since it's no longer being sold by AT&T or Microsoft.

It could also just be for the 640 XL

It's not as strong or fast

I have this i m using in lumia 1520

That is clearly my most wanted feature of windows 10. a #Lumia1320 user suffering from one handed texting experience on a phablet.

Yes! Trying to carry something in one hand and text on the 1320 in the other just doesn't happen :P

I feel like Microsoft mentioned this during their Windows 10 event earlier this year.

I saw another video that if you press+hold the space bar you can move the keyboard around the screen

Omg that works too
Thank you for showing me something new

It also exists in my L1320.

Cool! Finally can have this feature

If MS cares so much about one handed use then why do they use hamburger menus? >_

I have no issues with the hamburger menu. The issue is its accessibility. If it could be accessed by swiping, the one handed issues would be reduced significantly.

Right, that's the real issue. But sometimes the hamburger menu is a problem although with the swipe gesture if you combine it with other gestures like in the new outlook mail...

Didn't you read that they still making future plans for 10 and that they still thinking of UserVoice mentions.
Give them a time!


I know that, but looking at the preview builds and leaks it seems like they're not joking with those menus.