Want a new PC? Enter the #MSFTback2school Contest (US Only)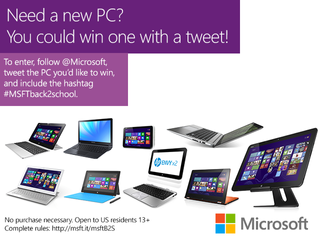 Unfortunately, we are approaching the back-to-school season already. Luckily, Microsoft is looking to get our spirits up with a summer giveaway. One winner will receive the PC of their choice, along with a one year subscription to Office 365 (Home Premium).
Entering the contest is easy; follow @Microsoft on Twitter and shoot them a tweet with the name of the PC you want to win. Make sure to include the "#MSFTback2school" hashtag in your tweet for it to count!
Microsoft states that the sweepstakes is open to United States residents who are 13 years of age and old. The complete list of rules can be found here.
If you don't carry a Four-leaf clover for luck, you can check out our last article about Microsoft's Windows Chip In program where you try to crowd source funds for a PC.
Alright, what are you waiting for? Get out there and tweet!
Source: The Fire House, Thanks to pbroy for the tip!
Get the Windows Central Newsletter
All the latest news, reviews, and guides for Windows and Xbox diehards.
Such a big surprise from MicrUSoft...

If it's not in US or China, it's not high tech.

Any PC? That's pretty awesome.

What's up with the US only all the time?

I'm more than certain that Microsoft, being an American company, has something to do with their promos/contests largely being US only. I don't know if its due to tax liabilities, costs, or just because its the only region with a budget, but come on...why complain about it EVERYTIME a contest from MS appears that is US only? There is a reason. Unbeknownst to most of us. Deal.
Edit: I apologize mohawk apple. As I was writing that, it wasn't directed to you specifically. Just built up over time. It was a gentle rant, I assure you.

Looks like they found a way to get rid of those surface rt's after all.

nah i just want new graphic card althought amd hd 7850 is doing pretty good job :)

I'm not a student, can I still enter?

Tough choice-- would I go with a surface pro or a really nice touch screen desktop PC? I'm not interested in laptops or any of the hybrids, just one or the other...

Argh. Total BS. Include Canada!

what if i'm not going back to school? can i still enter to win this contest?

I wonder if MS are even remotely aware of how much ill feeling all their USA only deals and competitions create.

Start a change.org petition for this cruelty.

"residents who are 13 years of age and old"

That, my friend, is a paradox.

Yes, it is (lol). It's a typo on WPCentral's end (but still good).