This Week in Xbox One News - 1080p bumps for PES 2016 and MGSV, new Fallout 4 info, Snoop Dogg's backwards compatibility request and more! (July 26th, 2015)
This week, we're looking at resolution bumps for MGSV and PES 2016, fresh Fallout 4 information, and Snoop Dogg's backwards compatibility request!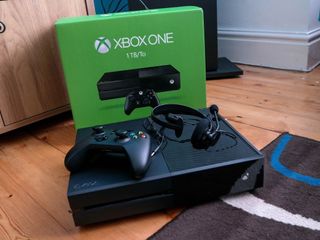 Welcome to our weekly ICYMI for Xbox news!
We'll still be posting major Xbox announcements in the main feed, but I'll be collecting some of the more nuanced news, rumours and talking points into one handy post every weekend!
So without further ado, here's our latest edition of This Week in Xbox One News.
New Fallout 4 details radiate from Quakecon 2015
Fallout 4 has been blowing minds behind the scenes at Quakecon 2015 this past week, owing to a series of panels and attendee-only gameplay footage. Our own Paul Acevedo has the full run down here, but here's a summary:
The level of detail is reportedly staggering, robots innards are fully modelled and exposed when killed/blown-up/melted.
Originally revealed at E3, over 1000 character names have been added to the game's dialogue. They include the most popular US names, but also some comedic ones with naughty language. Tut tut.
There's a full 'romance' system in the game, allowing you to form relationships with NPC companions (who, by the way, like Dogmeat 2.0, are invincible).
Terminal hacking and lock picking systems return, and function similarly to Fallout 3.
The game's factions will behave more intelligently, and the gameplay demo at QuakeCon showed large-scale battles between opposing groups.
Level-up perks are directly tied to the amount of stats you have. So having eight strength points will give you access to 8 possible perks relating to strength.
Fallout 4 looks like it'll shape up nicely. I'm fairly confident it'll blow away all the competition during the holiday season, perhaps including the annual Call of Duty outing. We're heading out to Gamescom 2015 in a couple of weeks where Bethesda are probably going to reveal even more new information.
Rapper Snoop Dogg rallies fans to vote for NCAA Football 14 to hit backwards compatibility
In one of the more unexpected headlines of the week, rapper Snoop Dogg has asked Xbox fans to vote for NCAA Football 14 to hit the backwards compatibility line-up. Snoop Dogg rallied support on his personal Instagram account, stating "We need. 10000 votes."
As of writing, NCAA Football 14 is sitting pretty on 6,489 votes, gaining well over 2000 in 4 days. Regardless of the votes, Snoop Dogg may find himself disappointed as the NCAA Football series suffered a high-profile licencing lawsuit, between EA and former college football students. The Xbox team noted previously that licencing issues may prevent certain titles from hitting the Xbox One backwards compatibility line-up. Hopefully EA and the NCAA will pull through for the fans.
Guillermo Del Toro and Hideo Kojima are still planning to work together despite Silent Hills cancellation
Earlier this year, Konami cancelled the upcoming Silent Hills game, co-developed between Hideo Kojima (Metal Gear Solid) and Guillermo Del Toro (Pan's Labyrinth), following mass reports of turmoil between Kojima and Konami. Despite Konami's frankly absurd behaviour, Hideo Kojima and Guillermo Del Toro still plan to work together according to a quote published in IGN:
Despite an avalanche of positive feedback and the involvement of The Walking Dead's Norman Reedus, it seems that chances of Silent Hills ever seeing the light of day are zero. Hopefully whatever Kojima and Del Toro decide to work on picks up the spirit of P.T. and Silent Hill because the future of the franchise seems dire in the hands of Konami.
PES 2016 boosted to 1080p on Xbox One thanks to SDK updates, bodes well for MGSV: The Phantom Pain
It's not all doom and gloom in the Konami camp, at least for the resolution concerned.
One of the more annoying resolution disparity stories from last year was Metal Gear Solid V: Ground Zeroes, which was 1080p on PS4 but a measly 720p on Xbox One. Both Ground Zeroes and the upcoming Phantom Pain run on Kojima Productions' Fox Engine, which also powers the upcoming Konami football game PES 2016.
PES 2016 developer Adam Bhatti recently tweeted that the game has hit 1080p on Xbox One:
In separate news, French gaming site Gamekyo reported that The Phantom Pain will also be 1080p on Xbox One. The information reportedly came from Konami's Julien Merceron, who heads up technology for Konami's Fox Engine:
Konami has a sizable presence at Gamescom 2015 likely owing to MGSV: The Phantom Pain's imminent September release. We'll try to get some confirmation on the resolution then.
ICYMI - Some of Windows Central's biggest Xbox articles of the week
Fallout 4 at QuakeCon: Blow-by-blow panel impressions
China to allow sales of Xbox One and other game consoles in entire country
10 ID@Xbox games that aren't on your radar but should be
New Xbox One game releases for the week ending July 26th, 2015
Q.U.B.E: Director's Cut (opens in new tab) - Puzzle - Grip Games / Toxic Games
"Q.U.B.E: Director's Cut is a brain-twisting first-person puzzler. Using special high-tech gloves, you manipulate the environment around you – build bridges, shift walls, open new paths - in order to journey deep into a mysterious giant cube hurtling through space towards Earth and destroy it from within before it eradicates all life on our planet!"
Game of Thrones - Episode 5: A Nest of Vipers (opens in new tab) - Adventure - Telltale Games
"Episode five of a six part episodic game series set in the world of HBO's groundbreaking TV show."
F1™ 2015 (opens in new tab) - Racing - Codemasters
"Race like a champion in F1 2015 - get closer than ever before to the experience of racing in the world's most glamorous, exciting and prestigious motorsport."
TEMBO THE BADASS ELEPHANT (opens in new tab) - Platformer - GAME FREAK inc. / Sega
"Shell City is plunged into a state of emergency after coming under attack from the devastating forces of PHANTOM. As the National Army struggle to contain the terrifying war machines, they call upon the only thing that stands between Shell City's obliteration and its salvation; the peanut chompin', villain stompin', TEMBO THE BADASS ELEPHANT!"
And that's a wrap!
I've been cheating on my Xbox with the PC exclusive World of Warcraft this week, I feel dirty for relapsing. The next title I'm hyped for is MGSV: The Phantom Pain, which remains over a month away. If I can pry myself away from WoW, I'll be running through The Evil Within and perhaps the older Metal Gear titles to prepare myself for Kojima's bittersweet swan song. What will you guys be playing over the summer?
Jez Corden is a Senior Editor for Windows Central, focusing primarily on all things Xbox and gaming. Jez is known for breaking exclusive news and analysis as relates to the Microsoft ecosystem while being powered by caffeine. Follow on Twitter @JezCorden and listen to his Xbox Two podcast, all about, you guessed it, Xbox!
Love Xbox news thanks windows central!

Does anyone has problems changing their Xbox region. I travel to the Caribbean so I changed my region and now I'm trying to change it back, since I have return to the states after 4 months but I keep getting an error saying 'a glitch was found'?

Keep the news coming in guys!

At least Kojima + Co and Del Toro are still working together or planning to (hoping it's the former). I'm trying to refrain from reading anything fallout 4 related lol. Because I know, the more i read the more i'll want to play fallout again and subsequently become addicted to several day stints lol.

I might have to book time off work for it. Looks so good.

Yay to Kojima and Del Toro!

"No ps4 cuz ps4 sucks ass" hahaha

Lol I saw that too and chuckled.

That implies PS4 has lips... Yet another feature missing from xBone... Boo-urns

So um.... About that MGSV screenshot..... Lol

That engine was horribly optimized for the Xbox One though, should have been 900p with the old SDK:s. I'm glad that Konami is getting their act together.

I would like it if you could turn off companion invincibility in Fallout 4. You would be so much more focused on your team if you knew that one wrong move could kill the character you'd been romancing for the last forty hours.

Might be in the hard mode, I'll ask about difficulty modes at Gamescom.

It's not a deal breaker, but it would definitely add an extra element of attachment, kinda like with the fire emblem series.

Personally, I like not having to babysit my companion. You can't control them and it seems to be a constant distraction. Bioshock did the same thing in their last release. I understand where you're coming from, but there are reasons they would do it.

"dankswag420getrektm8: No ps4 cuz ps4 sucks ass" I'm sure he gets all of the no scopes and bangs all of your moms.

Snoop should make his App available for windows phone first

Good to hear. Playing games in a measly HD resolution (720p) like animals isn't for me.

For those that don't know PES = Pro Evolution Soccer. Had to google it.

Thanks. Was about to look that up myself.

You guys don't know about PES? :|

Hadn't heard of it until this article, which manages to never mention what it even is. Just that its getting more pixels

I need to stop presuming people know about every game, PES is probably bigger in Europe. Apologies.

I think Americans are more familiar with Winning Eleven, than its present incarnation of PES.

I will be playing games needed to catch up on

Df you talking about.... Lol

Who cares about pot smoking snoop stoned dog.

I'm quite surprised more kids aren't clamoring for NCAA football.
Windows Central Newsletter
Get the best of Windows Central in in your inbox, every day!
Thank you for signing up to Windows Central. You will receive a verification email shortly.
There was a problem. Please refresh the page and try again.