This Week in Xbox One News - Killer Instinct's ARIA, Xbox One 1TB SKU, Gears of War remake revealed and more! (May 10th 2015)
This week, we're looking at Fallout 4 rumours, a possible 1TB Xbox One SKU, Killer Instinct's final season 2 character, Gears of War remake and more!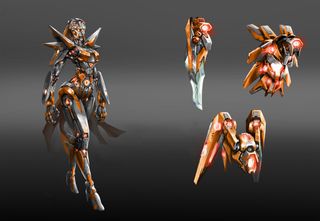 Welcome to our weekly ICYMI for Xbox news!
We'll still be posting major Xbox announcements in the main feed, but I'll be collecting some of the more nuanced news, rumours and talking points into one handy post every weekend!
So without further ado, here's our latest edition of This Week in Xbox One News.
Gears of War: Ultimate Edition passes through Brazilian classification board
I'd take this as confirmation that Gears of War is indeed preparing an Xbox One outing. The Brazilian classification board has revealed the game, dubbed Gears of War: Ultimate Edition.
The listing touts Microsoft Studios as the publisher and Splash Damage as the developer. Splash Damage has a big "Unannounced Project" on their games page, and has been hiring for a "triple A" franchise for some time.
Gears of War: Ultimate Edition is widely expected just to feature the first game, but if successful there's no reason Splash Damage can't move on to Gears 2 and 3 (leave Judgement out though, please).
Fallout 4 will be at E3 claims an 'insider', with a 30-minute gameplay reveal
Take this rumour with a pinch of salt. I find that 'insider' leaks tend just to be best guesses, but from what we know about Bethesda's E3 conference so far this one could turn out to be true. The German site PCGames has reported that Bethesda will be showcasing 20-30 minutes of Fallout 4 footage
For Bethesda to commit to their own conference at E3 (which carries an expense) must indicate they have something big to show off. Only a new Elder Scrolls or Fallout fits the bill in my mind and like many fans of the internet, my bottle caps are on Fallout.
Keen fans noticed that the recent Wolfenstein: The Old Blood has vending machines serving Fallout branded beverages pictured above (via GamingBolt). Are those sly dogs at Bethesda teasing us with hints of things to come? We'll find out the truth in just over a month.
Killer Instinct's season 2 closes with ARIA, the cybernetic CEO of Ultratech
Season 2 of Killer Instinct has seen Iron Galaxy go above and beyond to diversify the roster. We've had Aganos and his unique rock resource mechanic, Hisako and her extended capacity for counters, in addition to the return of classics like Cinder.
Season 2 will close featuring ARIA, the robotic CEO of Ultratech. ARIA was originally an AI designed to seek out and eliminate humanities biggest problems, such as disease, famine, poverty, etc. After her creator died, his will included instructions to allow ARIA to continue her runtime unabated. To find out what happened next, KI fans will need to go hands on with Season 2's story mode, which will arrive with ARIA this June.
As you can see in the concept art, ARIA is composed of 3 parts which are transferable during a match. Each drone you assume control of will provide ARIA with unique punch specials and other additional properties. The official KI forums offered some detail:
Booster Drone builds a body capable of incredible air manoeuvrability and has an air / ground rush attack move. You can see Booster Body in the teaser, as this Drone looks like wings and uses prototype sonic technology to help ARIA hover.
Blade Drone builds a body with a sword arm that uses prototype sonic vibration tech. It is capable of rushing slashes, an invulnerable uppercut, a grounded overhead, chip damage normals, and increased poke range.
Bass Drone builds a body with a prototype sonic cannon in the chest and can deliver high, low, and anti-air multi-hit projectiles that travel at sonic speeds.
The drones not being controlled float freely behind ARIA, and are available for take over via certain combo enders, idle commands and even when downed. They can also be used for assists, which is rather insane. At least it would be insane, if ARIA's hp wasn't divided between them. Players using ARIA will have to protect the drone cores, and be wary when it comes to their use. Each core has a third of a total player's health bar, and do not recover as easily. Additionally, you cannot 'down' ARIA, you must simply destroy all of her drones to win. Once killed, a drone doesn't recover for the remainder of the fight.
For more detail be sure to check out the Ultra Combo forums here. I am looking forward to that story mode!
Metal Gear Solid V still exists, Konami US employee speaks out
If you follow the constant drama encircling Konami like a whirlwind you'd be forgiven for worrying about Metal Gear Solid V. Konami has killed Silent Hills, Kojima and Guillermo Del Toro's take on the iconic horror franchise; the publisher is reportedly axing Kojima's contract once MGSV is out of the door and there's all sorts of weird rumours about mistreatment of Kojima Productions staff at the hands of Konami.
That said, a Konami game developer recently penned a couple of tweets that may reassure fans. The tweets emphasise that Kojima is still hands on at the studio, and that the studio is doubling down working extra hours to ensure MGSV hits its September launch date.
In addition, Tora Shiro who works at Konami US recently took to NeoGAF to reassure fans that the company is listening, but considering a lot of the drama is taking place between the suits at Konami HQ in Japan, I wouldn't be particularly optimistic about this one.
It seems unlikely to me that any amount of bad blood between Kojima and whoever else could stem the tide of millions of dollars worth of Metal Gear. We'll just have to continue to be patient.
1TB Xbox One SKU on the way?
Spanish outlet LameeSoftware has listed a new 1 terabyte Xbox One SKU, apparently set to arrive on June 23rd. It seems likely that something like this could be on the way, especially considering 1TB Xbox One's already exist in limited edition form.
The limited storage available in the base SKU has many of us running external hard drives, and the problem will only get worse as time goes on. The Witcher 3 sports a whopping 50GB installation cost on both Xbox One and PS4, and I dread to think how much a potential Fallout 4 could swallow.
Xbox 360 gamers ready to make the plunge on next-gen might find this future-proof solution more attractive, but considering external HDDs can often boost load speeds with faster RPM and USB 3.0, they might in theory be worse off. Time will tell.
Oculus Rift for Xbox One?
We all know about HoloLens, Microsoft's augmented reality headset, but what about VR gaming? Gamespot has reported that Oculus vice president Nate Mitchell has spoken to both Sony and Microsoft on supporting Oculus Rift for their respective consoles.
Considering the rumour that Sony's Project Morpheus will share a launch window with the Oculus Rift, and that HoloLens doesn't compete directly with the stereoscopic VR offered by Oculus, it seems that an Xbox partnership could be a good fit for the device.
ICYMI - Some of Windows Central's biggest Xbox articles of the week
Check out the new 'Rage & Steel' Witcher 3 trailer, ahead of its May 19 launch
Xbox One to add TV DVR features sometime in 2015, claims new rumor
New Xbox One game releases for the week ending May 3rd, 2015
Slice Zombies (opens in new tab) - Kinect Slasher - MADE GmbH
"Slice Zombies for Kinect is the ultimate Kinect experience for your Xbox One. Well, so the zombie apocalypse is long over and there are still thousands of zombies left. So what do we do with them now? It's easy! Step in front of your Kinect and use your hands to cut, grab and shoot zombies into little pieces."
Ultratron (opens in new tab) - Twin Stick Shooter - Carbon
"Experience the addictive gameplay of old-school arcade favourites, updated for the 21st century, with unique upgrades, player responsive difficulty, and a subtle system of tactics combined with classic gameplay."
Shadow of Mordor: GOTY Edition (opens in new tab) - Action Adventure - Monolith
"Winner of over 50 "Best of 2014" Awards including Game of the Year, Best Action Game and Most Innovative Game. Experience the definitive version of Middle-earth: Shadow of Mordor which includes The Lord of the Hunt and The Bright Lord story missions, the Trials of War challenge series plus additional Warband Missions, Runes, & Skins."
Wolfenstein: The Old Blood (opens in new tab) - FPS - Machine Games
"Wolfenstein: The Old Blood is a standalone prequel to the critically acclaimed first-person action-adventure shooter, Wolfenstein: The New Order. The adventure, which spans eight chapters and two interconnected stories, features the hallmarks of MachineGames – thrilling action, immersive story and intense first-person combat."
And that's a wrap!
What have you guys been playing this week? I've been crafting some mines and blastin' some Nazis in Wolfenstein: The Old Blood. I think it'd be quite cool if the Wolfenstein reboot took place in the same universe as Fallout... hmm. Any Fallout buffs around here? Would it conflict with any existing lore? Hit the comments!
Windows Central Newsletter
Get the best of Windows Central in your inbox, every day!
Jez Corden a Managing Editor at Windows Central, focusing primarily on all things Xbox and gaming. Jez is known for breaking exclusive news and analysis as relates to the Microsoft ecosystem while being powered by caffeine. Follow on Twitter @JezCorden and listen to his Xbox Two podcast, all about, you guessed it, Xbox!
It should have came with 1tb in the first place now that games install in order to be played. It's literally just a crappy PC. AMD APUs are faster than that damn thing

Hope Metal Gear Solid survives. I've been playing that franchise since the 80's starting with Metal Gear on the Nintendo! :-)

Agreed, but honestly, I like my 3TB external 7200rpm USB 3.0. I'd rather get my Xbox cheaper like I did, as it only cost me a extra $112. You aren't going to get that kind of deal on the 1TB Sku.

Since Sony did the same thing its probably the thing that made the most sense from a manufacturer's POV. I mean if you there on day one for the 360 how many times did you upgrade your HDD? 2, 3, more? The external HDD is actually a good solution.
Think of it like the PS1 era when we kept everything on memory cards. Only now our memory cards are 2TB.

The XBOne's CPU actually is an AMD APU.

I though Witcher 3 was 25GB.

GoW remade at $60, no thank you. GoW remade for a reasonable cost, yes, please. Or better yet remade and bundled as all three game, winsauce.

Remember what happened with the last multi game remake?

That was just one, look how many have come out this generation so far.

All of these remakes should be at the most $40.

Street fighter is getting a remake. Its selling for $25 with all DLC included. That should be all remakes.

Definitely. No more than that, considering they packed..what.. 4 games in that Halo MCC.

There would be no need for remakes of last-gen games if the consoles were backwards-compatible. If it was some old game series from the original XBox I would fully understand, especially if the remake was made with the same level of effort as Oddworld Abe's Oddysee - New 'n' Tasty (not half-assed crap like Resident Evil 'Remaster' or the Prince of Persia Trilogy "HD" remake for PS3 with the awful tinny audio). But this.....Gears of War didn't look bad when it launched but there's certainly no need for a remake. And I don't trust companies when they say "no, it wouldn't be possible to integrade this feature or disable that feature" because they often straight up lie (weren't we told that it was impossible to remove the always-on DRM from the XBOne?).

We were never told that, and the backwards compatibility thing is a serious issue. It takes engineering to get games to run on multiple architectures, bro.

First: I'm not your "bro". Second: It takes a simple chip to enable it. Sony had it in their PS3 at first (the very first 60GB version) - both PS1 and PS2 games were playable - and removed it from later versions so they can sell people games they already own. This whole "it's a hardware issue because of the different architecture" is a) and excuse and b) on purpose (backwards compatibility takes away the chance to sell you the games you already own for an older console, so it's not wanted). And yes, they kinda did. "We can't just flip a switch to turn off DRM. The console was built around it." - Major Nelson. And what a surprise, they kinda just did flip a switch and it was turned off.

"[W]hat a surprise, they kinda just did flip a switch and it was turned off". Not true at all. They spent months frantically reworking the system. It's the main reason why the Xbox One launch was delayed 10 months in the majority of markets it launched in and why it launched with such a paucity of features in the few markets it did actually make its original release date in. The irony of the situation is that the original Xbox One policies were superior.

"(weren't we told that it was impossible to remove the always-on DRM from the XBOne?)." There NEVER was an "always-on DRM" on it. There was a 3 kilobyte big signature file that needed to be updated once every 24 hours to be able to go purely digital downloads + one-time discs and give us the ability to borrow, sell and trade digitally downloaded games. Please get your facts straight.

Nitpicking, aren't we? What is your point? I simply used the term that was used by every major website. I didn't create the term, so don't blame me for using a term everybody knows.

Actually, you ARE my brother. We were in the same farm as spuds. The farmer looked away one night and then you were gone, taken by poachers. It's so good to see you again, brother.

I don't get the Judgment hate? I thought it was a very solid addition to the lineup of Gears games.

Campaign was good actually.

I didn't like the changes to the controls. Don't mess with something that's perfect.

Subtle changes at most. Scoring was cool.

It wasn't subtle changes at all, I liked the game too but it was nothing like the previous 3.

"nothing like the previous 3". Haha, you trippin', son! It's Gears, through and through. 3rd person, cover based shooting at its finest. Sure, the mp was not as good, but every ounce of that game bled the Gears formula. With a scoring system in place to enhance replay ability.

I discovered that even when you buy a game disk, XB1 will still dump a lot of data on the hard drive...as a result I promptly went put and got a 6TB hard drive...I store nothing on the console's drive...I've found no issues with the setup and games play smoothly...

Yeah, it still installs the full game. Bluray drives aren't fast enough to handle the amount of information needed at any given time.

Halo was like, "Gee there's a lot of room here...I think I'll take it."

I keep apps on the interns and games on the external. Makes more sense for when I want to play my games on a friend's system.

I arleady have a 1TB Xbox with 3TB Hard Drive but its good that there will be a widely available standard version of the console. 500GB is just too small for this generation. I never played Silent Hills and will never have a chance to play it :( I cant wait for the new Fallout even though I never played Fallout. Homestly, I think this MGS will be the last good Metal Gear Solid since Kojima is leaving

Wow man and I thought I have Aron of downloaded games. I need to start buying disc games just in case I wanna sell a game. I haven't bought one disc game yet

Would never pay £60 for a digital copy of a game. Would rather buy the physical game and get some fancy artwork as well. Would pay £20 tops for a digital copy.

Oculus Rift for XB1? No... The HoloLens doesn't directly compete with it, however, at the announcement of it, they asked Oculus to come develop with them, pretty much saying to ditch your project because its already old tech. Plus, Facebook bought it out Oculus VR, who knows what will happen

The brazil boards one is basically confirmed as fake as if you search yourself on the classication boards it is not there the same person who original posted this trolls people using the brazil rating boards he had dishonored remastered edition and a few other titles sopposdlly announced by this. I am not saying the gow remake dosn't exist other evidence says it does but I wouldn't put much faith in this rating board

Is the Brazil rating board that easy to game?

yea to fake it you put just the title you want on any game its really easy to fake, but yea you can search yourself http://portal.mj.gov.br/ClassificacaoIndicativa/jsps/ConsultarJogoForm.jsp and the other major troll he did http://gearnuke.com/dishonored-might-getting-definitive-edition-ps4-xbox-one/

I, for one, cannot wait for the white slim Xbox One with white Kinect.

I guess Konami have forgotten how valuable Kojima and his team are......

konami is just going to cut its loss in the console market and go back to there other business, most forget that konami is not a video game company in the sense that others are, its just one of there visions there main money comes from trading cards, anime and slot machines (they are the primary developer for them in japan), If the next metal gear fails they will basically stop making console/pc games let hudson make there mobile phone games and we won't hear of konami again but they will still be banking a ton of money in japan on other revenue streams

Call your buddies at western digital or Seagate and bundle it with an external hdd.

Gears Remake AND Fallout 4?? Commence me being a broke ass again lol.

Aria :o ,too anime, but its ok, what I like about xbox and KI is that is not anime. Even for trailers and presentations (Not cinematic sht), they use in game graffics. I guess Im getting old cuz Im sick of anime. Happened to me and its gonna happen to you, ..if you grow up....wah ha ha.... I barely play anyway.

Excellent roundup guys, thanks!

Silent Hill will be back some day. Too notable an IP to disappear.
Fallout 4? Dreamy, can't wait.

Sadly, great and notable IPs have died before. SEGA alone is sitting on at least half a dozen amazing ones. Nights, Burning Rangers, Panzer Dragoon, Jet Set Radio, House of the Dead, etc.

Shenmue, Phantasy Start Online, Ohh no wait somone made PSO but called it "Destiny" lol.