This Week in Xbox One News - Halo 5 on PC? Kojima leaves Konami? Quantum Break too easy?
This week we're looking at the possibility of Halo 5 on PC, Ubisoft's new shareholder, fresh details about Quantum Break, and Hideo Kojima's "vacation" from Konami and more!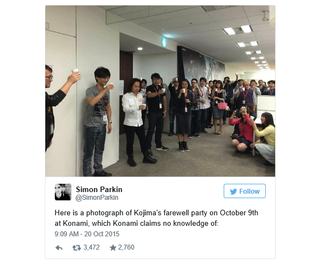 Welcome to our weekly ICYMI for Xbox news!
We'll still be posting major Xbox announcements in the main feed. However, I'll be collecting some of the more nuanced news, rumors and talking points into one handy post every weekend. You can also rely on this weekly column to keep up to date with all the latest game releases too.
So without further ado, here's the latest edition of This Week in Xbox One News.
Microsoft clarifies Frank O'Connor's statements regarding a possible Halo 5 PC port
Earlier this week, Halo's franchise director stated during a GamesRadar interview that it's not "out of the bounds of reason" for Halo 5 to hit PC:
In full context, Frank O'Connor simply stated that it's theoretically possible from a technical point of view. I think it's fairly obvious that O'Connor is simply sharing his opinion as someone who's been following Microsoft's ecosystem convergence efforts. Still, Xbox marketing head Aaron Greenberg had to debunk the swirling rumors about Halo 5 for PC, stating:
I think it would frankly be a bit odd should Halo 5 randomly hit PC, skipping over ODST, Reach, 3 and 4. It's far, far more likely The Master Chief Collection would hit PC first to bring that audience up to speed on the story without having to hit YouTube. Halo: MCC has probably exceeded its ability to sell consoles at this point.
Halo has tremendous leverage as a series, and right now, it's hard to dispute the idea that its impact is best served to help sell the Xbox One. I do believe the plans could change in the future, however.
Phil Spencer has gone on the record to say that Windows gaming forms part of his responsibilities. A big Halo banner would undoubtedly drive users to the Windows Store. I don't think any core PC gamer could glance over the current store's free-to-play laden game area with enthusiasm. We know that Gigantic, Fable Legends and Killer Instinct will all soon arrive on the Windows Store to spearhead Microsoft's renewed interest in PC gaming. Once Halo 5 has finished its initial console-selling push on Xbox One, it seems like bringing Halo's core games to PC will be something worth exploring. For the foreseeable future, though, Halo 5 is firmly a Xbox affair.
What do you think? Would Halo 5 on PC be good for Microsoft? Let us know below, and don't forget to tune into Windows Central around 7 hours from now for our comprehensive Halo 5 review!
Halo 5: Guardians launches exclusively on Xbox One on October 27th, 2015.
Kojima leaves Konami, or does he?!
Earlier in the week, the New Yorker reported that the creator of Metal Gear Solid, Hideo Kojima, had finally left Konami. The news follows months of reported turmoil between Kojima's production company and Konami during the development of Metal Gear Solid 5: The Phantom Pain. The New Yorker followed up their piece with a photograph, purporting to show Hideo Kojima at a leaving party, which is supposed to have taken place on October 9th.
Konami, initially refusing to offer a comment, later followed up with a contradicting statement, implying that Kojima is simply on vacation.
Hideo Kojima is reported to have a non-compete clause in his contract, essentially meaning he's unable to work in the industry in a way that competes with Konami until after December. Konami has insisted that Metal Gear Solid games will still be made after MGSV, but given the haphazard end product and their treatment of Silent Hill, I'm not sure that's a particularly great idea. Let's hope they prove me (and many other fans) totally wrong.
Quantum Break concerns addressed by Remedy's Thomas Puha
Remedy's time-bending Quantum Break looks utterly incredible, but as someone who feels a tad fatigued by third-person cover shooters, I've had some legitimate concerns. Thankfully, Remedy's PR head Thomas Puha recently took to NeoGAF to discuss the game, putting some of those concerns to rest.
Puha initially discussed concerns about game balance in Quantum Break. The game's main character, Jack Joyce, can manipulate time at will, slipping out of view from enemies as time slows around them, and creating fields of frozen time to trap bullets and assailants alike. During the presentation I saw at Gamescom, the developers did note that balance was an on-going process and that the frequency of the game's time powers had been ramped up to accommodate the trailer length. Puha reiterated the above, adding that Remedy has improved the game's AI, granting enemies will new abilities to counter Jack's time-warping attacks:
For those who think Quantum Break seems a little too linear, Puha went on to note that it does in-fact feature exploration and NPC interactions beyond the incessant planting of bullets.
We're only just hitting the full swing of 2015's insane holiday line-up, and it seems there's already plenty to look forward to in 2016. Are you hyped for Quantum Break?
Quantum Break launches exclusively for Xbox One on April 6th, 2016.
Vivendi muscles in on Ubisoft purchasing a 10.4 percent stake
French media company Vivendi, recently purchased a 6.6 percent stake in Ubisoft, and has since upped it to 10.4 percent according to a Bloomberg report. Notably, Vivendi previously held a controlling share of Activision Blizzard, who bought out Vivendi's stake in 2013 with some controversy, becoming independent in the process. Since the loss of Activision, Vivendi hasn't had a great deal of involvement in the games industry, but they could be looking to change that.
Ubisoft CEO Yves Guillemot described the initial purchase as unwelcome:
CEO Yves Guillemot probably has good reason to worry, considering the bad blood between Activision's Bobby Kotick and Vivendi chiefs prior to their split. Regarding the purchase, which also includes a stake in Gameloft, Vivendi noted that they was part of a wider strategy for their sizable content portfolio, which includes Universal Records and DailyMotion.com:
Guillemot's comments suggesting that Vivendi lacks the expertise to be successful in the video games industry is probably unfair, considering Vivendi Games oversaw World of Warcraft during its most profitable period before Blizzard's merger with Activision (which, also seems to mark the beginning of World of Warcraft's decline). Still, Ubisoft has been nothing short of a roaring success without Vivendi's billion dollar involvement. This story is one to watch.
ICYMI - Some of Windows Central's biggest Xbox articles of the week
Fallout 4 has gone gold; UK residents can celebrate with Fallout Beer
New Xbox One game releases for the week ending October 25th, 2015
Adventure Time: Finn and Jake Investigations (opens in new tab) - Action & Adventure - Vicious Cycle Software
"What time is it? It's time to crack a case! Adventure Time: Finn and Jake Investigations is an all-new, story-driven graphic adventure game. Strange stuff is happening in the Land of Ooo (stranger than usual anyway). Luckily, Finn and Jake are on the case."
Instant Indie Collection: Vol. 2 (opens in new tab) - Action & Adventure, Puzzle & Trivia, Sports & Recreation - Curve Digital
"Hack, steal and sneak your way around victorian steampunk London in The Swindle, explore space in a quest to rescue 111 scientists caught in the aftermath of the universe's greatest experiment in Nova-111, and throw down your best stunts and tricks to become the ultimate BMX star in Pumped BMX +."
Assassin's Creed® Syndicate (opens in new tab) - Action & Adventure - Ubisoft
"London, 1868. In the heart of the Industrial Revolution, lead your underworld organization and grow your influence to fight those who exploit the less privileged in the name of progress."
Layers of Fear (Game Preview) (opens in new tab) - Action & Adventure - Bloober Team
"Layers of Fear is a psychedelic adventure horror game about a madness-engulfed insane painter striving to create the work of his life. You will learn the dark story of his past while gathering carefully crafted personal items that can be found in the game."
FORCED (opens in new tab) - Action & Adventure - Beta Dwarf
"Forced is a one- to four-player co-op arcade action RPG with puzzle and tactical elements. You are cast as slaves in the toughest fantasy gladiator school of them all, condemned to fight as a gladiator and eventually win your freedom."
Life Is Strange Episode 5 (opens in new tab) - Action & Adventure - DotNod Entertainment
"Max learns that time is impossible to control as she moves inexorably towards the most agonising decision of her life. Life Is Strange: Polarized is the Season Finale of a five part series that sets out to revolutionise story based choice and consequence games."
Hasbro Family Fun Pack (opens in new tab) - Card & Board - Ubisoft
"The Hasbro Family Fun Pack includes Monopoly, Scrabble, Trivial Pursuit and Risk all in one compilation! The original games become more fun and interactive than ever on console!."
Overlord: Fellowship of Evil (opens in new tab) - Action & Adventure - Codemasters
"Step into the warped fantasy world of Overlord: Fellowship of Evil, the dark and twisted Action RPG filled with the series' signature black humour!"
Just Dance® Disney Party 2 (opens in new tab) - Family & Music - Ubisoft
"Just Dance and Disney are back with Just Dance®: Disney Party 2! Be ready for: ♦ Best songs from this summer's hit movies: Descendants, Teen Beach Movie and Teen Beach 2!"
Just Dance® 2016 (opens in new tab) - Music - Ubisoft
"Introducing Just Dance 2016 - the newest game from the top-selling franchise - with a brand new way to play! Bust a move to "Uptown Funk" by Mark Ronson Ft. Bruno Mars and feel the beat in "All About That Bass" by Meghan Trainor!"
And that's a wrap!
This week I've been soaking up the radioactive glare of Wasteland 2: Director's Cut, hyping myself into madness for Fallout 4. Next week I'm going to write up some of the things Xbox fans can look forward to in 2016, and discuss Microsoft's focus on Xbox Live engagement as a measure of the Xbox division's success.
What have you been playing this week? What do you think of this week's news? Hit the comments!
Windows Central Newsletter
Get the best of Windows Central in your inbox, every day!
Jez Corden a Managing Editor at Windows Central, focusing primarily on all things Xbox and gaming. Jez is known for breaking exclusive news and analysis as relates to the Microsoft ecosystem while being powered by caffeine. Follow on Twitter @JezCorden and listen to his Xbox Two podcast, all about, you guessed it, Xbox!
Leave it on the console and steam to your pc if that's what you want...

Why wouldn't you want PC gamers to get their hands on Halo 5? Genuinely curious.

Well, I've only ever heard of someone buying any Xbox console strictly because of Halo, if it was released on Windows, a lot of people who were planning on buying an Xbone wont, Microsoft then loses customers for Xbox Division.

No one buys Xbox for Halo unless they've already had a previous Xbox with Halo.

As much as I welcomed consoles and appreciate the convenience of sitting in the living room in front of the big screen, I didn't enjoy gaming as much as I did on PC's. The last tine I played Halo was on a PC and looking forward to major titles returning with Windows 10.

I second that. Microsft is loosing a lot of revenu by not having a PC port. Like you I have't touched Halo since it was on PC.

Soon will be Nintendo's chance to take Kojima in, according to legend.

Haha, not sure if Kojima's signature themes really match Nintendo's style...

but they have good relations.

Ehm... Nintendo released his MGS3 (snake eater) for n3ds... And there're other games in Nintendo gaming park (first and third party) not exactly "for family/casual" (zombieU or resident evil, for example)

As a third party though, can't see MGS-style game with Nintendo branding, but who knows!

But it ACTUALLY already happened T.T The last one released for a Nintendo console was a remastered, 3ds-version of Snake Eater, but in the past "Big N" had also released a couple of other MGS (on NES, GBColor and GameCube, altough one of the two on NES wasn't canonical, and the one on the gbc was a canonical spin-off)

Don't forget the Nintendo gamecube had nudity in bmx xxx while Sony censored the copy on the PS2.

It was published by Konami as a third party title though, I just can't see the sexual/violent themes Kojima is known for flying under the Nintendo brand, as a Nintendo first-party game, developed by Nintendo etc.

Even bayonetta 2 and devil's third haven't actually "Nintendo usual content", but they are WiiU exclusives (still second/third party, but de facto exclusives) And Nintendo censored them only 'cause "they are too violent/explicit" (altough they shouldn't have published DT since that's a horrible game) So, same should apply to kojima's (may be) works

Kojima doesn't seem like the type to accept censorship :P

Sorry, i rephrased my two last sentences a few seconds before sending, and i omitted a fundamental "hasn't" before "censored"

Hasn't Konami already stated that all triple A titles are done for except some soccer one? Has there been some back tracking now?

Maybe they'll make budget MGS?

No backtracking. They could still make MGS on phones, handhelds or even pachinko. They probably just couldn't justify making another numbered entry/official sequel.

Nah, there was a report they'd finished everything except soccer, but they released a statement saying there would be more mgs/sh console games, but, eh, it's just words at this point.

I've read that news - it just says they are done with AAA console titles except Winning Eleven which is still a money maker for them. This does not conflict with them making say, a mobile MGS card battle game for iOS for example (don't forget there was such a title on the PSP), or a pachinko game using MGS, which will all be examples of a MGS title yet also not a AAA title in the traditional sense of a properly numbered entry in the franchise ie MGS, 2/3/4/5 etc. So Konami is not back tracking in anyway if you decipher the corporate speak correctly.

Idk, the language in this statement certainly looks like they want us to think they're still developing MGS/SH for consoles.

Quantum Break looks really cool. I would really like to see how they pull off putting a TV show into a game. Also, I really wonder what happened to Recore. I mean, they showed it once and it just disappeared. Would like an update on that one.

Yes! That Recore trailer looked great, I was wondering about it the other day.

2016 is gonna be awesome.

Today I learned Blizzard is related to Activision. My heart is broken. I don't understand why how Blizzard makes good games if they have ties to Activision O.o Posted via the Windows Central App for Android

It's been almost 8 years. It's not THAT recent. It was pre-Wrath.

I think Blizzard had the power to basically say to Activision, "get our games onto shelves but shut up if you want to throw in your two cents, we will make you money".

"It's far, far more likely The Master Chief Collection would hit PC first to bring that audience up to speed on the story without having to hit YouTube. Halo: MCC has probably exceeded its ability to sell consoles at this point." 100% agree on this. I think building a PC-specific version of TMCC would make more sense. However, unless they gutted the multiplayer and built it from the ground up, I don't see how they'd end up with anything other than another clumped-up mess where the different online services from each game tripped over each other, like on the One. As much as I have hated the remake/remaster/port generation this has been, I think any attempt to put the franchise on PC should come in a full rebuild of the series. Just ramp up the visuals and get everything on one networking backbone. TMCC HD+, with Reach and ODST in full form, would be awesome.

It's a shame it's so broken because its premise has so much potential. Through dlcs you could have the entire halo saga in one collection. Odst is in, reach could be added and even halo wars/spartan assault and strike could be included, one convenient place where you can play all of the halos without changing discs and it all being a seamless experience. I hope they do this anyway as I would buy the dlcs in a heart beat. Nostalgia costs me so much money but I dont care.

Man I want Quantum Break badly also Mass Effect Andromeda, and Recore and maybe Scalebound oh and Halo Wars too lol forgot about it

I haven't played any FPS games on my PC since Crysis 3. And to be honest, I'm still disappointed with MS/Bungie for bothering to port Halo 3 to the PC. Halo 5 PC would be a great idea as long as they don't make a half-arsed port.

that's almost exactly what a ms fanboy friend told me, still I find that reason to be kind of stupid, I mean, yea halo sure is a strong selling point for the xbox in relation to other consoles, but on the pc front though, that's nonsense, I cant imagine a "pc gamer" buying an xbox just to play halo, or even if it had other selling points having halo as another checkbox is not enough to make any difference in a buying decision from a pc gaming fan, maybe I'm a weird pc gamer, but I would totally buy an xbox tv, like an xbox without gaming, just entertainment hub and streaming box for my living room tv, that way I could stream games from my pc and play with my friends easily or just have a nice windows tv environment that synchs with my "ecosystem", but buying another gaming machine AND additional games for it is just a no go, and I really hope Nadella applies his forward thinking there, the apple tv and that chrome stick thing will take over the xbox and ps4 for sure, the xbox will be to the apple tv what the gaming pc is to the xbox today, a niche device for that hardcore gaming guy/gal, no longer at the center of the living room, so I for the sake of windows and all things Microsoft hope they come up with an xbox tv just like I described or better

"I cant imagine a "pc gamer" buying an xbox just to play halo" You're looking at it completely backwards. The problem is that if they throw Halo onto PC, they're turning Xbox gamers into PC ones. Personally, I've got an Xbox becuase it's convenient. I've also got it for about a hafl-dozen exclusives, but Halo is the only must-have. If they started putting Halo on PC, I could live without Forza, Sunset, and the rest. I wouldn't bother with a several-hundred dollar console purchase for those other exclusives. I'm an Xbox gamer first, it's where I play almsot everything, but if I could save a crapload of money by going ot PC, I'd do it in a heartbeat.

so if they release halo for pc you will spend 700-800$ on pc parts every 2 years instead of a few hundred per decade? will most xbox gamers do the same you say? nevermind...

I see you know nothing about building computers. I've had the same video card since 2009, and it's just been in the past year it's actually gotten to a point of needing to be replaced. I've got the same HDD that I boguht in 2009, and it's running flawlessly today. In the entirety of the 6 years since my initial build, my upgrades have run me probably about the same price as an Xbox One. If I wanted to upgrade to play a modern, high-end game, I'd have to spend $200-300 on a new GPU, and I'd be good. If I spent that $300 on the high-end, I'd be good for about 5 more years. The "every-2-year" trash argument that comes out is from people who don't know what they're talking about. Hell, my cousin's running a build almost entirely off of my 6-year-old parts, save the RAM and HDD, and the only thing it needs is a GPU upgrade as well. You're talking a few hundred dollars every 5 years, not 2-3 times that every 2. You know what else I get as a benefit if I go PC? If I DO upgrade, I don't lose my games. I don't have to get suckered into the "Definitive," "Legendary," and other remake GotY releases plaguing this generation. Since games don't have to cross a generation (generations are essentially infinite on the PC), you don't have to buy a game multiple times to experience it later. Thing is, I actually built my PC, and I have an Xbox One. I can argue both sides of picking either platform (or both, as I did), and I can do this well. That's because I know both sides well, and I understand each's strengths and weaknesses, as opposed to arguments such as yours, which are misguided fanboy arguments that do nothing but shine a bright light on the ignorance of the person making up the claims. Regurgitate that price tag and upgrade cycle B.S. all you want, it just makes you look like a fool.

I don't understand why you have to be so rude about it, but I guess its already answered since all you have to "upgrade" is 300$ it might be quite normal for you to be angry all the time being in such a pitiful situation, I take it for granted when people talk pc gaming they refer to a decent experience, yes I'm aware you can play anything with 6yo hardware and buying yunk from ebay, but you surely know how great of a gaming experience you will get going that route, whatever makes sense for you to fit the budget I guess, have a good night

I don't like when people spew ignorance like that as fact. It scares people out of critically thinking about something like building a gaming PC. That kind of misinformation is part of why people are so technologically inept, they're given these unfounded sticker shock figures. What's more, you then opt to double-down with that "experience quality" nonsense, again signifying a lack of ignorance on the subject in an attempt to form some kind of point against someone who isn't ignorant on the subject. Really, if you want to get down to it, there are only 2 major components you have to wrry about when gaming: CPU, GPU, and motherboard (which only matters because its socket needs to match the CPU). Games don't progress in the realm of CPU consumption that quickly, which is why so many builds still run on chips like the i5 2500K and it 2700K from almost 5 years ago. They get overlocked and roll with it because the strain on the CPU doesn't warrant an upgrade. You might squeeze out more with a newer chip, but at that point, you're already at a level of quality that won't matter. So, what it comes down to is that only the GPU really sees a need for improvement, and even that can be questionable. Again, my card is from late-2009. Shadow of Mordor, released at the end of last year, had it as the "minimum requirement" GPU. A game 5 years later can run on it. Not phenomenally, but it can be done. The same applied for GTA V, among other major releases. Thing is, you prattled on about "quality of experience," while trying to argue that you should spend $350-500 on a console in 2015 that couldn't handle 2013's games at 1080p/60 FPS. In 2015, its flagship franchise had to gut splitscreen play and use a variable resolution to get Halo 5 to a consistent 60 FPS. That doesn't ultimately bother me, but if you're going to argue for quality of visuals, just shut up about the consoles right then and there. Given that they're builf on low-end CPUs and GPU tech equaivalent to that of 2011/2012, maybe you shouldn't bother with that argument. That's why I'm rude. You keep throwing out illogical arguments as fact, and there just might be some poor soul who takes what you're saying as fact, and it's so far from it that it irritates me people would even TRY to throw such garbage out into the wild.

if you took MY VIEW of acceptable pc gaming as a FACT then I'm flattered, I'm wondering how you could do that and then blame me for spreading fud when you are WILLINGLY taking it for a fact, I'm just another comment here, people can read your side of things and mine and decide, just go ahead and tell me why or how am I wrong here? we just have different approaches to it, why do you insist yours is the one to follow? you know what happens when people listen to your mediocre aspirations and false hope? they end up disappointed with their subpar pc and spreading fud on how pc gaming sucks, thanks to you

If H5 comes on PC I'd pick it up. I hated Xbox One. And I have H CE and H2 on PC. So I know I'd love to see it on PC.

How can someone "hate" a console? I mean, you can prefer another ... but "hate"?

I think MCC and the other missing Halo games should come out for pc in like march, the halo 5 for pc by oct. and possibly allow server wide compatibility for pc/console users to play against each other.

HEEEEEEEEEEEEEEEEEEEEEEEEEEEEELL NO. You do not mix PC and console for shooters. It would be hell on Earth for the console users. You don't realize the magnitude of precision difference between a controller and a mouse+keyboard. Online gameplay would be absolutely dominated by PC people, to the point the majority of console people would probably just not bother playing, or would become insanely angry at how bad the balance would be.

Microsoft has already confirmed full mouse and keyboard support for developers next year on console.

They could do opt-in playlists, that's how Gigantic will work for cross play, and aye, mouse and keyboard support is coming.

And to the people who say just stream it from your xbox. If u don't have an Xbox and don't plan on buying one this would be great. It's not like we are asking Microsoft to develop for mac or ps4, it's thier own damn OS. It should be cross platform. Thier exclusives should be on both console and pc, except on the pc make it come from the windows 10 store

If they put it on Windows 10, then they're making nothing on the game after teh $60 game purchase. W10 is free, so no OS license income. They don't sell PC hardware, so no income there. LIVE Gold hasn't leaked into PC gaming yet, I don't think, so no income there. Halo sells those $350-500 consoles and those $30-60 Gold subs, while also selling accessories. Hundreds of dollars would turn to $60 on a large scale for customers, losing Microsoft a large amount of income.

Windows 10 is only free for a limited time. Was it 1 year??? By the time halo 5 hits pc it wont be free. The free upgrade has to be activated in the first year. And on the halo 5 on pc. Hell yes Microsoft should do it. Xbox live is better as a platform for revenue than just an xbox console. Microsoft will beat steam and playstation if ALL their exclusives are available only through xbox live.

Halo on PC would be huge news.

Too much "Sake" on this party that's why he must go away to Anonymous Alcoholic AA :D

It annoys me soo much that a lot of people think they have an opinion about something. I remember a radio station when I was a kid sitting in my dads car.. They always said this: "You can't have an opinion if you are not well informed."
Now all those people talking about Quantum Breaks AI, Storyline, etc are doing exactly that! How the hell can they talk about a game and blame it for being too easy when they know pretty much NOTHING about it?!
And there is also things wrong with the Halo News, but I will leave it aside because I know a rational discussion is impossible when talking about consoles.

Gaming journos are a breed unto themselves. They all think the world needs there opinion. Instead of realistically looking at a situation, their minds fabricate extra reality.

Is this directed at me? Lol. I saw Quantum Break demos made unavailable to the public, live game play etc., you could use powers too frequently, I said to the dev it seems over powered, they said it's still being tuned, I thought you guys might like to read that. :(

They're being paid to do a job. Editorial content has always been a part of journalism. If people wanted to read just the bare facts, we could have just used ticker tape and been done with the whole business 150 years ago.

Aye, I see myself as just another gamer who likes writing stuff. I'd never feel like my opinions are more valued just because I posted them online. In this instance, if there wasn't a significant enough amount of people questioning Quantum Break's apparent balance, Thomas Puha wouldn't have addressed it on NeoGAF. They told me previously that it would be tuned though, QB is gonna be awesome. :)

Don't take it too personally. It's just another halfwit who believes that news media is the end-all of thought and opinion. As I said in another post, people like this make me wonder if humanity has given up on the intellectual gift we were given. For my part, thank you for your gaming-related posts. I've been out of the loop on games for a long time, and your column here at Windows Central is helping me get back into the fold!

Welcome to Earth, where people have opinions. Learn to undertand how news media works and you'll be better off. Jez is one writer and is sharing his impressions with you. Read other writers' takes on this to gain a better understanding. But then, it's mindests like this that lead to "Democrat vs Republican" bullshit. Maybe it's time for the aliens to come take us over, clearly humanity is signalling that as a whole we've given up on this whole intellect thing.

I have never understood why some journos that go to events like gamescom and e3 say stuff like " it looks to easy, or overpowered ". At these events all games are played in either god mode or extremely extremely easy. Its to show you the game without having to waste 30 mins dying. This has been the same since forever. Remedys previous games are hard. Especially on the hardest difficulty. So why on earth would anyone assume they would suddenly change that? Look at halo ay e3. Seems a piece of cake and the player can take an infinite amount of damage and the Ai pathetic. But we all know legendary will make you cry. Journos in gaming need to wake up.

Maybe if you saw what I'd seen you'd agree, this wasn't a quick trailer it was a 20 minute live demonstration and it seemed over powered, so I asked the dev if it was being tuned still. I thought someone might like to read that and be reassured :( clearly there's some non-journalistic people on NeoGAF thought it looked overpowered. I had a guy in another article accusing me of being a shill for Microsoft because I didn't have enough negative things to say about Halo, can't win haha.

So Konami is no longer making video games and Ubisoft is going to take on some of the attributes of Activision. Weird times.

Sounds like two companies that are sick of being successful.

Halo 5 should be on PC but any game on PC should be released via the Windows Store which will definitely gain traffic from games like Halo 5. And more traffic will hopefully translate Into more attention from developers on other mobile platforms.

Seeing how I'd rather be punched repetedly in the face than have to play a FPS shooter with a controller over a KB/Mouse I'dlcome the chance to play Haloon my PC... Consoles are good for platform and racing games... FPS are always better on the PC.

Re: Halo 5 coming to PC - Goddamn right it needs to. This is a very poor time for MS to keep their premiere game franchise away from the PC which is the device they're trying to sell up. That would be like GM needing to sell more hatchbacks and then deciding that only SUVs can come in red. Just release Halo 5 for Windows, guys. The Xbox is an x86 device running Windows, so there's no technical reason why it doesn't simply happen. Re: Kojima leaving Konami, who gives a crap? It's Kojima's work that people love and he'll keep working. Konami will simply fade away into irrellevance. So what if they do? All their people should just jump ship and go work for Kojima anyway and leave the board and shareholders with the short end of the stick.