2021 is shaping up to be a big year for Windows 10
Windows 10X, big UI and feature updates for desktop, and a new app streaming service are on the cards for 2021.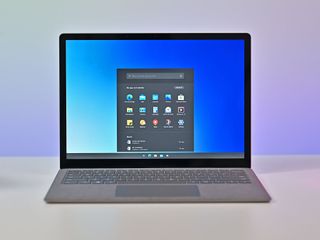 (Image credit: Daniel Rubino / Windows Central)
What you need to know
Big updates for Windows 10 are on the horizon.
Windows 10X will finally launch on first on laptops.
Cloud PC service will bring app streaming to the masses.
The year is almost over, so it's time to look to the year ahead and see what we can expect from Windows in 2021. Windows 10 has taken somewhat of a backseat when it comes to major features or OS changes in the last couple of years, but that appears to be about to change as Microsoft aims to refocus on the OS in big ways next year. Here's what my sources are saying to watch out for:
Windows 10
2020 has very much felt like a "groundwork" year for things that are yet to come with Windows 10. Microsoft's Chief Product Officer, Panos Panay, was put in charge of the Windows user experience earlier in the year, and under his leadership Microsoft has announced a "reinvestment" in Windows 10 for the 2021 timeframe.
Officially, we don't yet know what this "reinvestment" in Windows 10 will look like as Microsoft hasn't detailed its plans in this area. However, my sources say that Microsoft is planning a big Windows 10 update in the fall of 2021 that will introduce new top-level features and a refreshed UI that's more modern and consistent.
Microsoft is still planning to ship two Windows 10 feature updates in 2021, but unlike previous years, the significance of each release will be flipped. The spring 21H1 update will be a smaller, servicing style release just like Windows 10 version 20H2 and 19H2 that brings with it minor improvements and changes while laying the groundwork for the bigger 21H2 release in the fall.
In 2021, Microsoft will ship x86 64-bit app emulation for Windows 10 on ARM, a big milestone for the ARM PC platform in general. This will allow devices like the Surface Pro X to run most legacy Windows apps, closing the app gap significantly. These capabilities are expected to enter preview soon and will ship in 2021.
I'm also told that Microsoft is toying with bringing Android apps to the Microsoft Store on Windows 10. I don't know how far along this plan is or when it'll ship, but I'm told it may show up in the 2021 timeframe. I'll have more to share on this soon.
Windows 10X
In addition to refocusing its efforts on Windows 10, Microsoft is also planning to ship Windows 10X in the first half of 2021. Microsoft has been working on Windows 10X behind closed doors for the last few years, and it aims to deliver a modern and lightweight version of the operating system for low and mid-range PCs, as well as flagship foldable PCs too.
Windows 10X will "RTM" in December, and Microsoft is hoping to start shipping the first Windows 10X devices in the spring of 2021. These devices will be mid-range laptops and tablets, and designed to compete directly with the Chromebook market. Windows 10X will ship without local win32 app support, but Microsoft is planning to push its new Cloud PC app streaming service to fill in that gap.
Windows 10X is now being positioned as Microsoft's "Chrome OS" killer, being a lightweight OS with excellent security, battery life, and performance but with the added ability of running Windows apps. In the future, Windows 10X will be able to run Win32 apps locally, but I'm told that capability won't ship until 2022 when it launches on foldable PCs too.
I've also heard that Windows 10X will be able to run on ARM PCs at launch, but we'll have to wait and see if there are any OEMs that ship ARM PCs with it pre-installed. Windows 10X won't be something users can install on their existing PCs, it'll only be available on new PCs that ship with it. Just like Chrome OS, macOS, or iPadOS.
Windows 10 'Cloud PC'
In 2021, Microsoft is planning to ship a new service powered by Windows 10 called 'Cloud PC' that puts a version of Windows in the cloud and allows users to install apps to it so that they can be streamed to any device. This will allow PCs with limited storage or performance capabilities to run heavy applications without it degrading local PC performance.
This will also be how Windows 10X customers can access win32 applications, as local win32 app support won't be there at first. On Windows 10 and Windows 10X, Cloud PC will be an integrated service that syncs with your Microsoft 365 subscription. If you've installed an app to your Cloud PC, it will show up in your Start menu as if it were natively installed, just like Windows Virtual Desktop.
A big year
It's fair to say that if Microsoft keeps to its internal schedules and plans, Windows 10 is in for a big year next year. Perhaps it'll be one of the biggest in recent memory, with a new version launching with Windows 10X in the spring of 2021, and a massive refocus on Windows 10 in the fall of 2021. Fans have been asking for this for a while, and it appears Microsoft is listening.
I'll have more to share regarding the specific features Microsoft is working on for Windows 10 in 2021 soon, but in the meantime, what are you hoping to see? Let us know in the comments.
Windows Central Newsletter
Get the best of Windows Central in in your inbox, every day!
Zac Bowden is a Senior Editor at Windows Central. Bringing you exclusive coverage into the world of Windows on PCs, tablets, phones, and more. Also an avid collector of rare Microsoft prototype devices! Keep in touch on Twitter: @zacbowden.
I'll believe it when I see it, but it seems like 2021 may finally provide a bit of excitement for the Windows platform again. Looking forward to it.

Looks like 2021 is a Panos year.

Dude, every year is a Panos year.

Off-topic question to you people out there who are in the Beta or Release Preview channels, today on searching for app updates manually the Store finds an update to Your Phone that shows "starting download" for a moment before the download aborts without an error, triggering an update notification. The app is still on the previous version, though, which is 1.20111.110.0. I've just been wondering if I'm the only one with this problem.

I am on the Insider Preview Dev Channel lost the ability to receive any Windows updates or Store updates. There are procedures out there for various services to shutdown, folders to rename, and services to restart. None of that worked. What did work is that I turn off Windows Insider Program (Stop getting preview builds). I rebooted. Then, I resubscribed to the Insider Program, and updates worked again.

Including updates to the Your Phone app? I left the Insider program and went back in and the problem is still there. Though when I searched for app updates outside the Insider program there was no problem, as there was no new app update found. I suspect that the app update is simply broken somehow, but I'd need confirmation from somebody else to know. All other app updates still work.

I managed to fix this by going to the app's listing in the Store, clicking "install on my devices" and selecting my own device. The download and installation both worked after just one initial error this time.

Zac, have you elaborated on the use-case for W10X somewhere? "for low and mid-range PCs, as well as flagship foldable PCs too" Why not ALL PCs? Flagships ought to be a great match for a streamlined OS too...?

It'll likely move to premium devices too, but there's also a "wait and see" period where Microsoft will want feedback from its corporate partners who deploy 10X. Of course, any OEM can put 10X in whatever device they want, but there's a certain expectation when buying a "Windows laptop" on what it can do that needs to be met. How to manage that perception/expectation is going to be tricky at first. See Windows RT and even ARM.

"but there's a certain expectation when buying a "Windows laptop" on what it can do that needs to be met." This is true but there's an easy fix for that. Get rid of the Windows branding from Windows 10X. Then there will be the expectation that it's a fresh start.

If you think that Microsoft is capable to deliver a working new OS and it not being bug ridden you are an optimist. First adapters will literally be guinea pigs that PAID money to be the test subjects, and it will take at least a year to get the new OS in "tolerable user experience" shape. Why I think that? Currently Microsoft is unable to deliver basic touch input experience in their own browser on their own OS. Not only touch text selection in Edge is a different UI/UX to the rest of the OS, it is buggy and fails to work properly in half the times I am trying to use it. It has been going on for around 1.5 years now with reports about this and many other touch input issues from the first day of beta release. Putting this new OS on expensive machines will obliterate any chance of Windows 10X for life. And I really want it to succeeded, I just have no hope in Microsoft delivering it in any orderly fashion.

Windows 10 isn't for touch centric use. It is nice for occasionally hitting a button or resizing, but if you are looking for more than that, you have the wrong platform.

The use case is Chromebook users. ChromeOS is popular because it only runs Web apps and Android apps. It wouldn't work ilon expensive laptops when Windows 10S and Windows on ARM have both struggled because of user expectation.

so my question is this . if I get windows cloud pc would I be able to down load steam on there as well as my games on there so that if I wanted to I could play high end vr games and have the processing power done in the cloud ?

I'd be surprised if the latency of cloud PC is configured to be on par with XCloud. It's probably no where near realistic to play games on cloud PC, let along the resolution and latency needed for VR.

"2020 has very much felt like a "groundwork" year for things that are yet to come with Windows"
- don't they say it every year? "Microsoft is planning a big Windows 10 update in the fall of 2021"
- looking forward to the disasterous rollout, as usual! "closing the app gap "
- does anyone else shiver at those words? How many years we herd it? How many strategies Microsoft failed at to close the app gap? "toying with bringing Android apps to the Microsoft Store"
- right in time for the latest Windows Phone Update, oh, wait... "Microsoft's "Chrome OS" killer"
- knowing MSFT - more like kamikadze, not a killer...

+1 on all points. A lot of fail coming our way next year.

I just want a working operating system thats not connected to any AI or cloud bs. I don't need any "modern" new features which are really there to track our habits and mine data.

You are in luck! Microsoft already has Windows 10, and if you can find it, there is a heavily stripped down enterprise version.

My question is: What do they mean by 'modern'?

Realistically what I expect Windows 10X to be.
School net book with cheap devices.
Kiosk devices. (iPad is already in this market. Apple resell the out-of-date iPads and iPhones to retail to use as single app machine.)
People who need a low-end device but don't know or don't want a Chromebook or iPad.
All 10 UWP developers.
Zac's daily driver.
Dan's favorite OS of the year.

10X might revive the 10 UWP devs. Maybe bring a few fresh ones. myTube dev for example is one die hard UWP dev, he still updates the W10 mobile app!
Newsflow, Grover these are some of the guys I hope renew their investments in UWP through W10X.

I hope, though their current focus isn't so much with UWP anymore, but I hope at least there will gain some interest. Yeah,myTube development is certainly a dedicated one, and I really support his work. Also supporting "W10M" even though is already unsupported by MS has a practical benefit. Because he design the app UI to be scalable even to small size as well, you know that fits for phone screen. Thus myTube app works so well when you use Windows Snap and myTube will be ready for W10X dual screen UX since it scales well with vertical orientation. Most UWP nowadays don't actively support phone size UI, which is why some gets janky or weird when you resize them too small. Even on big ones like tablets, some apps also don't work well because most don't really treat Windows 10 to be used as a tablet OS anymore. Sticky Notes for example don't work with Tablet Mode either.

Yes it's true that the newer apps don't cater to mobile size, but I'm hoping those that have already done some good work in the past with UWP between mobile and desktop and all sizes in between may come back. Especially if they notice renewed interest in number of downloads. Apps like ReddPlanet, Readit, Baconit are some solid reddit clients that really have the potential to shine on 10X.
And who knows, maybe if 10X takes off, we someday get an 8-inch 10X surface, or even a Surface Duo X lol!

Yeah, I how those developers will come back to re invest on Windows with 10 X. That would be interesting if they release an 8 inch tablet, but at the moment looks like Surface might not release one. If they do, I can think they will release a dual screen 8 inch tablet instead. The problem with this is that, Microsoft has to re invest on consumer side again or at least partner with Amazon to release best UWP Kindle reader for Windows at the very least. And then still have huge productivity marketing aiming for note taking, that 8 inch tablet would be useful for students and mobile workers needing portable note taking device. Surface Duo is nice but the screen size is still too small for serious note taking. Surface Go on the other hand is almost perfect, but can be still too big for hand-held use. 8 inch is on sweet spot being very portable but not being bulky.

I think Tablet Mode will be phased out eventually and replaced by desktop touch mode. Besides that it sounded like UWP would be (part of) their native app solution for 10X so I do not think it will not go anywhere but I agree with you their probably focus on several app solutions (UWP, PWA, Android apps etc.).

Like that may happen, though for me that's only acceptable if they do still transform the UI on the fly for tablet use when needed, currently it's nothing but making regular old Desktop mode bit better for touch, but still far from better, heck not even better than current Tablet Mode despite its shortcomings. I find using regular desktop mode while using it as a tablet is clunky, since it's still focused on mouse and keyboard in mind, interactions are kinda "rough" for touch. It's usable but it's not natural. It's just something is off and makes me feels slower to use it that way.what they should have done with Tablet Mode is improve its UX, introduce new and better multitasking experience, allow windowing but more managed, fix bugs, make gestures natural, polish the animations that actually animates naturally, and release UWP File Explorer that is redesigned UI that can actually adapt and usable for touch.

Can't wait for the Windows 10 update. So long overdue. Android apps will be great because the Your Phone Android app integration is so poor there's no point using it. I expect it will be likely Huawai's App Gallery and will rely on App Developers making their apps available though. So it may tank.

Not all that interested in Windows 10X now it's on laptops. ChromeOS is already a very solid light computing platform. Microsoft's steaming Win32 apps will have to show they run as well as Android apps do on ChromeOS. Which in Microsoft's favour can be flaky. The Surface Neo was exciting though. So hopefully this'll come eventually.

Agree about the Neo. Not everyone wants ChromeOS and 10X could potentially be very interesting for companies & schools if eg Office is integrated well into it.

It would be interesting to see what the business model (per use or subscription) for the "streaming PC" would be like, since that would "unshackle" many people from Windows who are held onto the platform due to the need to run a particular app. I also think it's not a bad idea for Microsoft to bring Android apps to the Microsoft Store, or at least give power users the ability to run them, like Apple now lets you run iOS/iPad apps, this can especially fill the current app gap on Windows 10 on ARM.

I agree on the android app front... I though Microsoft was putting its eggs in the PWA basket

I think positioning Windows 10X as a Chrome OS competitor is a mistake, but we'll see. Maybe it pans out.

I agree. This is a market Microsoft has lost and won't recover.

If you mean the educational sector, worldwide there are more Windows pc's used than Chromebooks. By far.

I think they have nothing to lose.
Legacy Windows 10 isn't going anywhere anytime soon. It's time to just accept it as a 'desktop' OS permanently.
At least Windows 10X might be a breath of fresh air to neglected UWP apps from Windows 10 mobile. Most of them would just work on 10X with hardly any code change.

Windows may very well be gone in the next decade as android/chromeos/Apple take over the market. Microsoft is not growing its OS share, and wasting resources trying to make a new os for products nobody will buy is a bad move.

I don't think legacy Windows is going anywhere in the next decade. If anything it will get larger.
The post-PC discussion has been going on for close to a decade now. Only for people to realize they need (Windows) PCs even more than ever (partly thanks to covid ironically).
There will always be a need for the Windows desktop, not because it is superior, but because it is essentially the de-facto 'standard' desktop OS, similar to how docx format is the standard for word processors, or xlsx for spreadsheets, mp3 for music, or pdf for readable documents and forms. There is the need for a general, open, powerful mass computing platform, which you can run on countless processor+motherboard+graphics configurations, from the cheapest to the most expensive. In some ways, it's like the open hardware manufacturers have agreed on Windows as the standard computing platform. I would argue it is the reason why computing has come so far today, because without a common 'language', a huge collaboration on the scale of processor design to software running on said processors is impossible.
Add ARM to the mix, and Windows supports another family of processors. It's only getting larger.
Powerful desktop computing is more essential than ever. For example, it's ironic that to be an Android developer, you typically start with a Windows PC.

They have time and money to lose, obviously. And regarding UWPs: I hope Microsoft itself stops neglecting it. The only reason it still exists is because of Xbox. There are definitely areas they could improve, but it's just there.

I've also heard that Windows 10X will be able to run on ARM PCs at launch, yayyyyyyy I'm so happy now.

I will never get Windows 10x if it doesn't have live tiles. Proposal to add tiles to 10x: https://github.com/microsoft/ProjectReunion/issues/274

Completely agree. Bring back live tiels

Tiles were a disaster for Windows. Sunk Windows 8 and Windows phone. They should have killed them after WP7 flopped.

@bleached speak for yourself. Windows Phone had massive momentum before the mismanagement in the mobile space.

Good idea, I am 100% on board with this.
I have been a major proponent of live tiles since they showed up on Win 8. I use it everyday, even on Win 10 desktop. I know even Zac seems to be in favour of discontinuing them, but I disagree. They make Windows unique, whether or not other OSes have embraced them (which they are gradually copying - see iOS, and OriginOS which is Vivo's flavour of Android).

no, i don't want the kernel of windows to change, there's almost nothing wrong with the way windows currently is, linux kernel will ruin windows 10

If they'd also bring Windows 10 to boot on Xbox Series S/X that would be really cool. A mac mini killer for sure

Calling it Windows 10X but can't run windows (win32) apps = FAIL !!!
can't MS learn from past Failures.
Give it Other names, without "Windows".

"Give it Other names, without "Windows". 100% agree.

Windows 10 X will be a fail, Basically a no win32 OS that uses win32 browser (emulated or containerized) to run Web apps which fall back in terms of performance vs native apps. UWP is dead so can't count on that. And there are Android apps (probably emulated). I understand an appeal of a lightweight OS running well optimized apps on a fairly speced/priced device, this unfortunately will be the opposite.

I think the cloud PC stuff is the most interesting to think about. On a good internet connection, remote virtual desktops today are almost indistinguishable from the real thing. Pushing this to its logical extent would give us new ways of thinking about our devices - all of them. Maybe MS learned something from the Continuum failure and it's continuing failure with tablet mode, and they have something up their sleeves?

Pointless really. Looking at M1 Macs we can see what a modern 10w SoC can do. It's light, it has a potential for great battery life, paired with 16GB and a small fan edits 8K and has a decent performance per $. Why would you settle for simulary priced device with way less performance only so you can move your entire work on some far away pc, introduce latency, chance for hang ups and pay a small fortune for something you could have in your back pack. What MS should give us is a better hw and sw, not another subscription service.

Are you just looking for some excuse to talk about Apple M1? My comment had nothing to do with it.

It can't edit 4k efficiently and you're talking about 8k. Where are you guys getting these numbers from?

@ProAllFather probably the contextless Apple slides. ¯\_(ツ)_/¯

They definitely shouldn't call out Windows 10X. Start a new brand with new expectations. It will almost certainly fail if Windows is in the name.

Microsoft: The Coming Soon Company.

that's what I thought too.... "Hey this Spring's Windows Update is going to be small.... because we are delaying the good stuff another 6 months.... Coming Soon...."

I'm so very excited about the UI refresh with Panos at the helm. He's the first person in charge of any meaningful aspect of Windows that I don't doubt for a second actually uses Windows on a day to day basis and has proven himself to be extremely talented, capable, and with good tastes all around with his superb work in the Surface products. We've had 5 years of excitement over announcements of Windows 10 UI evolution coupled with complete and total letdowns in that devolution. And let's be honest: they should have *accidentally* gotten some aspect of UI design right by now so if anything that coupled with Panos-organized UI efforts, the odds are in the favor of users finally being delivered something that doesn't scream like a petulant child with a bruised ego from 2012 being told "no, there's nothing wrong with flat design, you just aren't very good at it". I know inconsistencies don't bother some users and that's perfectly fine, but Windows 10 as it stands to today seems like it's gone out of it's way to be the most visually unenjoyable software to ever be compiled.

-I hope to see microsft rethink the duo.
-Take live tiles as a feature more serious and expand on end user control of personalization and introduction of better interactive live tiles
-I'm hoping for a more deeper cached pwa apps. Cloud computing is vulnerable when connection is list. There is still merrit to local storage.
- Microsft should provide a better uncomplicated affordable manual for setting up cloud computing with windows. Deliver affordable solutions with extensive tested sytems before launched into a business. First experience at work has been awful with issues and bugs at launch. Seemed like a nightmare for ict from what I noticed at work.
-I hope microsft considers a time out and finally adresses all current and cumulating past issues of the last 4 years regarding basic issues and half baked features in windows 10.
-I hope microsft can still help people with older computers on windows and lost peripheral connectivity rendering devices unusable duo to new driver issues. I think solutions and implementing them has not become a simpler thing to fix. I've been one of those victims of an 8 year old printer that worked fine but I just couldn't get it to work any more despite multiple attempts of driver fixing and updates from microsft and the printer company. Such a unnecessary destructive wasteful way to end a products life. I threw the printer away for recycling. Never could find a secondhand buyer. Has given me a new perspective on ewaste and the rush for the newest and best devices. Are they really? Why fix it if it isn't broken?
-I hope to see more surface devices with amazingly discounted package deals with the type cover and stylus not sold seperately.
- an updated surface studio 3 with great specs but much more affordable purchase price and continued upgradability and repairability of the device.
-a surface pen with two more programmable buttons and integrated surface dial functionality.
-inclusion of support for more (and non) samsung (android) low and midrange devices of the last 3 years and current to support samsung flow and/or Microsift MyPhone.

For a company that can't complete the transition of all the Control Panel features to Settings menu for over five years I don't expect whole a lot really. They work in little increments in Windows 10, wounds of Windows 8 revolution still run deep. But let's talk about ARM. Why is MSFT doing the same mistakes all over again? SurfaceRT didn't have none of the Microsoft apps at launch and God knows if they had only Office ready at launch it would have been a different story. Surface X same story; no native apps from Microsoft and emulation of only 32bit apps. I'm pretty confident that 95% of us here on this forum would not green light such project if we were in the meeting room when this was developing. Fast forward today we have reports that Windows 10X would not come with x86 emulation until later on. Who in the hell thinks this is a great idea? This is third time in a row they are pushing and doing the exact same thing that has failed the first time. Now let's talk about UWP apps; Microsoft still believes there is hope for such apps. They believe so much they didn't even use their own SDK to develop Skype UWP app. And then they killed it. Where are Office UWP apps? Nowhere. Truth is when they killed Windows 8 (cause they got afraid way too quick) they also killed any chance of Metro/UWP apps to have a chance. They've just been dragging the corpse for almost ten years now. Windows 8/8.1 concept was right all along but they panicked and scrapped it, now we have Windows 10 that acted like Windows 7 at the very begging and then got additions of Windows 8 features over time.

Windows 10x needs to be downloadable for it succeed among the masses.... But first msft needs to get their act together when it comes to ARM.... Just look at Apple M1 launch.... All of apples first party apps are native apps including xcode on M1 but with msft except for edge none of the first party apps are native on ARM.... If msft is not serious about getting their own first apps on ARM why would any developer do it.... It just boggles my mind that they 3-5 years headstart on apple and they still are not serious about it... It's just crazy.... Now They are spending resources on UI refresh 🙄

I hope they finally patch the calculator. It's been broken for many years. If you input 2+5×7 it incorrectly states that the answer is 49 instead the correct answer which is 37. Parentheses, then Exponents, then Multiplication & Division (left to right with equal regard), then Addition & Subtraction (left to right with equal regard); NOT leFt tO rIgHT

This only happens on the standard calculator. Click the 3 bars on top left corner and switch to scientific.
Windows Central Newsletter
Thank you for signing up to Windows Central. You will receive a verification email shortly.
There was a problem. Please refresh the page and try again.