2021 is shaping up to be a big year for Windows 10
Windows 10X, big UI and feature updates for desktop, and a new app streaming service are on the cards for 2021.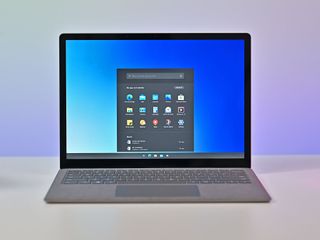 (Image credit: Daniel Rubino / Windows Central)
What you need to know
Big updates for Windows 10 are on the horizon.
Windows 10X will finally launch on first on laptops.
Cloud PC service will bring app streaming to the masses.
The year is almost over, so it's time to look to the year ahead and see what we can expect from Windows in 2021. Windows 10 has taken somewhat of a backseat when it comes to major features or OS changes in the last couple of years, but that appears to be about to change as Microsoft aims to refocus on the OS in big ways next year. Here's what my sources are saying to watch out for:
Windows 10
2020 has very much felt like a "groundwork" year for things that are yet to come with Windows 10. Microsoft's Chief Product Officer, Panos Panay, was put in charge of the Windows user experience earlier in the year, and under his leadership Microsoft has announced a "reinvestment" in Windows 10 for the 2021 timeframe.
Officially, we don't yet know what this "reinvestment" in Windows 10 will look like as Microsoft hasn't detailed its plans in this area. However, my sources say that Microsoft is planning a big Windows 10 update in the fall of 2021 that will introduce new top-level features and a refreshed UI that's more modern and consistent.
Microsoft is still planning to ship two Windows 10 feature updates in 2021, but unlike previous years, the significance of each release will be flipped. The spring 21H1 update will be a smaller, servicing style release just like Windows 10 version 20H2 and 19H2 that brings with it minor improvements and changes while laying the groundwork for the bigger 21H2 release in the fall.
In 2021, Microsoft will ship x86 64-bit app emulation for Windows 10 on ARM, a big milestone for the ARM PC platform in general. This will allow devices like the Surface Pro X to run most legacy Windows apps, closing the app gap significantly. These capabilities are expected to enter preview soon and will ship in 2021.
I'm also told that Microsoft is toying with bringing Android apps to the Microsoft Store on Windows 10. I don't know how far along this plan is or when it'll ship, but I'm told it may show up in the 2021 timeframe. I'll have more to share on this soon.
Windows 10X
In addition to refocusing its efforts on Windows 10, Microsoft is also planning to ship Windows 10X in the first half of 2021. Microsoft has been working on Windows 10X behind closed doors for the last few years, and it aims to deliver a modern and lightweight version of the operating system for low and mid-range PCs, as well as flagship foldable PCs too.
Windows 10X will "RTM" in December, and Microsoft is hoping to start shipping the first Windows 10X devices in the spring of 2021. These devices will be mid-range laptops and tablets, and designed to compete directly with the Chromebook market. Windows 10X will ship without local win32 app support, but Microsoft is planning to push its new Cloud PC app streaming service to fill in that gap.
Windows 10X is now being positioned as Microsoft's "Chrome OS" killer, being a lightweight OS with excellent security, battery life, and performance but with the added ability of running Windows apps. In the future, Windows 10X will be able to run Win32 apps locally, but I'm told that capability won't ship until 2022 when it launches on foldable PCs too.
I've also heard that Windows 10X will be able to run on ARM PCs at launch, but we'll have to wait and see if there are any OEMs that ship ARM PCs with it pre-installed. Windows 10X won't be something users can install on their existing PCs, it'll only be available on new PCs that ship with it. Just like Chrome OS, macOS, or iPadOS.
Windows 10 'Cloud PC'
In 2021, Microsoft is planning to ship a new service powered by Windows 10 called 'Cloud PC' that puts a version of Windows in the cloud and allows users to install apps to it so that they can be streamed to any device. This will allow PCs with limited storage or performance capabilities to run heavy applications without it degrading local PC performance.
This will also be how Windows 10X customers can access win32 applications, as local win32 app support won't be there at first. On Windows 10 and Windows 10X, Cloud PC will be an integrated service that syncs with your Microsoft 365 subscription. If you've installed an app to your Cloud PC, it will show up in your Start menu as if it were natively installed, just like Windows Virtual Desktop.
A big year
It's fair to say that if Microsoft keeps to its internal schedules and plans, Windows 10 is in for a big year next year. Perhaps it'll be one of the biggest in recent memory, with a new version launching with Windows 10X in the spring of 2021, and a massive refocus on Windows 10 in the fall of 2021. Fans have been asking for this for a while, and it appears Microsoft is listening.
I'll have more to share regarding the specific features Microsoft is working on for Windows 10 in 2021 soon, but in the meantime, what are you hoping to see? Let us know in the comments.
Get the Windows Central Newsletter
All the latest news, reviews, and guides for Windows and Xbox diehards.