What is that hole in my desk for cable management called?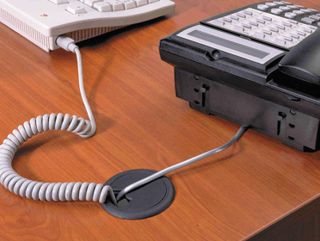 What is that hole in my desk for cable management called?
Best answer: Essentially, the hole is just called a hole. However, the cool little plastic covering that comes with it is called a grommet. Grommet holes are a great way to organize your cables and direct them through your desk and out of the way.Standard plastic grommet : Black 2-Inch Desk Cord Grommet ($12 at Amazon)Modern metallic grommet: RDEXP Zinc Alloy Tidy Wire Hole Cover ($13 at Amazon)
What is the hole called?
Maybe you've noticed that cup-sized hole in the back of your desk, or perhaps some of your drawers come with a little hole cut into the backside of the boards. Have you ever wondered what that hole's actually called? Well, that little 2-inch space that is perfectly cut out in most desks is literally just called a hole. However, the little contraption that fits into it is called a grommet. So, what is the purpose with this little extra detail? Though it may not seem like much, these grommets can make desk organization a breeze.
What is a grommet?
Desk grommets are little disk-shaped objects that are specifically designed to be inserted into the cut-out holes found in the back of most desks. They are intended to help organize your cables and offer a route for your wires through your tabletop and out of your way. The smooth materials that grommets are made out of offer a safe and friction-free opening for your cables to pass through. Grommets can be made out of many different materials, but the most common are ABS plastic, wood, rubber, and zinc alloy.
While you can find any number of grommets, they all do the same job. The one you use really depends on your personal preference and the amount of cables you have. So whether you like the look of zinc alloy for some extra style or prefer to go with the standard ABS plastic, these little grommets can help you control your desk space.
Our pick
Black 2-Inch Desk Cord Grommet
Standard 2-inch plastic grommet

The Black 2-inch Desk Cord Grommet is made from ABS plastic, which offers a smooth and safe pathway to thread your wires through for better cable management.
Our pick
RDEXP Zinc Alloy Tidy Wire Hole Cover
Modern metallic grommet for your desk

The RDEXP Zinc Alloy Tidy Wire Hole Cover is a grommet made out of zinc alloy and is perfect for running cables through to declutter your tabletop for great wire management.
Get the Windows Central Newsletter
All the latest news, reviews, and guides for Windows and Xbox diehards.
Camille Sanghera is a UX writer and copywriter for global brands as well as an author of self-help books. Although she has lived and traveled internationally, Camille is originally from British Columbia, Canada. She merges over 10 years of writing experience with a love of words to bring authenticity and human connection to every project. When not writing, Camille can be found exploring nature with her dog, sketching to music, or laughing with loved ones.
You can chat with Camille on Instagram at @projectpvo.