What separates you from the 41-megapixel PureView camera of the Lumia 1020 is just $339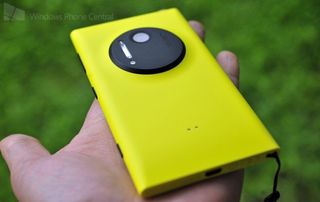 Arguably the best camera phone of any platform, the AT&T Lumia 1020 is now priced at just $339 at the Microsoft Store and at Amazon, and the beauty of the pricing is that you don't need to sign any two-year agreements for the 41-megapixel PureView smartphone, which can run the Windows Phone 8.1 operating system after a firmware update.
The Lumia 1020 is available in three colors: black, white, and yellow.
Customers who do not want to pay the out-of-contract price could sign up for a new AT&T contract and obtain the Lumia 1020 for just $49.00 through Microsoft.
The Lumia 1020 has been on the market for a little over a year now and a successor has not been announced yet.
If you're interested in the Lumia 1020, be sure to read our review of the phone.
Will a relatively inexpensive contract-free Lumia 1020 be your next camera or smartphone? Or will you wait for something a bit more modern like the high-end mid-range Lumia 830?
Source: Microsoft Store (opens in new tab); Amazon (opens in new tab)
Thanks, pyy and Rob F., for the tips!
Windows Central Newsletter
Get the best of Windows Central in your inbox, every day!
Chuong's passion for gadgets began with the humble PDA. Since then, he has covered a range of consumer and enterprise devices, raning from smartphones to tablets, laptops to desktops and everything in between for publications like Pocketnow, Digital Trends, Wareable, Paste Magazine, and TechRadar in the past before joining the awesome team at Windows Central. Based in the San Francisco Bay Area, when not working, he likes exploring the diverse and eclectic food scene, taking short jaunts to wine country, soaking in the sun along California's coast, consuming news, and finding new hiking trails.
Camera Speed also should be there

Sweet Deal!!! If any can afford it, and its NOT a bad price. Go for it! HERE, A PICTURE IS WORTH 1000 WORDS!!!
www.pureviewphotography.com Many of the pictures on this site are taken with the 1020!!! Tell me what you think of the YELLOW SPIDER or the DRAGONFLY on the flagpole!!! I am VERY HAPPY with this phones abilities!

I am very happy with the 1020's abilities as well. https://www.flickr.com/photos/94269606@N04/with/12613287595/ I can't wait for the successor.

It's actually very expensive compared to salesprice in Sweden. You can get it for 1990 SEK over here, with all taxes included, free shipping (or add a little bit for express shipping). 1990 SEK is $274 US dollars.

And not for Verizon is what separates me.

Does it come with the denim update? I hope it addresses the speed particularly on that phone!

Comes with Windows 8, Black, after firmware update, will be running 8.1, Cyan.

WhatsApp is separating me from any other phone. I have 928 and no way I will get another phone until I'm able to move chat history to another Lumia X

If WhatsApp history can be moved. Follow it
1.Take backup in the app.
2.the file will be created in sd card folder WhatsApp.
33.respectve date of backup is there.
4.move it to new Lumia. Into same folder

I wanna try out this phone. but no one wants to buy or trade for my lumia 925 lol

I just got mine from the Microsoft Store. Loving it.

Well said, 399 bucks separate me from a 1020

Speed, screen-size and future improvements?

Lol, I found this funny only cause my mindset is financially damaged on equal terms.

339! Why do people jump to comments section before reading the article. Smh

patiently waiting for Lumia 1030...

Same here. My wife loves here 1020! I want the next version

Don't know if this is going to happen, because Pureview oversampling certainly has been developed by Nokia R&D department, which still resides at (the actual) Nokia and wasn't acquired by Microsoft.
So I really don't know if we see any improvement here, because Microsoft certainly only licensed the technology, but development remains at Microsoft.

I wish for a 1030, too. But I very honestly doubt we will see more than 25MP camera on Windows phones for a few years. I'd be thrilled to be wrong however.

Everyone should own this phone. I never had the 808, but if it was truly slightly better at producing images that's a true feat. The 1020 has ruined me when buying other phones. Even the 1520s camera feels like garbage after using the 1020 for a year.

1520 is not garbage. I have both, and carry the 1520 a my primary.

I carry both also and the only thing the 1520 has on the 1020 is speed. Don't get me wrong, The 1520 is an awesome device, but its camera isn't as sharp as the 1020. The lossless zoom is decent but its not in the same class as the 1020 at all.

Camera for camera, the 1020 obviously beats out the 1520. But the 1520 easily beats out many other competitors offerings. It may not be a pro level shooter, but for a phone in your pocket, the 1520 is far from garbage in any regard.

I agree. I use both daily. Both are amazing smartphones. They are for different people though. It depends on Your needs. And it is stupid to call phone a garbage ecpeacilly such a good (in my opinion the best phablet) phone as Lumia 1520. Don't get me wrong. I take pictures with 1020 always, ALWAYS. It does not matter what situation is. I take 1020 over a 1520 for it's camera any day. But boy that 1520 is such a candy.

You should post where you live. One of us will gladly pick up your garbage.

http://www.youtube.com/watch?v=i7gIpuIVE3k

Lol! That's what the 1020 does to pictures from all other camera phones. It murders that garbage.

The 1520 defintely has the second best Camera I've used in a phone. It's a step above the iPhone and LG G3. Hopefully the Denim update will improve it even more. I love looking at the large beautiful pictures on the 1520's huge HD LCD screen a lot more than the 1020's. By design the 1020 shows everything with high contrast while the 1520 is just bright and beautiful.

I've seen many comparisons between the 808 and the 1020 and in daylight the 808 just makes the 1020 look like garbage but at night the 1020 having ois has a huge advantage. Even videos look better on the 808, but we cant compare a phone that's a ghost vs a phone that's still king of camera phones. I still wouldn't change my 1520 even if you call it garbage.

If this worked on VZW then I would highly consider it

The Rogers Lumia 1020 is fully compatible with T-Mobile. I'd expect that version would be the one Microsoft is offering unlocked.

My only concern is some newly add features may not be supported by it's processor in the future

Every Phone will have "some newly add features that may not be supported by it's processor in the future".

However the 1020 is already over a year old

And the processor is even older.

$320 in stores all over Norway. Which is amazing considering the price level in this country.

I have give 300 euro for that phone 2 months ago in belgium at Proximus (a provider) it's a sim free phone :)

Screensize should be at least 4.7 or even better 5 the 1020 has 4.5 so there you have it.

Screen size is 4.7, not 4.5

IT IS 4,5 smartass.
https://www.windowscentral.com/e?link=https2F%2Fclick.linksynergy.co...

I don't want it to be bigger than 4.7, 4.5 is juuuuust fine. I'm not one for bigger screens, I returned my 1520 for the 1020 on screen size alone. I know 1520 is 6, but you get my point I hope.

Returned a 1520 the next day to get a 1020 too. Could see that I'd never get used to the bigger screen. The GUI just didn't look right on the 1520. Love the 1020, despite the sluggishness at times.

Yes 1020 seems to be loosing out on features.....even in denim update....and no sensor core ......i think 20mp is enough....we should wait for new phones

As the owner of the 1520.3, 20MP is not enough. The difference in the 1020 and the 1520/930 is night and day. They aren't in the same league as the 1020.

Your exaggerating its more like night and afternoon.

True, I also have both a 1520 and a 1020 and sometimes compare pictures between both and the difference is huge.

I've still got a Lumia 1020. I'm waiting for a successor, as the specs are sufficient, but the device is prone to latency in response times. One tip. - DO NOT use the Beta Lock Screen app on the 1020. Talk about a ginormous resource hog.

I use the Beta Lock Screen app, no problem with that. The 1020 is still fast as hell, only Nokia Camera should be faster.

Weird. Maybe it was how many photos I had pre-loaded (I didn't go with the Bing Wallpapers option but instead loaded my own in.) I had a lot of lag with the 1020 for a while and then uninstalled the Beta Lock Screen and suddenly, buttery-smooth again! Maybe I'll do a bit more testing. Thanks for the notice. I'd still like to use the darn app.

And what about the super sampling? There are huge limitations to the 1020's hardware. You really think it could all be fixed by an update to Nokia Camera?

Yes, at least Nokia Camera could start faster and I think with the next Update (then Lumia Camera) it will start faster. Nokia Camera Beta already starts faster,

Hopefully the next super camera phone from the Nokia Hardware Division will take mobile photography to a new level. Lossless zoom is so valuable on a mobile phone. I never really knew how valuable until I bought an HTC M7. long live the Camera with no compromises; hump be damned!

To be the best smartphone camera, ya gotta beat the best smartphone camera. Whether you like it or not, learn to love it, because its the best thing going. Wooooo!! :)

Lunia 830! Love how it looks, sexy

I wish we had those prices where I live...

Speed. That's why I have the Lumia 930

This is the ONLY major problem I have worth the 1020. If it was faster, I don't think I would bother with any of the other minor complaints. Sure, it would be nice to have SDCard and built in wireless charging. But the seconds wasted between does is unbearable... people think you don't know what you're doing when you take a shot and somebody moves and you have to do it again... takes like 3-4 seconds per try.

Just bought my second one off of eBay for $189

That is an incredible deal. I'm praying for the 830 on TMobile, but can always jump to the 1020's replacement when it comes out.

There in a 99.9999% likelihood that there will be no 1030, or update to the 1020.

Many people are reporting the camera stops working after DP Win 8.1 Update 1

Mine works fine on Update 1

Many people are full of shit. Works great (though slow as always).

My bro in law is on the latest DP build, camera is fine.


Wife loves her 1020, I can't justify buying one since I just bought my new L920 (but the battery is crap, nokia still can't fix it)...maybe they will give me one of these when I keep sending it in for service :)

The only issue I have with my 1020 is that it sometimes the camera freezes after taking a picture and can't be used until you reboot the phone.

I've never had this issue with mine.

Never had any problems with my camera..the best camea phone on the market..

I've never experienced this problem...(I've been using my 1020 for 7 months - and it has gone through multiple firmware/PFD software upgrades.....still buttery smooth, especially after today's Cyan update)

No problems like that here. Bad memory maybe?

Same thing happens with me...dont know why

+1020
I think its faulty hardware though. For my case, the camera lens doesn't close until I restart the phone.

Never had that happen, reload it, lot easier than dealing with an issue.

Still one of its kind mobile camera! Love it.

It's still locked to at&t tho

No worries, it still works on cricket. Even locked. :)

Unlocked 1020 is still $549? Now that is silly... How about give someone else besides At&T and Vzon some incentive...e.g. $399

Wonder how an unlocked 1020 fares against AT&T 1020 variant after being sim unlock and used on a farmed T-Mobile network for us T-Mobile customers?

Still locked to ATT, unfortunately. I just had to replace my wife's 1020, which was unlocked. The unlocked version is still $549 at the Microsoft Store.

The 1520.3 I just received yesterday.

I will wait for a Lumia 1030 since I already have a 1020 and though I'm eligible for an update now, there's nothing for me to update TO!

With u on this. Besides speed all new phones would feel like a downgrade. I've been spoiled by its camera.

Amen. If Microsoft don't give us an upgrade, I can see myself staying with this phone for at least another 18 months. The camera is simply amazing.

Same here, had my 1020 for a year and can't see myself using any other Lumia except a 1030 (fingers crosses MS)

No bars on ATT where I live. :-/

Hardware was outdated when it first was released, software not optimized= rushed to market and out of touch with your target audience (me). They will be smart to include pelican technology along with top of the line hardware/optimized software (drivers) with the next 1020 evolution.

A 1520 as a reasonable substitute until MS get their act together, and produce the ultimate 41 mp WP flagship with all the bells and whistles... To be honest, if the 1020 had been released with 1520-specs, it WOULD have been perfect at the time!

Quite honestly, I don't care about whether Nokia missed the mark with you. I knew the hardware limitations when I bought this phone - yet I have still been blown away by it. The photos are simply amazing (I sold my NEX 5N on the strength of it).
The OS is still buttery smooth, & constantly improving.
I had the chance to go with a 1520 - I am SO glad I chose the 1020 instead.
Here's to the follow up!

it was free last nite with 2 year contract from at&t website

I wouldn't buy this because I already have it for one. The aging processor may be of some concern for some, but seeing that there will be no other flag ship windows phones coming out this year it isn't a bad option I recorded a concert on it last week zoomed in and I was looking how crappy everyone else's recordings looking on their iphones and droids it bought a smile to my face, but also reminded me how far away this tech is from DSLRs. All the same you can't pop a DSLR in your pocket maybe a mirrorless, but DSLR not so much.

I have a NEX-5N but it's still not like carrying a 1020 around. The 1020 is on par with lower end DSLR.

phone cameras are only good for candid shots nothing more DSLR OR SLR are the best for better result if you are into photo

Best yes, but beastgrip has things to consider

Waiting for the incoming 1030 :|

I love my sister's ICON - but I'm on ATT. The 830 looks really nice, but I wonder about the image results difference in it v. the 20MP 930/ICON (will the 930 come to ATT even?)

I miss my 1020 dearly (even though I use it as an alarm clock). I will wait for its successor but the two things that need to be fixed in the successor would be camera speed (shutter and load up of app) and screen size (been spoiled by my 1520). If they can at least but up the size to 5.1-5.5, then you will have my attention along with the other fixes. My 1520 just takes quick pictures still not as fast as an iPhone but it's good enough at 20MP.

Rather an excellent 1 second photo than a mediocre 1/4 second photo... ;-)

Lol agreeable, or the difference between your kid smiling and your kid looking away.

Being a TMO customer might also have something to do with it for me.....

339??? Means 20k INR???? Kidding me??? Its chepare than 830 :) cant believe it...

I will wait for the 1525 ;)

Net10 "bring your own phone" sim card kit($6.95) works in all LOCKED AT&t phones. So 50 bucks gets you unlimited voice text and 2.5 GB. I discovered this when I got the unlock code for my lumia920..turns out I didn't need the code bcuz Net10 uses Att or tmobile depending on the net ten sim u use.

Cricket gives unlimited data/3gb high speed for $45 with auto pay. Also works with locked ATT phones, fyi.

Any one else have a bit of rattle with the 1020? Seems to be the shutter or stabilizing spring...

It's the bearings for the optical image stabilization. When they released it they made a big deal out of telling people about the rattle and that it was normal... also included a flyer explaining it in the box.

As per the document you received when you bought the phone;
"That is the sound of blur free photos".
Nothing to be concerned about :)

Had one. Brilliant. But speed and battery is not up to scratch. We need a successor

I'd take a 1020 over the 830 any day. But really, I'm not interested in either. Like most folks I'm waiting for a 1030.

What's seperating me from 41 mp worth of Pureview delight is lack of memory in the 1020 and lack of commitment on the part of MS to produce a state-of-the-art 1030... Microsoft, I've got the money if you've got the will...!

I think it is coming in the first half of next year. I reckon it will be the fist one with 10 on.

Both links go to the Microsoft store. I would buy one but I know as soon as UPS delivers Mickrokia will annouce the 1030!

Where are you seeing that price?

Instead of the default link used here, go to non contract phones on the main website. Will show now $305.99, was $339.99.

Are you talking about att's site or ms?

This is great news! I've been using my 1020 since the first day it came out. I can't use anything less. Happy that I can replace my now failing focus and get one that I can hear out of the speaker when talking on the phone. A bug that I never was able to fix when it first came out. Not hearing as well is worth it with a camera this good. I'm getting a new one because I highly doubt there will be a replacement with 41mpx Did the 1020 do poorly with its sales?

Wow, just wow...i just bought a return off eBay for $60-70 more but in excellent condition. For new, this is a great deal! I've had mine since launch day and still get "Hey is that the Windows camera phone?" If you want a great phone at an unbelievable, off-contract price, MS is serving up a lob/softball here for you.

Man I want it but I REALLY want its successor!

The fact that I'm not on AT&T, nor do I ever plan to be, is what separates me from this $339 Lumia 1020. The end.

The fact it doesn't work on Verizon..

No thanks. Camera too slow.

The camera isn't so slow if you use the Microsoft one. The Nokia beta is much faster. Sites seem to rate the iPhone 6 higher than the 1020, but when you realise that apple bans anyone who doesn't leave them good publicity it makes you wonder. They banned the people doing the bend tests.

lmfao oh wow hahaha, so that's the reason you rarely hear anything bad about Apple smh pu**y's well whatever I'm in love with my Lumia so I'm here for the long run...

That's ridiculous, the iPhone 6+ takes excellent photos. And it does it quickly. Also, the video appears to be better than the 1020. Stop making stuff up. The iPhone 6+ is the current camera king of the smartphones.

Any idea when will the replacement gonna be out?

$339 and the fact that it does work on Verizon.

They're cleaning up shelves for 1030

I just sold mine on eBay for $260 with a tripod mount, ND filter, spare 2400mAh battery and screen protectors. Sorry you guys missed out on that deal.

is it the unlocked version with support for T-Mobile LTE? cause I want this phone badly, a chipset refresh would be welcomed, do I'm really biting my lip on this, do I go for it now or wait for the updates version hopefully mid next year!? and an yeah I'm ready to switch to AT&T to get it too if I must

I bought yesterday the Nokia flip cover for my 1520 for $20. It had 50% discount in at&t store. Sexy red.

I have it 8 months now, and it really becomes slow. I have 3.70GB of space available

Besides being more than a year old, my real problem with this device is that the 64 GB-version was only sold at Telefonica. Which I really regard as problem, when a device has no SDcard-slot.
SDcard might be too slow to take 40 MPix-pictures, but for installing apps it's very useful.

I love my 1020 ;) I moved over to this after the nokia n8 with the 12mp cam. so what's the deal nowwith the future windows phones? I heard the camera skills are moving on with Apple? will windows phones still lead the way with the camera?

1020 is an awesome phone, my wife has one. The only thing we had to get was a protective plate, to allow for wireless charging (also to provide protection and as a bonus it helps to prevent that bad look of a camera protruding from the back of the phone)

Sure it is a year old and is due for an update, but..... My 1020 has definitely spoiled me for all other camera phones. The 1520 has a great camera, but when you need to get the details, 41MP helps a lot! Some of my favorite points on the 1020: Xenon flash. OIS helps when I move. The flash makes a huge difference when the objects are moving. Camera grip. I used to leave it on all the time, but now I only put it on when sight-seeing or going to a concert. It's always in my bag though even if just for the battery. Wireless charging shell. The only time I ever remove this is if I use the camera grip. Sure I had to buy it and I wish it had been baked in, but it also lessens the camera hump. The lanyard. I don't recall if it came with the grip or the phone, but i've had it on from day one and love it.

Ordered a 920 off ebay last night for less than $80 USD. Figured it would be a good device upgrade from my 620 till they can release a REAL new flagship. I love the 830, but it's going to be too expensive for what is considered "budget" flagship.

Today I learned the downside of the AT&T Next plan - I currently owe AT&T MORE than the current price of $329 for the phone I've been using for 10 months. FML.

The carrier and also waiting for the next one

If I didn't already have a 1020 then I would grab one. Guys I will wait for the 1020 replacement

EBay is cheaper Posted via Windows Phone Central App

Still $550 on the Canadian store. :(

I may just buy one as a backup to the one I have now! Yes, they are that good. And yes, I doubt we will see another 41 MP camera phone on Windows for a few years.

And HP's TouchPad price went for $99. Any parallels drawn here?

For any on the fence considering whether to indulge in this beast of a CAMERAphone (joke using fonts there) I highly recommend it *only* if coming from another XX20 device save the 1520 (which must have missed the 30's by a hairs width, I say this because it is both amazing.... And showing age, the camera although brilliant, is sluggish and inconsistent in regards to opening up, but the OS nips around like butter, if you are coming from any newer Lumia, you'll notice it P.s. after cyan update, the mediocre battery has became a very decent battery and easily lasts a full day plus

I came back from 1520 to 1020 due to size and camera and although I am happy, there are some lingering regrets.... That 1520 screen for one mmmm

Regretful it's not in my country. I will get one for sure the price is the same. Too bad, it's more expensive than G3 at around USD680

I have an unlocked 1020, but honestly, I'll trade it into gazelle or throw it up on ebay for what I can land for it. Don't get me wrong: the camera served me well for three weeks on the Greek islands. I managed to take some gorgeous photos and video. But back home, and using it like a smartphone, the janky app situation is definitely a sore point. No camera can make up for a poor user experience. Once you get past the OS itself, and start using applications, you start feeling handcuffed by its limitations.

Canadian Microsoft store still has it at $549+taxes = $620

I have the 930 after using the 1020 , disappointed in the camera , can't imagine having the 1030

I have a hard time recommending the 1020. The camera is stellar, but the phone is slow, and I'm not talking about the camera app. My wife has the 1020, and I have the 1520, and the difference in performance is huge.

Traded My note 2 for Lumia 1020 and This Phone maybe a Little bit slower but wp Lumia 1020 Rocks . i Love My 1020

I will settle for Lumia 830 if TMobile can make it available to me on LTE..

I'd get the 1030 at any price. 1020 is more than a year old, and hardware is starting to be uncompetitive. Once new updates start having a note saying "not available for 1020" then you know it's time for hw upgrade. It's high time for a 1030 now.

I am looking for a successor with updated hardware I.e snapdragon 801 or 805, 4g in India, extendable memory, 41 or 50 mp camera, wireless Miracast, glance screen, gorilla glass 3, 5or 6 inch screen with the best phone design like Lumia 1520, dual speakers, sensorcore technology, inbuilt wireless charging etc.

I was so happy before knowing that it's only in Uited States :( Em from India :(

$49 on contract? I got the 1020 a couple months ago from amazon on contract for $0.01. Would have loved to wait for the new Gen phones, but my 920's antenna stopped working.

High end mid range 830? Hell no! Give me the 1030 or I'm out of here!

My lumia 1020 Time Lapse http://www.youtube.com/watch?v=a3bVt4ONRWM

I'm in Canada and own the L1020. When I updated in August to Lumia Cyan & WP8.1, the tech feature I was most looking forward to using was not included: Cortana! I wonder when I might have this Digital Assistant in Canada? My friend's on Developers Preview using the Lumia 920 and has Cortana here in Canada.

Did you change both region settings and language to US?

Will the 1020 run the denim update?

I have had this phone now for 3 days as part of a dvlup challenge and having previously owned the 820 & 625 the later was not a patch on the 820 other than bigger screen. The 1020 whilst in the hand seems much smaller than the 625, but think this might be due to the 1020 being white. The phone is very fast and the camera is simply outstanding. I don't have silly money available to just go purchase a be handset as and when so have always taken the best I could get with a contract, but if your a keen photographer and have the cash then this is a really good buy. Not much in the quality against a Nikkon D3200 under a standard point and shout environment.

I have a Lumia 1020 for almost a year now and I recommend this phone to anyone. Camera is just fantastic

I think Microsoft is pulling the plug on WP, I think they're just figuring out how to go about it. If they don't, it will still stay irrelevant. Never more than 4% market share.

Recently came across the 1520 for just 3000NOK. So picked that up instead of the 2000NOK 1020.

I was really thinking about buying this phone. Considering I am just a relaxed, unsavvy photographer I was worried the camera may not be utilized as it should. I'm also worried that as soon as I pull the trigger and get this phone, at&t will announce they will begin selling the HTC one m8 or they will develop another phone that is more recent. I can't make up my mind

I want a Windows phone with a great camera that comes with Windows 8.1 installed. I will wait out for that, because I also want it to be affordable. Posted via the Windows Phone Central App for Android

Reason : It doesn't have external memory! Even version of 920,930 etc..! This is the only thing that separates me from them.

I got it from $275 last week from Swedish retail store Elgiganten. No contract, no extra charges. Just a pretty yellow phone. But I had to wait a bit for that deal.

I ordered one for around 235$ on Flipkart Mega Sale...

Is this price still valid? It appeared to be $549 when I checked just now.

I don't understand why Nokia decided to make the Lumia 1020 only available for AT&T. My carrier is T-Mobile and I wanted to get this phone. Now a year has passed, I don't want to get a year old phone even if they make it available to T-Mobile now. Why would Nokia do this? They should've made it available to all carriers to boost the Windows Phone owners. I thought that was a bad move.