What's the difference between upgrading Windows 10 using Windows Update or ISO file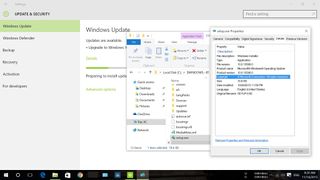 On November 12th, Microsoft finally began rolling out its first major update for Windows 10 (build 10586). On the same day, the New Xbox One Experience (build 10586) was made available to everyone too, and now we're just waiting for Windows 10 Mobile, which should be arriving pretty soon.
The Windows 10 November update, or version 1511, brings a lot of changes, improvements, and features that according to the software giant make the operating system mature enough to be recommended as a daily driver for organizations.
Among the many changes, which you can learn more in our previous article, Microsoft is including performance improvements to help users perform tasks faster than in Windows 7. Cortana brings handwriting recognition and "missed call notifications" features, Microsoft Edge includes changes that make daily browsing more stable and secure, there are new and updated apps, a bunch of new features on the Settings app, and a lot more.
For those users who have been using Windows 10 since launch, this is an update they want to install. Microsoft is currently pushing the November update through Windows Update, but it seems that not everyone is getting the update just yet, and of course, there could be a few reasons for this to happen.
Reasons for no update
For starters, Microsoft has noted that systems that have been upgraded to Windows 10 for less than 31 days won't be seeing the update for a while. This approach is intentional to avoid removing the ability to roll back to the previous version for those who are still in the trial period.
Also, you probably might have deferred getting the update, which will delay the upgrade even further, or there might be a problem with Windows Update.
For whatever the reason, if you're not getting the update, and you're interested in getting it immediately, Microsoft is also offering the Windows 10 ISO files that you can download using the Media Creation Tool to make an installation media (opens in new tab).
Differences between ISO and WU?
Now, many users might feel that there is a difference between using Windows Update or an ISO file, but both options are virtually identical (at least for the version 1511 release). While you can use an ISO file to create an installation media to start from scratch, you can also perform an upgrade, which is exactly the process the Windows Update will go through to install version 1511.
Unlike regular updates, during the Windows 10 November update downloaded through Windows Update, a $WINDOWS.~BT folder will be created on the C drive with the installation files, which are the same files, you'll find in the ISO file.
The only difference is that using Windows Update, the process is more automated, and doing a manual upgrade will require you to go through a few choices you need to make to perform the upgrade. But the actual installation process is the same. (Don't forget that our previous article will guide you through the upgrade process using an ISO file.)
Neither using Windows Update nor an ISO file to upgrade your current version of Windows 10 will wipe your system, or delete your files or applications, and you won't be prompted to re-activate either.
However, remember that if you force the upgrade, you will lose the chance to downgrade to Windows 7 or Windows 8.1, if you still had a few days left in the trial period. If things aren't working correctly, the November update will also create a Windows.old folder with your previous installation that will allow you to go back as necessary using the Recovery feature in Windows 10 -- either if you used Windows Update or an ISO file.
How are you installing the Windows 10 November update? Let us know in the comments below.
Windows Central Newsletter
Get the best of Windows Central in in your inbox, every day!
Mauro Huculak is technical writer for WindowsCentral.com. His primary focus is to write comprehensive how-tos to help users get the most out of Windows 10 and its many related technologies. He has an IT background with professional certifications from Microsoft, Cisco, and CompTIA, and he's a recognized member of the Microsoft MVP community.
I got the update via Windows Update. I was already on build 10240. It was a pleasant surprise to see this update pop up in Windows Update. And I have no intentions whatsoever to roll back to Windows 8.1 or Windows 7. Windows 10 is a really good OS.

It's build 10586.3 (latest). What about you?

Do you get that build number when you type in ver from a command prompt?

Go to settings-->system-->about.

To get the build number, just hit Winkey+R and type winver.

My system is showing up as Windows 10 Pro 10586.11.

Is insider build 10586, the new 1153?

Oh God yes. We've known this for, what? two weeks? And it's 1511. 2015/11. If Redstone 1 hits in March 2016 it'll be Windows 10 version 1603. :D

What if we get an iso for phone too.. ;D:-o;P

Then there could be vulnerabilities going forward

Yeah i think then windows mobile dont be a most secure one... Even big hackers said it really very tough to crack a windows phone

They better figure this crap out. Average user is not going to do anything beyond automatic updates, and if they fail to install (like many did) a lot of people will be missing out on a lot of features.

Those same average users won't care about the features because they won't know about them. The only thing that will bother them is seeing a really long update take place and then a sad face with a rollback.

That makes it right? They will wonder where features that are advertised are on their devices when they can't locate, or use them. Friends that are saying "have you tried ...?" will be met with a big "Huh?". MS needs to spend less resources on software that detacts emotion and more on their money makers. Sure, software to detect emotion will come into the play in the future, but right now focus on what is needed. Play later.

Oh you're one of those people who thinks that Microsoft has a single dev team and can only focus on one thing at a time. The average user seriously doesn't care about any of it, and even if they had the update and some friend asked them if they've tried ... they would still go "huh?" anyway. And if they were truly interested they would actively look for the update, read about it, download it and then try it out. Seriously relax, it's a free OS and it will continuously get updates over the next 10 or even 20 years, and overtime the roll-out of updates will become perfected and will also become more normal to average users, it's early days and what's already there is fantastic so just enjoy it.

The average user would be happy as a clam if we never had gotten off of the Windows 3.x UI. PROGRAM MANAGER FOREVER YALL

Well I guess the onboard upgrade process will than also bugger up avira professional security, avira management console and the Novell client

Novell? Holly 10base-t Batman

Well, that's mostly correct. Some incompatible apps are automatically removed as part of the upgrade process. I updated one of the kids' HP Stream 7 tablets last night from Windows 8.1 and got notifications that two HP apps were removed because they were not compatible with Windows 10. Also, I've had my settings in IIS completely wiped when updating from an older build of Windows. Not fun as a developer working on 100+ different corporate intranet applications setting up my environment again.

Interesting. When I updated my Stream 8 (Stream 7's bigger brother) to Win10 from 8.1 all the apps were OK. What 2 apps didn't make it in your case?

I can't remember exact names, but neither struck me as vitally important. I believe one was the popup which nags you to renew your warranty with HP.

Mine was from the MS Store, and had MS Signature. My Stream 7 also suffered a shattered screen after a two inch drop. Onto its back. With a case on. MS Replaced it thanks to the Complete warranty. Now I rock an Acer Cloudbook 11. Hooray for a keyboard and full size USB.

Right, I had the same happen to me when I updated my Surface 3 from 10240. Windows told me Speccy - the free system specs and observation software - was removed due to incompatibility.

Yeah, even I was searching for speccy today and noticed it had been uninstalled from my pc

Maybe you should have backed up your config

I just grabbed the applicationHost.config file from the Windows.old directory and merged the missing configuration into the new file.

Agree, I lost a few apps, that do run fine under 10....they just disapeared after the upgrade...This is a MAJOR problem if Microsoft is removing data if it thinks it's not compatable.... They should WARN you but, not remove ANY data at all. These were WIndows based, Pre 8.1 /10 apps... Sounds like a class action lawsuit waiting to happen.... Go head, lose important data ONE TIME due to a upgrade that went smooth and your tune will change too.

Meh. Maybe it was time to give all that junk up. Just playing devil's advocate here but maybe we're entering an age where Windows' backward-compatibility is hobbling its... Oh wait... What's that? We've been in that age since Vista was released? Jesus... Maybe legacy apps *need* to get killed more often so that the state of the API can be pushed forward.

I am waiting for windows 10 mobile update

I got windows update but it was not properly installed and it never came back again, so I had to go for ISO and it works perfectly fine.

When we can get windows 10 mobile??

I read somewhere (I think it was The Verge), that with the November update, we can install a fresh copy of W10 without having to previously upgrade from W7 or W8/8.1. So, according to the source, the installation (or post installation) will ask for the OEM cd-key from the previous Windows version, and W10 will use it for activation purposes. Is that correct?

I haven't had the update on my pc yet, I knew the so called release date by Microsoft was BS., same S h I t every time from them and it's got worse since the new guy took over, android here I come.

I hope you know this update is for pc, not mobile... so if you are off to find an android pc, I say good luck with that! #YouGoGirl!! Posted via the Windows Central App for Android

I had to use the media creation tool. Windows Update wasn't picking it up for me. Weird.

What is the size of the update?

The download is the same as the ISO, so in my case (x64 - Windows 10 Pro) was around 3GB. Thanks,

On WU I got the installation failure issue after downloading the update. So.. I Updated my pc by ISO file...! :p Posted via the Windows Central App for Android

I'm downloading the ISO to a usb now, I've tried updating 3 times now and it's gotten through the update, and the installation right up till the point of the upgrade going through the black screen part..however it stops after completing the 2nd part of it (think it's installing setting and programs) the screen goes completely back and doesn't restart (I've left it overnight even). Any help?? I hope installing from the usb will help

I tried the media creation tool, didnt work for me

I just clicked the "Upgrade Now" instead of the ISO Tool creator. Worked fine for me.

on laptop upgraded via WU, on PC computer upgraded yesterday with MCT (ISO)

I noticed that new update 1511 10586.3 automatically changes font size to larger size when you connect to a FullHD TV, my laptop is 1366x768 and when I connect to navtive 1920x1080 42" Samsung TV shows larger fonts by default, this is really good to use your large TV as a PC monitor for your living room.

I normally go the ISO route to upgrade builds. Less of a hassle. But the update kinda set the default programs to well, default settings. Other than that, the update indeed seems faster.

Why would I ever think of going back to windows 8.1, what's keeping me now, is that am broke, I can't afford to buy a data plan to upgrade my hp elite book

Having helped my brother and also a friend upgrade to 10 I monitor them as a catalyst Joe Consumer. They don't know about the update nor do they give a flying $%&# about it. Their computers work fine for them at the moment. I myself because I care, went to the Windows 10 web page FAQ and hit the link for Up Grade Windows. Went smooth as silk as if it was in Windows Update.

I go by windows update.. The safer way.. We still don't have clear picture of what all improvements they are bringing in this November update

I think Microsoft has an issue with this update, both my laptop and tablet failed installing the update using Windows update. There laptop installed using the ISO, but the tablet failed at 40% installing drivers using three ISO. Hoping they are going to fix this at some point, but I'm not holding my breath..

Sounds like your table has a storage card in it. If this is the case remove it and try again. Had the same issue on my Dell Venue 8 Pro. Worked like a charm without the SD card.

I performed the update on both my desktop and my wife's 2-in-1 laptop/tablet. The upgrade went fine on my desktop. It messed up my wife's computer though--Windows Defender stopped working, many services could not be started, and the troubleshooting wizards also did not work. I did a repair installation using the Media Creation Tool on her machine and it fixed her problems.

I have a slow internet connection.... It will take nearly 12 hours to download.... I don't know what should I do....

I guess the speed of your connection doesn't matter... Mines 512 kbps but still the update was downloaded in 20 minutes.

My PC has not recevied it and I don't know why.

Stupid name, November update... What happens next year? The year after? I thought "10" was going to be around for a while? Should have been 10.1 with a name...oh wait... ;)

I have deleted $windows.Bt folder while upgrading to 10586.After the restart process my os is not responding.I'm getting restoring previous build and then shuts down any help?

You deleted it ​while upgrading?

Yup during 'prepare to install your update', I was randomly checking my folders & then I found this, I thought it may harm my system so I deleted it.So is there any way to restore the $Windows .ws folder? (I also have Ubuntu installed on my system ) #needhelp

Well, you deleted the files that are necessary for the upgrade... I suggest you download the Media Creation Tool (the new version) and let it do the upgrade again.

Don't delete random, critical system files

Can I do something to restore the folder?(I also have ubuntu installed on my device) or can I access Recycle Bin from ubuntu? so that I can restore the folder?

Updated via ISO file pretty easy.

Just got the update notification this morning and updated it

Do the features like missed call notifications and responding to text from PC only work if you are using a Windows Phone? I can't seem to figure out how to get those things to happen. Thanks. Posted via the Windows Central App for Android

I'm pretty sure those only work if you use a phone with the latest Windows 10 Mobile build. At least for now.

Iso installation is very very tricky especially for home users. Since the update packs pro and home together there seem to be problem for home users which does not trigger automatic key installed nor skipping it. If you give the w10 home product key it will not accept. Hope Microsoft fix this and give us only home update or pro update. How's it going for Pro users?

this update model is pretty bad. All stock modern apps that I've uninstalled are re-installed. Removing them again on 4 machines is a not a hassle but annoying. I get the feeling that this is what should've been the first windows 10 RTM.

Does anyone know when the Enterprise version will be available?

I installed on 8/19 and do not have updates deferred - still no update. Nice that there is a work around, but I hope there is a fix xoming

Updated office pcs today and this build changed pdf defaults to edge. Really!?

My laptop would get stuck at 75% completion on the upgrade screen after the Install Features and Drivers. The screen would go black and nothing happens. Been trying to do the upgrade 5x already & same issue. Need your help. No attached peripherals, no SD card. :-(

Are you sure nothing happens? How long did you wait? Also, try pressing Shift + F10 when the screen turns black and then type in taskmgr to monitor CPU, RAM and hard drive usage to see if the installation is still active.

And what about those who are yet to upgrade from Windows 7? I keep wondering if I'm the only yet to get Windows 10 6 months after making reservation and 4 months after release.

I installed it as an iso file but i couldnt use the gpu driver roll back feature, and the new nvidia driver is not going well on my gaming laptop so i restored and got back my old gpu driver, hope they fix the display driver thing its very frustrating 16 gb ram laptop to freeze on small games like dota and smite!!!

Version 1511 sucks. My wonderful pc that came with windows 10 is a lot slower. I don't know why Microsoft can never improve on a previous stable version and they always seem to release a nwer version which is very buggy and slow then they now issue cumulative updates. Why cant they release something that works for one in a lifetime?

I used iso on my Surface 3...updated a treat..

Stuck at 83% for 15 hours.had to shut down and restart. It reverted to previous windows 10 240. I've tried twice using update and twice using iso. Also tried shutting down McAfee and removing all usb devices. Same 83% every time. Laptop Dell XPS 17 L702x, originally windows 7.

The fall update still flickers my Dell 2720 touch screen specially while browsing in Edge and the Store app.

I'm trying to update an tablet with less memory I have tried without success via windows update even emptied the memory have an micro SD 32gb and just couldn't do upgrade so I think will try to do it Posted via the Windows Central App for Android

I updated windows 7 to 10 the day November update roll out.. How to know if i got it or not?

Easy way to tell: If the user interface is completely different (new Start menu, etc), you have Windows 10.

i went the ISO route because my machine was slow since upgrading from 7 to 10. After about 6 attempts to install windows through the ISO i gave up and reverted back to 7. for some reason, the installation either stalled after copying files, or after the first boot. when i finally got through an installation that got me to the desktop, it froze and then didnt even get pass the log in screen. ill have to wait for another release if i want to try the clean install

are there any possible to upgrade windows 10 with crack windows 7?


Are there any possible to upgrade windows 10 from a crack windows 7?

Windows Central Newsletter
Thank you for signing up to Windows Central. You will receive a verification email shortly.
There was a problem. Please refresh the page and try again.